Scott Pruitt Is the Fossil Fuel Industry's Manchurian Candidate
Soon-to-be-released emails may show just how deep the newly confirmed EPA administrator's ties go.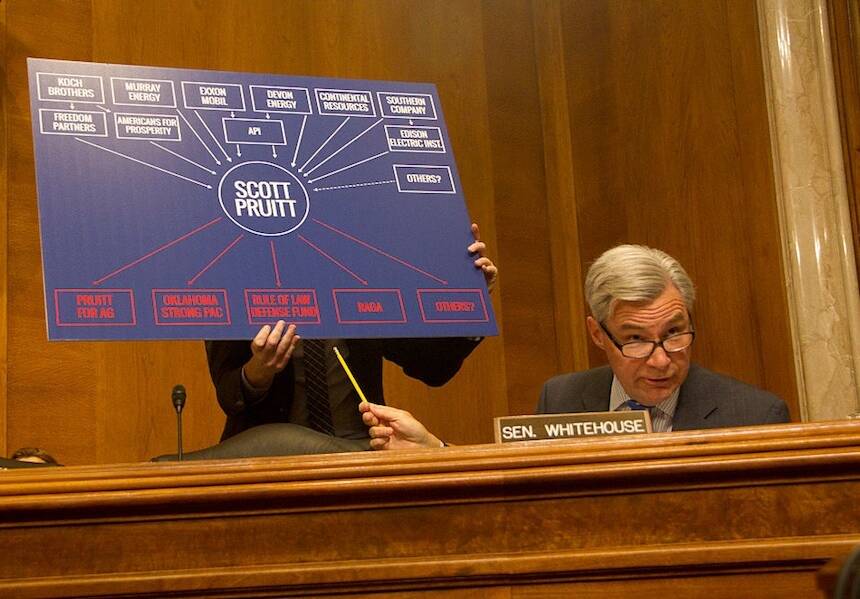 Email exchanges between the oil and gas indus­try and Scott Pruitt, the new­ly mint­ed head of the Envi­ron­men­tal Pro­tec­tion Agency (EPA), might pose a big­ger threat to nation­al secu­ri­ty and human life than Gen. Michael Flynn's con­ver­sa­tions with a Russ­ian diplo­mat. The ques­tion is whether they'll receive any­where near the same lev­el of airtime.
Would there be a bigger uproar from the press and the Democratic establishment if the emails had been with Russian officials?
Last Thurs­day, an Okla­homa court ordered the state's attor­ney general's office to turn over as many as 3,000 emails between Pruitt and var­i­ous fos­sil fuel inter­ests, includ­ing extrac­tion com­pa­nies and lob­by­ing groups. Today, those emails are set to be released.
The rul­ing came a day before the U.S. Sen­ate vot­ed on Pruitt's nom­i­na­tion to head the EPA, and was the result of a suit brought by the Amer­i­can Civ­il Lib­er­ties Union and the Cen­ter for Media and Democ­ra­cy, a Wis­con­sin-based watch­dog group. They argued that Pruitt and his office have failed to respond to mul­ti­ple open-records requests, the first of which was filed over two years ago. Despite calls from Democ­rats to delay the vote until the emails are released, Pruitt was con­firmed to lead the EPA in a 52 – 46 vote. (Two Democ­rats from extrac­tion-heavy states, Joe Manchin of West Vir­ginia and Hei­di Heitkamp of North Dako­ta, joined Repub­li­cans in their ​"yes" vote, while Maine's Susan Collins was the only Repub­li­can to defect and vote ​"no.") Asked why he chose not to delay Friday's vote until the emails had been released and reviewed, Sen­ate Major­i­ty Leader Mitch McConnell (R‑Ky.) replied sim­ply, ​"Because I choose not to."
What­ev­er the emails say, it seems unlike­ly that Pruitt will be forced to resign as a result. Would there be a big­ger uproar from the press and the Demo­c­ra­t­ic estab­lish­ment if the emails had been with Russ­ian offi­cials? While the Russ­ian government's ties to Trump's team are unset­tling, few­er ques­tions and hys­ter­ics have been direct­ed to cor­po­rate influ­ence on the admin­is­tra­tion, even though this too pos­es a grave threat to Amer­i­can security.
There is also an over­whelm­ing body of sci­en­tif­ic evi­dence that it could doom us all. Fos­sil fuel com­pa­nies giv­en free reign these next four years could bring us per­ilous­ly close to a point of no return on cli­mate change. In the process, they'll wreak hav­oc on our air and water. That all adds up to harsh­er and more dam­ag­ing storms, cities swal­lowed up by the sea and more droughts like the one that has fueled the con­flict in Syr­ia and led to upticks in extrem­ism else­where. And it's not just pro­gres­sive cli­mate hawks that have been rais­ing alarm bells: The CIA estab­lished a secre­tive pro­gram for cli­mate research in 1992, and the Depart­ment of Defense has been releas­ing reports for well over a decade about the nation­al secu­ri­ty impli­ca­tions of cli­mate change.
"

We're hav­ing an effect"

The emails in ques­tion could show Pruitt tak­ing direct orders from the indus­try most in need of rapid shrink­age if we're to pre­vent any of the above. A pre­vi­ous trove of emails obtained by the New York Times in 2014 revealed that Pruitt had effec­tive­ly let lawyers from oil and gas com­pa­ny Devon Ener­gy pen a com­plaint to the EPA in Pruitt's name: ​"The attor­ney general's staff had tak­en Devon's draft [of the let­ter], copied it onto state gov­ern­ment sta­tionery with only a few word changes, and sent it to Wash­ing­ton with the attor­ney general's signature."

In one of the emails obtained by the court that year, Devon Energy's then-direc­tor of gov­ern­ment rela­tions wrote a glow­ing review of Pruitt's per­for­mance: ​"I've learned that we're hav­ing an effect — and may be able to have more, per­haps even to hav­ing the rule with­drawn or shifted."

That episode wasn't out of char­ac­ter for Pruitt. In 2013, while serv­ing as Oklahoma's attor­ney gen­er­al, he con­vened a meet­ing in Okla­homa City for fos­sil fuel indus­try rep­re­sen­ta­tives and his Repub­li­can AG col­leagues in oth­er states. Ses­sions fea­tured titles like ​"The Oil and Gas Indus­try: Reg­u­la­to­ry Chal­lenges to Fed­er­al­ism," and speak­ers includ­ed rep­re­sen­ta­tives from Cono­coPhillips and Tran­scana­da, the com­pa­ny behind the Key­stone XL pipeline.

Fed­er­al­ism, by Pruitt and oth­er Repub­li­cans' def­i­n­i­tion, is a move­ment of sorts to reduce the fed­er­al government's abil­i­ty to reg­u­late activ­i­ties that hap­pen with­in states — espe­cial­ly extrac­tion. It's also the rai­son d​'etre for some­thing called the Repub­li­can Attor­neys Gen­er­al Asso­ci­a­tion (RAGA), backed to the tune of more than $2.4 mil­lion by fos­sil fuel inter­ests, includ­ing Koch Indus­tries, and an addi­tion­al near­ly $1.4 mil­lion from the Cham­ber of Com­merce. RAGA's mis­sion: Turn as many state attor­neys gen­er­al seats as pos­si­ble red, and use them as plat­forms for indus­try-friend­ly reforms. ​"When the fed­er­al gov­ern­ment over­steps its legal author­i­ty and takes actions that hurt our busi­ness­es and res­i­dents," Repub­li­can Flori­da AG Pam Bon­di told the New York Times, ​"it's entire­ly appro­pri­ate for us to part­ner with the adverse­ly affect­ed pri­vate enti­ties in fight­ing back."
The fos­sil fuel industry's Manchuri­an candidate
For the last sev­er­al years, Pruitt has been an evan­ge­list of that posi­tion, suing the agency he now leads 14 times for over­reach. In 13 of those cas­es, ener­gy com­pa­nies or their lob­by­ists have been list­ed as par­ty to the suit. His finan­cial ties to the indus­try run deep, too. In Pruitt's 2014 re-elec­tion cam­paign for Oklahoma's attor­ney gen­er­al seat, an elec­tion in which he ran unop­posed, he col­lect­ed over $700,000 in con­tri­bu­tions, large­ly from fos­sil fuel and util­i­ty exec­u­tives. Oil mag­nate Harold Hamm ran that re-elec­tion cam­paign, and Pruitt's list of donors reads like a who's who of the country's biggest oil, coal and nat­ur­al gas com­pa­nies. He was also a major part of help­ing RAGA raise $16 mil­lion in the 2014 elec­tion cycle — much of it from fos­sil fuels.
Pruitt has been as gen­er­ous to his donors as they've been to him. In 2011, just after tak­ing office in Okla­homa, Pruitt closed the attor­ney gen­er­al office's envi­ron­men­tal pro­tec­tion unit. As head of the EPA, he will head the pri­ma­ry body in the Unit­ed States with the author­i­ty to reg­u­late green­house gas­es. In line with the GOP's agen­da, he is expect­ed to do every­thing in his pow­er to repeal the Clean Pow­er Plan, and he might even strip the EPA of its enforce­ment division.
Pruitt's appoint­ment to the EPA, like the appoint­ment of long­time Exxon­Mo­bil CEO Rex Tiller­son as sec­re­tary of state, could give the fos­sil fuel indus­try an unprece­dent­ed lev­el of influ­ence over the White House. The indus­try, it seems, now has its own Manchuri­an can­di­date run­ning the agency assigned to reg­u­late it. The emails released today might reveal the con­nec­tions go even deep­er. This kind of cor­po­rate inter­fer­ence in Amer­i­can pol­i­tics deserves at least as much scruti­ny as the med­dling car­ried out by oth­er nations. Sad­ly, both Democ­rats and the media seem more con­tent to re-enact the Cold War than con­front the hot one in front of us.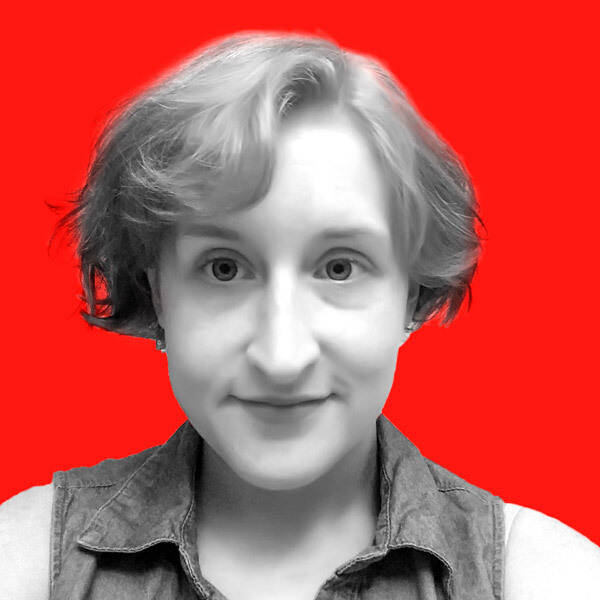 Kate Aronoff
is a Brook­lyn-based jour­nal­ist cov­er­ing cli­mate and U.S. pol­i­tics, and a con­tribut­ing writer at The Inter­cept. Fol­low her on Twit­ter @katearonoff.