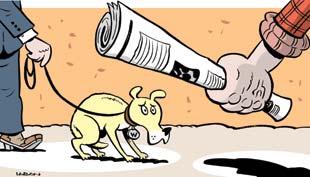 Features » November 28, 2007
Hounding the Bush Dogs
Meet the candidates who are taking on conservative Democrats
Mark Pera is not one to back down from a challenge. The son of a steelworker, Pera toiled in Northwest Indiana's mills to put himself through college and law school. As a Cook County assistant state's attorney, he worked on environmental criminal prosecution and public utility regulation, diligently fighting special interests. Now the broad-shouldered, 52-year-old father of four is setting his sights on the 2008 Democratic primary in Illinois' 3rd congressional district, which encompasses southwest Chicago and nearby suburbs. By the looks of it, he's not messing around. Five full-timers staff his campaign headquarters, a two-story brick house outfitted with stickers and schedules. In August, Pera took a leave of absence from his job to run full time. He also took out a home equity loan to finance portions of the campaign. His favorite phrase? "We're committed to winning this race."
But Democratic incumbent Dan Lipinski stands in his way. Lipinski took control of the seat after his father Bill, the district's representative for 22 years, retired abruptly in 2004 after winning the party's primary. With no candidate to fill his seat in the general election, the elder Lipinski suggested his son take a stab at politics. State party leaders acquiesced, giving the younger Lipinski the nomination–and subsequent victory–without a primary campaign.
Since slipping into office, the younger Lipinski has frustrated progressive constituents with a less-than-liberal voting record. He is opposed to stem cell research and a woman's right to choose, earning him a zero-percent score from Planned Parenthood and NARAL. His ACLU rating is one of the lowest for any Democrat outside of the South, partly because of his support for the Protect America Act, an update to the Foreign Intelligence Surveillance Act that the ACLU says "allows for massive, untargeted collection of international communications without court order or meaningful oversight by either Congress or the courts." Lipinski has not done much to end the war in Iraq either, voting with 85 other Democrats to pass an emergency supplemental appropriations bill that lacked a withdrawal deadline.
Lipinski's backers contend that his voting record aligns with his district's socially conservative residents. But evidence suggests the district is no longer the Reagan-Democrat hotbed of his father's time. John Kerry won 59 percent of the vote in 2004, and an influx of Latinos, who now make up 20 percent of the district's population, has further solidified the seat as a Democratic stronghold. "It's a lot more progressive than people realize," says Larry Handlin, who has been blogging about Illinois politics at ArchPundit since 2002.
The Pera-Lipinski race could serve as a prototype for a forgotten–yet vital–strategy available to progressive activists: the primary challenge. While the Christian Right, the Club for Growth and other right-wingers have shifted the GOP to the right by running candidates against moderate Republicans for decades, the left hasn't built the kind of party-within-party apparatus necessary in two-party politics.
Let's get ready to rumble
Why don't the donkeys grapple with each other? Some partisans are afraid that challenging incumbents could risk forfeiting seats to Republicans, especially in conservative-leaning locales. And incumbents, in an effort to retain their jobs, characterize primary opponents as unworthy of media and donor attention, when in reality they are citizens participating in a standard democratic process. Even the reliably progressive Rep. Neil Abercrombie (D-Hawaii) told Congressional Quarterly this fall that primary pressure from the left amounted to a "recapitulation of the Inquisition."
From the challenger's standpoint, taking on an incumbent requires considerable chutzpah. Often without institutional backing and little name recognition, these candidates are likely to encounter heartache, not triumph.
"The hardest thing to do in this political system is to run for office," says Matt Stoller, a D.C.-based political activist and consultant who blogs at the new strategy website OpenLeft. "It's lonely … you have no income, very little sleep, a terrible diet and little family time."
Given the difficulty of mounting primary challenges, combined with gerrymandered districts and the plentiful resources incumbents have at their disposal–thanks to political action committee (PAC) directors, party committees and name recognition–it's not surprising that the incumbent re-election rate was 93.5 percent in 2006, even in an election that many analysts dubbed "a watershed." In 2004, that rate was 98 percent.
Yet the anti-primary tide may finally be turning. OpenLeft's "Bush Dog" campaign typifies the growing interest in challenging conservative Democrats. Stoller and his blogging cohort Chris Bowers coined the term, playing on the conservative Democrats' Blue Dog Caucus in Congress. The campaign identifies Bush Dogs as Democrats who capitulated both on the Iraq War vote in May and the vote to allow warrantless wiretapping powers, thereby enabling destructive White House policies at two crucial junctures.
According to OpenLeft, 40 members of Congress qualify as Bush Dogs–half of whom are white men from the South. Initially, Stoller and Bowers solicited activists for online profiles of Bush Dogs, then publicized their records and lobbied these lawmakers to change certain objectionable stances. The goal now, however, is to promote as many homegrown primary challenges to those 40 Bush Dogs as possible.
---
Help In These Times Continue Publishing
Progressive journalism is needed now more than ever, and In These Times needs you.
Like many nonprofits, we expect In These Times to struggle financially as a result of this crisis. But in a moment like this, we can't afford to scale back or be silent, not when so much is at stake. If it is within your means, please consider making an emergency donation to help fund our coverage during this critical time.
Adam Doster
Adam Doster, a contributing editor at In These Times, is a Chicago-based freelance writer and former reporter-blogger for Progress Illinois.
View Comments