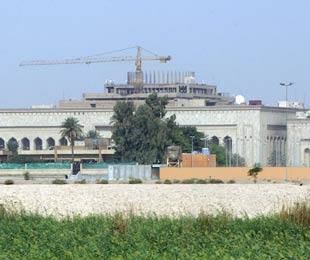 Features » January 2, 2008
Empire's Architecture
Should it ever be finished, the U.S. embassy in Iraq will stand as a colossal monument to the Bush administration's failures
Panic shot through the State Department and White House earlier this summer when the American architecture firm Berger Devine Yaeger posted computer-generated images and layout of the forthcoming U.S. embassy in Baghdad on its website. Ostensibly concerned with security, government officials urgently acted to remove graphics to avoid aiding potential insurgents in their plots to disrupt the embassy's progress.
The real fear, however, may have been that the disclosure would draw public and congressional attention to everything that's gone wrong with the embassy. Indeed, it's difficult to imagine how insurgents could be any more disruptive to the embassy's existence than those who are building it. Allegations of mismanaged funds, shoddy workmanship, kickback schemes, exploitative labor practices, ill-gotten contracts, blocked investigations, trafficked humans and covered-up deaths have plagued the construction of the world's largest embassy.
The planned 104-acre, 21-building compound on the Tigris River will include two office buildings, six apartment buildings, a pool, a gym, a movie theater and a food court. The embassy will be supported by its own power and water treatment plants–probably wise in a country that has, on average, one hour to four hours of electricity daily, and where 70 percent of the population lacks clean drinking water.
The White House originally requested $1.3 billion to build the compound, but Congress allocated $592 million for the project in 2005. It was a hefty sum given that the United States didn't pay a cent to Iraq for the four-square-mile stretch of land in Baghdad's Green Zone, roughly the size of Vatican City. By comparison, the United States paid $22 million for land that was less than one-tenth that size for a planned new embassy in Beirut, which will now no longer be built because of security concerns over its proximity to a Hezbollah stronghold.
Nevertheless, the nearly $600 million wasn't enough for the embassy in Iraq. According to documentation provided to Congress by the State Department, an additional $144 million is needed for completion and the embassy may cost as much as $1 billion each year to operate.
First Kuwaiti, then the world
Initially scheduled for completion in January 2007, the embassy's opening was delayed until June, then September, and now will occur on a yet-to-be-announced date sometime well into 2008, with no public explanation for the continued postponements. According to Stuart Bowen, the special inspector general for Iraq construction, security is the "No. 1 factor that impedes progress." But on Oct. 5, the Associated Press reported that an anonymous source affiliated with the project said that the main problems were related to the embassy's physical plant, including its electrical system.
Serial delays seem indicative of the pervasive ineptitude of the contractor, First Kuwaiti General Trading and Contracting, which has been embroiled in controversy. First Kuwaiti–which has been in operation a little more than 10 years and is relatively inexperienced working on projects of this magnitude and extensive security specifications–was not the lowest bidder on the contract. To the surprise of its competitors, First Kuwaiti won the contract with a proposal of $60 million to $80 million more than the next highest bidders, some with as much as 25 years experience.
The State Department maintains that First Kuwaiti–a major subcontractor for Kellogg, Brown and Root (KBR), the former Halliburton subsidiary accused of overcharging the U.S. government in Iraq–was selected through a competitive bidding process. But the Department of Justice and Congress are investigating allegations and reviewing documentation that implicates First Kuwaiti Managing Partner Wadih El Absi has obtained several subcontracts by promising $200,000 in kickbacks to Halliburton's former subcontracts manager. These allegations raise serious questions about whether First Kuwaiti should have been allowed to continue bidding for contracts. However, this has not stopped El Absi, who is now lobbying Washington for the contract to build the new embassy in Saudi Arabia.
Despite recommendations from the Senate subcommittee on state, foreign operations and related programs to involve Iraqis in the project, 900 non-Iraqi foreign workers–some from the Philippines, Nepal and Bangladesh–are providing the labor on the embassy under First Kuwaiti's supervision for as little as $300 each month. As reported in February 2006 by David Phinney in CorpWatch, the California-based corporate watchdog organization, these laborers work 12-hour days, often seven days a week, "performing tasks considered unsuitable for U.S. war fighters."
What's more, Phinney collected multiple accounts that implicate First Kuwaiti in numerous violations of American contractor law, such as trailers packed with 20 or more people, poor quality food, water drawn from the polluted Tigris River when bottled water ran out and inadequate healthcare facilities.
Deceptive hiring practices are also a recurring theme. Many laborers and American observers have said that workers were told they were going to Kuwait or Dubai, only to discover mid-flight or upon arrival that Baghdad was the plane's destination, according to CorpWatch. (It is unclear whether First Kuwaiti or the recruiting firms in the laborers' home countries initiated this bait-and-switch tactic.) Additionally, workers were promised days off, shorter work days, higher pay and better living conditions. Nearly all workers paid recruitment fees to agencies that typically ranged from one month to three months of salary to get the work, and many of them will need to work a year before breaking even, amounting to indentured servitude.
Attorneys Andrew Kline and Michael J. Frank in the Justice Department's civil rights division have begun to investigate allegations of labor trafficking, contacting former First Kuwaiti employees and others involved in the project for interviews and documents.
The 'Cookie' crumbles
Congress has only recently begun to pursue the problems associated with the embassy, but it has been with great rigor.
In an Oct. 4 letter sent to Deputy Secretary of State John Negroponte, Rep. Tom Lantos (D-Calif.), chairman of the House International Relations Committee, demanded an explanation for what was holding up the project. "These delays and deficiencies undermine the security and living standards of the almost 1,000 foreign service officers and other embassy staff that will be housed at the Baghdad embassy," he wrote. "Why was the committee assured as late as August that the embassy would open on time when these obviously significant defects existed?"
On Sept. 18, Rep. Henry Waxman (D-Calif.), chairman of the Oversight and Government Reform Committee, wrote a 14-page letter to Howard "Cookie" Krongard, inspector general at the State Department, requesting Krongard's cooperation with an investigation into allegations regarding his conduct. Waxman stated in the letter, "Since your testimony at the committee's hearing on July 26, 2007, current and former employees of the Office of Inspector General have contacted my staff with allegations that you interfered with on-going investigations to protect the State Department and the White House from political embarrassment."
Waxman cited many allegations against Krongard. Among them are: refusing to send investigators to Iraq and Afghanistan to examine wasteful management and fraud relating to the $3.6 billion awarded in State Department contracts (yet still concluding no fraud present); preventing investigators from cooperating with a Justice Department investigation into the U.S. embassy; preventing investigators from cooperating with a Justice Department investigation into allegations that a large private security contractor was smuggling weapons into Iraq; censoring sections of reports on the security of embassies so that vulnerabilities would not be disclosed to Congress; and rejecting audits from State Department financial statements that documented accounting concerns and refusing to publish them until points critical of the department were removed.
Waxman further noted that State employees under Krongard's supervision have described "a dysfunctional office environment in which you routinely berate and belittle personnel, show contempt for the abilities of career governmental professionals, and cause staff to fear coming to work." The result has been an office unable to fulfill its duties because of such high turnover, with some divisions operating with as little as one-third of the necessary staff.
Before Krongard could respond, Waxman wrote another letter 10 days later about "an exceptionally serious matter: reports that your senior staff has threatened officials that you could fire them if they cooperate with the Committee's investigation into your conduct."
On Oct. 9, Waxman also wrote directly to Secretary of State Condoleezza Rice, questioning why the State Department would rely on First Kuwaiti, given its reputation. "The bribery incidents, which occurred well before the contract award, implicate the company's managing partner in an illegal kickback scheme. DCAA's [Defense Contract Audit Agency] audit, which was released just months before the selection of First Kuwaiti, raises red flags about the company's performance and billing practices."
Allen McDuffee
Allen McDuffee writes about politics and Middle East affairs. He blogs at governmentalityblog.com and is currently working on a book project, No Child Left Unrecruited. He lives in Brooklyn.
if you like this, check out:
View Comments
---