Web Only / Act Locally » September 26, 2009
Protesting the G-20 Summit
A photo essay from Pittsburgh's streets.
The City of Pittsburgh had prepared for the worst.
PITTSBURGH–On September 24 and 25, thousands of activists from around the world gathered in Pittsburgh, Pa., to protest the G-20 meeting bringing together leaders of the "Group of Twenty" nations, which together account for about 85 percent of the world economy.
The City of Pittsburgh had prepared for the worst. Authorities trucked in thousands of police reserves from across Pennsylvania, and members of the U.S. Coast Guard, the Border Patrol and the National Guard were all in attendance. In most parts of the city, police outnumbered protesters.
One non-sanctioned protest in the city's Lawrenceville section on Thursday afternoon saw about 1,000 mostly black-clad protesters face off with several hundred police in riot gear. After scattering, protesters regrouped, and as the sun began to set, damage to some local businesses drew a heavy police response.
Authorities employed rubber bullets, pepper spray (OC gas) and a newly purchased Long-Range Acoustic Device (LRAD) to disperse crowds. Clashes continued intermittently throughout the night, with a total of approximately 60 people arrested Thursday, according to a statement released Saturday by the Pittsburgh G-20 Resistance Project (PGRP).
Earlier Thursday, 14 Greenpeace activists were arrested after they rappelled off the city's West End Bridge, unfurling a large banner that warned of "climate destruction ahead" due to global warming. Elsewhere in the city, residents and journalists wandered a nearly deserted downtown that had been mostly shut down for the summit.
Below are a dozen photographs taken Thursday and Friday on Pittsburgh's streets.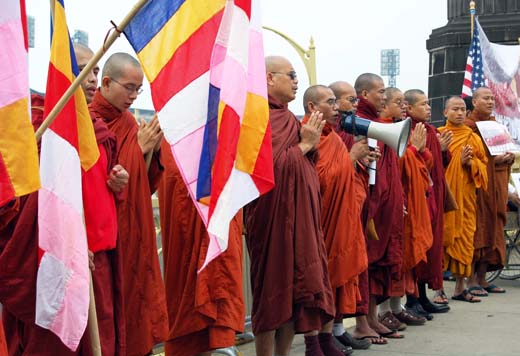 Thursday morning, a small group of Burmese activists, led by about a dozen Buddhists monks, prays facing the David L. Lawrence Convention Center–the site of the G-20 summit.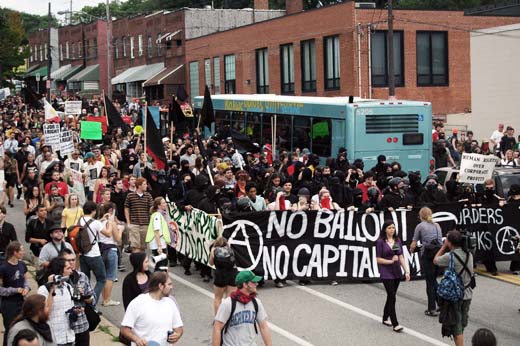 About a thousand protesters, mostly anarchist youth, took to the streets Thursday in a non-sanctioned march starting in Arsenal Park, in the city's Lawrenceville section. The protesters had planned to march to the David L. Lawrence Convention Center, where the G-20 was getting underway, but were blocked by police.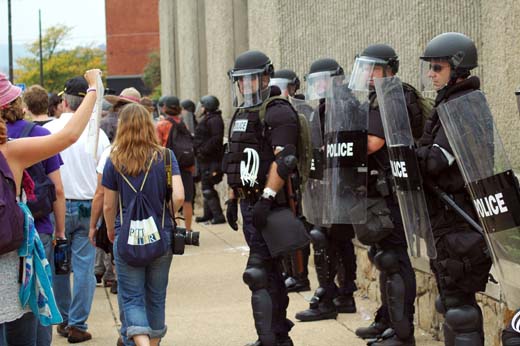 Police in full riot gear eye activists at the start Thursday's non-sanctioned march in Pittsburgh's Lawrenceville section.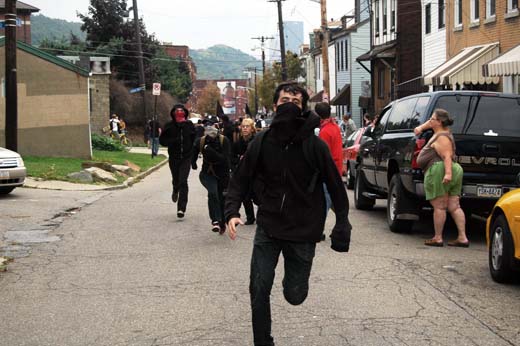 A neighbor watches anarchists run from police in Pittsburgh's Lawrenceville neighborhood on Thursday afternoon.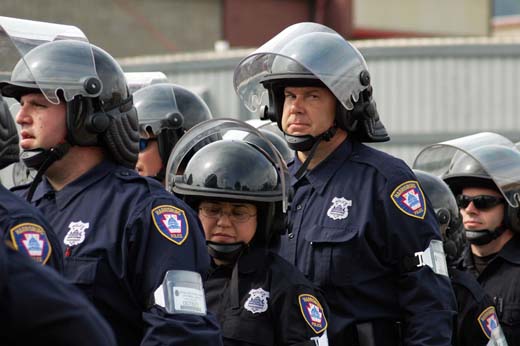 Police from Harrisburg, Pa., await the start of a non-sanctioned protest in Pittsburgh's Lawrenceville section on Thursday afternoon.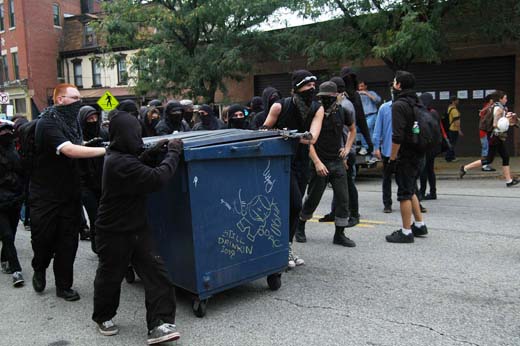 Black clad protesters wheel a dumpster to the top of a street in Pittsburgh's Lawrenceville district. The aim was to block an intersection to police access, according to one protester.
---
Help In These Times Continue Publishing
Progressive journalism is needed now more than ever, and In These Times needs you.
Like many nonprofits, we expect In These Times to struggle financially as a result of this crisis. But in a moment like this, we can't afford to scale back or be silent, not when so much is at stake. If it is within your means, please consider making an emergency donation to help fund our coverage during this critical time.

Christopher Moraff
Christopher Moraff writes about national politics, social justice and culture for a number of publications, including The American Prospect online, Design Bureau and The Philadelphia Tribune. His columns appear weekly on Philadelphia magazine's blog The Philly Post. Moraff, who lives in Philadelphia, is a member of the In These Times Board of Editors.
View Comments