Protesting the G-20 Summit
A photo essay from Pittsburgh's streets.
PITTSBURGH – On September 24 and 25, thousands of activists from around the world gathered in Pittsburgh, Pa., to protest the G-20 meeting bringing together leaders of the ​"Group of Twenty" nations, which together account for about 85 percent of the world economy.
The City of Pittsburgh had prepared for the worst. Authorities trucked in thousands of police reserves from across Pennsylvania, and members of the U.S. Coast Guard, the Border Patrol and the National Guard were all in attendance. In most parts of the city, police outnumbered protesters.
One non-sanctioned protest in the city's Lawrenceville section on Thursday afternoon saw about 1,000 mostly black-clad protesters face off with several hundred police in riot gear. After scattering, protesters regrouped, and as the sun began to set, damage to some local businesses drew a heavy police response.
Authorities employed rubber bullets, pepper spray (OC gas) and a newly purchased Long-Range Acoustic Device (LRAD) to disperse crowds. Clashes continued intermittently throughout the night, with a total of approximately 60 people arrested Thursday, according to a statement released Saturday by the Pittsburgh G-20 Resistance Project (PGRP).
Earlier Thursday, 14 Greenpeace activists were arrested after they rappelled off the city's West End Bridge, unfurling a large banner that warned of ​"climate destruction ahead" due to global warming. Elsewhere in the city, residents and journalists wandered a nearly deserted downtown that had been mostly shut down for the summit.
Below are a dozen photographs taken Thursday and Friday on Pittsburgh's streets.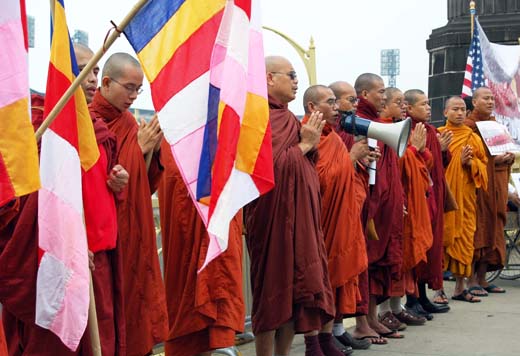 Thursday morning, a small group of Burmese activists, led by about a dozen Buddhists monks, prays facing the David L. Lawrence Convention Center – the site of the G-20 summit.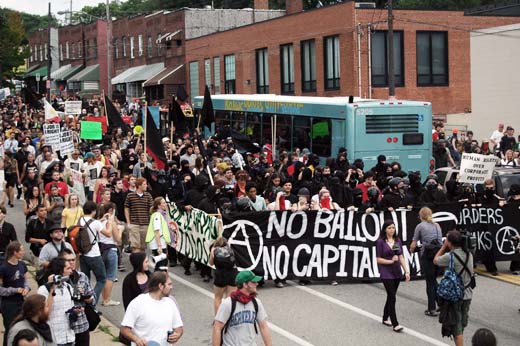 About a thousand protesters, mostly anarchist youth, took to the streets Thursday in a non-sanctioned march starting in Arsenal Park, in the city's Lawrenceville section. The protesters had planned to march to the David L. Lawrence Convention Center, where the G-20 was getting underway, but were blocked by police.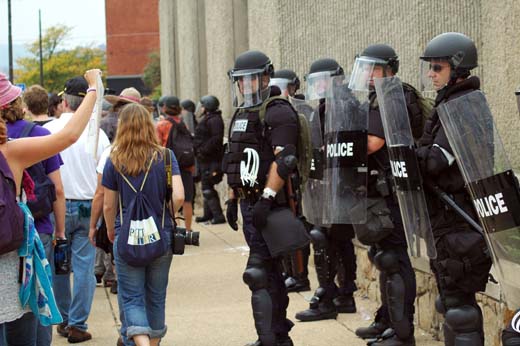 Police in full riot gear eye activists at the start Thursday's non-sanctioned march in Pittsburgh's Lawrenceville section.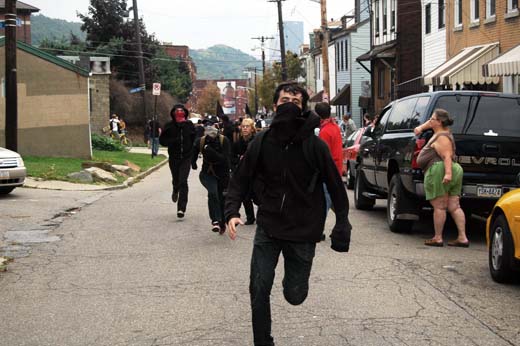 A neighbor watches anarchists run from police in Pittsburgh's Lawrenceville neighborhood on Thursday afternoon.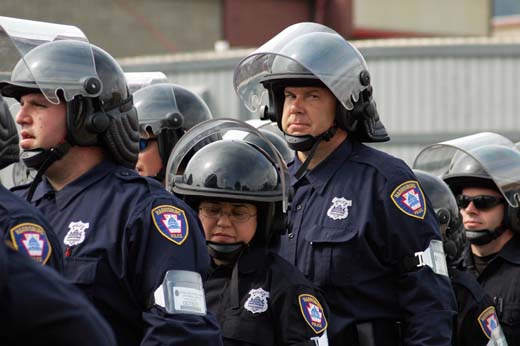 Police from Harrisburg, Pa., await the start of a non-sanctioned protest in Pittsburgh's Lawrenceville section on Thursday afternoon.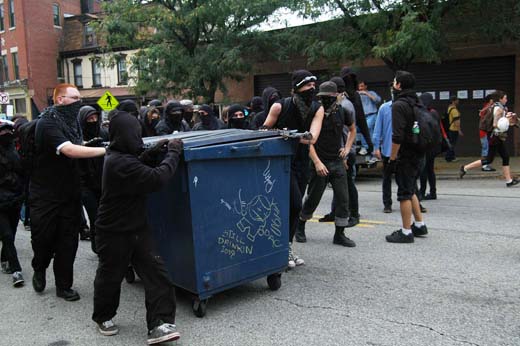 Black clad protesters wheel a dumpster to the top of a street in Pittsburgh's Lawrenceville district. The aim was to block an intersection to police access, according to one protester.
The City of Pittsburgh had prepared for the worst.
On Friday, a large protest sponsored by the Thomas Merton Center's Antiwar Committee drew several thousand peaceful protesters. There were reports of clashes between police and anarchist youth Friday night, in the city's Oakland section.
As of Saturday, September 26, authorities had reported 181 arrests during the two-day period, not including the 14 Greenpeace activists. PGRP spokesman Jesse Ericson said Saturday that ​"jail officials have been generally uncooperative and have harassed legal workers over the phones."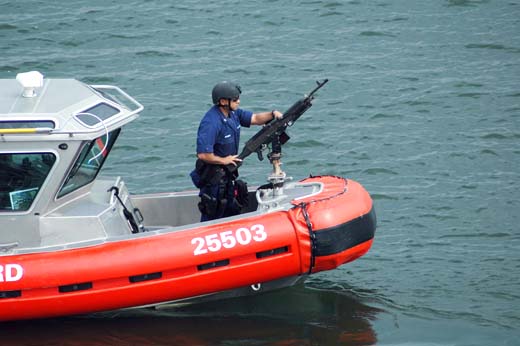 A member of the U.S. Coast Guard mans a 50-caliber machine gun during a patrol of the Ohio River. Pittsburgh shut down all river traffic during the two-day G-20 summit, and waterways were heavily monitored.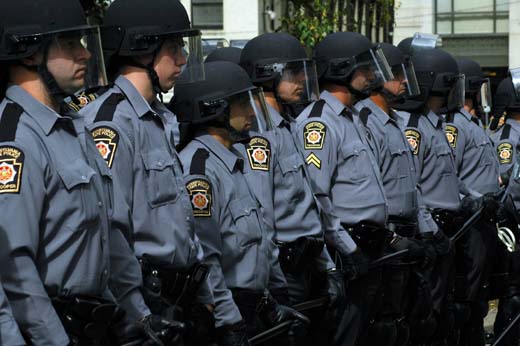 Police line sidewalks during Friday afternoon's rally. The city of Pittsburgh reportedly shelled out nearly $20 million on security, with the federal government providing $10 million, and Pennsylvania $4.3 million.
On Friday, several thousand activists from around the world marched from the city's Oakland neighborhood to a rally in front of the City County Building in downtown Pittsburgh. The protest was sponsored by the Thomas Merton Center's Antiwar Committee and featured music and speeches by leading activists.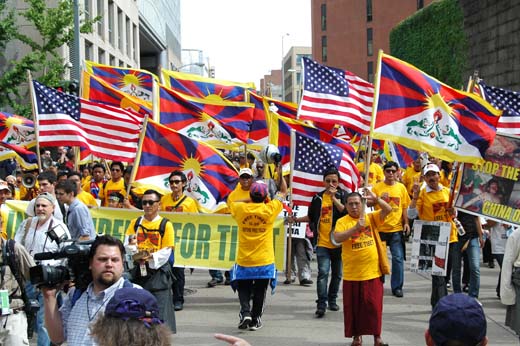 Tibetan activists protesting the Chinese occupation of their country chanted and carried U.S. and Tibetan flags at Friday's march in downtown Pittsburgh.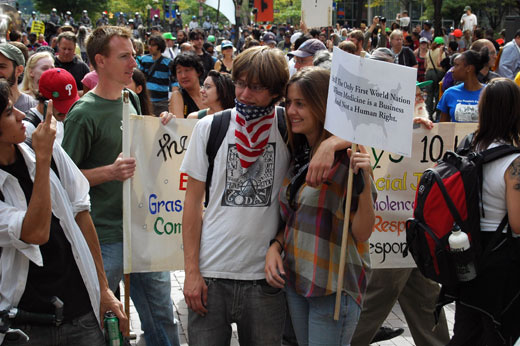 "Our first protest." Youth were heavily represented at both Thursday's and Friday's G-20 protests in Pittsburgh. A young couple documents the moment for posterity.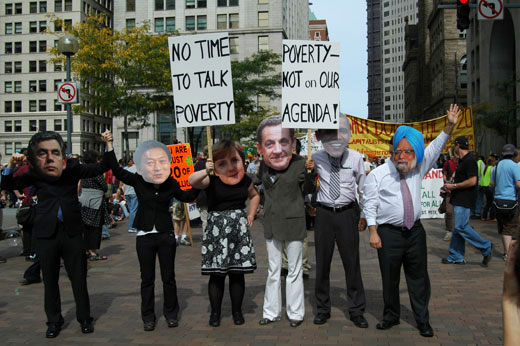 Protesters wearing masks of British Prime Minister Gordon Brown, Chinese President Hu Jintao, German Chancellor Angela Merkel, French President Nicolas Sarkozy, U.S. President Barack Obama, and Indian Prime Minister Manmohan Singh, at Friday's rally in front of Pittsburgh's City-County Building.
All images by Christopher Moraff.
For a limited time:
Donate $20 or more to In These Times and we'll send you a copy of Let This Radicalize You.
In this new book, longtime organizers and movement educators Mariame Kaba and Kelly Hayes examine the political lessons of the Covid-19 pandemic and its aftermath, including the convergence of mass protest and mass formations of mutual aid. Let This Radicalize You answers the urgent question: What fuels and sustains activism and organizing when it feels like our worlds are collapsing?
We've partnered with the publisher, Haymarket Books, and 100% of your donation will go towards supporting In These Times.
Christopher Moraff
writes about national politics, social justice and culture for a number of publications, including
The American Prospect
online,
Design Bureau
and
The Philadelphia Tribune
. His columns appear weekly on
Philadelphia
magazine's blog The Philly Post. Moraff, who lives in Philadelphia, is a member of the
In These Times
Board of Editors.