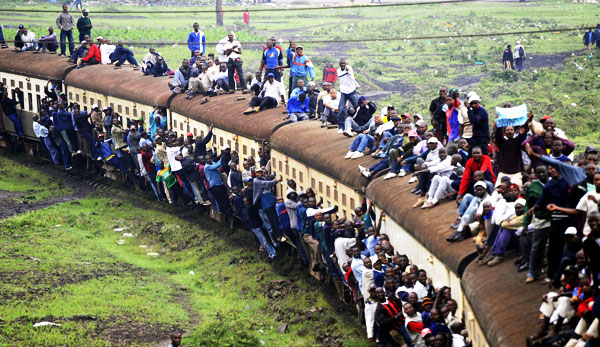 Act Locally » January 17, 2010
Snapshot: Trouble Ahead, Trouble Behind
Driving that Kenyan train.
Nairobi—On Jan. 5, 2010, Kenyan passengers hang onto an overloaded train, after public transport was paralyzed in Kenyan cities as minibus taxi drivers went on a three-day strike to protest alleged extortion and corruption by Kenyan police. Thousands of workers who rely on the so-called matatus (minibuses) were forced to stay home. Others walked for hours or hitchhiked to work. Officials of the two groups that called the countrywide bus strike were set to meet with Internal Security Minister George Saitoti in an attempt to end the paralyzing protest. (Photo by Simon Maina/AFP/Getty Images)

Rachel K. Dooley
Rachel K. Dooley is the Creative Director for In These Times.
if you like this, check out:
View Comments