Duly Noted
Friday Jun 29, 2012 10:22 am
Prohibition Follies: Camps Ban Sunscreen as Drug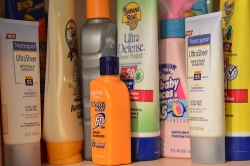 Some camps and schools have banned sunscreen because it's a drug:
But sunscreen rules are common. They typically stem from state and local policies that stop kids from bringing any drug — including non-prescription drugs — to school, says Jeff Ashley, a California dermatologist who leads an advocacy group called Sun Safety for Kids.

Sunscreens are regulated as over-the-counter drugs, so many districts treat them like aspirin, just to be safe, he says.
The kids may get melanoma, but at least they'll be drug-free.
4 comments ·