Elliot Rodger's War on Women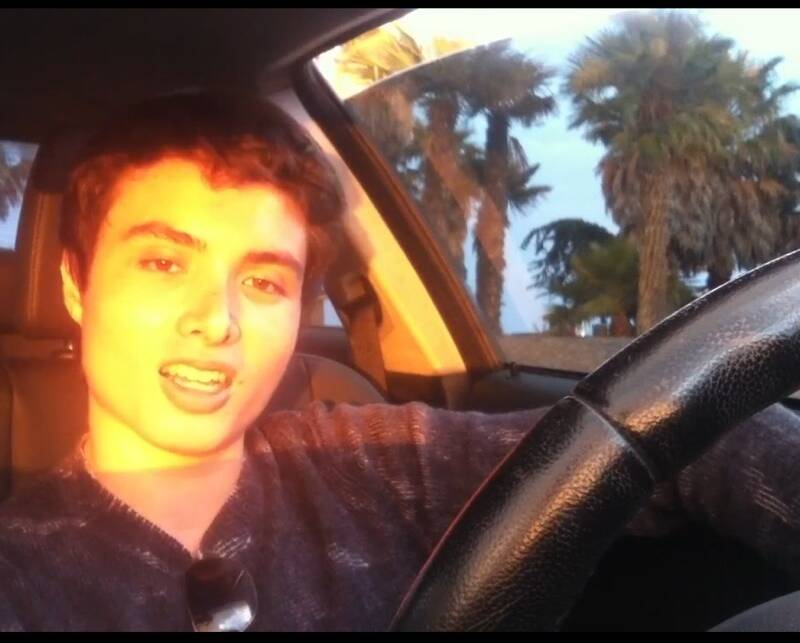 Like many ter­ror­ists, Elliot Rodger picked a sym­bol­ic tar­get when he sin­gled out the Alpha Phi Soror­i­ty as the focus of his self-declared ​"War on Women."
​"I can­not kill every sin­gle female on earth, but I can deliv­er a dev­as­tat­ing blow that will strike all of them to the core of their wicked hearts," Rodger wrote in the 137-page man­i­festo that he sent to news out­lets before he embarked on ram­page that left sev­en peo­ple dead, includ­ing Rodger him­self, ​"I will attack the very girls who rep­re­sent every­thing I hate in the female gen­der: The hottest soror­i­ty of UCSB." Ulti­mate­ly, Rodgers failed to gain entry to the soror­i­ty house, but he explained his rea­sons for tar­get­ing it in detail.
The 9⁄11 hijack­ers attacked sym­bols of Amer­i­can eco­nom­ic and mil­i­tary pow­er. Tim McVeigh bombed the Mur­rah Fed­er­al Build­ing because it sym­bol­ized the fed­er­al gov­ern­ment he hat­ed. The Islam­ic ter­ror­ist group Boko Haram raid­ed a physics exam to high­light their oppo­si­tion to female literacy.
For Rodger, Alpha Phi rep­re­sent­ed female sex­u­al auton­o­my, which he regard­ed as the root of all evil: ​"Women should not have the right to choose who to mate with. The choice should be made for them by civ­i­lized men of intel­li­gence," Rodger wrote in his man­i­festo. If women are allowed to con­tin­ue to choose their mates, he assert­ed, soci­ety will con­tin­ue to devolve, because women invari­ably choose stu­pid men. He explained in his man­i­festo that Alpha Phi was full of ​"blonde sluts" who were com­mit­ting the sin of hav­ing sex with ​"unwor­thy" men.
The man­i­festo uses the phrase ​"war on women" repeat­ed­ly. Rodger also planned to kill men dur­ing his ram­page, and he end­ed up killing more men than women, but he placed the ulti­mate blame square­ly on women. ​"I hat­ed all those obnox­ious, bois­ter­ous men who were able to enjoy plea­sur­able sex lives with beau­ti­ful girls, but I hat­ed the girl's [sic] more because they chose those men instead of me. It was their choice," Rodger wrote.
Ter­ror­ism has been defined as spec­tac­u­lar pub­lic vio­lence designed to influ­ence a vast audi­ence at a dis­tance via media expo­sure. The ter­ror­ist uses dra­mat­ic, sym­bol­i­cal­ly potent vio­lence to pro­voke max­i­mum psy­cho­log­i­cal impact from what, in mil­i­tary terms, may be a very small attack. That's one rea­son ter­ror­ism is often favored by weak­er groups against stronger adver­saries. For exam­ple, anti-abor­tion ter­ror­ists don't have the mil­i­tary might to end abor­tion by force. Instead, they hope that a hand­ful of high­ly pub­li­cized attacks, like the shoot­ing of abor­tion provider Dr. George Tiller, will fright­en off doc­tors and patients and demor­al­ize pro-choice activists.
Like any ter­ror­ist, Rodger cor­rect­ly sur­mised that his acts would gar­ner tremen­dous media atten­tion. In addi­tion to send­ing a man­i­festo to the media, he also took to YouTube to cre­ate his own nar­ra­tive of the crimes he was about to commit.
Rodger's misog­y­ny didn't spring full-formed from his dis­turbed mind. As Aman­da Mar­cotte points out in the Amer­i­can Prospect, Rodger was steeped in the misog­y­nist ide­ol­o­gy of Pick Up Artistry and the atten­dant PUA back­lash. He was a reg­u­lar con­trib­u­tor to a site called PUAhate.
Mem­bers of these sub­cul­tures do not gen­er­al­ly advo­cate for vio­lence and it would be unfair to blame them for Rodger's crimes. How­ev­er, PUAs pro­mul­gate the pseu­do­sci­en­tif­ic ideas about love and sex that teach men they need to be more misog­y­nist in order to com­mand love and respect. Accord­ing to PUA dog­ma, women are nat­u­ral­ly attract­ed to ​"alpha" males, who demon­strate their alpha-tude by treat­ing women and oth­er men bad­ly. Beta males are sup­pos­ed­ly the nice guys who are sys­tem­at­i­cal­ly ignored by women sim­ply for being nice. PUA's promise their cred­u­lous audi­ence that too they can par­take in the sex­u­al suc­cess of alpha males by imi­tat­ing their cal­lous and dom­i­neer­ing behavior.
Of course, as Mar­cotte explains, enter­pris­ing PUA entre­pre­neurs often sep­a­rate suck­ers from their mon­ey with­out improv­ing their dat­ing prospects. Sites like PUA​hate​.com, where Rodger was a reg­u­lar poster, offer a home for failed artistes. The now-sus­pend­ed PUAhate's logo fea­tured a blood spat­ter. Instead of recon­sid­er­ing the core val­ues of the PUA move­ment, PUA haters tend to redou­ble their hatred of women:
PUA­hate mem­bers con­tin­ue to sub­scribe, how­ev­er, to the the­o­ry that women are infe­ri­or and for­bid­ding mon­sters, pre-pro­grammed to reject wor­thy betas in favor of sup­pos­ed­ly awful alphas, and their main com­plaint against PUAs is that they mis­lead betas into think­ing they can game the sys­tem. PUA­hate, there­fore, devolved into a pity ses­sion of misog­y­nists explain­ing to each oth­er how women are the source of all their mis­ery, and the only solu­tion to the prob­lem was to start strip­ping women of all rights to sex­u­al self-determination.
Rodger came to PUA­hate with his own misog­y­nist views, but he found val­i­da­tion for his beliefs with­in the com­mu­ni­ty. ​"Read­ing posts on [PUA­hate] only con­firmed many of the the­o­ries about how wicked and degen­er­ate women real­ly are," Rodger wrote.
Rodger is not the first explic­it­ly misog­y­nist ter­ror­ist. In 1989, Marc Lep­ine shot 14 women at an engi­neer­ing school in Mon­tréal, Que­bec. Eye­wit­ness­es said that Lep­ine accused his vic­tims of being fem­i­nists before he opened fire and report­ed that he selec­tive­ly tar­get­ed women. Amaz­ing­ly, Lepine's actions were ini­tial­ly dis­missed by offi­cials as those of an apo­lit­i­cal mad­man and the police sup­pressed his sui­cide note on the pre­text that it might inspire ​"copy­cat crimes," but Lepine's polit­i­cal agen­da was proven when the note was leaked to the press. It read in part:
​"Would you note that if I com­mit sui­cide today it is not for eco­nom­ic rea­sons … but for polit­i­cal rea­sons," it read. ​"Because I have decid­ed to send the fem­i­nists, who have always ruined my life, to their Mak­er … I have decid­ed to put an end to those viragos."
In 2009, George Sodi­ni opened fire in a women's gym in Penn­syl­va­nia, killing three women and wound­ing nine oth­ers in a metic­u­lous­ly planned mass mur­der spree as revenge against the mil­lions of desir­able women who had failed to have sex with George Sodi­ni. With an eye to influ­enc­ing pub­lic dis­course, Sodi­ni left instruc­tions that his misog­y­nist ram­blings be pub­lished posthu­mous­ly.
Sodi­ni was a ded­i­cat­ed Pick­up Artist. Either unaware or indif­fer­ent to the fact that Sodi­ni was the worst pos­si­ble adver­tise­ment for their prod­uct, Pick­up Artists used Sodini's spree as a mar­ket­ing tool to adver­tise PUA prod­ucts, imply­ing that if only Sodi­ni had ​"Game," he wouldn't have been reduced to shoot­ing strangers out of frus­tra­tion. The PUA-indus­tri­al-com­plex jumped on the UCSB mas­sacre with a sim­i­lar mar­ket­ing pitch.
Some have sug­gest­ed it is point­less to attempt to attach any polit­i­cal mean­ing to Elliot Rodger's ram­page because they believe he was insane. Or because misog­y­ny was just one issue that pre­oc­cu­pied this obvi­ous crack­pot. Indeed, Rodger's par­ents con­firmed that he had a his­to­ry of men­tal ill­ness. How­ev­er, the fact that he was prob­a­bly suf­fer­ing from a men­tal ill­ness doesn't make him any less a ter­ror­ist. Acknowl­edg­ing that Rodger was a ter­ror­ist in no way detracts from a dis­cus­sion of our lax gun laws. ("I was now armed," Rodger wrote of buy­ing his first weapon, ​"Who's the alpha male now, bitch­es?") After all, a suc­cess­ful gun pol­i­cy would be one that keeps guns out of the hands of ter­ror­ists and oth­er dan­ger­ous people.
By any mean­ing­ful stan­dard, Rodger planned and exe­cut­ed a ter­ror­ist attack. He orches­trat­ed the vio­lence for max­i­mum sym­bol­ic impact and took steps to dis­sem­i­nate his mes­sage through the mass media. In many ways, he's a clas­sic exam­ple of what ter­ror­ism experts call a lone wolf or self-rad­i­cal­ized terrorist.
Rodger's beliefs were extreme even rel­a­tive to the most fevered cor­ners of the Men's Rights Move­ment. How­ev­er, his views did not emerge from an ide­o­log­i­cal vac­u­um. Rodger's views were a log­i­cal exten­sion of misog­y­nist phi­los­o­phy that says that women need to be dom­i­nat­ed and con­trolled for the good of society.
Attempt­ing to shoot up a soror­i­ty house because you want to con­trol women is just as polit­i­cal and just as ter­ror­is­tic as attempt­ing to shoot up an abor­tion clinic.
Lind­say Bey­er­stein
is an award-win­ning inves­tiga­tive jour­nal­ist and In These Times staff writer who writes the blog Duly Not­ed. Her sto­ries have appeared in Newsweek, Salon, Slate, The Nation, Ms. Mag­a­zine, and oth­er pub­li­ca­tions. Her pho­tographs have been pub­lished in the Wall Street Jour­nal and the New York Times' City Room. She also blogs at The Hill­man Blog (http://​www​.hill​man​foun​da​tion​.org/​h​i​l​l​m​a​nblog), a pub­li­ca­tion of the Sid­ney Hill­man Foun­da­tion, a non-prof­it that hon­ors jour­nal­ism in the pub­lic interest.