By Ridiculing Redskins, Colbert Made Racism 'Truthy'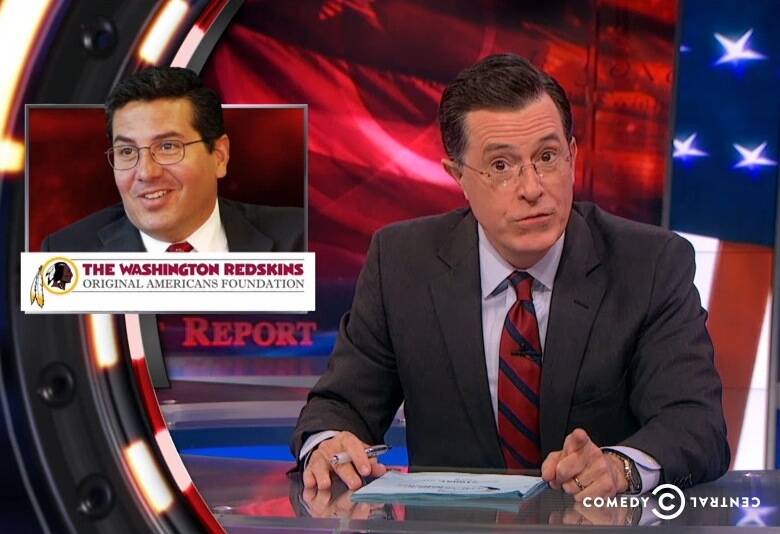 Stephen Col­bert is not a blowhard right-wing cable news host, but he plays one on The Col­bert Report. The Stephen Col­bert of The Col­bert Report is a sex­ist, racist, ego­ma­ni­a­cal jin­go­ist, whom Stephen Col­bert the com­ic describes as a will­ful­ly igno­rant idiot.
A recent episode of the Report includ­ed a bit mock­ing Dan Sny­der, own­er of the Wash­ing­ton Red­skins foot­ball team, for set­ting up a bogus ​"Orig­i­nal Amer­i­cans Foun­da­tion" in attempt to dis­tract the pub­lic from the fact that his team's name is a racial slur against the afore­men­tioned orig­i­nal Amer­i­cans. Despite wide­spread pub­lic revul­sion, Sny­der has refused to change his team's name. Appar­ent­ly, he's okay with the fact that some high-pro­file sports reporters point­ed­ly refuse to use the R‑word in their cov­er­age of the team.
To ridicule Sny­der, Col­bert revived the char­ac­ter of Ching Chong Ding Dong, a yel­low­face car­i­ca­ture. Ching Chong debuted on The Col­bert Report in 2005 in a sketch in which Stephen the Con­ser­v­a­tive Talk Show Host got ​"caught" doing his racist Ching Chong impres­sion on a live satel­lite feed:
Ching Chong has always been iden­ti­fied as unac­cept­able with­in the world of the show. He's an expres­sion of the main character's racist id. Scratch a tough-talk­ing right-wing pun­dit and watch a big­ot bleed.
In his mono­logue, Col­bert express­es sol­i­dar­i­ty with Sny­der and makes the same bad argu­ments in defense of Ching Chong that ​"Red­skins" defend­ers use to defend their mas­cot: It's harm­less, it's a tra­di­tion, and uptight anti-racist activists just don't get it:
Folks, this move by Dan Sny­der inspires me, because my show has fre­quent­ly come under attack for hav­ing a so-called offen­sive mas­cot, my beloved char­ac­ter Ching Chong Ding Dong. … Offen­sive or not – NOT – Ching Chong is part of the unique her­itage of the Col­bert Nation that can­not change. But I'm will­ing to show the Asian com­mu­ni­ty that I care by intro­duc­ing the Ching Chong Ding Dong Foun­da­tion for Sen­si­tiv­i­ty to Ori­en­tals or What­ev­er. … I owe all this sen­si­tiv­i­ty to Red­skins own­er Dan Sny­der. So Asians, send your thank-you let­ters to him, not me.
When seen in full, the point of the sketch couldn't be clear­er: Col­bert is mock­ing Sny­der for insult­ing the nation's intel­li­gence and our sense of decen­cy with a ​"char­i­ty" that's almost as racist as the team name it's sup­posed to dis­tract us from. Which is why there was no con­tro­ver­sy until an unnamed staffer at Com­e­dy Cen­tral tweet­ed the fol­low­ing excerpt on The Col­bert Report​'s Twit­ter feed: ​"I am will­ing to show #Asian com­mu­ni­ty I care by intro­duc­ing the Ching-Chong Ding-Dong Foun­da­tion for Sen­si­tiv­i­ty to Ori­en­tals or Whatever."
Stripped of its con­text, the tweet seems to mock cul­tur­al sen­si­tiv­i­ty and/​or Asian peo­ple. Before long, the #Can­cel­Col­bert hash­tag was trend­ing on Twitter.
As is typ­i­cal in the TV busi­ness, Col­bert the com­ic doesn't write his show's Twit­ter feed. The com­ic stat­ed on his per­son­al feed that he was offend­ed by the tweet. It was delet­ed by Com­e­dy Central.
Some peo­ple won­der why it was nec­es­sary to evoke such an ugly and hurt­ful stereo­type in order to make an anti-racist point. Here's why: There are defend­ers of the ​"Red­skins" name who had their con­sciences pricked by Col­bert's rou­tine who could­n't have been reached by earnest anti-racist entreaties. These folks have con­vinced them­selves that the team name is a non-issue and no amount of ratio­nal argu­ment is going to make them real­ize what's wrong with it. Some­times, you can change someone's mind by mak­ing them feel some­thing, even when ratio­nal argu­ment fails. One of the func­tions of social satire is to engi­neer those kinds of epiphanies.
The Ching Chong Ding Dong rou­tine is sup­posed to make peo­ple uncom­fort­able. Such depic­tions of Asians are uni­ver­sal­ly rec­og­nized as offen­sive in main­stream Amer­i­can soci­ety. The aver­age apo­lit­i­cal par­ent would wash their kid's mouth out with soap if they caught him talk­ing like that. Hell, the aver­age racist would be ashamed to be caught mak­ing Ching Chong jokes in public.
Even if you're the kind of big­ot who secret­ly thinks that shit is fun­ny, you know enough to keep it under wraps. You wouldn't sport a Ching Chong decal on your car or on your jer­sey, like many Red­skins fans do with their mascot.
The com­par­i­son between the Red­skins mas­cot and Ching Chong Ding Dong is sup­posed to make Red­skins defend­ers feel ashamed of them­selves. Col­bert is try­ing to make them real­ize at a gut lev­el that their beloved mas­cot is red­face to Ching Chong's yellowface.
He's mak­ing it truthy for them.
Lind­say Bey­er­stein
is an award-win­ning inves­tiga­tive jour­nal­ist and In These Times staff writer who writes the blog Duly Not­ed. Her sto­ries have appeared in Newsweek, Salon, Slate, The Nation, Ms. Mag­a­zine, and oth­er pub­li­ca­tions. Her pho­tographs have been pub­lished in the Wall Street Jour­nal and the New York Times' City Room. She also blogs at The Hill­man Blog (http://​www​.hill​man​foun​da​tion​.org/​h​i​l​l​m​a​nblog), a pub­li­ca­tion of the Sid­ney Hill­man Foun­da­tion, a non-prof­it that hon­ors jour­nal­ism in the pub­lic interest.