Slacking Workers of the World Unite
We've made an art of wasting time at work. But to what end?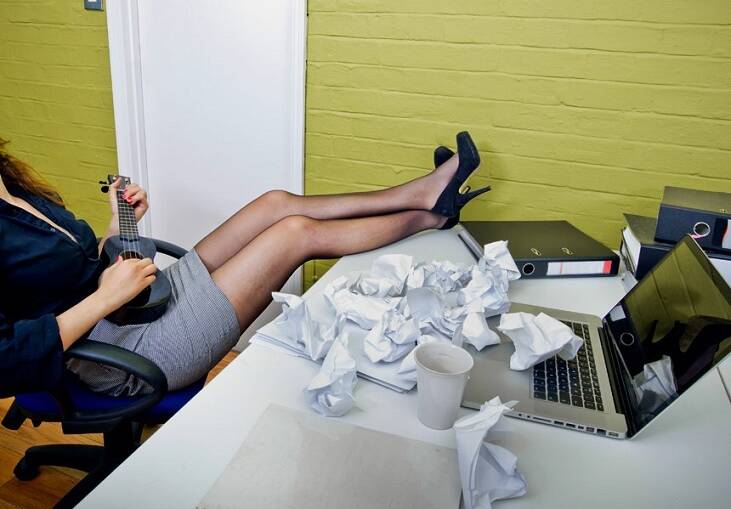 Sev­en­ty per­cent of porn view­ing and 60 per­cent of online shop­ping take place dur­ing busi­ness hours. Stud­ies indi­cate that world­wide, the aver­age employ­ee spends about 1 to 3 hours a day goof­ing off at work.
It turns out that slacking requires 'planning, collaboration, risk calculation and ethical consideration.'
In Emp­ty Labor: Idle­ness and Work­place Resis­tance, Roland Paulsen, a schol­ar of busi­ness admin­is­tra­tion at Lund Uni­ver­si­ty in Swe­den, sets out to under­stand what he calls emp­ty labor, which includes any­thing a work­er does on the clock that isn't work — be it surf­ing the web, sleep­ing, orga­niz­ing the office foot­ball pool, or writ­ing a doc­tor­al dis­ser­ta­tion on the sly.
Paulsen focused on the most extreme shirk­ers. He inter­viewed 43 Swedish work­ers who claimed to spend less than half of their work hours actu­al­ly work­ing. He tracked down these hard­core non-per­form­ers through friends of friends, web ads and the Swedish web­site mas​ka​.nu, where peo­ple share slack­ing sto­ries and tips. Most were white-col­lar work­ers, but a con­struc­tion work­er, a secu­ri­ty guard and sev­er­al house clean­ers also par­tic­i­pat­ed. Paulsen's inter­views were designed to answer two basic ques­tions: How do you get away with this? and Why do you do it?
It turns out that slack­ing off is seri­ous busi­ness: " ​'Doing noth­ing' while at work can be a very demand­ing activ­i­ty requir­ing plan­ning, col­lab­o­ra­tion, risk cal­cu­la­tion, and eth­i­cal con­sid­er­a­tion," Paulsen observes. Some sub­jects turned shirk­ing into a game they found more mean­ing­ful than their actu­al jobs.
Even when pro­duc­tiv­i­ty is dif­fi­cult to mea­sure, pres­ence is eas­i­ly quan­ti­fied. In order to get ahead, work­ers have to be seen to show up ear­ly and leave late. Many of Paulsen's infor­mants said they put a lot of effort into punc­tu­al­i­ty and atten­dance (as well as per­son­al groom­ing), which made man­agers less like­ly to ques­tion their low performance.
Paulsen con­cludes that the most suc­cess­ful slack­ers have jobs with high ​"opac­i­ty," which means that oth­er peo­ple have a hard time grokking what they actu­al­ly do or how long it's sup­posed to take.
Uber-slack­ers are tak­ing advan­tage of a fea­ture of the mod­ern econ­o­my: It is unusu­al­ly con­ducive to emp­ty labor. We are often told that peo­ple are work­ing longer and hard­er than ever, and that may well be true, on aver­age. But in many jobs, work has become decou­pled from tan­gi­ble pro­duc­tion, mak­ing pro­duc­tiv­i­ty dif­fi­cult to measure.
A web devel­op­er told Paulsen that her team gave inflat­ed time esti­mates for projects they didn't want to do, and nobody could con­tra­dict them, because only the web team knew how long it should take to build a web­site. When a client want­ed to put fly­ing san­i­tary nap­kins on a com­pa­ny web­site, the team claimed it would take weeks, instead of the short time it would actu­al­ly require.
On the ques­tion of why peo­ple spend so much time goof­ing off, Paulsen dis­tills some com­mon themes. Some said their jobs were so mis­er­able, or so mean­ing­less, that they felt com­pelled to goof off in order to endure them. Oth­ers said they wast­ed time at work to get back at an abu­sive boss, annoy­ing cowork­ers or a firm that stole their wages.
Paulsen was sur­prised to dis­cov­er how much emp­ty labor was invol­un­tary. Sub­jects often told him they were sim­ply try­ing to occu­py them­selves because there wasn't enough work for them to do, either because their work­load waxed and waned or because their man­agers were too incom­pe­tent to make sure they had enough to do.
A few said they wast­ed time in order to rebel against the sys­tem generally.
"It's like killing two birds with one stone," a secu­ri­ty offi­cer told Paulsen, ​"You both avoid sell­ing your­self entire­ly, and still get paid for watch­ing movies." The offi­cer said slack­ing was his pre­ferred method of ​"being a thorn in the side of cap­i­tal­ism." Unlike union activ­i­ties, which nev­er seemed to him to pro­duce results, slack­ing paid off right away.
Paulsen isn't the first to make the con­nec­tion between slack­ing and resis­tance. The Indus­tri­al Work­ers of the World, which flour­ished in the ear­ly 20th cen­tu­ry, endorsed var­i­ous work-thwart­ing-tac­tics, rang­ing from ​"sol­dier­ing" (going through the motions, as slow­ly as pos­si­ble) to shirk­ing to sab­o­tage. Unlike their sworn ene­mies at the Amer­i­can Fed­er­a­tion of Labor, who cham­pi­oned the intrin­sic dig­ni­ty of labor and envi­sioned a future of well-paid jobs for all, the IWW Wob­blies saw waged work as a coer­cive sys­tem that should be resist­ed overt­ly and covert­ly: If you couldn't strike, you should shirk. In their view, shirk­ing was a kind of redis­tri­b­u­tion of wealth because you got the same pay for less effort.
Paulsen rais­es an impor­tant ques­tion: If slack­ing is an effec­tive form of resis­tance, why don't employ­ers do more to com­bat it? If the aver­age work­er real­ly spends a quar­ter of her eight-hour day slack­ing off, that's a huge inef­fi­cien­cy. Slack­ing is by def­i­n­i­tion covert, but man­age­ment must also be some­what com­plic­it, turn­ing a blind eye to infrac­tions. The Inter­net is a major time-waster, and most employ­ers say they mon­i­tor employ­ees' web use. It seems like boss­es could eas­i­ly crack down hard­er, if they want­ed to.
Some of Paulsen's white-col­lar sub­jects told him that being allowed to slack off made them feel impor­tant. In this view, per­mit­ting some slack­ing can be a very cheap perk. Ignor­ing the occa­sion­al extend­ed lunch hour is a bar­gain if it makes work­ers feel like val­ued pro­fes­sion­als who are paid for their out­put rather than har­ried wage-earn­ers who must account for every minute of their time. Who knows? Some employ­ees might even be will­ing to com­pro­mise on salary or ben­e­fits in exchange for a ​"fun" or ​"laid back" workplace.
Per­haps this explains why Google and some oth­er ​"new econ­o­my" com­pa­nies have proud­ly insti­tu­tion­al­ized emp­ty labor, with work­place ameni­ties like video game con­soles, nap pods and beer nights. Some of these are offered in the name of reduc­ing stress or enhanc­ing cre­ativ­i­ty. Cyn­ics, how­ev­er, say that cor­po­rate ​"cul­tures of fun" are real­ly cul­tures of cut-rate bribery, where com­pa­nies induce work­ers to put in more hours with cheap incen­tives, instead of pay­ing them bet­ter wages.
Paulsen also sug­gests that the cel­e­bra­tion of emp­ty labor by tech com­pa­nies is a form of cor­po­rate con­spic­u­ous con­sump­tion. He thinks Google is show­ing off what a rich com­pa­ny it is by flaunt­ing the amount of paid idle­ness it supports.
Unlike Paulsen's sub­jects, the Wob­blies weren't con­tent to eke out an illic­it nap here, or a few ​"unearned" dol­lars there. For the IWW, sol­dier­ing and shirk­ing were means to a larg­er end. They saw sol­dier­ing and shirk­ing as com­po­nents of orga­nized resis­tance with­in rapid­ly mod­ern­iz­ing fac­to­ries where work­ers' con­trol over their out­put was being usurped by assem­bly-line pro­duc­tion and ​"sci­en­tif­ic man­age­ment." The Wob­blies' ulti­mate goal was to unite all work­ing peo­ple into One Big Union that would seize the means of pro­duc­tion and abol­ish work for wages.
Paulsen's slack­ers have no such grand ambi­tions. Even the most polit­i­cal­ly mind­ed see slack­ing as a way to extract as much as they can for them­selves from the exist­ing sys­tem. Emp­ty labor can make sti­fling jobs feel more mean­ing­ful, but it's hard to see how this con­sti­tutes resis­tance, if it enables peo­ple to keep doing the same bad jobs.
Paulsen con­cludes that ram­pant slack­ing isn't hurt­ing cap­i­tal­ism all that much. Nor is he con­vinced that slack­ing off at work is an effec­tive form of psy­cho­log­i­cal resis­tance, giv­en that many sub­jects saw their idle­ness as invol­un­tary or unenjoyable.
In the end, the most Paulsen can say about emp­ty labor is that it under­scores the absur­di­ties of an econ­o­my where peo­ple are paid for their time rather than their out­put. Huge num­bers of peo­ple are work­ing sig­nif­i­cant­ly few­er hours than they're get­ting paid for, and the sys­tem grinds on just the same.
This is the shod­dy reward that work­ers get for dra­mat­i­cal­ly increased pro­duc­tiv­i­ty: The work of an 8‑hour day now fits com­fort­ably into a 6‑hour day. Cor­po­rate prof­its are sky­rock­et­ing, but the aver­age work­er is still oblig­ed to sit around for 8 hours, on call for the boss. So, who's steal­ing time from whom?
Lind­say Bey­er­stein
is an award-win­ning inves­tiga­tive jour­nal­ist and In These Times staff writer who writes the blog Duly Not­ed. Her sto­ries have appeared in Newsweek, Salon, Slate, The Nation, Ms. Mag­a­zine, and oth­er pub­li­ca­tions. Her pho­tographs have been pub­lished in the Wall Street Jour­nal and the New York Times' City Room. She also blogs at The Hill­man Blog (http://​www​.hill​man​foun​da​tion​.org/​h​i​l​l​m​a​nblog), a pub­li­ca­tion of the Sid­ney Hill­man Foun­da­tion, a non-prof­it that hon­ors jour­nal­ism in the pub­lic interest.