Tuesday, Oct 30, 2012, 4:51 pm
Hurricane Sandy Photo I: Carroll Gardens, Brooklyn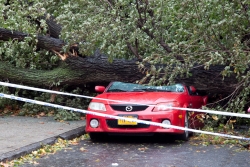 Apart from a few downed trees in Carroll park, some overturned newspaper boxes, and a lot of fallen leaves, Carroll Gardens looked pretty much unscathed this afternoon.
This picture shows a huge tree in Carroll Park that toppled into the adjacent street, crushing at least one car. See full-sized image.
Lindsay Beyerstein
Lindsay Beyerstein is an award-winning investigative journalist and In These Times staff writer who writes the blog Duly Noted. Her stories have appeared in Newsweek, Salon, Slate, The Nation, Ms. Magazine, and other publications. Her photographs have been published in the Wall Street Journal and the New York Times' City Room. She also blogs at The Hillman Blog (http://www.hillmanfoundation.org/hillmanblog), a publication of the Sidney Hillman Foundation, a non-profit that honors journalism in the public interest.
More by Lindsay Beyerstein
View Comments