The forgotten refugee crisis.
The outgoing U.N. High Commissioner for Human Rights isn't leaving quietly.
Time and Tide
Things are looking up for labor.
Lula's Last Chance
Will compromise pay off for the Brazilian left?
Bush puts his contempt for consumers on glowing display.
Editorial
Selling the War.
Appall-o-Meter
Fascists for Che
White supremacists infiltrate the anti-globalization movement.
Bell Helicopters skirted U.N. embargo to sell to Serbia.
Anti-abortionists take aim at public schools.
Dole Drums
Liddy's no lover of labor.
Banking on Poverty
Predatory lenders take advantage of the poor.
In Person: Scott Ritter
BOOKS: The history of capital punishment in America.
A House in Disorder
BOOKS: Domestic labor in the shadows.
FILM: Elections of the absurd.
FILM: Beware, for I am the Master of the Flying Guillotine.
September 13, 2002
Mary Quite Contrary
The outgoing U.N. High Commissioner for Human Rights isn't leaving quietly.
United Nations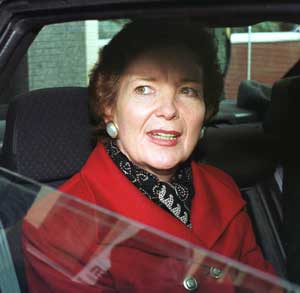 Oleg Nikishin / Getty
hen a meeting of diplomats, non-governmental organizations and writers convened in 1997 at U.N. headquarters to consider how to commemorate the upcoming 50th anniversary of the Universal Declaration of Human Rights, one option was rejected unanimously. There would be no attempt to redraft or update the document, because a new version would surely be weaker.

To the fundamentalists in the U.S. Congress and other parts of the world, international human rights was like something said by Humpty-Dumpty in Through the Looking Glass: When he used a word, it meant exactly what he wanted it to mean, no more and no less. When the Israelis killed Palestinians in Hebron several years ago, for instance, the U.N. statement assigned no blame, regretted the Palestinian deaths and hoped for peace.

But 1997 was also the year that Mary Robinson, the former president of Ireland, took office as the U.N. high commissioner for human rights—and when she used the phrase human rights, it meant exactly what it should. Robinson's statement on the Hebron killings condemned the Israelis and said they should abide by the Geneva Convention. On her watch, human rights would come to mean a lot more inside the U.N. bureaucracy than ever before.

After the Berlin Wall fell, there had been a brief period of consensus, culminating in the 1993 Vienna World Conference on Human Rights, which called for the appointment of the first U.N. high commissioner for human rights. The next year, José Ayala Lasso, a highly unmemorable Latin American diplomat, got the job. Perhaps the defining moment of his tenure was creation of a "Human Rights Fax Hotline" to report human rights violations. Then a persecuted peasant in Central Africa could run bleeding through the bush to his nearest post office, where government officials, in return for the equivalent of a month's salary (if the phones were working), could obligingly send his complaint fax to Geneva, where it would curl up on the floor with thousands of others—to be ignored.

Things changed when Robinson accepted U.N. Secretary-General Kofi Annan's job offer: She brought a sense of urgency to the position, along with the authority of a recently retired head of state. This upset the type of U.N. bureaucrats who would much rather file reports of massacres at the bottom of a cabinet than upset governments of any hue. But for Robinson, human rights transcended national affiliations. Just because China was big, or Israel had friends in Washington, was no reason for her to stay silent.

Robinson recalls: "I got very wise advice from a friend of mine when I started—'Mary, remember, if you get too popular in that job, it means that you're not doing a good job.' So I didn't actively seek to be unpopular, but I knew that to do the job well ... you've got to be prepared to criticize both developed and developing countries."

While her outspokenness won her many friends at human rights organizations, governments were more uncomfortable. She transformed her position into that of a real international ombudsman, one who delivered withering judgments without fear or favor. This certainly was not appreciated in Washington—and the Bush administration actively opposed an extension of her term. "Robinson paid a price for her willingness to stand up to powerful governments that violate human rights," says Reed Brody of Human Rights Watch. "She has set a standard of candor and strength for future high commissioners, and we are sad to lose her as an ally."
n the end, it was almost certainly her criticism of the United States and Israel, in particular, that cost her the job. "It's ironic in a way," Robinson told In These Times, "because the issue I'm most committed to is the integrity of the human rights agenda, and shaping it so it's not politicized. I applied that faithfully to addressing the problems both in the occupied Palestinian Territory and in Israel."
She worries that in the United States, people "don't see the suffering of the Palestinian people; they don't see the impact of collective punishment. They do immediately see and empathize—and rightly so—with the suffering of Israeli civilians who are killed, or injured, or just frightened. … But I find it very disheartening that there is not more understanding here of the appalling suffering of the Palestinian population."
Robinson's days have been numbered since last year's conference on racism in Durban, South Africa, when the United States and Israel walked out to protest language in the draft agreement aimed at Israeli activities in the Occupied Territories. But the Bush administration seemed to hold her personally responsible for the rest of the world staying to the end. "I urged and begged the United States and Israel to stay," Robinson says. "I told them that all the draft language, which was unacceptable, would be taken out—and it was."
The Durban conference, though somewhat chaotic, expanded definitions of racism and offered support to many people who previously did not have much of a voice. "I think we achieved an extraordinary breakthrough in Durban against all the odds," Robinson says. "I was in Mexico for the first of the follow-up regional conferences from Durban, and it was a joy to see how much it means for countries in Central and South America, Mexico, Brazil, Chile, the way it has brought new hope for indigenous peoples, for people of African descent, for black Brazilians."
eptember 11 gave the United States yet another reason to ignore the results of international conventions like Durban—and indeed to ignore its own Bill of Rights. Robinson is very concerned about a deterioration of human rights since the terrorist attacks. Citing the examples of immigration detainees and Guantanamo Bay prisoners held by the United States, Robinson complains, "Governments are using [the terrorist attacks] to clamp down on human rights and freedom of expression. Human rights defenders are branded as terrorists; the climate is harsh for asylum seekers and refugees."
Despite this setback, she remains hopeful. "I think that the international human rights norms and standards have a contribution to make to a more ethical globalization. We have the international norms and standards; we have the treaty bodies working more effectively; we have the rapporteurs; there's an ability to name and shame; it's accepted that human rights don't stop at borders. If there are violations in a country, the international community is rightly interested."
Robinson is particularly optimistic about the development of an International Criminal Court. "I really think the International Criminal Court is an extraordinary step forward—a way of symbolizing that we are going to end impunity for egregious human rights violations. It may take time, but now there is going to be a permanent court, and you can be brought before it if you haven't been before a national court."
But once again, the United States is standing in the way. The Bush administration "unsigned" the treaty creating the court, passed what opponents are calling the "Hague Invasion Act" (authorizing the president to use military force to rescue Americans held by the court), and has threatened to veto every U.N. peacekeeping mission unless U.S. officials are guaranteed immunity. "Now if other countries are under pressure on human rights instruments they've signed," Robinson worries, "they may say, 'Well, if the U.S. can unsign a treaty, then so can we.' "
ooking back at her tenure, Robinson is most proud of helping to change the developing world's attitude toward human rights. "I was quite taken aback by how many leaders of developing countries told me, 'Don't you know human rights is just a Western stick to beat us with? It is politicized, nothing to do with real concern about human rights.' "
Recognizing that there was "an element of truth in that," she has defended the idea, unpopular with the neoliberal consensus of the last decade, that economic and social rights are integral to the protection of political rights, invoking the "express vision and mandate of the establishment of the High Commissioner's office, which was to seek consensus on the right to development. That's an individual and a collective right, the right of the people to gain the full flower of their human rights."
She claims one consequence of her success is that there is "more linkage being made by leaders of developing countries between human rights and economic and social development. They began to realize that if you got your human rights right, you accelerated human development and economic development."
She says the crucial issue now is "national capacity building"—building the infrastructure of efficient governance, courts and non-governmental organizations, that is needed to build societies based on rights in the developing world. She plans to devote her time to that project, now that she is quitting what she calls, with a smile, "the day job." The day before leaving office, Robinson announced plans to head a new project called the Ethical Globalization Initiative.
In July, Kofi Annan named Brazilian Sergio Vieira de Mello as Robinson's successor—a choice she applauds. Although a U.N. insider, de Mello is not necessarily the pushover that the United States would like. Coming from a stint as head of the U.N. mission in East Timor, he was also outspoken during the Balkan wars. Perhaps it says a lot about how the world has changed—with Mary Robinson's help—that a U.N. human rights commissioner has to fear being undermined by Washington more than China or a Third World tyrant.
Ian Williams is the author of The U.N. for Beginners and a frequent commentator on foreign affairs.
---
Return to top of the page.