The forgotten refugee crisis.
The outgoing U.N. High Commissioner for Human Rights isn't leaving quietly.
Time and Tide
Things are looking up for labor.
Lula's Last Chance
Will compromise pay off for the Brazilian left?
Bush puts his contempt for consumers on glowing display.
Editorial
Selling the War.
Appall-o-Meter
Fascists for Che
White supremacists infiltrate the anti-globalization movement.
Bell Helicopters skirted U.N. embargo to sell to Serbia.
Anti-abortionists take aim at public schools.
Dole Drums
Liddy's no lover of labor.
Banking on Poverty
Predatory lenders take advantage of the poor.
In Person: Scott Ritter
BOOKS: The history of capital punishment in America.
A House in Disorder
BOOKS: Domestic labor in the shadows.
FILM: Elections of the absurd.
FILM: Beware, for I am the Master of the Flying Guillotine.
September 13, 2002
Dealing with Dictators
Bell Helicopters skirted U.N. embargo to sell to Serbia.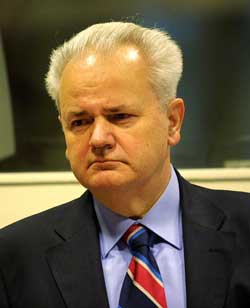 Michel Porro / Getty

At a time when Americans are concerned about corporate fraud and corruption, another sort of corporate lawbreaking has been revealed in a report prepared for The Hague war crimes trial of former Serbian dictator Slobodan Milosevic: the violation of an international U.N. arms embargo.

According to U.N. investigators, on June 5, 1998, Serbia paid $154,785 to Bell Helicopter Textron, a Texas company, for spare parts for the maintenance of Bell helicopters. At the time, Serbia was under a U.N. arms embargo—in February, more than a year before NATO bombing began, it had commenced attacks against Kosovo—but it was in dire need of helicopters and other war supplies.

It got what it needed: Bell Helicopter parts and millions of dollars worth of other materials—through a network of shell companies and secret bank accounts that spread out from the offshore financial center of Cyprus through Greece and some 50 other countries, including the United States.

Bell denies any impropriety in the sale. "The parts we sold were fuselage parts for civil and commercial aircraft," spokesman Mike Cox says. "There were no weapons involved." He said Bell had checked with the U.S. Commerce Department, and "we were told we were in compliance."

Marise Stewart, director of international government relations for Textron, Bell's parent corporation, contradicts that. "We don't have to check with anybody," Stewart says. "In the case of a civilian commercial aircraft or parts sale, there's no requirement for clearance or review."

Asked if there was any discussion inside Bell about the advisability of selling to Serbia, she replied that the only reason for discussion would be if Bell thought the customer might not pay.

Helicopters are civilian and military dual-use equipment, allowing manufacturers as well as governments to skirt embargo rules. Any helicopter can carry secret police and troops, and civilian choppers can easily be retrofitted for military use. That seems to be what Serbia did. Radomir Markovic, head of the Serbian state security branch—the secret police—told Hague Tribunal interrogators that "We needed to secure foreign currency reserves to provide ... guns for [security branch] helicopters." He added, "I know that the equipment needed by the service arrived."

Markovic's admission shows the Serbs were retrofitting their helicopters for military use. Should Bell have taken into account that Serbia might arm its helicopters? "We do not have any legal requirements to look behind the customer's ultimate intention or motivation," says Stewart.

For something "legal," the Serbs went to a lot of trouble to disguise their Bell spare parts purchases. Hague investigator Morten Torkildsen, a Norwegian forensic auditor, wrote in his June report that the Bell transaction was handled by a company called Abridge Trading, run in Cyprus with an account at the Hellenic Bank there.

Torkildsen said bank documents show that Abridge's primary function was purchase of military equipment for Serbia. Bell officials declined to comment on whether the request for the sale came directly from Abridge or the Serbian government, or to answer questions regarding what it knew about Abridge.

On April 18, 1997, Abridge also paid more than $1 million through its Hellenic account to AM General Corporation of South Bend, Indiana, to buy 20 Hummer vehicles—the more comfortable version of the Humvee battlefield transport vehicle. That sale occurred during the lifting of the arms embargo (from October 1996 to March 1998) following the ephemeral Dayton peace accords. Asked about the moral implications of the sale, spokesman Craig MacNab says, "The vehicles in question are civilian vehicles. They're just trucks, not tanks or jetfighters."

MacNab says the company sold the Hummers through an agent—that is, Abridge—and, "as I understand, the end-users were companies. Who they were lies beyond my ken. I have seen correspondence with end-users [who] might have been civilian companies."

To circumvent the embargo, Serbia paid Abridge and other suppliers through eight different shell companies it had set up. To transfer money out of Serbia to Cyprus, Serbian officials physically carried millions of dollars worth in currency, generally wrapped in packing paper, to deposit in Cypriot banks. As Mihalj Kertes, Serbian customs chief at the time, later said, he and other officials brought money to Cyprus, and in return got "a passage to the world." No questions asked.

The money went to Cypriot accounts of the shell companies, and from there to trading companies that arranged shipments with firms in Israel, Russia, Germany and the United States. The weapons, night-vision equipment, armor-plated vehicles and helicopters the money purchased allowed Milosevic to stay in power and carry out the war.

Investigators at the U.S. Treasury Office of Foreign Assets Control believe that at least $1 billion was moved out of Yugoslavia through Cyprus banks. Torkildsen, the U.N. investigator, found that half a billion dollars was deposited in the accounts of Serbian shell companies between July 1992 and June 2000, and $250 million in cash from January 1998 to March 1999, during the height of the war in Kosovo.

Under Cypriot law, typical for offshore havens, "nominees"—that is, front men—could be named as directors and shareholders on public incorporation documents. Only the National Bank of Cyprus had the right to know real owners. But the Serbs also gave the bank phony names, which were routinely accepted. Torkildsen followed the money trail to companies and individuals in more than 50 countries and found large transfers to such secrecy havens as Austria, Switzerland, Luxembourg, Liechtenstein, Singapore, Monaco, Guernsey and the Isle of Man.

The secret financing facilitated evasion of U.N. embargoes from 1994 to the end of 2000, including the last two years of the war in Bosnia and the 1998-1999 conflict in Kosovo, ending only with the demise of the Milosevic regime in October 2000. Torkildsen says, "In my career, I have never encountered or heard of an offshore finance structure this large and intricate."

The Kosovo phase of the Milosevic trial has just ended. The arguments and judgment, of course, will be based on human rights issues, not money laundering. However, the Torkildsen report could help the current Serb government's efforts to recover stolen funds. Because the helicopters are dual-use equipment—and Bell will claim it sold them for civilian purposes—it is almost certain nothing will happen to the company.
---
Return to top of the page.