The forgotten refugee crisis.
The outgoing U.N. High Commissioner for Human Rights isn't leaving quietly.
Time and Tide
Things are looking up for labor.
Lula's Last Chance
Will compromise pay off for the Brazilian left?
Bush puts his contempt for consumers on glowing display.
Editorial
Selling the War.
Appall-o-Meter
Fascists for Che
White supremacists infiltrate the anti-globalization movement.
Bell Helicopters skirted U.N. embargo to sell to Serbia.
Anti-abortionists take aim at public schools.
Dole Drums
Liddy's no lover of labor.
Banking on Poverty
Predatory lenders take advantage of the poor.
In Person: Scott Ritter
BOOKS: The history of capital punishment in America.
A House in Disorder
BOOKS: Domestic labor in the shadows.
FILM: Elections of the absurd.
FILM: Beware, for I am the Master of the Flying Guillotine.
September 13, 2002
Lie, Distort, Harass
Anti-abortionists take aim at public schools.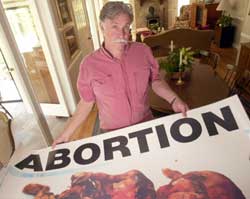 Erik S. Lesser / Getty

Anti-abortionist Neal Horsley is certainly intrepid. Not content to harass abortion providers and consumers through his Web sites, the Nuremberg Files and abortioncams.com, he and his cronies have a new tactic: using laws meant to protect children from child sexual abuse to threaten school boards across the country.

Horsley, along with colleagues at Life Dynamics, a Denton, Texas-based organization infamous for promulgating malpractice lawsuits against abortion providers, have threatened to sue reproductive health centers and public school districts across the country. The charge? Violation of state child abuse reporting statutes.

To hear Life Dynamics' attorney Ed Zielinski tell it, "For an underage girl to seek birth control information or paraphernalia, treatment of a sexually transmitted disease, a pregnancy test, an abortion, or abortion referral is evidence of sexual activity. Knowledge of this by ... a mandated reporter compels that person to file a report with the state. ... Even in circumstances where a mandated reporter has a reasonable belief—or actual knowledge—that the girl's sexual partner is also a minor or that the girl's parents already know about the situation, a report is still legally required. Only the state is allowed to determine whether ... a child's sexual activity is illegal."

Zielinski sent this message to an unknown number of school districts across the country in late June, no doubt hoping to frighten them into submission. The three-page missive was menacing. "If a girl is injured, killed or sexually assaulted while under the care of a family planning service provider to which she was referred by the school, she, her parents, or both may charge the school district with negligently referring the girl to that provider," he warned. " ... A finding of such negligence could result in an award of actual and punitive damages."

At a time of nationwide shortfalls in education funding, the threat may have weight with already shaky boards of education, many of which have wanted to halt comprehensive sex-ed classes and counseling about birth control options for years.

But Roger Evans, an attorney at the Planned Parenthood Federation of America, regards the letter as an irresponsible hoax, one that preys on these inclinations. He charges: "It makes broad statements, [but] that's not what the law says. Reporting requirements … apply to only a small subset of sexually active teens."

In some states, he says, activity is reportable only if sexual conduct occurs with an adult responsible for the child's welfare. In others, it is only reportable if there is a significant age gap between the two. Still other states require evidence of coercion or risk to the minor. Life Dynamics, Evans says, left the laws' actual requirements out of the letter.

But attorney Sara Ainsworth of the Northwest Women's Law Center in Seattle worries that anti-choice lawmakers from conservative communities will use the letter as a pretext for restricting how counselors, nurses and teachers make referrals or teach young people about sex. To forestall such restrictions, center staff plan to meet with district school superintendents this fall to explain reporting requirements and answer questions provoked by Zielinski's missive. They also plan to monitor school board activity to see how seriously school districts take the threat, and whether any lawsuits are actually filed.

In addition, the Northwest Women's Law Center—along with the National Abortion Federation and Planned Parenthood—plans to address clinic staff to ensure they understand their state's often complex reporting mandates.

In Montana, training has been ongoing. Raquel Castellanos Miller, Director of the Blue Mountain Clinic in Missoula, notes that in her state, "the right to privacy is highly held. There is no parental consent requirement before we can treat minors for diseases, prescribe contraception or perform an abortion."

Nonetheless, clinic staff have been trained to detect and report abuse—and they take the obligation to do so seriously. "We recently saw a girl who told us that she was being molested by her stepfather," Miller reports. "Our counselors called the girl's mother and told her that if she did not report the abuse, we would. The girl was 15. If the mother had not called Child Protective Services, we would have had to."

In California, clinicians do not have such leeway. Since January 1998, the law has mandated that a wide array of people—from health providers to photographic print processors—inform child welfare authorities of suspected malfeasance. "There is a grid indicating what has to be reported," says Dian Harrison of Planned Parenthood Golden Gate in San Francisco. "If a 12-year-old comes in and says she is having sex with a 14-year-old, we have to report it. If she's 12 and he's 12, we don't. It's really cumbersome, but we always comply."

So does every other clinic in the country, says Vicki Saporta, executive director of the National Abortion Federation. She sees Zielinski's letter as a thinly veiled—and disingenuous—effort to discredit abortion providers. "Over the years, Life Dynamics has launched a number of initiatives aimed at harassing clinics and putting them out of business. Their strategy is to make outlandish allegations and hope something sticks. This latest attack … will only serve to discredit Life Dynamics itself."
---
Return to top of the page.