Thursday, Jun 7, 2012, 10:40 am
Other Winners and Losers from the June 5 Primaries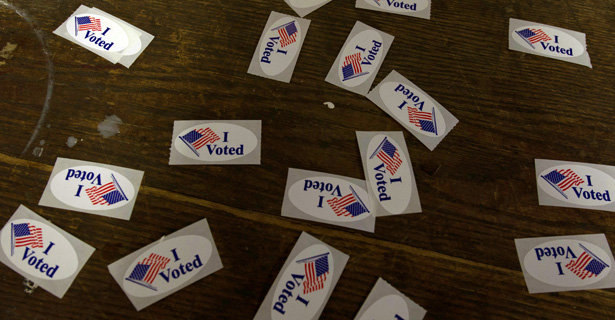 The gubernatorial recall election in Wisconsin has gotten most of the attention, for good reason, but there were plenty of other developments worth noting from the June 5 primaries. Here are three winners and three losers other than Scott Walker and Tom Barrett.
Winners
1. California's new primary system
In June 2010, California voters passed Proposition 14. Its supporters claimed it would end political gridlock by abolishing traditional party primaries. The idea was to pit all the competitors—from all parties—against each other in one primary election, rather than allowing each party to choose a candidate. The top two vote-getters from this single "super primary" then move on to the general election. The logic behind the new system is that it forces candidates to appeal to a broad base of voters, thus discouraging extremism.
The premise that we need more moderation in our politics is open to debate, and it's too early to tell how the new system will play out. But it's possible that it will open the process up to candidates who would have little chance of winning in the traditional, two-party primary system. It was the basis, for example, of Norman Solomon's nearly successful bid as a progressive Democrat in the Second District.
According to a recent poll by the Pew Research Center, 38 percent of Americans now identify as independents—the highest number in the last 75 years. In that context, any reform that diminishes the power of the major parties and breathes life into "outsider" bids for office is a winner. Whether the new "top-two" primary can accomplish that goal over the long run, and become a model for the nation, is an open question.
2. Jose Hernandez
Jose Hernandez has a nearly perfect biography for a career in politics. As a child he helped his parents pick crops in California's San Joaquin Valley. Inspired by NASA's Apollo 17 mission to the moon, as well as his parents' encouragement, he decided to become an astronaut, and "laid out a roadmap for getting from the fields to the stars," as his website puts it. He took advantage of a program that helped disadvantaged youth master math and science in high school, and he eventually earned undergraduate and graduate degrees in engineering.
NASA rejected his application 11 times, but Rodriguez finally became an astronaut in 2004, and he served as the flight engineer on a space shuttle mission to the International Space Station in 2009.
On Tuesday, Hernandez finished second in the primary race for California's 10th Congressional District, meaning that he moves on to the general election. As you might guess, his campaign is heavy on the theme of restoring "the American dream," with a particular focus on education and jobs. His opponent will be Republican Jeff Dunham, who received 48 percent of the vote to Hernandez's 29 percent.
Hernandez was named a "National Grassroots All-Star Runner Up" by Democracy for America and is supported by several unions, including SEIU California and the International Brotherhood of Teamsters.
3. Accuracy in polling
Progressive talk radio was abuzz on Tuesday with the notion that the real situation in the Wisconsin recall election hadn't been captured in the most recent polling data, which showed Gov. Scott Walker leading his Democratic challenger, Tom Barrett, by about seven points. Journalists and Democratic voters offered anecdotal evidence for a last-minute Barrett surge: Crowded polling sites, long lines of voters, and a general feeling of euphoria.
In the end, the late polls had predicted the outcome almost exactly.
Some variation of "don't believe the polls" wishful thinking happens in nearly every election, on both sides, and it's understandable, since accepting defeat before the polls close becomes a self-fulfilling prophecy. But the fact remains, the late polls are almost always right.
It's too early to read much into polls conducted in June, obviously, but Democrats might find some comfort in the fact that, despite Barrett's loss to Walker, President Obama still leads Mitt Romney in Wisconsin by about seven points.
Losers
1. Progressive favorites who are not Jose Hernandez.
In California, Norman Solomon appears likely to finish third in California's Second Congressional District primary. Solomon had placed second in May polling, but a late surge by Republican Dan Roberts has given him the lead over Solomon, a well-known progressive activist and peace advocate, by about 1,500 votes. The first-place finisher in the race, Jared Huffman, is a centrist Democrat favored to win the general election in the heavily Democratic district.
In New Mexico, Eric Griego lost his First District primary race to Michelle Lujan Grisham. The race turned increasingly bitter during the last week of campaigning, as Griego's extensive record of traffic violations, and Lujan Grisham's record as Secretary of the New Mexico Department of Health, became fodder for a barrage of attack ads. Lujan Grisham and Griego had both trailed the frontrunner in early polling, but a recently released poll showed them tied for first place. Though Griego was a Democracy for America favorite, both candidates were endorsed by numerous progressive organizations and leaders.
In February, Griego and Lujan Grisham were among Democracy for America's "Top 10 Grassroots All Stars." In These Times has previously covered both the Solomon campaign and the New Mexico First District race.
Another progressive stalwart apparently finished a close third in the primary election for California's 50th Assembly District. Torie Osborn—a community organizer, administrator for non-profit organizations, advocate for gay and lesbian rights, and founding staff member of this magazine—was about 800 votes short of the lead and about 700 votes short of second place at the time of this writing. Osborn has been a thorn in the side of the liberal establishment in the Los Angeles area, and Democratic Party leaders rallied around the race's apparent winner, Betsy Butler.
2. Clever campaign videos that go viral
Democrat Jeff Barth's quirky campaign video was seen all over America, but it wasn't enough carry him to victory in the primary for South Dakota's only congressional district.
In the video, Barth walks down a winding path through a wooded area while describing his background and his reasons for running for office. "I've ridden an ostrich," he explains at one point. "I've done a lot of stuff," he elaborates. He describes the current Congress as "idiots," and his daughters as women with "straight teeth, college degrees, husbands." At one point he fires a gun, and a rubber duck falls from the sky on the other side of the screen.
The video proved to be a bonanza of free publicity: It's been viewed more than 170,000 times on YouTube, and national and local media interviewed him about it. "I think I would have won if we had a worldwide vote," Barth said after the results of the race were released.
3. Birthers
Dianne Feinstein—the long-serving, centrist Democratic U.S. Senator from California—had nearly two-dozen challengers in her primary contest. Because of California's new primary system, they ranged across the ideological spectrum. Recent polls gave Feinstein a wide lead, with a number of competitors in a close race for second place. Among them was Orly Taitz, a Republican dentist, lawyer and former real-estate agent who is also among the best-known purveyors of the lie that President Obama was born in Kenya. The writer John Avlon has observed that Taitz is "almost charmingly insane."
As late as Monday afternoon, several national publications ran stories about the possibility of Taitz winning second place in the primary and thus representing Republicans in the general election. And it would have been fascinating to watch the GOP grapple with the mainstreaming of its far-right fringe in California. Alas, Taitz ended up finishing in fifth place with a little over 100,000 votes.
Theo Anderson
Theo Anderson, an In These Times writing fellow, has contributed to the magazine since 2010. He has a Ph.D. in modern U.S. history from Yale and writes on the intellectual and religious history of conservatism and progressivism in the United States. Follow him on Twitter @Theoanderson7 and contact him at theo@inthesetimes.com.
View Comments