The Left Is Already Winning the 2020 Presidential Race
For the first time in 40 years, bold progressive policies are setting the terms of the debate.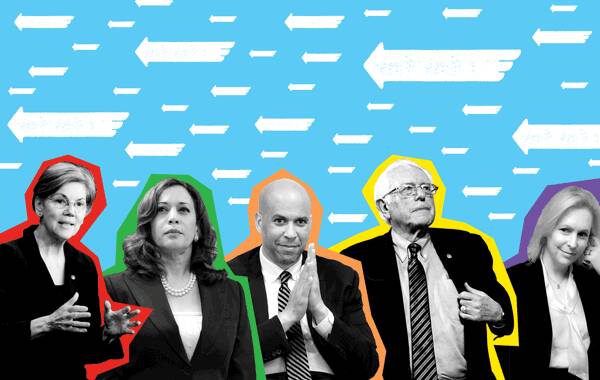 The foun­da­tions of the estab­lished order are crack­ing. The day after demo­c­ra­t­ic social­ist Alexan­dria Oca­sio-Cortez won her Demo­c­ra­t­ic pri­ma­ry, the Mer­ri­am-Web­ster Dic­tio­nary report­ed a 1,500 per­cent increase in search­es for the word ​"social­ism" on its web­site. Over­all, social­ism and fas­cism have become its most-searched words, a telling commentary.
On virtually every issue, opinion polls show that more than half of Americans support the progressive position.
The cor­ner­stone of the pass­ing era is hos­til­i­ty toward tax­es, reg­u­la­tion and pub­lic invest­ment. The era began with the elec­tion of Pres­i­dent Ronald Rea­gan in 1980, but it was a Demo­c­ra­t­ic pres­i­dent, Bill Clin­ton, who expressed its mot­to most mem­o­rably. ​"The era of big gov­ern­ment is over," Clin­ton pro­claimed in his 1996 State of the Union. The white flag of sur­ren­der has flown over the Demo­c­ra­t­ic Par­ty ever since, with an all-too-brief inter­lude dur­ing Barack Obama's first pres­i­den­tial campaign.
Per­verse­ly, it was a dem­a­gog­ic Repub­li­can who sensed the emer­gence of a new era and rode its cur­rents to the White House. He may be a liar and a char­la­tan, but Don­ald Trump's elec­tion-turn­ing insight was that vot­ers don't want small­er gov­ern­ment. They want gov­ern­ment that works for them — and not for cor­po­ra­tions. In addi­tion to xeno­pho­bia and white Chris­t­ian nationalism,Trump cam­paigned on mas­sive infra­struc­ture invest­ment, ​"great" health­care for every­one, tak­ing on the phar­ma­ceu­ti­cal indus­try and ​"drain­ing the swamp" of polit­i­cal cor­rup­tion. Sim­i­lar (but authen­tic) plat­forms of robust pub­lic invest­ments and checks on cor­po­rate pow­er have turned Oca­sio-Cortez and Bernie Sanders into polit­i­cal sensations.
At least on paper, even the Demo­c­ra­t­ic Par­ty seems to be catch­ing on that cor­rup­tion — defined as the cap­ture of gov­ern­ment by wealth and spe­cial inter­ests — is the new ​"big gov­ern­ment." In May, Demo­c­ra­t­ic lead­er­ship released a three-page plan for ​"fix­ing our bro­ken polit­i­cal sys­tem and return­ing to a gov­ern­ment of, by, and for the peo­ple," promis­ing to beef up ethics laws and ​"com­bat big mon­ey influ­ence." If these promis­es are to be any­thing more than emp­ty ges­tures, though, there is a long way to go. A May analy­sis by OpenSe­crets showed that incum­bent con­gres­sion­al Democ­rats had tak­en an aver­age of $29,000 apiece from lob­by­ists since 2017, while Repub­li­cans had tak­en $30,000. In August, the Demo­c­ra­t­ic Nation­al Com­mit­tee over­turned a ban on con­tri­bu­tions from fos­sil fuel companies.
Uni­ver­sal health­care is a case study in how the cur­rent sys­tem saps the ener­gy for push­ing major leg­is­la­tion through Con­gress. The major­i­ty of Democ­rats claim to want Medicare for All, but cen­trist Democ­rats, behold­en to the insur­ance and hos­pi­tal indus­tries, are con­tent to tweak Oba­macare; they only sup­port uni­ver­sal cov­er­age by some vague mech­a­nism, at some uncer­tain point. Pro­gres­sives, mean­while, began ral­ly­ing behind spe­cif­ic leg­is­la­tion in 2015: Medicare for All bills in the House and Sen­ate. Local chap­ters of orga­ni­za­tions like Demo­c­ra­t­ic Social­ists of Amer­i­ca (DSA) and Nation­al Nurs­es Unit­ed began push­ing for sin­gle-pay­er bills in indi­vid­ual states, help­ing move the issue into the nation­al debate.
That split with­in the Demo­c­ra­t­ic Par­ty, mul­ti­plied across a range of issues, is an unmis­tak­able sign of trans­for­ma­tion. The Left is in a phase of intense insti­tu­tion-build­ing sim­i­lar to that of the Right in the 1970s and ​'80s, with new and new­ly ener­gized think tanks — Demos, Data for Progress, the Roo­sevelt Insti­tute and the Democ­ra­cy Col­lab­o­ra­tive, among oth­ers — and an elec­toral infra­struc­ture made up of groups like DSA, People's Action, Jus­tice Democ­rats, Our Rev­o­lu­tion and Work­ing Fam­i­lies Party.
This pro­gres­sive resur­gence is reflect­ed, as well, in the land­scape of the 2020 Demo­c­ra­t­ic pres­i­den­tial pri­ma­ry. The five prob­a­ble con­tenders in the Sen­ate — Bernie Sanders, Cory Book­er, Kirsten Gilli­brand, Kamala Har­ris and Eliz­a­beth War­ren — have among the Senate's most left-lean­ing vot­ing records, and they're vying to dis­tin­guish them­selves by intro­duc­ing pro­gres­sive legislation.
Gilli­brand is the most strik­ing exam­ple, and the best mea­sure of where the Demo­c­ra­t­ic Party's ener­gy lies. Once a cen­trist, she has tacked steadi­ly left in recent years and is now one of the party's lead­ing voic­es for the #MeToo move­ment and immi­gra­tion reform, in addi­tion to becom­ing an ener­getic eco­nom­ic pop­ulist. In April, for exam­ple, she intro­duced a bill to require that post offices offer basic bank­ing ser­vices, like check­ing and sav­ings accounts and low-inter­est loans. It's a par­tial solu­tion to the abus­es of the pay­day loan indus­try that could help the esti­mat­ed 9 mil­lion ​"unbanked" peo­ple in the Unit­ed States.
The effects of all this, as with the effects of the ​"Rea­gan rev­o­lu­tion" of 1980, will take decades to ful­ly man­i­fest. But they will like­ly radi­ate out and reshape our pol­i­tics for a gen­er­a­tion and beyond.
"

Val­ue Voters"
The Repub­li­can ascen­dan­cy of the past 40 years has been dri­ven by a net­work of insti­tu­tions bankrolled by wealthy donors and cor­po­rate inter­ests, har­nessed to the con­ser­v­a­tive movement's pas­sion for a few key issues, espe­cial­ly its hatred of abor­tion, same-sex mar­riage and pub­lic edu­ca­tion. Over the decades, the Her­itage Foun­da­tion and oth­er qua­si-schol­ar­ly insti­tu­tions, in sync with pop­u­lar rightwing media oper­a­tions, have giv­en con­ser­v­a­tives a uni­fied agen­da and framed it as an apoc­a­lyp­tic bat­tle between good and evil. Broad­ly, the goal was to rad­i­cal­ly lim­it the fed­er­al government's involve­ment in the econ­o­my and vast­ly expand its pow­er to leg­is­late Chris­t­ian Right morality.
In the 1990s, the Demo­c­ra­t­ic establishment's ​"third way" exposed the party's lack of a sim­i­lar set of prin­ci­ples. The heart of the third-way par­a­digm was the idea that the Demo­c­ra­t­ic Par­ty could sur­vive the lib­er­tar­i­an and ​"val­ues vot­er" onslaught only by meet­ing the GOP halfway, tack­ing between right-wing inter­ests and the com­mon good. Bill Clinton's most influ­en­tial pol­i­cy suc­cess­es, like the North Amer­i­can Free Trade Agree­ment, the wel­fare reform bill of 1996 and dereg­u­la­tion of the finan­cial ser­vices sec­tor, tend­ed to serve cor­po­rate inter­ests while betray­ing work­ing­class and minor­i­ty voters.
The Occu­py move­ment of 2011, which pushed eco­nom­ic inequal­i­ty front and cen­ter, was the first sign of a tec­ton­ic shift in our pol­i­tics. The Sanders cam­paign of 2015 – 16 was the sec­ond. Both cast inequal­i­ty as a moral out­rage, with the same urgency and fierce­ness that evan­gel­i­cals bring to the abor­tion debate. Writ­ing in the Guardian, Sanders denounced oli­garchy and called income inequal­i­ty ​"the great moral, eco­nom­ic and polit­i­cal issue of our time."
And it isn't only about eco­nom­ic inequal­i­ty. The nation's moral imag­i­na­tion is broad­en­ing as inequal­i­ty writ large takes cen­ter stage. We know too much about the con­se­quences of cli­mate change, espe­cial­ly in the most vul­ner­a­ble com­mu­ni­ties, for it not to be a moral issue. The same is true of access to qual­i­ty edu­ca­tion. The many videos of police abuse, the sto­ries of sex­u­al assault, and the protests and move­ments they spawned — #MeToo, Black Lives Mat­ter, NFL play­ers tak­ing a knee— have helped to gal­va­nize and focus the pro­gres­sive resur­gence, along with Trump's demo­niza­tion of racial and reli­gious minori­ties and his pride in sex­u­al assault and misogyny.
"The old per­ceived trade-off, between appeal­ing to a broad mid­dle of the elec­torate and hav­ing a trans­for­ma­tive agen­da, is becom­ing out­dat­ed as pro­gres­sives coa­lesce around ideas that speak to the peo­ple who've been exclud­ed from our sys­tem," says Adam Lioz, polit­i­cal direc­tor at Demos Action. ​"It's an excit­ing moment in pro­gres­sive pol­i­tics, in that can­di­dates rec­og­nize that putting for­ward a bold plat­form is actu­al­ly the prag­mat­ic thing to do."
This is how new polit­i­cal eras emerge. Just as the cap­ture of gov­ern­ment by spe­cial inter­ests in the 19th cen­tu­ry pro­voked the rise of the Pro­gres­sive move­ment, the per­va­sive cor­rup­tion of our pol­i­tics is now rein­vig­o­rat­ing it. The evan­gel­i­cal Right's pas­sion hasn't fad­ed, but its focus on sex and repro­duc­tion no longer dom­i­nates nation­al dis­cus­sions about moral­i­ty. To talk about inequal­i­ty and cor­rup­tion is to talk about right and wrong, fair­ness and jus­tice. We are all ​"val­ues vot­ers" now.
Trans­lat­ing pro­gres­sive val­ues and votes into pol­i­cy is the task ahead. That can seem like a near­ly hope­less prospect, giv­en the cur­rent make­up of Con­gress and the Supreme Court. But it starts with putting for­ward a strong agen­da to frame the debate. That's what the con­ser­v­a­tive move­ment did for the Repub­li­can Par­ty in the 1970s and ​'80s. Across a range of issues — notably eco­nom­ic injus­tice, cli­mate change, state vio­lence against minori­ties and cor­rupt elec­tions — it's what the pro­gres­sive move­ment is doing for the Demo­c­ra­t­ic Par­ty right now.
Eco­nom­ic Injustice
With about 28 mil­lion peo­ple still unin­sured in the Unit­ed States — and with med­ical bills the lead­ing cause of bank­rupt­cy — the rad­i­cal inequal­i­ties of the health­care sys­tem remain one of the nation's great moral fail­ures. The num­ber of cospon­sors of the sin­gle-pay­er Medicare for All bill in the House, HR 676, is a mea­sure of how deci­sive­ly left­ward the con­sen­sus has shift­ed. From 2013 to 2015, the num­ber of cospon­sors fell by one, from 63 to 62. It has since near­ly dou­bled, to 123.
The cam­paign for a high­er min­i­mum wage, led most promi­nent­ly by Fight for $15, has, since 2014, put strug­gles of min­i­mum-wage work­ers front and cen­ter, win­ning a $15 wage in at least 35 cities, states and coun­ties. In 2017, Democ­rats in the House and Sen­ate intro­duced the Raise the Wage Act, which would hike the fed­er­al min­i­mum wage to $15 by 2024 and index it to the medi­an wage after that.
War­ren and Sanders are the high­est-pro­file pro­gres­sive advo­cates in this realm. If either runs in 2020, they will help to set the terms of the debate. War­ren has already released a pro­pos­al requir­ing that 40 per­cent of a corporation's board of direc­tors be elect­ed by work­ers, known as ​"code­ter­mi­na­tion." It would also require that social inter­ests, not just share­hold­er inter­ests, be a key fac­tor in cor­po­ra­tions' deci­sion making.
Warren's pro­pos­al has no chance of becom­ing law any­time soon, but it has plant­ed a flag for a rad­i­cal idea (in the U.S. con­text), attract­ed media cov­er­age, pro­voked dis­cus­sion and shaped the debate over how cap­i­tal­ism is prac­ticed. It's a prime exam­ple of how ideas become main­stream, leg­isla­tive agen­das are formed, and a par­ty out of pow­er remains relevant.
The same is true of a bill intro­duced by Sen. Bri­an Schatz (D‑Hawaii) to make edu­ca­tion at pub­lic uni­ver­si­ties not just tuition-free, but debt-free. Under the plan, the fed­er­al gov­ern­ment would match the high­er-edu­ca­tion fund­ing of par­tic­i­pat­ing states. In turn, states would be required to award need-based grants that cov­er the full costs of col­lege. Schatz esti­mates that the cost of the pro­gram, if every state took part, would be under $100 bil­lion. The ​"Debt Free Col­lege Act" has nine cospon­sors, includ­ing Book­er, Gilli­brand, Har­ris and Warren.
Cli­mate Change
A robust move­ment has coa­lesced around cli­mate change, includ­ing well-estab­lished orga­ni­za­tions like 350​.org, Sier­ra Club and Food and Water Watch, along with new orga­ni­za­tions like the Sun­rise Move­ment. All the poten­tial Demo­c­ra­t­ic pres­i­den­tial can­di­dates agree that cli­mate change pos­es a threat to the future of civ­i­liza­tion, but the issue lacks the high-pro­file, pas­sion­ate advo­cate in the Sen­ate that eco­nom­ic inequal­i­ty has found in Sanders and Warren.
Much of the pol­i­cy ener­gy is com­ing from the state lev­el and the House, where the Off Fos­sil Fuels Act, spon­sored by Rep. Tul­si Gab­bard (D‑Hawaii), is a ral­ly­ing point for pro­gres­sives. Food and Water Watch calls it ​"the most aggres­sive piece of cli­mate leg­is­la­tion ever intro­duced in Con­gress." The act, sup­port­ed by a wide range of social jus­tice orga­ni­za­tions, would tran­si­tion the Unit­ed States to 80 per­cent renew­able ener­gy by 2027 and 100 per­cent renew­able ener­gy by 2035. It has more than 40 cospon­sors. Ocasio-Cortez's high pro­file will like­ly give it a boost once she takes office. Her plat­form calls for becom­ing ​"100 per­cent free of fos­sil fuels by 2035."
"Green New Deals" of var­i­ous lev­els of ambi­tion are com­mon in pro­gres­sive can­di­dates' plat­forms. Randy Bryce, the pro­gres­sive Demo­c­rat who's run­ning for the seat occu­pied by retir­ing House Speak­er Paul Ryan (R‑Wis.), calls for a fed­er­al fund that would pay work­ers to adapt exist­ing infra­struc­ture for cli­mate change.
In Sep­tem­ber, Data for Progress released a Green New Deal plan that estab­lished the goal of cre­at­ing 10 mil­lion new jobs in 10 years through a com­bi­na­tion of pri­vate-sec­tor growth, work­force train­ing and a ​"green-job" guar­an­tee: a fed­er­al oblig­a­tion to pro­vide a job at a liv­ing wage to any­one who seeks one. A YouGov poll com­mis­sioned for the report found that, all things being equal, 51 per­cent of eli­gi­ble vot­ers would be more like­ly to sup­port a can­di­date run­ning on a green-job guarantee.
State Vio­lence Against Minorities
The Clin­tons' new­found defen­sive­ness about their record on crim­i­nal jus­tice is one mea­sure of how pol­i­tics have changed. In 2015, Bill Clin­ton admit­ted that the ​"three strikes" law he signed in 1994 had locked up ​"minor actors for way too long." Then, Hillary Clinton's racial­ly charged com­ments about going after gangs and ​"super­preda­tors" — com­ments made dur­ing a 1996 speech in praise of that bill — became an issue dur­ing her 2016 pres­i­den­tial bid.
Demo­niz­ing immi­grants and peo­ple of col­or is inher­ent to Trump's white Chris­t­ian nation­al­ism. But out­side of the GOP base, ris­ing aware­ness of the rad­i­cal injus­tices of the crim­i­nal jus­tice sys­tem have put Clin­ton-era poli­cies in a com­plete­ly dif­fer­ent light.
Influ­en­tial books like Michelle Alexander's The New Jim Crow, cou­pled with the pow­er­ful Move­ment for Black Lives, have reshaped the crim­i­nal jus­tice nar­ra­tive. Har­row­ing videos of police vio­lence against African Amer­i­cans have awak­ened the nation­al con­science. The Move­ment for Black Lives, a col­lec­tive of more than 50 orga­ni­za­tions, has a wide-rang­ing plat­form that calls for the elim­i­na­tion of mon­ey bail, end­ing the use of crim­i­nal his­to­ry in deter­min­ing eli­gi­bil­i­ty to work and vote, and for ​"an imme­di­ate change in con­di­tions and an end to all jails, deten­tion cen­ters, youth facil­i­ties and pris­ons as we know them."
In the Mary­land guber­na­to­r­i­al race, Ben Jeal­ous pub­lished a 26-page crim­i­nal jus­tice plat­form call­ing for mar­i­jua­na legal­iza­tion, an end to cash bail, and the imple­men­ta­tion of a wide range of reha­bil­i­ta­tion and vio­lence-pre­ven­tion pro­grams. Andrew Gillum's plat­form in the Flori­da guber­na­to­r­i­al race has sim­i­lar pro­pos­als. In Michi­gan, Dana Nes­sel won her pri­ma­ry race for state attor­ney gen­er­al on a plat­form that includ­ed pot legal­iza­tion. And Sum­mer Lee, in her race for the Penn­syl­va­nia leg­is­la­ture, called for an end to cash bail and to manda­to­ry min­i­mum sen­tences, and a mora­to­ri­um on new prison construction.
Pub­lic out­rage over the mil­i­ta­riza­tion of Immi­gra­tion and Cus­toms Enforce­ment (ICE) and Bor­der Patrol, the forced sep­a­ra­tion of immi­grant fam­i­lies and the president's nev­er-end­ing demo­niza­tion of immi­grants have spurred broad sol­i­dar­i­ty with the immi­grant rights movement.
In Boston, Ayan­na Pressley's win­ning U.S. House cam­paign pro­vides a case study in how the move­ment for racial jus­tice and the push for immi­gra­tion reform can come togeth­er. On crim­i­nal jus­tice reform, her detailed plat­form called for pot legal­iza­tion and sen­tenc­ing reform and an end to cash bail, ​"preda­to­ry prison phone rates," and state and fed­er­al fund­ing of pri­vate prisons.
On immi­gra­tion reform, Press­ley sup­port­ed not only the usu­al items — block­ing fund­ing for Trump's bor­der wall and end­ing enforce­ment and depor­ta­tion efforts by ICE — but more rad­i­cal and for­ward-think­ing poli­cies, like sup­port­ing migrants in their home coun­tries. ​"The Unit­ed States has the resources and pow­er to help improve con­di­tions in coun­tries that com­prise the major­i­ty of forced migra­tion," her plat­form notes. In July, three mem­bers of the Con­gres­sion­al Pro­gres­sive Cau­cus — Mark Pocan (D‑Wis.), Prami­la Jaya­pal (D‑Wash.), and Adri­ano Espail­lat (D‑N.Y.) — intro­duced a bill to abol­ish ICE. They intend­ed it as a state­ment of prin­ci­ple and, as Vox not­ed, ​"weren't ready to be tak­en seri­ous­ly," giv­en that the major­i­ty of Amer­i­cans oppose abol­ish­ing ICE and Democ­rats them­selves are split. House Repub­li­cans threat­ened to bring it up for a vote, with the hope of embar­rass­ing Democ­rats. The pro­gres­sives then announced they would vote against their own bill. But as with Warren's plan for reform­ing cap­i­tal­ism and the more ambi­tious cli­mate change plans, such laws that push the moral enve­lope lay impor­tant ground­work for when pro­gres­sives and Democ­rats actu­al­ly have power.
Cor­rupt Elections
Since the Supreme Court's 2010 Cit­i­zens Unit­ed deci­sion, the cor­rup­tion of our cam­paign-finance régime has been a high pri­or­i­ty tar­get for pro­gres­sives. Ulti­mate­ly, the pas­sage of any bold pro­gres­sive leg­is­la­tion relies on free­ing our democ­ra­cy from cor­po­rate capture.
Yet Trump, mad­den­ing­ly, has been more effec­tive at tap­ping into the anger and alien­ation it pro­duces than most Democ­rats. It was his most effec­tive cri­tique of Clin­ton; at their final debate, he taunt­ed her for fail­ing to sup­port cam­paign finance reform as a sen­a­tor ​"because you take in so much money."
Achiev­ing deep reforms will be a gen­er­a­tion­long strug­gle, giv­en rul­ings by the Supreme Court that effec­tive­ly legal­ize unlim­it­ed spend­ing to influ­ence elec­tions. Con­se­quent­ly, rely­ing on small­donor dona­tions and refus­ing to accept mon­ey from cor­po­rate PACs have become defin­ing themes for the new crop of left can­di­dates. It was key to Ocasio-Cortez's break­out bid.
These self-imposed lim­its ​"aren't the ide­al," says Demos Action's Lioz. But they're nonethe­less impor­tant. ​"They estab­lish cam­paign finance reform as a top pri­or­i­ty, if and when pro­gres­sives have pow­er in 2020," Lioz says.
There is a 100-day win­dow at the begin­ning of an admin­is­tra­tion in which law­mak­ers can make a strong leg­isla­tive push. Because so many can­di­dates have made cam­paign finance a key part of their plat­form, they're more like­ly to feel oblig­at­ed to move on it.
At the fed­er­al lev­el, there are bills to cre­ate pub­lic-financ­ing sys­tems for both House and Sen­ate elec­tions. In the Sen­ate ver­sion, can­di­dates who opt­ed in would lim­it their spend­ing to small dona­tions ($150 per donor) and grants and match­ing funds from a Fair Elec­tions Fund. Book­er, Gilli­brand, Sanders and War­ren are among the 29 cosponsors.
The Road Ahead
On vir­tu­al­ly every issue, opin­ion polls show that more than half of Amer­i­cans sup­port the pro­gres­sive posi­tion. The movement's sig­na­ture issue, Medicare for All, has 70 per­cent pub­lic sup­port, includ­ing 51 per­cent of Repub­li­cans and near­ly 85 per­cent of Democ­rats, accord­ing to a Reuters poll.
But things aren't so sim­ple. The entire GOP strat­e­gy is geared toward main­tain­ing pow­er and pass­ing laws with­out major­i­ty sup­port — through ger­ry­man­der­ing, vot­er sup­pres­sion ini­tia­tives, gut­ted cam­paign finance laws and the kind of norm­break­ing that allowed Don­ald Trump to fill Barack Obama's final Supreme Court seat. Achiev­ing the pow­er to push through pro­gres­sive pol­i­cy will demand the kind of cre­ativ­i­ty, feroc­i­ty and inge­nu­ity that the con­ser­v­a­tive move­ment has demon­strat­ed for the past half a century.
State bal­lot mea­sures, for exam­ple, are a vast­ly under-exploit­ed weapon in the pro­gres­sive arse­nal. Yet they're the best hope for enact­ing pro­gres­sive poli­cies in red and pur­ple states in the short term. One of their ben­e­fits is that they increase vot­er turnout by as much as 9 per­cent in midterm elec­tions and near­ly 5 per­cent in pres­i­den­tial elections.
Vot­ers in Maine have shown how it's done, cre­at­ing a clean elec­tions pro­gram in 1996, updat­ing it in 2015, and approv­ing ranked-choice vot­ing in June — all through bal­lot mea­sures. In Novem­ber, Michi­gan vot­ers will decide the fate of mea­sures to legal­ize recre­ation­al mar­i­jua­na and cre­ate a non­par­ti­san com­mis­sion to redraw polit­i­cal districts.
These are small steps, giv­en the depth of the nation­al chal­lenges we face and the cor­rup­tion in our pol­i­tics. But that's what rev­o­lu­tions, con­ser­v­a­tive or pro­gres­sive, are made of. Mil­lions of activists and politi­cians grind on year after year, with few vis­i­ble signs of progress. Thou­sands of can­di­dates run in what seem like rel­a­tive­ly incon­se­quen­tial elec­tions. Bal­lot ini­tia­tives achieve incre­men­tal reforms. Noth­ing much seems to change. Then a Novem­ber 2016 hap­pens, and every­thing looks dif­fer­ent. Under-the-sur­face cur­rents sud­den­ly become vis­i­ble. A new era is born.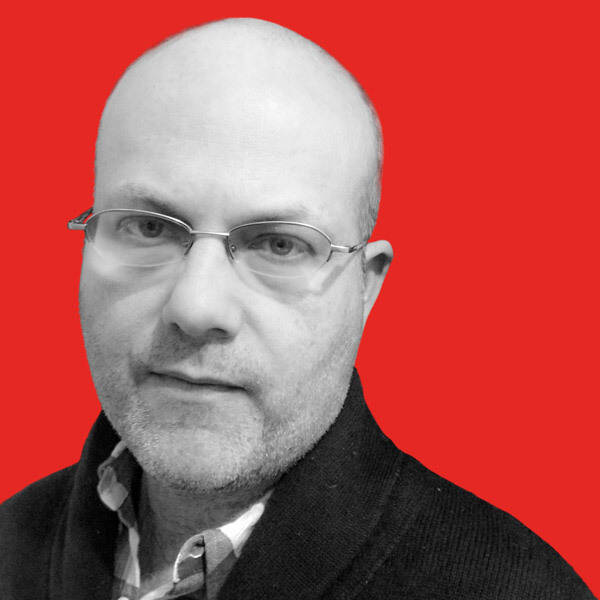 Theo Ander­son
is an In These Times con­tribut­ing writer. He has a Ph.D. in mod­ern U.S. his­to­ry from Yale and writes on the intel­lec­tu­al and reli­gious his­to­ry of con­ser­vatism and pro­gres­sivism in the Unit­ed States. Fol­low him on Twit­ter @Theoanderson
7
.