Friday, Jun 27, 2014, 1:30 pm
Public Housing Residents Demand Fair Chance at Contractor Jobs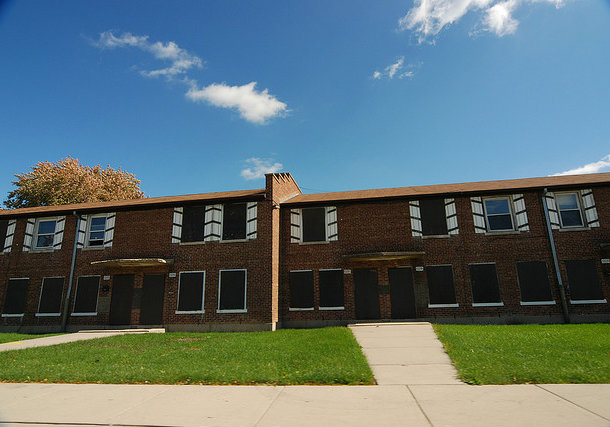 In Altgeld Gardens, the South Side public housing development where a young Barack Obama first cut his community organizing teeth, residents and local activists are voicing their concerns about the Chicago Housing Authority's (CHA) bidding process for development contracts in public housing projects.
Dozens of Altgeld Gardens residents and supporters gathered outside of CHA headquarters on June 24 to protest the consideration of the politically connected Walsh Group construction firm for a redevelopment contract in the project. If the CHA awards Walsh the deal, activists say, it will be effectively ignoring its obligations under Section 3 of the federal Housing and Urban Development Act, which requires public housing agencies "make their best efforts" to provide job training, employment and business opportunities for local low-income residents.
Based on Walsh's track record, activists say, those opportunities for locals would be scarce at best. In 2013, several residents of Altgeld Gardens filed suit against Walsh Group and the CHA, alleging that Walsh failed to provide them with priority employment under Section 3 while the company was performing construction work in Altgeld Gardens in 2009 and 2010. Additionally, according to the CHA directory of Section 3 employment opportunities, Walsh currently does not offer any jobs for Section 3 workers in the Chicago area. Locals fear this means that any new jobs created by the construction project would go to workers from outside the housing project.
Ideally, activists point out, public agencies would use the job creation regulation outlined in Section 3 to give poor neighborhoods a much-needed boost.
"We will help stop the violence in our urban communities when we stop the economic violence that causes far too many of our urban residents to be caught up in gang, drug and other illegal economies, when they should be working legal jobs that should come [with] local development contracts like CHA has. [Big businesses] and our elected officials for far too long have [been] allowed to exclude local contractors and workers," says Harold "Noonie" Ward, chief organizer of Tuesday's protests.
The wording of the law, however, often makes it difficult to enforce. For example, the Federal District Court for the Northern Division of Illinois dismissed the residents' lawsuit because "the statute imposes only a 'best efforts' obligation, not a binding, mandatory obligation," so no "enforceable individual right" is created under the law. As a result, if a community feels the statute is being violated, they essentially have no right to sue to enforce the provision in court.
And compliance with Section 3 is rarely, if ever, enforced. In 2012, an audit report by HUD found that between 2008 and 2011, fewer than one percent of development contracts granted by the CHA went to resident businesses; fewer than two percent of individuals hired for development projects were residents of the communities affected. Even more concerning, the report found that the CHA had allowed contractors to pay into a fund designed to provide "other economic opportunities" to low-income persons in place of employing residents directly or through subcontracts. According to the report, it is impossible to determine how much of the money in the fund ends up in the hands of the low-income residents.
Furthermore, poor management and disorganization have hampered the fund's effectiveness.
"The CHA does not have a written policy or other written information regarding who is ultimately responsible for administering the Section 3 Fund," the report said. "There is no written guidance or other criteria for determining how the money in the Section 3 Fund is to be expended. There were also no goals, targets or other objectives by which the success or failure of particular programs funded by the Section 3 Fund are measured."
The current development plan is much more extensive than past projects in the neighborhood, meaning that the opportunities for work could also be myriad. The CHA hopes to build a new library, a retail shopping center and health clinic in Altgeld, which the they claim will provide the community with more diverse housing options, better transportation infrastructure and access to employment and education opportunities.
In a brief statement, CHA confirmed that the Walsh Group has submitted a bid for the redevelopment contract and said that it "ensures that all contractors adhere to compliance requirements as mandated by HUD."
Despite the fact that the contract for the new project has not yet been awarded, activists claim the CHA's record of non-compliance with Section 3 leaves little hope the new jobs will go to the local community. Even so, Ward hopes the protests will show the CHA that the community is fed up with the status quo in general, and Walsh Group in particular. Ward wants to see future development projects bring in jobs for local residents, something he doesn't think can happen with Walsh involved. A concession from the CHA, he says, would be a vital part of ending a long history of economic exclusion that has marginalized Altgeld Gardens and other low-income communities on the South Side of Chicago.
"They're arrogant, racist folks. If [Walsh] goes out there, [they will] have problems, because people remember them," Ward tells In These Times.
Ethan Corey
Ethan Corey is a writer and researcher based in New York. His work has appeared in The Nation, Rolling Stone and MEL magazine.
View Comments