Many Pro-Bernie Groups Don't Want Trump But Still Don't Trust Clinton. Here's Their Plan.
Sanders may have endorsed Clinton, but the groups supporting him are plotting a fight for progressive policies far beyond the 2016 election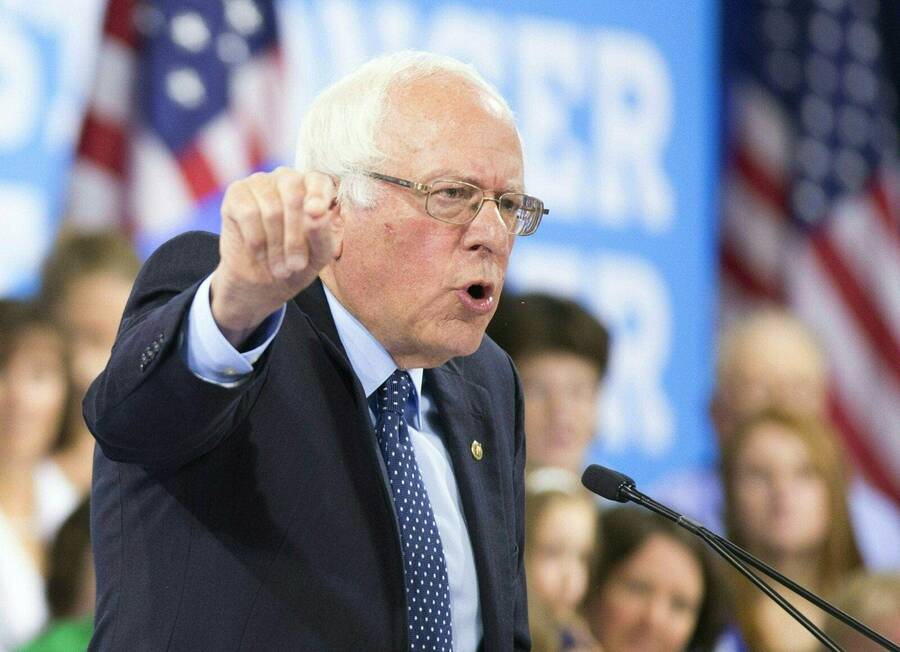 More than 14 months after launch­ing his bid for pres­i­dent, Bernie Sanders for­mal­ly endorsed Hillary Clin­ton at an event in Portsmouth, N.H. on July 12.
"We want to make sure the issues that have dominated the course of this political movement, the Bernie issues, are still front and center in everyone's thoughts... We want to make sure we have debt-free college, that we push towards single-payer healthcare. We want to hold Hillary Clinton responsible on a $15 minimum wage. We want to make sure there's a national ban on fracking. It's really about making sure we hold the nominee accountable."
As the dust set­tles, the orga­ni­za­tions and move­ments who helped dri­ve his cam­paign to vic­to­ry in 22 states are plan­ning their next steps and pon­der­ing how they can con­tin­ue the fight through the gen­er­al elec­tion. Many major pro­gres­sive orga­ni­za­tions that broke ranks with the Demo­c­ra­t­ic estab­lish­ment to endorse Sanders dur­ing the pri­maries, such as the Pro­gres­sive Change Cam­paign Com­mit­tee (PCCC) and the Com­mu­ni­ca­tions Work­ers of Amer­i­ca (CWA), have cho­sen to unite around Clin­ton in the gen­er­al elec­tion. Oth­ers, includ­ing the grass­roots vol­un­teer group Peo­ple for Bernie and the fierce­ly inde­pen­dent union Nation­al Nurs­es Unit­ed, are forg­ing their own path.
"We endorsed Bernie Sanders because we thought he was the right per­son at the right time to lead our coun­try," says Rafael Navar, nation­al polit­i­cal direc­tor for CWA. ​"But he's not going to be the nom­i­nee. He didn't win, so our focus is mak­ing sure the Demo­c­ra­t­ic nom­i­nee is the next per­son in the White House and def­i­nite­ly stop­ping Trump, who sup­ports anti-union poli­cies and thinks wages are too high."
CWA vol­un­teers will knock on doors, make calls and raise mon­ey to help Clin­ton win the gen­er­al elec­tion, join­ing forces with the AFL-CIO and oth­er labor groups that backed Clin­ton dur­ing the primaries.
Oth­er Bernie back­ers, how­ev­er, remain skep­ti­cal of Clinton's com­mit­ment to a pro­gres­sive agen­da and are set­ting their sights beyond the gen­er­al elec­tion. Peo­ple for Bernie, a grass­roots orga­ni­za­tion that helped recruit vol­un­teers and orga­nized march­es in sup­port of Sanders' cam­paign, released a state­ment after Sanders' announce­ment declin­ing to endorse Clin­ton, instead call­ing for sup­port­ers to focus on build­ing grass­roots pow­er on the local, region­al and nation­al levels:
When we face the real­i­ty of a new sta­tus quo — Hillary Clin­ton as the Demo­c­ra­t­ic Party's nom­i­nee — there is a strong temp­ta­tion to yield to the demands of the nom­i­nee. That is past prac­tice. But this is no ordi­nary cam­paign. We are not a Bernie Sanders fan club. The time­line of a move­ment is far longer than an elec­tion cycle. We will engage in a diver­si­ty of tac­tics in which vot­ing is just the bare min­i­mum. We will take the streets, occu­py the vot­ing booth and de-cen­ter the Demo­c­ra­t­ic Par­ty estab­lish­ment — forever.
Still, Peo­ple for Bernie will be active in the gen­er­al elec­tion, using the oppor­tu­ni­ty to advo­cate for abol­ish­ing the elec­toral col­lege and work­ing to boost turnout among left-wing vot­ers in swing states like Flori­da and Ohio, accord­ing to Win­nie Wong, a for­mer Occu­py activist who co-found­ed Peo­ple for Bernie last spring.
"We're going to watch what hap­pens in the gen­er­al elec­tion very close­ly," Wong says. ​"We take the line that Cor­nel West, our broth­er, a demo­c­ra­t­ic social­ist, is tak­ing, which is that we know the dif­fer­ence between elect­ing a neolib­er­al and a neo­fas­cist. There's a big dif­fer­ence between a neolib­er­al and a neo­fas­cist. We under­stand what those dif­fer­ences are."
But the bulk of Peo­ple for Bernie's efforts, Wong says, will be devot­ed to advo­cat­ing for poli­cies like sin­gle-pay­er health care and debt-free col­lege that formed the core of Sanders' plat­form — by hold­ing Clin­ton account­able to the com­mit­ments she made dur­ing nego­ti­a­tions over the Demo­c­ra­t­ic plat­form and push­ing her to the left on issues where she and grass­roots activists remain divided.
"We want to make sure the issues that have dom­i­nat­ed the course of this polit­i­cal move­ment, the Bernie issues, are still front and cen­ter in everyone's thoughts," Wong says. ​"We want to make sure we have debt-free col­lege, that we push towards sin­gle-pay­er health­care. We want to hold Hillary Clin­ton respon­si­ble on a $15 min­i­mum wage. We want to make sure there's a nation­al ban on frack­ing. It's real­ly about mak­ing sure we hold the nom­i­nee accountable."
Navar says that CWA shares Peo­ple for Bernie's com­mit­ment to keep­ing Clin­ton focused on a pro­gres­sive agen­da, though the union's pri­ma­ry con­cern is mak­ing sure she wins the elec­tion first. Navar notes that CWA and oth­er groups on the Left have learned from their expe­ri­ence with the Oba­ma administration.
"I nev­er have faith in any indi­vid­ual can­di­date — I have faith in our mem­bers and our abil­i­ty to push pol­i­cy and push vic­to­ries on the ground," Navar says. ​"In 2008, folks were wary about pres­sur­ing Oba­ma on issues where he wasn't mov­ing for­ward in the way he had promised as a can­di­date. If Clin­ton wins the pres­i­den­cy, we're going to have a moment that's very dis­tinct from when Oba­ma won. You have this moment of awak­en­ing and a growth in orga­niz­ing that is going to lead to an open­ing for us to dri­ve from day one to push our issues with Sec­re­tary Clin­ton. It's going to be eas­i­er to bring folks to get involved to dri­ve cam­paigns around our issues."
Navar points to the com­pro­mis­es reached between Clin­ton and Sanders del­e­gates dur­ing the Demo­c­ra­t­ic plat­form draft­ing process as evi­dence that the Left has gained pow­er. On the issue of debt-free col­lege edu­ca­tion, Sanders and Clin­ton reached a deal to make pub­lic col­leges and uni­ver­si­ties tuition-free for fam­i­lies mak­ing less than $125,000 a year, a pro­pos­al which goes far beyond Clinton's posi­tion dur­ing the pri­maries, when she called for reduc­tions in inter­est rates on stu­dent loans but argued against mak­ing col­lege tuition-free. Del­e­gates to the plat­form draft­ing com­mit­tee also approved com­pro­mise pro­pos­als sup­port­ing a pub­lic option for health insur­ance and the oppor­tu­ni­ty for work­ers over the age of 55 to buy into Medicare.
"In issue after issue, Bernie has pushed the nee­dle in our direc­tion. That cre­ates the space for us to get some pol­i­cy vic­to­ries and move for­ward," Navar says.
Not every­one is sat­is­fied with the new Demo­c­ra­t­ic plat­form, how­ev­er. Deb­o­rah Burg­er, co-pres­i­dent of Nation­al Nurs­es Unit­ed, which con­tributed hun­dreds of thou­sands of dol­lars and hun­dreds of vol­un­teers to Sanders' cam­paign, argues that the plat­form fails to address the root caus­es of eco­nom­ic and social inequal­i­ty in the Unit­ed States.
"It would take an idiot to say they aren't pos­i­tive steps," Burg­er says. ​"But it's frus­trat­ing that we're con­stant­ly being told to low­er our expec­ta­tions. And we're not even hav­ing this fight with the Repub­li­can Par­ty. This is just inside the Demo­c­ra­t­ic Par­ty. That's the kind of fight you have with Repub­li­cans — it's not the fight you expect with­in your own par­ty. That's prob­a­bly the most frus­trat­ing part."
Despite their dis­agree­ments over the best ways to move their agen­das for­ward, all three groups agree that the Left is in a bet­ter posi­tion than where it was when Sanders began his cam­paign last May.
"There is a real hunger for rad­i­cal pol­i­tics and change in this coun­try," Navar says. ​"I was one of the first peo­ple argu­ing that this was Bernie's moment, that Bernie would be rel­e­vant, but I was blown away by the reception."
Both NNU and Peo­ple for Bernie hope to chan­nel this momen­tum to elect demo­c­ra­t­ic social­ists at every lev­el of the polit­i­cal sys­tem. Peo­ple for Bernie has begun recruit­ing women, peo­ple of col­or and mil­len­ni­als to run in state and local elec­tions. Wong her­self may throw her hat in the ring.
"I think it bodes very well for younger peo­ple who are think­ing of run­ning, espe­cial­ly if they're giv­en the right toolk­its and the sup­port they need to make it hap­pen. We're real­ly focused on build­ing social­ist pow­er, and now is the time," say Wong. ​"Most peo­ple don't real­ize there are many thou­sands of jobs you could run for. And these jobs would cer­tain­ly be bet­ter pay­ing than the $15 an hour you'd make at Starbucks."
Most impor­tant of all, how­ev­er, are the alliances that all three groups have built dur­ing the 2016 pri­ma­ry elec­tion. They joined togeth­er in June at the People's Sum­mit in Chica­go, which was host­ed by NNU, along with wide range of groups push­ing for pro­gres­sive change, from envi­ron­men­tal­ists like 350​.org to racial jus­tice activists like the Mil­lion Hood­ies Move­ment for Jus­tice to polit­i­cal orga­ni­za­tions like Demo­c­ra­t­ic Social­ists of Amer­i­ca.
"What's dif­fer­ent about this elec­tion cycle and what Bernie Sanders high­light­ed is the fact that there's more sup­port than ever for real change. All of the groups we've been work­ing with on var­i­ous issues have been com­ing togeth­er to say it's not enough to just work on our silo of issues," Burg­er says. ​"We had no illu­sions that this wasn't a long shot, and we did bet­ter than we ever imag­ined we could do. The take­away les­son is: Don't low­er your expec­ta­tions. Don't go into the fight bar­gain­ing for less."
Ethan Corey
is a writer and researcher based in New York. His work has appeared in The Nation, Rolling Stone and MEL magazine.