Public Housing Residents Demand Fair Chance at Contractor Jobs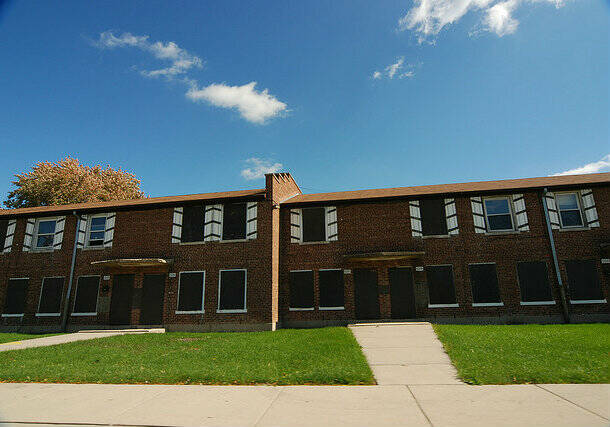 In Alt­geld Gar­dens, the South Side pub­lic hous­ing devel­op­ment where a young Barack Oba­ma first cut his com­mu­ni­ty orga­niz­ing teeth, res­i­dents and local activists are voic­ing their con­cerns about the Chica­go Hous­ing Authority
&
rsquo;s (CHA) bid­ding process for devel­op­ment con­tracts in pub­lic hous­ing projects.Dozens of Alt­geld Gar­dens res­i­dents and sup­port­ers gath­ered out­side of CHA head­quar­ters on June
24
to protest the con­sid­er­a­tion of the polit­i­cal­ly con­nect­ed Walsh Group con­struc­tion firm for a rede­vel­op­ment con­tract in the project. If the CHA awards Walsh the deal, activists say, it will be effec­tive­ly ignor­ing its oblig­a­tions under Sec­tion
3
of the fed­er­al Hous­ing and Urban Devel­op­ment Act, which requires pub­lic hous­ing agen­cies
&
ldquo;make their best efforts
&
rdquo; to pro­vide job train­ing, employ­ment and busi­ness oppor­tu­ni­ties for local low-income res­i­dents.Based on Walsh
&
rsquo;s track record, activists say, those oppor­tu­ni­ties for locals would be scarce at best. In
2013
, sev­er­al res­i­dents of Alt­geld Gar­dens filed suit against Walsh Group and the CHA, alleg­ing that Walsh failed to pro­vide them with pri­or­i­ty employ­ment under Sec­tion
3
while the com­pa­ny was per­form­ing con­struc­tion work in Alt­geld Gar­dens in
2009
and
2010
. Addi­tion­al­ly, accord­ing to the CHA direc­to­ry of Sec­tion
3
employ­ment oppor­tu­ni­ties, Walsh cur­rent­ly does not offer any jobs for Sec­tion
3
work­ers in the Chica­go area. Locals fear this means that any new jobs cre­at­ed by the con­struc­tion project would go to work­ers from out­side the hous­ing project.
Ide­al­ly, activists point out, pub­lic agen­cies would use the job cre­ation reg­u­la­tion out­lined in Sec­tion
3
to give poor neigh­bor­hoods a much-need­ed boost.
&
ldquo;We will help stop the vio­lence in our urban com­mu­ni­ties when we stop the eco­nom­ic vio­lence that caus­es far too many of our urban res­i­dents to be caught up in gang, drug and oth­er ille­gal economies, when they should be work­ing legal jobs that should come [with] local devel­op­ment con­tracts like CHA has. [Big busi­ness­es] and our elect­ed offi­cials for far too long have [been] allowed to exclude local con­trac­tors and work­ers,
&
rdquo; says Harold
&
ldquo;Noonie
&
rdquo; Ward, chief orga­niz­er of Tuesday
&
rsquo;s protests.The word­ing of the law, how­ev­er, often makes it dif­fi­cult to enforce. For exam­ple, the Fed­er­al Dis­trict Court for the North­ern Divi­sion of Illi­nois
&
nbsp;dis­missed the res­i­dents
&
rsquo; law­suit
&
nbsp;because
&
ldquo;the statute impos­es only a
&
lsquo;best efforts
&
rsquo; oblig­a­tion, not a bind­ing, manda­to­ry oblig­a­tion,
&
rdquo; so no
&
ldquo;enforce­able indi­vid­ual right
&
rdquo; is cre­at­ed under the law. As a result, if a com­mu­ni­ty feels the statute is being vio­lat­ed, they essen­tial­ly have no right to sue to enforce the pro­vi­sion in court.And com­pli­ance with Sec­tion
3
is rarely, if ever, enforced. In
2012
,
&
nbsp;an audit report by HUD
&
nbsp;found that between
2008
and
2011
, few­er than one per­cent of devel­op­ment con­tracts grant­ed by the CHA went to res­i­dent busi­ness­es; few­er than two per­cent of indi­vid­u­als hired for devel­op­ment projects were res­i­dents of the com­mu­ni­ties affect­ed. Even more con­cern­ing, the report found that the CHA had allowed con­trac­tors to pay into a fund designed to pro­vide
&
ldquo;oth­er eco­nom­ic oppor­tu­ni­ties
&
rdquo; to low-income per­sons in place of employ­ing res­i­dents direct­ly or through sub­con­tracts. Accord­ing to the report, it is impos­si­ble to deter­mine how much of the mon­ey in the fund ends up in the hands of the low-income res­i­dents.Fur­ther­more, poor man­age­ment and dis­or­ga­ni­za­tion have ham­pered the fund
&
rsquo;s effec­tive­ness.
&
nbsp;
&
ldquo;The CHA does not have a writ­ten pol­i­cy or oth­er writ­ten infor­ma­tion regard­ing who is ulti­mate­ly respon­si­ble for admin­is­ter­ing the Sec­tion
3
Fund,
&
rdquo; the report said.
&
ldquo;There is no writ­ten guid­ance or oth­er cri­te­ria for deter­min­ing how the mon­ey in the Sec­tion
3
Fund is to be expend­ed. There were also no goals, tar­gets or oth­er objec­tives by which the suc­cess or fail­ure of par­tic­u­lar pro­grams fund­ed by the Sec­tion
3
Fund are mea­sured.
&
rdquo;The cur­rent
&
nbsp;devel­op­ment plan
&
nbsp;is much more exten­sive than past projects in the neigh­bor­hood, mean­ing that the oppor­tu­ni­ties for work could also be myr­i­ad. The CHA hopes to build a new library, a retail shop­ping cen­ter and health clin­ic in Alt­geld, which the they claim will pro­vide the com­mu­ni­ty with more diverse hous­ing options, bet­ter trans­porta­tion infra­struc­ture and access to employ­ment and edu­ca­tion oppor­tu­ni­ties.In a brief state­ment, CHA con­firmed that the Walsh Group has sub­mit­ted a bid for the rede­vel­op­ment con­tract and said that it
&
ldquo;ensures that all con­trac­tors adhere to com­pli­ance require­ments as man­dat­ed by HUD.
&
rdquo;Despite the fact that the con­tract for the new project has not yet been award­ed, activists claim the CHA
&
rsquo;s record of non-com­pli­ance with Sec­tion
3
leaves lit­tle hope the new jobs will go to the local com­mu­ni­ty. Even so, Ward hopes the protests will show the CHA that the com­mu­ni­ty is fed up with the sta­tus quo in gen­er­al, and Walsh Group in par­tic­u­lar. Ward wants to see future devel­op­ment projects bring in jobs for local res­i­dents, some­thing he doesn
&
rsquo;t think can hap­pen with Walsh involved. A con­ces­sion from the CHA, he says, would be a vital part of end­ing a
&
nbsp;long his­to­ry of eco­nom­ic exclu­sion
&
nbsp;that has mar­gin­al­ized Alt­geld Gar­dens and oth­er low-income com­mu­ni­ties on the South Side of Chica­go.
&
ldquo;They
&
rsquo;re arro­gant,
&
nbsp;racist
&
nbsp;folks. If [Walsh] goes out there, [they will] have prob­lems, because peo­ple remem­ber them,
&
rdquo; Ward tells
&
nbsp;In These Times.
Ethan Corey
is a writer and researcher based in New York. His work has appeared in The Nation, Rolling Stone and MEL magazine.