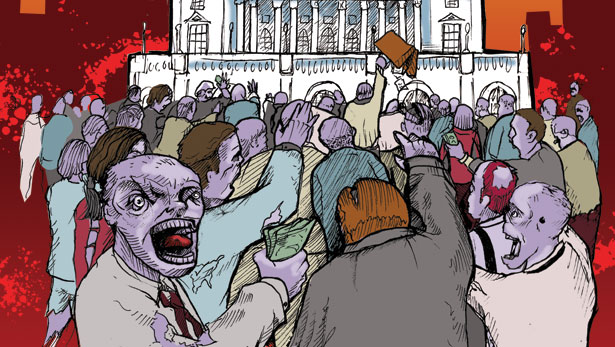 Features » October 12, 2011
Zombie Lobbyists Occupy Washington
Swarms of money-hungry corporate gladhands fight over the brains of our elected leaders in the nation's capital.
Services provided by lobbyists—often ambiguously described as 'consultants'—include fundraising, campaign strategizing, political messaging, polling and the vetting of campaign platforms.
They come creeping from the K Street salons, money dripping from their lips. They skulk the halls of power, bemoan the pain of regulation on the steps of Capitol Hill. Their shrill howls for the brains of our elected representatives cut the D.C. night.
They are lobbyists. On any given day, more than 10,000 of them swarm the nation's capital–twenty-six for each U.S. representative and senator. They are the emissaries of this nation's wealthy and immortal–corporate citizens.
These beasts have managed to abrogate the laws of life and death. While the actors on the stage of elected government blur by the populace in never-ending campaign theatricals, corporate lobbyists are not bound by electoral cycles–they are impervious to term limits, impeachment and sane regulation.
Elected officials and their staffers pass from the life of public service into the walking death of the corporate sector, and many join the lucrative ranks of the lobbyist. Once bitten by the money bug, few escape its taint.
A corporate pledge for the people
On September 23, 2010, the U.S. House GOP leadership stood proudly behind soon-to-be Speaker John Boehner (R-Ohio) in the warehouse of Tart Lumber Company in Sterling, Va., and delivered a promissory letter to a lionized American electorate. The U.S. House of Representatives Republican Conference "Pledge to America" proclaimed:
Voices in and out of a government whisper that our standing as the world's leader of democracy and economic growth is ending. The American people do not accept these counsels of timidity, failure and despair. … Legislators in Washington have imposed an agenda that doesn't reflect the priorities of the people. What's worse, the most important decisions are made behind closed doors, where a flurry of backroom deals has supplanted the will of the people.
Beside Boehner, lawmakers present included Rep. Kevin McCarthy (R-Calif.), current House majority whip, and Eric Cantor (R-Va.), current House majority leader.
Speaking from his podium before the nation's assembled press, Boehner waved the "Pledge to America" over his head and assured the public that the soon-to-be House Republican majority had heard Americans' grumblings of discontent.
"Across America, the people see a government in Washington that isn't listening, doesn't get it and doesn't care. Today that begins to change," Boehner said. "This new governing agenda, built by listening to the people, offers plans to create jobs, cut spending and put the power where it belongs: in the hands of the people."
The Pledge echoes former Speaker Newt Gingrich and anti-tax activist Grover Norquist's 1994 "Contract With America." It promises to accomplish the same objectives–decreased taxation, regulation and government (defense spending excepted)–by permanently extending the Bush tax cuts, repealing the Patient Protection and Affordable Care Act (PPACA, aka "Obamacare"), removing Fannie Mae and Freddie Mac from governmental control and support, and reducing government spending through massive cuts to public programs.
Most ironically, the Pledge pays lip service to ending the "backroom deals" that have come to define the political culture of Capitol Hill. This clichéd disdain is laughable given that Brian Wild, the chief architect of the Pledge, is a congressional staffer and corporate lobbyist who has gotten rich by "supplant[ing] the will of the people." Good government advocates will argue that Wild must be dizzy from spending the past 12 years passing through the revolving door that connects the backrooms of government with the board rooms of K Street. But this "revolving door" metaphor fails to describe what is actually taking place with Wild and others.
Yes, members of Congress and their staffers–Republicans and Democrats–go back and forth between government offices and lobbying firms. But while the fiscal entity that writes their paychecks is ever-changing (hence the image of a revolving door), their allegiance to the immortal corporations, on whose dime they toil, never wavers.
CASE STUDY 1: Born Brian Wild
According to reports on file with both the U.S. Senate Office of Public Records and the Office of the Clerk of the U.S. House of Representatives, Brian Wild–the Pledge crafter who was also responsible for monitoring the concerns and ideas voiced in the GOP's online forum "America Speaking Out"–was a registered lobbyist for the U.S. Chamber of Commerce from 1999 to 2005. He also served simultaneously as executive director of the Chamber's Office of Advocacy and Grassroots Programs.
Wild lobbied against bills to raise the federal minimum wage, against the Patient's Bill of Rights Act and against environmental regulatory legislation. He also lobbied for tort reform bills aimed at asbestos-related claims and in favor of bills to make it more difficult for debt-saddled citizens to declare bankruptcy.
As chief of staff for Rep. Pat Toomey (R-Pa.) from 2001 to 2004, Wild slid easily between the roles of lobbyist working for the Chamber of Commerce and staffer on Capitol Hill working directly with members of Congress. (Toomey left office in 2005 for the presidency of Club for Growth of Washington, D.C., which operates as both a corporate think tank and political action committee. In 2010, backed by Club for Growth, Toomey won Arlen Specter's Pennsylvania Senate seat.)
Between June 2004 and October 2005, Wild worked as deputy assistant for legislative affairs to Vice President Dick Cheney.
Between 1999 and 2005–the years Wild was a registered lobbyist for the Chamber, a staffer for Toomey and Cheney, and the executive director of the Chamber's Office of Advocacy and Grassroots Programs–the Chamber spent more than $227 million to lobby both houses of Congress, the White House, the Office of the Vice President and federal agencies. The Chamber was concerned about private contractors working in Iraq, "homeland security," defense, immigration, healthcare, labor, financial industry regulation, tort reform, energy policy, taxation, appropriations and foreign trade policy.
Wild left the office of Vice President Cheney in 2005 to work as a lobbyist with the Nickles Group, which was formed earlier that year by former Sen. Don Nickles (R-Okla.), who chaired the Senate Budget Committee from 2003 through 2004, and three of his former senior Senate staffers. During his time with Nickles, Wild lobbied for notable corporate citizens such as Exxon Mobil, Anadarko Petroleum Corporation, Southern Company Services, Comcast, Pfizer, Bristol-Myers Squibb, Hoffman-La Roche, Monsanto and American International Group.
Wild left Nickles in April 2010 to work as "senior adviser for legislative initiatives" and "policy and communications director" for then-House Minority Leader Boehner, lending his Chamber-honed grassroots advocacy skills to the Republican sweep of the 2010 midterm elections.
A month following Boehner's swearing in as speaker of the House in 2011, Wild announced that he would be joining the lobbying firm of Mehlman Vogel Castagnetti, Inc. (MVC). MVC founding partners include Bruce Mehlman, a former general counsel and adviser to the House Republican Conference; Alex Vogel, a former chief counsel to former Senate Majority Leader Bill Frist (R-Tenn.); and David Castagnetti, who worked as a congressional liaison for Sen. John Kerry's (D-Mass.) 2004 failed presidential campaign.
As a principle at MVC, Wild currently lobbies on behalf of clients such as America's Health Insurance Plans, Ascension Health, Humana, Astrazeneca Pharmaceuticals, Merck, SLARS Coalition ("Student Loan Auction Rate Securities Coalition"–an organization of investors holding asset-backed securities derived from bundled student debt), the American Petroleum Institute, Koch Industries Public Sector, Wal-Mart and Corrections Corporation of America.
While Wild was at Nickles, the group lobbied against federal regulations proposed in PPACA and related laws, such as a ban on denying coverage to individuals for pre-existing medical conditions, and against the formation of a federally-administered health insurance program–the elusive "public option."
But the Nickles Group did not lead the opposition to the reforms contained in PPACA. Nickles is small-fry–just one of a multitude of lobby shops funded by corporate interests.
A game changer
According to the Center for Responsive Politics Executive Director Sheila Krumholz, more than $3.6 billion were expended in federal campaigns during the 2010 midterm election cycle. This was a 28-percent increase from the $2.8 billion spent in the 2006 cycle.
Some of this increase, she says, can be attributed to the "hydraulic theory of money in politics," which holds that money is like water under pressure–if there is a way to inject itself into the system, it will.
One new inlet for this monetary pressure–and anticipated in the 2012 election cycle–was created by the U.S. Supreme Court's 2010 decision in Citizens United v. the Federal Communications Commission. According to "Fading Disclosure," a September 2010 report by Public Citizen's Taylor Lincoln and Craig Holman, Citizens United expanded an existing disregard for elections law and campaign finance disclosure. Public Citizen found that during the 2006 midterm election cycle, nearly 100 percent of electioneering groups reported the sources of their funding, as required by law. During the 2008 election cycle such reporting had fallen to less than 50 percent (thanks, the report says, to changed Federal Election Commission rules). By the beginning of the general election reporting period after the Citizens United ruling in 2010, it stood at a mere 32 percent.
The Public Citizen report notes that this breakdown in donor reporting took place primarily among right-wing independent groups, such as Toomey's Americans for Prosperity, a 501(c)4 nonprofit founded by billionaire David Koch in 2004. The report goes on that an increasing number of these independent groups are incorporating as 501(c) entities, which are supposed to be heavily restricted in their political activity and are not required by law to disclose their donors–as opposed to 527 nonprofit groups, which can engage in political activity but must disclose their donors.
As an example of this sort of activity, Lincoln and Holman cite American Crossroads and its affiliates, which were founded by GOP operative Karl Rove and Ed Gillespie–uber-lobbyist and former chairman of the Republican National Committee (RNC).
---
Help In These Times Continue Publishing
Progressive journalism is needed now more than ever, and In These Times needs you.
Like many nonprofits, we expect In These Times to struggle financially as a result of this crisis. But in a moment like this, we can't afford to scale back or be silent, not when so much is at stake. If it is within your means, please consider making an emergency donation to help fund our coverage during this critical time.

Beau Hodai
Beau Hodai, a former In These Times Staff Writer, is the founder of DBA Press (dbapress.com), an online news publication and source materials archive.
View Comments