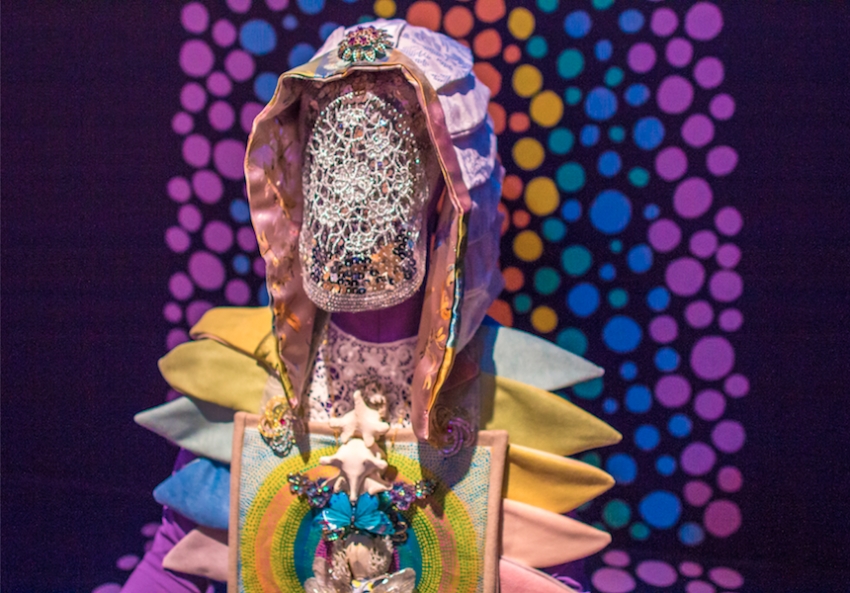 Views » May 24, 2018
Does Post-Human Mean Part-Plant? A Look Inside a Fungal Utopia.
An artist asks what becoming one with nature could look like.
Saya Woolfalk is a New York-based artist whose life-size dioramas create science-fictional worlds meant to reimagine society and peoples. In Lessons From the Institute of Empathy, the Seattle Art Museum showcases Woolfalk's fictional women known as the Empathics. In These Times spoke to Woolfalk about the project.
Take me to the beginning of this project.
Before the Empathics, I was working on a film called No Place with anthropologist Rachel Lears. The project was about creating a utopia, thinking about the ways people politically mobilize, create institutions or generate new knowledge. This vision came out of conversations with our community, who imagined this future where people were part-plant and part-human. They could change gender and race and they also would turn back into the landscape when they died. They could take garbage and turn it into recyclable technology. After that, I started thinking about how this place could become a reality.
Who are the Empathics?
The first thing that happens in the story is that the Empathics find these bones in the woods with a fungus on them, and the fungus stimulates their mutation. That mutation creates a second head—I was thinking about the DuBoisian concept of double consciousness—with information about being a plant. The Empathics establish the Institute of Empathy and through their institute, they invite people to begin to mutate and transform to become like the plant-humans of the future, to participate in this experience of interspecies hybridization.
What do you hope the audience experiences?
I want people to immerse themselves in this place, to think about their own positions in the world. It's all about believing something is worthwhile and deciding that is something that you want to opt into participating in, even if it's not actually your natural position. That's why they're called the Empathics, right? I'm always trying to think about that, especially in today's political climate—to consider how we can all attempt to empathize with one another.
---

In These Times has been selected to participate in NewsMatch—the largest grassroots fundraising campaign for nonprofit news organizations.
For a limited time, when you make a tax-deductible donation to support our reporting, it will be matched dollar-for-dollar by the NewsMatch fund, doubling your impact.
Sasha Kramer
Sasha Kramer has a degree in environmental studies and has been published by Oakland Institute. She is a winter 2018 In These Times editorial intern.
View Comments