Trump's Heartless Honduras Policy, in 15 Numbers
By revoking Temporary Protected Status (TPS), the Trump administration is sending Honduran immigrants back to a nation in crisis.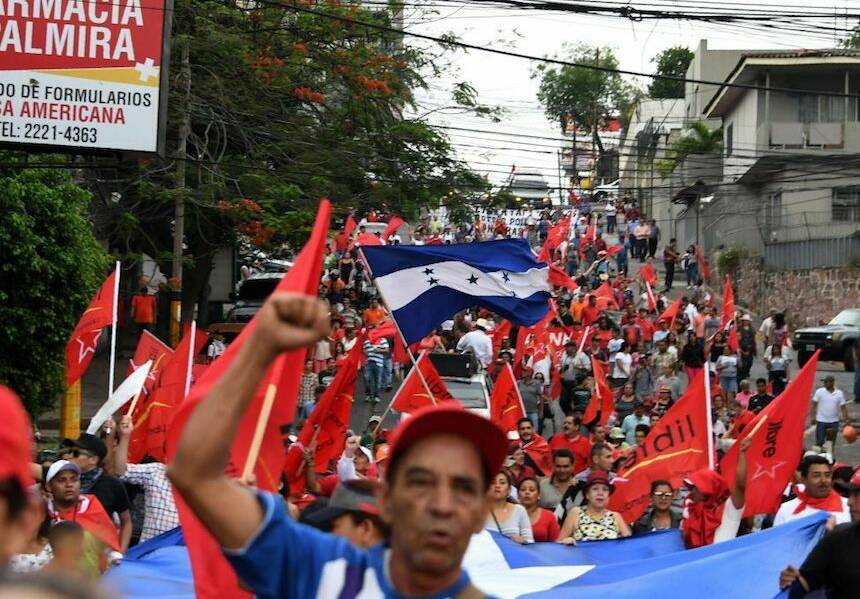 The Trump admin­is­tra­tion has act­ed to ter­mi­nate Tem­po­rary Pro­tect­ed Sta­tus (TPS) for more than 300,000 peo­ple from six coun­tries. This means that sur­vivors of nat­ur­al dis­as­ter or human­i­tar­i­an crises are see­ing their lives crum­ble once again as they become unau­tho­rized res­i­dents of the Unit­ed States.
All evidence suggests that the country is still dangerous—and it's partly the United States' fault.
In ear­ly May, Trump can­celed TPS for Hon­duran sur­vivors of Hur­ri­cane Mitch, who found refuge in the U.S. some 20 years ago. This means they will soon be forced to return to their home countries.
The Depart­ment of Home­land Secu­ri­ty is meant to con­sid­er the safe­ty of the coun­try that it is send­ing peo­ple back to. Accord­ing to the Trump admin­is­tra­tion, Hon­duras has recov­ered, so there is no rea­son to allow the Hon­durans to live in the U.S. any longer.
But all evi­dence sug­gests that the coun­try is still dan­ger­ous — and it's part­ly the Unit­ed States' fault.
The main­stream nar­ra­tive goes that Hon­durans come to the U.S. because their own coun­try is wrecked with gang vio­lence and pover­ty, but such a nar­ra­tive obfus­cates the Unit­ed States' role in per­pet­u­at­ing that condition.
Begin­ning in the 1890s, banana-repub­lic impe­ri­al­ism fash­ioned the country's sub­servient eco­nom­ic posi­tion. The 1970s saw the begin­ning of the war on drugs, and a drug lord deport­ed from the Unit­ed States helped finance a right-wing coup. The Oba­ma admin­is­tra­tion played a vital role in estab­lish­ing the suc­cess of the mil­i­tary coup in 2009, which insured Juan Orlan­do Hernán­dez the pres­i­den­cy. Under Hernán­dez, Hon­duran soci­ety is high­ly mil­i­ta­rized. U.S. mil­i­tary aid to the coun­try funds the government's polit­i­cal repres­sion and vio­lence, which has led to human rights vio­la­tions. Today, Hon­duras is one of the most dan­ger­ous coun­tries for LGBTQ peo­ple and polit­i­cal and envi­ron­men­tal activists, and is rife with femicides.
Below is a sta­tis­ti­cal snap­shot of the Hon­duras that TPS recip­i­ents are being forced to return to.
Hon­duras by the Numbers
86

,

000

Hon­duran immi­grants who lost legal U.S. res­i­den­cy when Pres­i­dent Trump rescind­ed their Tem­po­rary Pro­tect­ed Sta­tus on May

4

53

,

500

U.S.-born chil­dren who must move to Hon­duras with their par­ents or be left behind

60

% Pover­ty rate in Honduras

44

Homi­cides in Hon­duras per

100

,

000

inhab­i­tants, near­ly sev­en times the glob­al average

2009

Year Juan Orlan­do Her­nan­dez seized the Hon­duran pres­i­den­cy in a U.S.- backed coup

300

Peo­ple assas­si­nat­ed by Hon­duras secu­ri­ty forces from

2009

to

2012

23

Pro­test­ers killed, along with

60

injured and

1

,

500

impris­oned, after Hernandez's dis­put­ed

2017

reelection

190

,

000

Hon­durans inter­nal­ly dis­placed by con­flict and vio­lence as of

2017

$

115

.

6

mil­lion U.S. secu­ri­ty aid sent to Hon­duras from

2009

to

2018

, accord­ing to the Secu­ri­ty Assis­tance Monitor
$

17

.

6

mil­lion in U.S. arms sales to Hon­duras from

2009

to

2016

, accord­ing to the Secu­ri­ty Assis­tance Monitor

120

+ envi­ron­men­tal activists mur­dered by state forces, secu­ri­ty guards or hired assas­sins from

2010

to

2017

236

Vio­lent deaths of women between Jan­u­ary and Octo­ber

2017

35

LGBTQ peo­ple killed between Jan­u­ary and Octo­ber

2017
Sasha Kramer
has a degree in envi­ron­men­tal stud­ies and has been pub­lished by Oak­land Insti­tute. She is a win­ter
2018
In These Times edi­to­r­i­al intern.