Trump's Heartless Honduras Policy, in 15 Numbers
By revoking Temporary Protected Status (TPS), the Trump administration is sending Honduran immigrants back to a nation in crisis.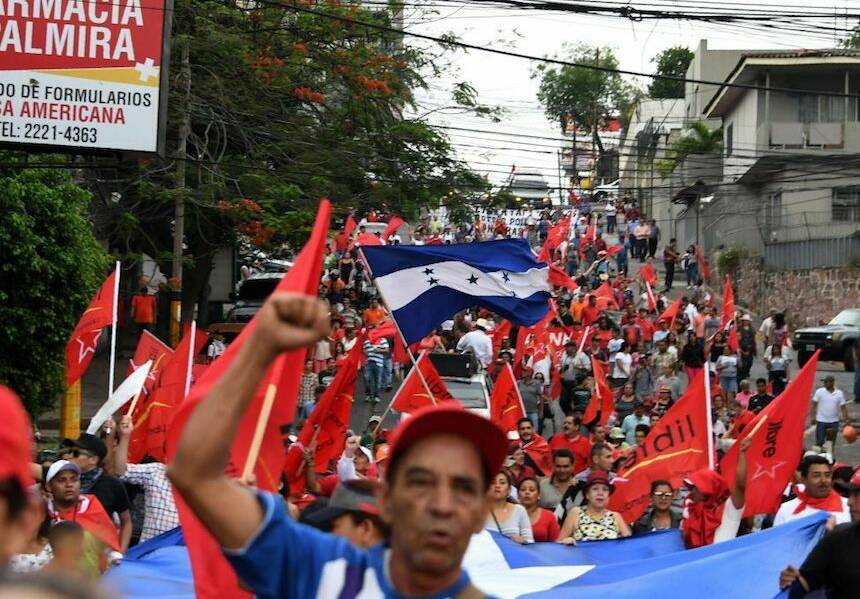 Reader donations, many as small as just $1, have kept In These Times publishing for 45 years. Once you've finished reading, please consider making a tax-deductible donation to support this work.
The Trump administration has acted to terminate Temporary Protected Status (TPS) for more than 300,000 people from six countries. This means that survivors of natural disaster or humanitarian crises are seeing their lives crumble once again as they become unauthorized residents of the United States.
All evidence suggests that the country is still dangerous—and it's partly the United States' fault.
In early May, Trump canceled TPS for Honduran survivors of Hurricane Mitch, who found refuge in the U.S. some 20 years ago. This means they will soon be forced to return to their home countries.
The Department of Homeland Security is meant to consider the safety of the country that it is sending people back to. According to the Trump administration, Honduras has recovered, so there is no reason to allow the Hondurans to live in the U.S. any longer.
But all evidence suggests that the country is still dangerous — and it's partly the United States' fault.
The mainstream narrative goes that Hondurans come to the U.S. because their own country is wrecked with gang violence and poverty, but such a narrative obfuscates the United States' role in perpetuating that condition.
Beginning in the 1890s, banana-republic imperialism fashioned the country's subservient economic position. The 1970s saw the beginning of the war on drugs, and a drug lord deported from the United States helped finance a right-wing coup. The Obama administration played a vital role in establishing the success of the military coup in 2009, which insured Juan Orlando Hernández the presidency. Under Hernández, Honduran society is highly militarized. U.S. military aid to the country funds the government's political repression and violence, which has led to human rights violations. Today, Honduras is one of the most dangerous countries for LGBTQ people and political and environmental activists, and is rife with femicides.
Below is a statistical snapshot of the Honduras that TPS recipients are being forced to return to.
Honduras by the Numbers
86

,

000

Honduran immigrants who lost legal U.S. residency when President Trump rescinded their Temporary Protected Status on May

4

53

,

500

U.S.-born children who must move to Honduras with their parents or be left behind

60

% Poverty rate in Honduras

44

Homicides in Honduras per

100

,

000

inhabitants, nearly seven times the global average

2009

Year Juan Orlando Hernandez seized the Honduran presidency in a U.S.- backed coup

300

People assassinated by Honduras security forces from

2009

to

2012

23

Protesters killed, along with

60

injured and

1

,

500

imprisoned, after Hernandez's disputed

2017

reelection

190

,

000

Hondurans internally displaced by conflict and violence as of

2017

$

115

.

6

million U.S. security aid sent to Honduras from

2009

to

2018

, according to the Security Assistance Monitor
$

17

.

6

million in U.S. arms sales to Honduras from

2009

to

2016

, according to the Security Assistance Monitor

120

+ environmental activists murdered by state forces, security guards or hired assassins from

2010

to

2017

236

Violent deaths of women between January and October

2017

35

LGBTQ people killed between January and October

2017
Your donation makes In These Times possible
Sasha Kramer
has a degree in environmental studies and has been published by Oakland Institute. She is a winter
2018
In These Times editorial intern.