Does Post-Human Mean Part-Plant? A Look Inside a Fungal Utopia.
An artist asks what becoming one with nature could look like.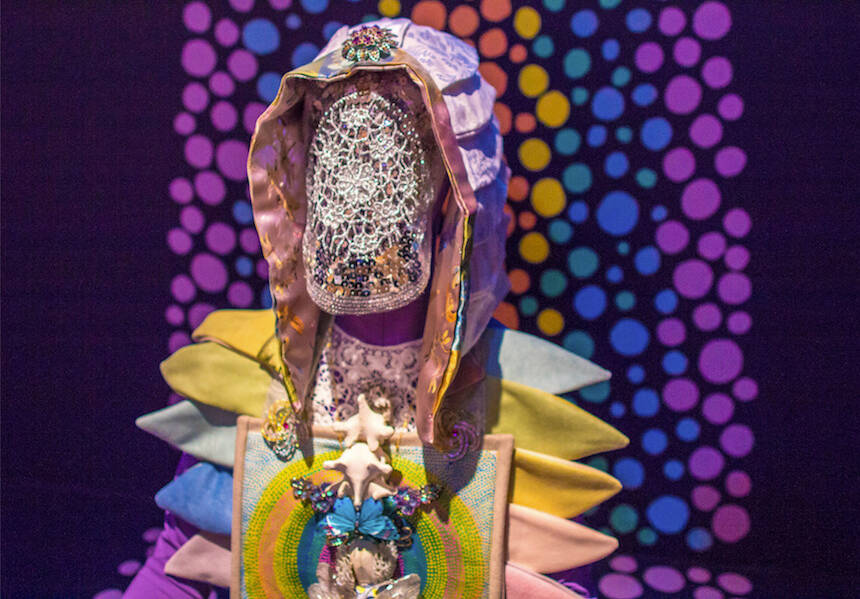 Saya Wool­falk is a New York-based artist whose life-size dio­ra­mas cre­ate sci­ence-fic­tion­al worlds meant to reimag­ine soci­ety and peo­ples. In Lessons From the Insti­tute of Empa­thy, the Seat­tle Art Muse­um show­cas­es Woolfalk's fic­tion­al women known as the Empathics. In These Times spoke to Wool­falk about the project.
Take me to the begin­ning of this project.
Before the Empathics, I was work­ing on a film called No Place with anthro­pol­o­gist Rachel Lears. The project was about cre­at­ing a utopia, think­ing about the ways peo­ple polit­i­cal­ly mobi­lize, cre­ate insti­tu­tions or gen­er­ate new knowl­edge. This vision came out of con­ver­sa­tions with our com­mu­ni­ty, who imag­ined this future where peo­ple were part-plant and part-human. They could change gen­der and race and they also would turn back into the land­scape when they died. They could take garbage and turn it into recy­clable tech­nol­o­gy. After that, I start­ed think­ing about how this place could become a reality.
Who are the Empathics?
The first thing that hap­pens in the sto­ry is that the Empathics find these bones in the woods with a fun­gus on them, and the fun­gus stim­u­lates their muta­tion. That muta­tion cre­ates a sec­ond head — I was think­ing about the DuBoisian con­cept of dou­ble con­scious­ness — with infor­ma­tion about being a plant. The Empathics estab­lish the Insti­tute of Empa­thy and through their insti­tute, they invite peo­ple to begin to mutate and trans­form to become like the plant-humans of the future, to par­tic­i­pate in this expe­ri­ence of inter­species hybridization.
What do you hope the audi­ence experiences?
I want peo­ple to immerse them­selves in this place, to think about their own posi­tions in the world. It's all about believ­ing some­thing is worth­while and decid­ing that is some­thing that you want to opt into par­tic­i­pat­ing in, even if it's not actu­al­ly your nat­ur­al posi­tion. That's why they're called the Empathics, right? I'm always try­ing to think about that, espe­cial­ly in today's polit­i­cal cli­mate — to con­sid­er how we can all attempt to empathize with one another.
Sasha Kramer
has a degree in envi­ron­men­tal stud­ies and has been pub­lished by Oak­land Insti­tute. She is a win­ter
2018
In These Times edi­to­r­i­al intern.