Abusive Employers Are Threatening to Call Immigration Authorities on Domestic Workers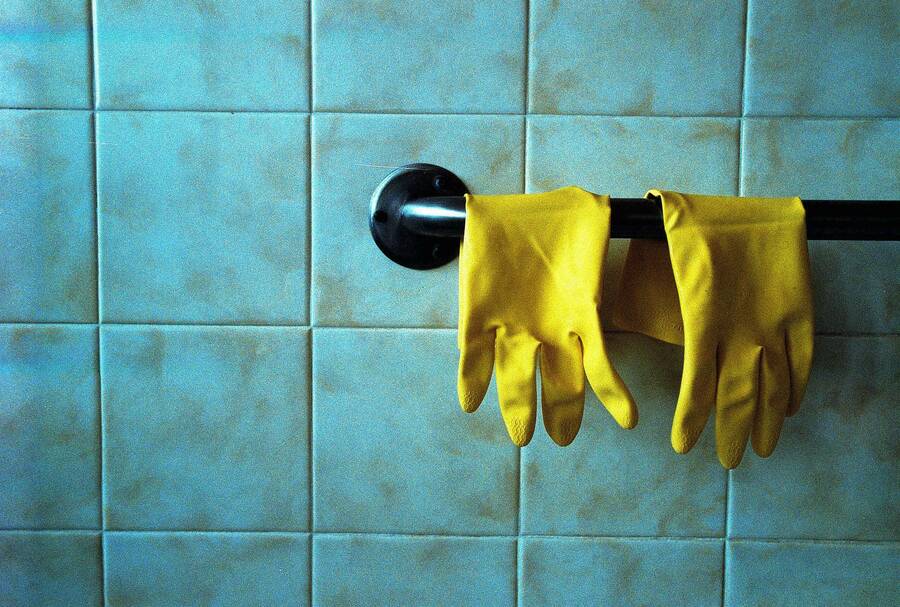 Near­ly one third of house clean­ers in the Texas-Mex­i­co bor­der region say their employ­ers have threat­ened to report them to immi­gra­tion author­i­ties, accord­ing to a report released June 19 by the Nation­al Domes­tic Work­ers Alliance (NDWA). Titled ​"Liv­ing in the Shad­ows," the study paints a trou­bling pic­ture of anti-immi­grant sen­ti­ment with­in the domes­tic work­place, find­ing that employ­ers use work­ers' immi­grant sta­tus to instill fear, as well as coerce and threat­en them.
In 2016, three com­mu­ni­ty-based orga­ni­za­tions in the bor­der­lands — A.Y.U.D.A. Inc., Fuerza del Valle Work­ers' Cen­ter and Comité de Jus­ti­cia Lab­o­ral — col­lab­o­rat­ed and trained 36 sur­vey­ors, most of whom were domes­tic work­ers them­selves, to inter­view 516 domes­tic work­ers. The report is based off of these inter­views. Accord­ing to the sur­veys, 25 per­cent of undoc­u­ment­ed domes­tic work­ers were threat­ened by their employ­ers, 19 per­cent were pushed or phys­i­cal­ly hurt on the job and near­ly 50 per­cent were asked to do work dif­fer­ent from what they were hired for. Com­par­a­tive­ly, the report finds, their doc­u­ment­ed coun­ter­parts faced these con­di­tions at 10 per­cent, 6 per­cent and 18 per­cent respectively.
Domes­tic care work­ers are the back­bone of the for­mal econ­o­my, doing the work that allows their employ­ers to attend to their own jobs. They care for elders, dis­abled peo­ple and chil­dren, and cul­ti­vate func­tion­al house­holds. Work in this pri­vate and hid­den-away field is far less reg­u­lat­ed, which leads to unliv­able work­ing con­di­tions for the domes­tic care work­force. On the Texas-Mex­i­co bor­der, the domes­tic care work­place is flood­ed with chron­ic abuse. Twen­ty-sev­en per­cent of undoc­u­ment­ed domes­tic work­ers said they were yelled at and 12 per­cent had been phys­i­cal­ly hurt. And six per­cent of elder care work­ers faced sex­u­al assault.
The domes­tic work­force in the region is large­ly silenced. The study deter­mines that 45 per­cent of the domes­tic work­ers sur­veyed did not go to their employ­ers to advo­cate on their own behalf because they wor­ried they that would lose their jobs. Twen­ty-nine per­cent of the total pop­u­la­tion sur­veyed feared their hours would be cut, and 26 per­cent of undoc­u­ment­ed work­ers believed that their com­plaints would be met with vio­lence. Eight per­cent of the work­ers sur­veyed, report­ed that an employ­er told them they could not leave their job if they want­ed to, while 6 per­cent of the total report­ed than an employ­er kept their pass­port, visa or oth­er immi­gra­tions papers.
Ele­na, 46, is a domes­tic work­er in the Rio Grande Val­ley and one of the sub­jects of the report, as well as one of the inter­view­ers. ​"I heard sto­ries that tru­ly shocked me," she tells In These Times. ​"I met one live-in domes­tic work­er whose employ­er made her sleep in the clos­et. Women who have been sex­u­al­ly assault­ed but couldn't speak up out of fear of their immi­gra­tion sta­tus being used against them."
A 2016 report by NDWA doc­u­ment­ed that 48 per­cent of domes­tic work­ers sur­veyed across 14 met­ro­pol­i­tan areas are paid an hourly wage that is below the lev­el need­ed to ade­quate­ly sup­port a fam­i­ly. Of the women sur­veyed at the Texas-Mex­i­co bor­der, 24 per­cent expe­ri­enced wage theft. Many domes­tic work­ers pro­vide round-the-clock ser­vice, but the 2018 report found that only 3 per­cent were paid overtime.
The 2018 study con­cludes that liv­ing con­di­tions are even worse in the bor­der­lands for domes­tic work­ers than nation­al­ly. Thir­ty-six per­cent of the total pop­u­la­tion sur­veyed report­ed that in the past 12 months some­one in their house went hun­gry, com­pared to 20 per­cent of nation­al respondents.
The care econ­o­my in the Unit­ed States is char­ac­ter­ized by long hours, low pay, low sta­tus and an employ­er-employ­ee rela­tion­ship that is pri­vate — and often har­row­ing. At the Texas-Mex­i­co bor­der, these con­di­tions are exac­er­bat­ed because of local immi­gra­tion poli­cies. The bor­der­lands have seen an influx of peo­ple who seek to escape pover­ty South of the bor­der to ful­fill an ongo­ing demand of labor in the North. Texas hosts the sec­ond-largest undoc­u­ment­ed pop­u­la­tion, with unau­tho­rized immi­grants mak­ing up more than 8 per­cent of the entire workforce.
Polit­i­cal­ly, the Texas gov­ern­ment is strap­ping­ly anti-immi­grant. Sanc­tu­ary poli­cies are for­bid­den among munic­i­pal­i­ties, col­leges and uni­ver­si­ties. In May 2017, SB4 was signed into law direct­ing local gov­ern­ments and law enforce­ment to assume respon­si­bil­i­ty for immi­gra­tion con­trol, which has since seen a height­ened sur­veil­lance pro­gram on the ground.
Many of the women sur­veyed live in colo­nias on the periph­ery of the major met­ro­pol­i­tan areas of Texas. The colo­nias are sites of pover­ty and food inse­cu­ri­ty and lack access to paved roads, potable water, ade­quate sewage sys­tems or safe housing.
In These Times spoke with Rosa, 59, who is a part-time domes­tic work­er and com­mu­ni­ty orga­niz­er with Fuerza del Valle Work­ers' Cen­ter. ​"With this new admin­is­tra­tion, things have def­i­nite­ly changed. Right now the wall of fear is larg­er than the wall sep­a­rat­ing the Unit­ed States and Mex­i­co," Rosa said. ​"Immi­grants are under con­stant sur­veil­lance in the colo­niaswith bor­der patrol, police, and the sheriff's depart­ment con­stant­ly patrolling. We con­tin­ue to see more arrests and depor­ta­tions every day."
Through grass­roots orga­niz­ing among domes­tic work­ers, with the sup­port of the NDWA, and com­mu­ni­ty-based work­ers' rights orga­ni­za­tions, domes­tic work­ers won a Domes­tic Work­ers' Bill of Rights in New York (2010), Hawaii (2013), Cal­i­for­nia (2014) and Mass­a­chu­setts (2015). Some hope Texas will be next.
"For six years, I was see­ing how domes­tic work­ers were orga­niz­ing in Cal­i­for­nia. And thought, how do we do that here in the val­ley! This report is allow­ing us to make pub­lic these strug­gles. I see it as a great step for­ward for us," Ele­na told In These Times.
"This is an impor­tant step in rais­ing our voic­es and mak­ing vis­i­ble the fight for domes­tic work­ers' rights," Rosa said of the report. ​"We hope this will push the Texas gov­ern­ment to raise the stan­dards in the industry."
Sasha Kramer
has a degree in envi­ron­men­tal stud­ies and has been pub­lished by Oak­land Insti­tute. She is a win­ter
2018
In These Times edi­to­r­i­al intern.