Author Profile
Allison Kilkenny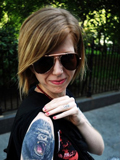 Allison Kilkenny is an In These Times Staff Writer and the co-host of the critically acclaimed radio show Citizen Radio. Her blog for In These Times, Uprising, focuses on efforts around the world to address the global economic crisis.
Kilkenny's work has appeared on/in The Nation, NPR, Huffington Post, The American Prospect, the Los Angeles Times, Daily Caller, True/Slant, Truthout, Alternet, Counterpunch, and the award-winning grassroots NYC newspaper The Indypendent. CBS's Political Hotsheet, Newsweek, Al Gore's Current TV, The Atlantic Wire, Salon's Glenn Greenwald and Raw Story have all referenced her writing.
She has made numerous media and stage appearances on Democracy Now!, Pacifica Radio, BBC Radio, GRITtv with Laura Flanders, SIRIUS radio, and Fairness & Accuracy In Reporting's CounterSpin, and she co-hosted a sold-out run of Citizen Radio Live! at the legendary Upright Citizen's Brigade Theatre in New York.
Her blog was featured on the premier independent political website Real Clear Politics' Best of the Blogs and has been praised as a cathartic place for disillusioned progressives to gather and bemoan the state of their country. Tens of thousands visit monthly.
Her essay, "Youth Surviving Subprime," is featured in The Nation book Meltdown: How Greed and Corruption Shattered Our Financial System and How We Can Recover, alongside articles by Howard Zinn, Naomi Klein, Joseph Stiglitz and Ralph Nader. Her article addresses the subprime crisis's effects on young people, and its parallels with the shady lending practices found on college campuses. Kilkenny's work also appears in the book We Are Wisconsin beside articles by Michael Moore, Van Jones, John Nichols and Medea Benjamin.
G. Gordon Liddy once told Kilkenny that her writing makes him "want to vomit," which is the best compliment she has ever received.