Occupy AIPAC: 'The Battle for Justice in the Middle East Is Our Battle'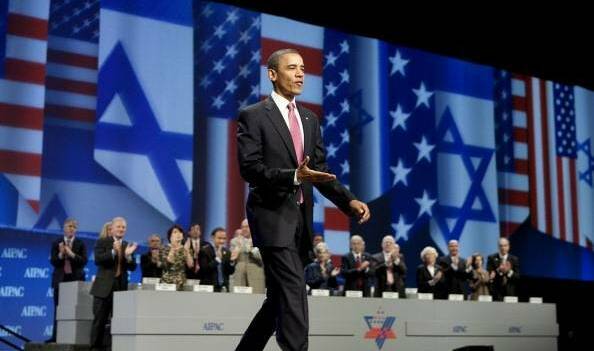 Hun­dreds of pro­test­ers from Occu­py AIPAC protest­ed out­side AIPAC's annu­al pol­i­cy con­fer­ence in Wash­ing­ton DC yes­ter­day dur­ing speech­es by Pres­i­dent Oba­ma and Israeli Pres­i­dent Shi­mon Peres.
The group spelled out ​"NO WAR ON IRAN" in giant let­ters and set up mock check­points and an ​"Annex­a­tion Wall."
Pro­test­ers remarked on the increased aware­ness and inter­est in the Israeli-Pales­tin­ian con­flict fol­low­ing the Arab Spring:
​"Last year we gal­vanised the Pales­tine crowd but no one else seemed very inter­est­ed," says 24-year-old stu­dent Sasha Gelzin, one of the coor­di­na­tors of Occu­py AIPAC. ​"This year you've had the Arab upris­ings and Occu­py, you've had the thou­sands of activists mak­ing con­nec­tions between domes­tic pol­i­cy and for­eign policy."
Though hav­ing adopt­ed the ​"Occu­py" title, the group was the brain­child of Code Pink, Women for Peace, and oth­er peace, faith, and sol­i­dar­i­ty groups. This week, Occu­py Wall Street's Gen­er­al Assem­bly did pass a motion of sol­i­dar­i­ty with Occu­py AIPAC, though the orig­i­nal Occu­py chap­ter has always tried to steer clear of that par­tic­u­lar issue.
the issue of Israel had pre­vi­ous­ly been avoid­ed at cen­tral com­mit­tee dis­cus­sions because it was deemed too contentious.
Lau­rie Pen­ny report­ed from out­side the event and was one of the only reporters on scene to speak with pro­test­ers them­selves, who ranged from youth express­ing sol­i­dar­i­ty with the Arab upris­ers to one con­spir­a­cy the­o­rist ram­bling about Zion­ist prop­er­ty devel­op­ers bankrolling the 2001 attacks on the World Trade centre.
The Unit­ed States gives bil­lions of dol­lars to Israel in mil­i­tary aid every year, mon­ey which has been used to kill at least 6,439 Pales­tini­ans (1,328 chil­dren) since 2000, accord­ing to B'T­se­lem. Com­par­a­tive­ly, about 590 Israelis were killed by Pales­tini­ans since 2000. (pho­to by @Remroum)
Activist and author Chris Hedges, who Pen­ny reports was giv­en a some­what tepid response fol­low­ing his denounce­ment of anar­chist tac­tics, spoke out­side the AIPAC conference.
​"The bat­tle for jus­tice in the Mid­dle East is our bat­tle," said Hedges to the crowd, adding that the strug­gle for jus­tice is part of the ​"glob­al bat­tle against the one per­cent." (read the entire speech here)
​"What is being done in Gaza, the world's largest open-air prison, is a pale reflec­tion of what is slow­ly hap­pen­ing to the rest of us. It is a win­dow into the rise of the glob­al secu­ri­ty state, our new gov­ern­ing sys­tem that the polit­i­cal philoso­pher Shel­don Wolin calls ​'invert­ed total­i­tar­i­an­ism.' It is a reflec­tion of a world where the pow­er­ful are not bound by law, either on Wall Street or in the shat­tered remains of the coun­tries we invade and occu­py, includ­ing Iraq with its hun­dreds of thou­sands of dead. And one of the great­est pur­vey­ors of this dement­ed ide­ol­o­gy of vio­lence for the sake of vio­lence, this fla­grant dis­re­gard for the rule of domes­tic and inter­na­tion­al law, is the Amer­i­can Israel Pub­lic Affairs Com­mit­tee, or AIPAC."
Pho­to of a ter­ri­fy­ing­ly huge card­board cut-out of Israeli Prime Min­is­ter Ben­jamin Netanyahu at Occu­py AIPAC (by @raniakhalek)
A move to bomb Iran would be, accord­ing to Hedges and putting it mild­ly, unwise.
​"Those in Wash­ing­ton who advo­cate attack­ing Iran, know­ing as lit­tle about the lim­i­ta­tions and chaos of war as they do about the Mid­dle East, believe they can crip­ple nuclear pro­duc­tion and neu­tral­ize the 850,000-man Iran­ian army. They should look close­ly at the 2006 Israeli air cam­paign in south­ern Lebanon, which saw Hezbol­lah vic­to­ri­ous and unit­ed most Lebanese behind the mil­i­tant Islam­ic group. If the mas­sive Israeli bomb­ing of Lebanon failed to paci­fy 4 mil­lion Lebanese, how can we expect to paci­fy a coun­try of 70 mil­lion peo­ple? But real­i­ty nev­er seems to impinge on the neo­con­ser­v­a­tive uni­verse or the effi­ca­cy of its doc­trine of per­ma­nent war."
While Chris Hedges and com­pa­ny protest­ed out­side AIPAC, one young activist decid­ed to take her mes­sage inside the con­fer­ence. Liza Behrendt, 22, from Young, Jew­ish, and Proud (the youth wing of Jew­ish Voic­es for Peace) stood up dur­ing the con­fer­ence in a break­out ses­sion called ​"The Strug­gle to Secure Israel on Cam­pus" to call atten­tion to what she calls the silenc­ing of Palestinians.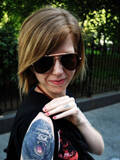 Alli­son Kilken­ny
is an
In These Times
Staff Writer and the co-host of the crit­i­cal­ly acclaimed radio show
Cit­i­zen Radio
. Her blog for
In These Times
,
Upris­ing
, focus­es on efforts around the world to address the glob­al eco­nom­ic crisis.