Harlem Gives Occupy Tense Reception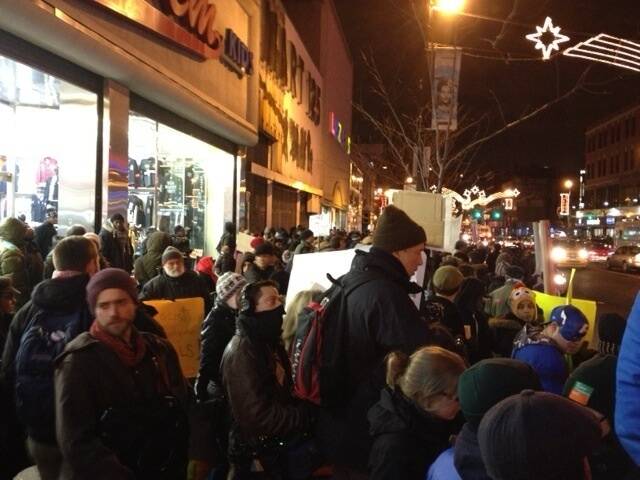 In a single day, President Obama raised $3 million from wealthy New Yorkers for his re-election bid during a tour of three Upper East Side audiences, including one at director Spike Lee's home. Singer Mariah Carey and retired Knick Allan Houston reportedly paid nearly $36,000-per-ticket for the event.
The evening culminated with a trip to the legendary Apollo Theater in Harlem where Obama delivered his stump speech.
​"I am here tonight not just because I need your help, I'm here because your country needs your help," said Obama.
Occupy Harlem's Nellie Bailey told the Daily News that the swank fundraising events in Harlem represent ​"a profound disconnect the sitting President has with poor and working class Blacks that constitute his core base of support."
Occupy Harlem was one of the groups behind the protest that occurred across the street from the Apollo while the president was inside, singing Al Green's ​"Let's Stay Together."
Christina Gonzalez, 25, from Rockaway, Queens said she attended the protest because she was sickened not only by some of the president's recent policy signings, but also the exorbitant fees attached to seeing the president speak in public.
​"I'm outraged that the president of my country, who I voted for, who hasn't done a damn thing for this country, has the nerve to come to the iconic Apollo Theater in Harlem and charge $100-to-$25,000 for a seat to hear him speak - about what, I don't know, because I can't afford to get inside," she says.
Gonzalez also expressed her anger at local policies that disproportionately affect young people of color.
​"Meanwhile, in this city right now, the NYPD are using these [Stop And Frisk US 250] forms, which is basically the new Jim Crow, which says that they have the ability to go out and stop people in the streets, almost 700,000 people they stopped in 2011, 85 percent of them were black or brown men. There's something wrong with that," says Gonzalez.
Gonzalez, along with a handful of other Occupy Wall Street protesters, were handing out photocopies of the Stop And Frisk forms with the words, ​"THE NEW JIM CROW" written at the bottom of the sheets.
A common grievance among the protesters was Obama's signing of the National Defense Authorization Act (NDAA) that allows any citizen to be indefinitely detained without trial and without due process.
​"While we were all celebrating on New Year's Eve, he passed the National Defense Authorization Act that says I can be considered a terrorist for handing our subversive information," says Gonzalez.
The hodgepodge of different causes and ideologies is a familiar fixture of OWS, and actually it's the movement's big tent structure that many credit with Occupy's popularity. By being all-inclusive, the group guarantees that more sympathizers will join its ranks.
However, embracing radically different, though generally leftist, ideologies sometimes leads to utter chaos at protests, and the Apollo gathering was such an event.
The usual movements such as OWS and MoveOn were in attendance, but so were the so-called ​"LaRouchies," followers of Lyndon LaRouche and his ideas, and a movement built on a foundation of paranoid conspiracy theories.
In terms of Occupy's history, the LaRouchies are perhaps most famous for handing the right-wing ammo to level charges of anti-Semitism at OWS whenever they parade around giant banners depicting Obama as Hitler.
And it's not as simple as dismissively saying ​"LaRouchies aren't part of Occupy" because that's actually not true. They, like the 9/11 Truthers, have been at the OWS meetings and voting with the group since the beginning, so the majority non-Larouche following Occupiers found themselves in an awkward position last night when a small group unfurled a banner of Obama donning a toothbrush mustache.
Occupy couldn't exactly kick out the LaRouchies, so they instead shifted the OWS protest several feet down the sidewalk to create space between themselves and the banners that quickly became a much-loathed target for some of Harlem's residents, though many individuals seemed annoyed anyone had turned out to protest the president, regardless of their ideological stripe.
​"Get the fuck out of my home!" one young Harlemite screamed at the protesters before he tried to scale the police barricade.
A row of Harlem residents lined up along the sidewalk and alternated between passively observing the activists and heckling the protesters. Varieties of ​"shut up!" and ​"get out!" emanating from local citizens became part of the background of the event.
It seemed as though the protesters confidently marched into Harlem without taking into account the city's tense race relations, particularly in Harlem, which has been undergoing a radical demographic shift for the past decade, or so, leaving black households sometimes in the minority.
But where the protesters stood, 6 in 10 residents are black, and many have long witnessed the president weather attacks, some valid, but others rooted in ugly, undeniable racism (see: Show Me Your Birth Certificate).
There was little room for nuanced debate at the Apollo protest, and to many Harlemites, it appeared as though a bunch of people, most of them white, had shown up simply to give the first black president a hard time. The Obama-as-Hitler banner seemed to seal the deal. After all, calling one's political opponent ​"Hitler" doesn't really leave much room for intelligent debate.
Gonzalez had traded some words with pedestrians who commented she was lucky to live in a country where she can protest, a dismissive remark she attributes to lack of awareness about issues threatening the majority of Americans.
​"They don't know about SOPA and PIPA and all these four-letter acronyms that are flying around right now, that are taking away more and more of our freedoms. They obviously don't know. I love that we have a black president, but I will not be fooled that because he's a black man that he's the best thing that ever happened to this place," she says.
Lost in the chaos of badly handled race relations were important messages of bank bailouts, foreclosure epidemics, and rampant unemployment, particularly in the black community (15.8 percent).
Dawn Aromo, who said she was at the protest with MoveOn and Occupy Wall Street, showed up to oppose a corrupt political culture that ​"doles out $156 billion to banks," while homes are foreclosed and corporations refuse to pay their fair share in taxes.
Aromo was hoping the protest would become a starting point for a larger conversation about accountability.
​"Let's just open up a communication and talk about these things. Let's get it out there," she says.
Like everyone else at the event, Aromo had a laundry list of complaints agains the government, including the Citizens United decision. Aromo stressed that if the government insists on treating corporations as people, that should include how corporations are treated by the justice system.
The example she uses are the slave-like conditions Monsanto keeps its Argentinian workers in.
"[The employees] are working 16 hours a day and they have to buy things at inflated prices to eat. These corporations, if they are going to be considered people, then we should be able to take them to court."
The fact that Aromo and Gonzalez's valid grievances were lost in the chaos of the protest illustrates two points: First, whenever America congratulates itself on becoming post-racial, we should all enjoy a good, collective laugh. There are deep, profound racial injustices in this country, which ironically, OWS was hoping to discuss at the protest. Stop And Frisk, widespread unemployment in the black community, and the subprime disaster are all byproducts of institutional racism.
However, when a majority-white group plans to march into Harlem, site of arguably the most important black cultural renaissance in US history, and ​"educate" its citizens about the poor decisions of the first black president, there needs to be some community outreach done beforehand. Otherwise, there's zero room for discussion, the whole thing dissolves into a screamfest, and if the LaRouchies show up, man, it's over.
Side-note: Accusations of the white, male hijacking of Occupy have been prevalent for a while, and the issue is complicated. The media did a very poor job of highlighting a variety of OWS voices, particular those of women of color, leading many to believe there simply aren't Occupiers of different races, which is patently false. However, as one long-time OWS supporter told me last night, white men do have a habit of deeming themselves facilitators at Occupy meet-ups, which gives the false impression that OWS is led by white men simply because, in that moment, a white man chose to seize power and lead. In his words, it's ​"like witnessing the mindset behind colonialism."
Second, there is a direct correlation between Occupy's popularity and the timeline of Obama's reelection bid. Everyone loves dissenters when they don't threaten the system's normal state, but as we near election time, Occupy's presence at Obama events will be less a novelty and more a very real threat, especially in the minds of diehard Obama supporters (in Nov 2011, black voters gave Obama a 91 percent approval rating).
Last night seemed a failure of imagination: failure on the part of Occupy for underestimating tense race relations and Obama fervor leading up to the re-election, and failure on the part of some Harlem residents to imagine that maybe - just maybe - Obama hasn't made stellar decisions at every turn.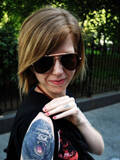 Allison Kilkenny
is an
In These Times
Staff Writer and the co-host of the critically acclaimed radio show
Citizen Radio
. Her blog for
In These Times
,
Uprising
, focuses on efforts around the world to address the global economic crisis.