Qui­et­ly and with lit­tle fan­fare, Occu­piers have set up a sec­ond camp at Union Square. There aren't any tents propped up yet, but some pro­test­ers did bring sleep­ing bags, indi­cat­ing their inten­tion to remain at the square indefinitely.
​"We reached con­sen­sus today to try to make this a per­ma­nent occu­pa­tion," said Darah McJim­sey, a 23-year-old activist who came to New York from Cal­i­for­nia in Novem­ber to join the Occu­py move­ment full-time. ​"Although we're aware of what we're up against, we're going to draw on our skills as far as being mobile."
When I vis­it­ed the sec­ond occu­pa­tion over the week­end, there were only five Occu­piers hold­ing down the loca­tion, but as of this week that num­ber has grown to some 25 pro­test­ers, many of whom sat shirt­less in the sun­shine. The clus­ter of pro­test­ers is easy to spot, gath­ered beneath the famil­iar yel­low ​"OCCU­PY WALL ST" ban­ner at the top of the steps. (pho­to by @ASE)
The deci­sion to occu­py the square was made by 20 to 30 activists who trav­elled there after police bru­tal­ly dis­persed around 500 peo­ple from Zuc­cot­ti Park on Sat­ur­day, the Times reports. Occu­py's web­site now fea­tures a call to ​"Occu­py Union Square," and claims over 70 peo­ple are par­tic­i­pat­ing in the occupation.
​"Although tents and tables are still banned, Occu­piers have brought blan­kets and sleep­ing gear. Many are call­ing it, ​'The New Occu­pa­tion,'" the web­site states.
​"It's exper­i­men­tal," explained Ms. McJim­sey to the Times. ​"The cops told us at 4 a.m. that ​'you need to sit up.' They weren't going to arrest us for lay­ing down though, so it's kind of unclear what we're allowed to do and not allowed to do."
Like the first occu­pa­tion, this new protest inspired some eye­rolling from naysay­ers when I informed them about it. ​"It won't last," and ​"The cops will break it up," have become famil­iar refrains in report­ing the pub­lic's reac­tion to Occu­py. The same state­ments were made in Sep­tem­ber when a cou­ple dozen peo­ple start­ed set­ting up tents in a small cement park called Zuc­cot­ti. (pho­to by @CarrieM123)
But even some Occu­piers have their doubts about this new camp.
Steven Shry­rock, 60, a com­put­er graph­ics pro­fes­sion­al who held a card­board sign read­ing ​"Ask us about Occu­py Wall St," was doubt­ful about whether the new­ly declared occu­pa­tion would last. He said, ​"I don't know how long we're going to keep doing it right here, but if the police are going to be so nasty about Zuc­cot­ti from now on, it's hard to say."
The Post report­ed one pro­test­er, Daniel Jaffe, 33, has been arrest­ed after he climbed onto the George Wash­ing­ton stat­ue and refused to come down.
Pro­test­er Lau­ren Digioia wears police tape dur­ing an Occu­py Wall Street protest in Union Square on March 19, 2012 in New York City (pho­to by Mario Tama/​Getty)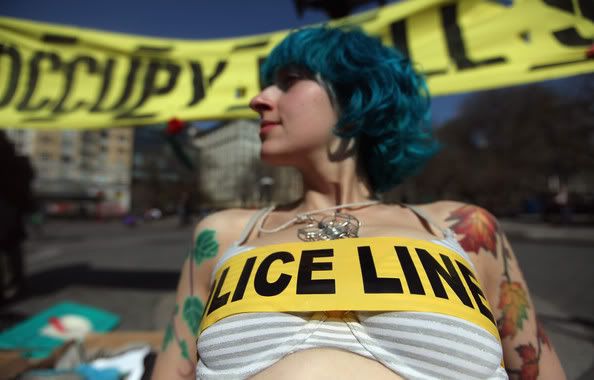 ​"Our abil­i­ty to occu­py the com­mons in order to voice dis­sent is a vital polit­i­cal right," the Occu­py web­site states. ​"We do not need a per­mit to exist in pub­lic space. We call on all those who would stand for equal­i­ty, jus­tice, and lib­er­a­tion — and against the banks, cor­po­ra­tions, wealthy elites, and cor­rupt politi­cians who have stolen our democ­ra­cy and ruined our econ­o­my — to join us now."
The state­ment clos­es: ​"Spring is com­ing. The time to get involved is now!"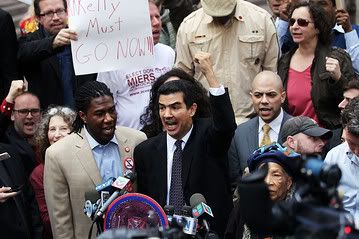 On Mon­day, two City Coun­cil mem­bers who have sup­port­ed OWS since the begin­ning, Yda­nis Rodriguez and Jumaane Williams, denounced what they char­ac­ter­ize as police abuse of pro­test­ers dur­ing a press con­fer­ence held at Zuc­cot­ti Park. (pho­to by Getty)
The pro­test­ers ​"are not ter­ror­ists, they are not ene­mies of the state," said Williams. ​"This park is to be used by the pub­lic. Occu­py Wall Street is part of the pub­lic." He added: ​"What this is about — and let's be clear — is sup­pres­sion of dissent."
The Wall Street Jour­nal reports that the coun­cil mem­bers are in the process of writ­ing leg­is­la­tion for a pro­test­ers' bill of rights, which they plan to bring forth to City Coun­cil lat­er this week.
One of the cen­tral con­cerns of pro­test­ers, and Rodriguez, is the Fed­er­al Restrict­ed Grounds Improve­ment Act, recent­ly signed by Pres­i­dent Oba­ma, which restricts access to pub­lic spaces when Secret Ser­vice offi­cials are on the premises.
​"There was a lot of exces­sive force used by the NYPD," said Rodriguez. ​"We believe that a pro­test­ers' bill of rights will send a clear def­i­n­i­tion of the respon­si­bly of the NYPD." The coun­cil mem­ber was arrest­ed dur­ing an Occu­py Wall Street-relat­ed protest on Nov. 17, 2011.
The new law re-writes an exit­ing 1971 tres­pass law, remov­ing a sin­gle word that could have a huge impact on pro­test­ers. The orig­i­nal law states some­one had to act ​"wil­ful­ly and know­ing­ly" when com­mit­ting the crime. Now, the lan­guage states that the actor only need behave ​"know­ing­ly," mean­ing a per­son could be charged sim­ply for know­ing they were in a restrict­ed area, even if they are not com­mit­ting a crime.
The tim­ing of the new act is inter­est­ing giv­en the recent relo­ca­tion of the G8 to Camp David fol­low­ing plans for mas­sive protests in Chica­go, and state­ments from OWS pro­test­ers about surg­ing dur­ing the spring and summer.