Déjà vu in Chicago as Occupying Workers Secure Victory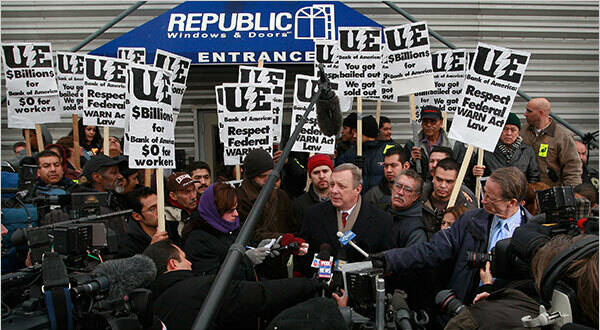 More than three years ago, a group of about 200 workers from Republic Windows & Doors organized a six-day sit-in demanding vacation and severance pay after suddenly being laid off near the holidays.
The factory closed after Bank of America cut off the company's line of credit, prompting then-Governor Rod Blagojevich to order state agencies to stop doing business with Bank of America until it used some of its federal bailout money to keep the factory open.
​"So unless and until they do that, we, the state of Illinois, will suspend doing any business with the Bank of America, and we hope that this kind of leverage and pressure will encourage the Bank of America to do the right thing for this business, take some of that federal tax money that they've received and invest it by providing the necessary credit to this company so these workers can keep their jobs," said Blagojevich.
The occupation drew national media attention almost two years before Occupy Wall Street became a reality, and workers won a settlement and the factory reopened under new management.
While early reports indicated that the new owners, Serious Energy, might hire back the former Republican workers, Leah Fried, a spokeswoman for UE Local 110, told the Chicago Tribune that the new company never hired back more than 75 of the workers.
A new group of about 65 workers locked themselves inside the same factory this week in a desperate move to save their jobs once again.
Serious Energy says the move to close the plant comes as the company prepares to consolidate operations in Colorado and Pennsylvania, two states with historically business-friendly tax rates.
Ongoing economic challenges in construction and building products, collapse in demand for window products, difficulty in obtaining favorable lease terms, high leasing and utility costs and taxes, and a range of other factors unrelated to labor costs, have compelled Serious to cease production at the Chicago facility," the company said in a statement.
Union leaders have said they wanted time to buy the company or find a buyer.
Occupy Chicago's labor committee announced that they supported the worker's occupation of Serious Materials and the hashtag #seriousoccupation appeared on Twitter as Occupiers live-tweeted negotiations and the factory occupation.
Armando Robles, a worker at Serious Materials and president of UE Local 1110, raises his fist inside the occupied factory. Photo by Aaron Cynic.
Occupied Chicago Tribune's Nick Burt described the scene outside the factory last night:
About 80 people braving the rain. More cycling through to pick up coffee and supplies. A cop just came to order a group of supporters to take down a tent (not for camping, the kind that covers a table). He says they need a permit. Workers send messages of gratitude through a spokeswoman.

Still no deal. Negotiating with [Serious Energy] national office in California. Pledge to stay as long as it takes. Workers inside were delivered food and water. Are in good shape. Spokeswoman says workers want option to buy factory to run as a co-op, but there's been no answer to how much that would cost.
Late last night, reinforcements from Occupy Chicago arrived with tents and sleeping bags – some of which were for the workers inside, but also for a solidarity camp set up outside. (photo by @jujueyeball)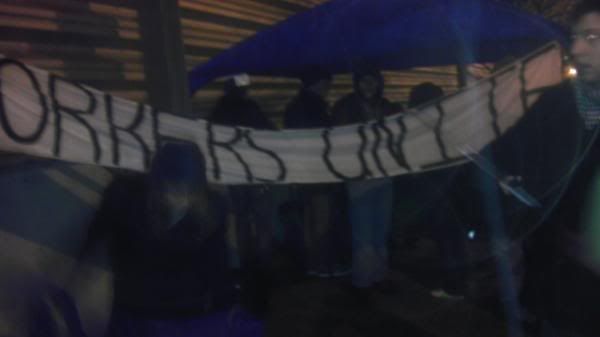 At around 1 a.m., workers ended the occupation and victoriously exited the factory through the main doors.
United Electrical Radio and Machine Workers of America's Mark Meinster:
A deal has now been struck to try and save the jobs. Serious Energy has agreed to keep the plant operational and people on the job for another 90 days while the union workers and the company work together to find a way to keep the plant open with new ownership because the plant will no longer be part of Serious Energy's business plan. After 9 hours the occupation has ended with a hopeful workforce.
Video of workers exiting the factory (by Jen Haggard)
The Rise of a New Left
"An engrossing, behind-the-scenes account of our decade's breakout political movement." –Atossa Araxia Abrahamian
For a limited time, when you donate $30 or more to support In These Times, we'll send you a copy of the new book, The Rise of a New Left: How Young Radicals Are Shaping the Future of American Politics, by Raina Lipsitz.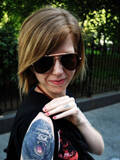 Allison Kilkenny
is an
In These Times
Staff Writer and the co-host of the critically acclaimed radio show
Citizen Radio
. Her blog for
In These Times
,
Uprising
, focuses on efforts around the world to address the global economic crisis.