The 2000 election must not be forgotten.
Democracy Now
The world needs more ballots, not more bullets.
Cracks in the Coalition
The rest of the world begins to sour on the war.
Abortion Under Attack
Chipping away at the right to choose.
But Venezuela's "revolution" faces many obstacles.
Selling the War.
Kamikaze Capitalists.
The IRA moves forward with decommissioning—but some loyalists don't want peace.
New Yorkers elect Bloomberg as their next mayor.
There's a Police Riot Goin' On
Anti-war marchers feel the chill in Connecticut.
Climate of Fear
Long Island activist is charged as a "terrorist."
In Person
Fred Korematsu made a federal case out of it.
MUSIC: No joy for New Order.
The Vagina that Roared
BOOKS: Susanna Kaysen's "sore spot."
Fille, Interrupted
FILM: Fat Girl and French Feminism.
Mind out of Time
The seven ages of Bob.
November 9, 2001
APPALL-O-METER
They Hate Our Freedom 7.5
The odd stun-gun, knife collection or loaded pistol may slip past the vigilant security professionals at our nation's airports, but not so our most dangerous internal enemies.

Nancy Oden, an official of the Green Party USA who has helped organize anti-war protests, was seized at an airport in Bangor, Maine before she could board an American Airlines flight to Chicago.

According to Counterpunch, military personnel armed with automatic weapons surrounded Oden as she tried to get on the plane, saying that her name had been "flagged in the computer." They then advised other airlines that Oden was forbidden to fly until further notice.

Making Lemonade 5.4
Lloyd's, the London-based insurance giant, estimates that the attacks on the World Trade Center will cost it nearly $2 billion. And its "names," the investors who back Lloyd's risks with their own assets, are being asked to pony up about $360 million.

So, are bowler-hatted toffs blowing their brains out in Belgravia? No, sir. According to a report by the BBC, a newsletter for the Association of Lloyd's Members is forthrightly bullish. "Names may now have a historic opportunity for profitable underwriting," the newsletter gushes. All the fear and uncertainty that followed the attacks should only bolster "one of the strongest markets in living memory."

Aviation premiums, the publication notes with satisfaction, were up 400 to 600 percent as a result of the attack, and aviation war rates were hiked by 1,400 percent.

A Proper Dust-Up 4.7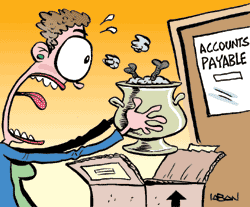 It took some out-of-the-box persuasion, but the Doubting Thomases at the Sallie Mae Loan Corporation have finally gotten the point. They had been dunning a bereaved mother for months, trying to collect payments on $35,000 in student loans owed by her dead son. Owed, that is, while he was alive. The deceased, God rest his soul, died in May of a drug overdose. His mother tried unsuccessfully for months to impress this unfortunate fact on Sallie Mae's bureaucracy.

Finally, in frustration she mailed a sample of the young man's ashes to the company's office. The dusty missive touched off a rolling freak-out at Sallie Mae's Wilkes-Barre, Pennsylvania office, according to The Associated Press. Certain they had been anthraxed, company officials called in the police and haz-mat teams, and several employees had themselves tested for contamination.