The 2000 election must not be forgotten.
Democracy Now
The world needs more ballots, not more bullets.
Cracks in the Coalition
The rest of the world begins to sour on the war.
Abortion Under Attack
Chipping away at the right to choose.
But Venezuela's "revolution" faces many obstacles.
Selling the War.
Kamikaze Capitalists.
The IRA moves forward with decommissioning—but some loyalists don't want peace.
New Yorkers elect Bloomberg as their next mayor.
There's a Police Riot Goin' On
Anti-war marchers feel the chill in Connecticut.
Climate of Fear
Long Island activist is charged as a "terrorist."
In Person
Fred Korematsu made a federal case out of it.
MUSIC: No joy for New Order.
The Vagina that Roared
BOOKS: Susanna Kaysen's "sore spot."
Fille, Interrupted
FILM: Fat Girl and French Feminism.
Mind out of Time
The seven ages of Bob.
November 9, 2001
Going Against the Green
New Yorkers elect Bloomberg as their next mayor.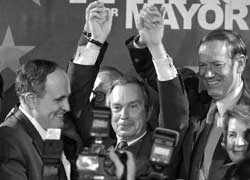 Mario Tama/Getty Images
NEW YORK—The real story of the election that made Republican billionaire Michael Bloomberg the next mayor of this city is the self-destruction of Mark Green. Exit polls showed that 55 percent of the victor's voters were against Democrat Green rather than for Bloomberg. Why?

Green drained enthusiasm for his candidacy among traditional Democratic constituencies by running away from his liberal reputation. This process began in Green's second term as the city's public advocate, when he attached himself like a mollusk to Bill and Hillary Clinton, defending their sleazy hypocrisies before any microphone the adept publicity hog could find.

And when the first lady (who godmothered the serpent Dick Morris' cynical triangulations) ran for senator, Green was her most visible surrogate when she was kept hidden from the press by her handlers. Having justified the Clintons' destruction of the Rooseveltian liberal heritage he'd long embraced, Green should have surprised no one when he morphed into an electoral Pander Bear. But he did.

Green shunted aside his campaign manager, Richard Schrader—a former director of New York Citizen Action who is widely respected by progressives here—in favor of counsel from his older brother Steve Green, a wealthy real estate magnate (and a Republican). As chief fundraiser, Steve introduced Mark to the city's business community, to which Mark sucked up throughout the year.

To win the runoff for the Democratic nomination against Fernando "Freddy" Ferrer, he echoed the same racially divisive rhetoric he had criticized during the primaries, when it was used by the most conservative candidate in the race, Peter Vallone.

Already embittered at Green for running a flagrantly code-worded TV ad designed to raise white fear of Ferrer, Hispanics were furious when, a week before the election, the Daily News broke a story placing top Green campaign aides in a pre-runoff meeting at which racially inflammatory literature painting Ferrer as Al Sharpton's puppet was planned to be used. Sharpton threatened to call for an election boycott unless Green investigated and fired those responsible, and Ferrer (who had formally endorsed Green and made a few token campaign stops with him) pointedly absented himself from both a $1,500-minimum fundraiser co-chaired by the Clintons on the Friday before the vote and a public "unity" rally that weekend featuring not only Bill and Hill, but Senators Chuck Schumer and Ted Kennedy as well.

In Ferrer's home borough of the Bronx, Democratic boss Roberto Ramirez closed the party's county headquarters for the campaign's final three days, and his troops sat on their hands. Bloomberg wound up with 50 percent of the Hispanic vote—11 points better than Giuliani ever did—and 22 percent of the black vote (two points better than Rudy's showing four years ago).
Although labor leaders formally switched their unions' endorsements to the newly centrist Green after the runoff, their half-hearted efforts—after months of anybody-but-Green maneuverings—weren't all that convincing; Bloomberg ended up with 38 percent of the union vote. And just when one thought Green could sink no lower, in his only major policy pronouncement of the final campaign, he came out in favor of legalizing casino gambling in the Big Apple. While popular, this most regressive form of taxation on the poor is a notion only a Pander Bear could embrace.

When a deliberately delayed endorsement of Bloomberg by Giuliani—made into a brilliant pass-the-torch TV spot that had Giuliani bidding farewell to the city—drove Bloomberg into a statistical dead heat with Green in the last week, the Democrat played into the say-anything image that his campaign performance had earned him by unleashing a last-minute barrage of near-hysterical attack ads against Bloomberg. These backfired with New Yorkers longing for civility in the post-September 11 gloom and fear. Bloomberg's most heavily aired negative ad featured a tape recording of Green's own words when he claimed that he would have been "better than Giuliani" in handling the city after the World Trade Center atrocity, and adding—with effective understatement—just a single question: "Really?"

This spot reminded everyone of the arrogance Green displayed throughout the campaign. One anecdote tells it all: During the primary, Green was handshaking at the Educational Alliance, a venerable Lower East Side institution founded a century ago by Jewish Socialists (now serving mostly seniors known as "Edgies") and a must campaign stop for any Democrat. A grandmotherly Edgie came up and asked Green, "So, darling, what are you running for?" Green's withering reply: "Read the newspapers." He lost the normally Democratic Jewish vote (19 percent of the total turnout) to Bloomberg by two points.
Green alienated so many of his core constituents by betraying his past and by smug, self-important, cynical posturing that he has no one to blame for his defeat but himself. Green's character flaws cost him 30 percent of the voters who had supported him in the runoff, and permitted Bloomberg to purchase an election that no one thought he could win. And for all would-be opportunist Democrats, here endeth the lesson.
---