The 2000 election must not be forgotten.
Democracy Now
The world needs more ballots, not more bullets.
Cracks in the Coalition
The rest of the world begins to sour on the war.
Abortion Under Attack
Chipping away at the right to choose.
But Venezuela's "revolution" faces many obstacles.
Selling the War.
Kamikaze Capitalists.
The IRA moves forward with decommissioning—but some loyalists don't want peace.
New Yorkers elect Bloomberg as their next mayor.
There's a Police Riot Goin' On
Anti-war marchers feel the chill in Connecticut.
Climate of Fear
Long Island activist is charged as a "terrorist."
In Person
Fred Korematsu made a federal case out of it.
MUSIC: No joy for New Order.
The Vagina that Roared
BOOKS: Susanna Kaysen's "sore spot."
Fille, Interrupted
FILM: Fat Girl and French Feminism.
Mind out of Time
The seven ages of Bob.
November 9, 2001
Rhythm and Sorrow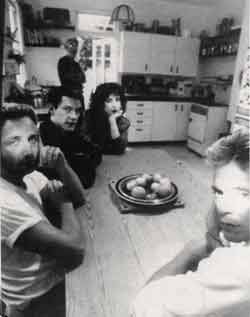 Speller/Retna
n May 18, 1980, Ian Curtis, husband, father and lead singer of Joy Division, committed suicide on the eve of the band's first American tour. Were Joy Division just another band, the story would end there, the band's two albums and scattered singles merely artifacts lodged amidst the rubble of punk rock. But two decades after the group effectively disbanded, Curtis' death still casts an imposing shadow that threatens to enshroud anyone who dares exhume the band's grim body of work. Curtis has come to symbolize depression and gloom, and his name is inextricable from his sad demise.

The three remaining members of Joy Division have said they became New Order not because they wanted to try something different, but because they knew that their music could never be the same. There's a reason it's his blurred visage that graces Heart and Soul, a four-disc boxed set, rather than a full band shot. Despite the obvious importance of Bernard Sumner's primitive guitar, Peter Hook's strummed bass and Stephen Morris' hyperactive drums, Curtis' spirit dominates the music.

Heart and Soul includes virtually everything Joy Division ever recorded (singles, albums, EPs, unreleased live rarities), and its somber design and stately reverence serve more effectively as Curtis' eulogy than any other previous collection. Joy Division is undeniably the sound of one man's unspeakable anguish, the echoes of his doubt-ridden questions—"Could these sensations make me feel the pleasures of a normal man?" or "Can I go on with this train of events?"—bouncing unanswered off the studio walls. Indeed, one of Heart and Soul's greatest attributes is a full lyric sheet, so armchair analysts can now scrutinize each of the band's songs for suicidal subtext.

Even though it's impossible to listen to Curtis' lyrics without thinking of his fate, Joy Division's music still sounds remarkably rootless. Even the early material, released in 1978 under the name Warsaw, finds the quartet struggling against the rigid conventions of punk. By the time of Joy Division's second (and final) album Closer, the band had metamorphosed into something completely different, an artful synthesis of clatter and grace, ethereal keyboards and abrasive noise, doom-laden dance music that would later be deemed "death disco." Closer solidified Joy Division's reputation and ensured that its legacy would continue on in bands across the musical spectrum. The music still screams with an urgent vibrancy, like Edgar Allan Poe's protagonist in "The Premature Burial" struggling for one last gasp of air.

ast forward approximately 20 years. New Order, arguably the laziest band alive, have released Get Ready, their first album in eight years. Against all odds every bit as influential and important as their predecessor, New Order made electronic music vital and viable as pop music. The group never set down their instruments even as they fiddled with drum machine prototypes and early synthesizers, working in relative secrecy and performing with unabashed sloppiness. That their music proved successful surely baffled the group, even as it bolstered the rabid fans that scrambled for every single and remix.

Sumner took over for Curtis as singer because, apparently, he drew the short straw in a band lotto. Once given the chance to lead, his lyrics quickly moved to more casual turf than Curtis traversed. In fact, Sumner's own gift seemed to be the ability to magically stumble upon a good line here and there, instantly making up for all his daft clunkers. That same sense of random brilliance pervades New Order's catalog. No single New Order album sounds like it was started and finished with a clear gameplan in mind, but most of the time the impromptu strategy paid off.

ew Order could have continued in the same somber vein of Joy Division, but chance band decisions transformed the group into something else. To get an idea of what Joy Division might have become, one need only seek out the recently released Crystal Days, which collects many of the works of New Order's hyper-serious rivals Echo and the Bunnymen. New Order could never keep an entirely straight face, but maybe that's how the band managed to best the competition. Says Echo's Ian McCulloch: "They changed the face of music. They were more influential in affecting their chosen genre: dance music."

McCulloch's effusive praise comes as a shock, considering his own impressive ego, but it also stands utterly at odds with the insignificance of New Order's recent output. Something happened to New Order at the end of the '80s. Perhaps disillusioned by the ease of new digital technology or just bored of stardom, the band receded into side-projects and inactivity.

The relatively strong 1993 comeback Republic, it turns out, was recorded primarily as a means to clear some debts, even if the results may have worked out better than planned. Hindered by drugs, drink and indifference, New Order once again proved they had it in themselves to play music that was without a doubt New Order, but something was still missing.

Get Ready abandons all pioneering pretense. In fact, the disc could easily be dismissed as a regressive effort, jettisoning almost all electronics in favor of electric guitar overload. The minimal synths and pattering canned beats were one of the group's trademarks, and without them New Order sound pretty bland. Yes, Hook's bass playing remains reassuring, as do Sumner's lazy lyrics, but the disc as a whole never reaches that perfect mix of naïve charm, punk edge and techno utopia.

Maybe there's a clue to be found in the two conspicuous guest singers, a New Order first. Former Smashing Pumpkin Billy Corgan and Primal Scream's Bobby Gillespie may be two of New Order's biggest fans, but a group of such stature need not coast on the presence of distracting interlopers. Or do they? It's sad to think that this far into an amazing career, New Order have seen fit to capitulate to vague notions of radio-friendly material and commercial appeal. The last thing we need now is just another "rock" band, especially coming from an act known for so much more. Minus its maverick status, the band is simply less than the sum of its parts, a reversal of the very charm that made it so interesting to begin with.

Heart and Soul only enhances the reputation of Joy Division, who sounded like they made music because they had to. New Order, on the other hand, for the first time sound like a band making music just because they can. That's the path of a dinosaur act, not a trailblazer. With all the freedom that New Order have gained through past successes, they could and should have done so much more, even within the relatively narrow boundaries of rock music. The still-strong legacy of Joy Division's briefly-lived greatness only makes New Order's failure that much more apparent.
Joshua Klein, a freelance music critic, also writes for the Chicago Tribune and the Chicago Reader.

---