Tuesday, Mar 11, 2014, 5:25 pm · By Bruce Vail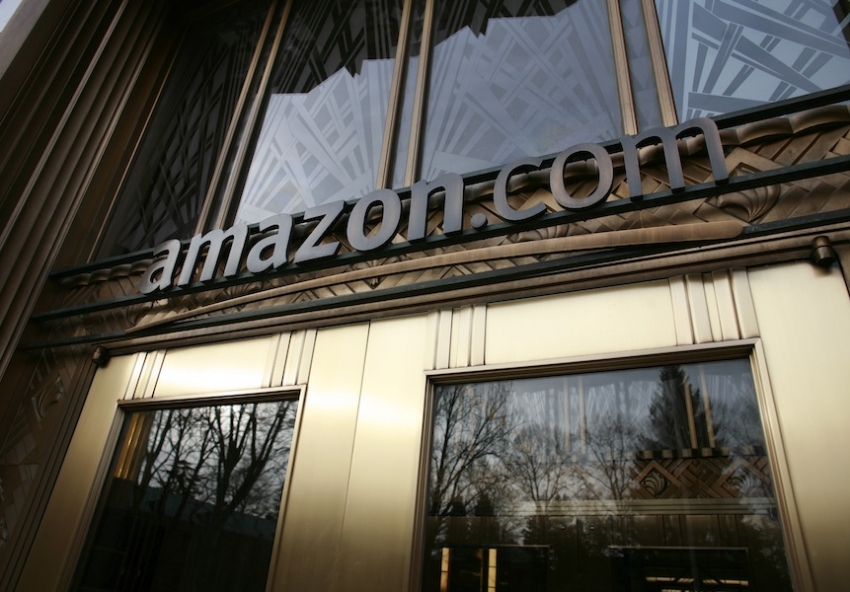 The Supreme Court agreed has agreed to hear a case over whether the retail giant Amazon stole wages from warehouse workers at its U.S. distribution facilities by forcing them to wait in long lines for security screening without pay.
The case, Integrity Staffing Solutions, Inc. v. Busk, will be considered during the high court's October term, with a decision expected by early next year. At issue is the proper application of the federal Fair Labor Standards Act (FLSA) and a related law, the Portal-to-Portal Act, both of which govern overtime payment for wage-earners.
According to court documents, warehouse workers Jessie Busk and Laurie Castro were employed by the temporary labor agency Integrity Staffing Solutions between 2008 and 2010 to work at separate Amazon warehouses in Nevada. At the end of the work shifts, all workers were required to undergo security-screening procedures designed to prevent worker theft. The screening created long lines and waiting times for the workers, typically about 25 minutes, on a daily basis. In 2010, Bust and Castro filed a class action lawsuit under FLSA, claiming that they should be compensated for this time.
Mark Thierman, the Reno, Nev., lawyer representing Busk and Castro, says the lawsuit has since been joined by another 500 workers from other warehouses. If the suit is fully successful, he tells In These Times, the settlement could include back pay for as many as 500,000 workers (both permanent and temporary) from all of Amazon's more than 50 U.S. warehouses.
After working its way through the lower courts, the case reached the U.S. Court of Appeals for the Ninth District in 2013, which overruled prior decisions and found in favor of Busk and Castro. Integrity Staffing then appealed the Ninth Circuit decision to the Supreme Court.
The case has attracted the attention of pro-business lobby groups, which often fight interpretations of the FLSA that would lead to an expansion of overtime pay. The Retail Litigation Center, the Society for Human Resources Management, the U.S. Chamber of Commerce and the National Association of Manufacturers filed a joint amicus brief in the case in favor of denying additional wage payments to the workers.
A commentary from attorneys at Littler Mendelson, which is representing Integrity Staffing, explains the stake employers have in Busk. "The question is of great import for the nation's employers as security screening is becoming an ever more common practice in the workplace," write attorneys Neil Alexander, Rick Roskelley and Cory Walker. "Indeed, the Ninth Circuit's determination in Busk has already triggered a spate of class-action suits filed by employees seeking back pay for time spent undergoing pre- or post-shift security measures. If allowed to stand, the Ninth Circuit's determination could result in massive retroactive liability stemming from such suits."
Amazon has come under renewed scrutiny since its announcement last year that it would build new warehouses and hire an additional 7,000 workers to supplement an existing permanent workforce of about 20,000. The non-union company was also the target of a failed union organizing campaign this year at a warehouse in Delaware, and has been the object of high-profile agitation by unions in Germany.
Some labor lawyers worry that the Supreme Court's decision to hear the case signals that it may seek to reverse the Ninth Circuit Court's previous decision in favor of the warehouse workers. "It's not necessarily good news for workers," says Catherine Ruckelshaus, General Counsel for the National Employment Law Project (NELP). However, she also notes that the high court has ruled in favor of workers in some similar cases in the past. "It's hard to tell how it will come out," she says.
Also wary is Brooke Lierman, an attorney with the Baltimore firm of Brown, Goldstein and Levy, which has represented workers in FLSA cases in the past. "It's always a little worrying when [the Supreme Court] agrees to take a case from the Ninth Circuit," she says. Whereas the Ninth Circuit is considered by labor lawyers to be relatively liberal, the high court is considered very conservative, Lierman says, so there is concern that some Supreme Court judges are predisposed to overrule the Ninth Circuit. "There are justices on the Supreme Court who want to roll back the rights of workers," she says.
Notwithstanding the pro-business leaning of the Supreme Court, Lierman believes that the Amazon workers have a strong case. "The security screening is something that is done solely for the benefit of the company, and they have complete control of the process. That's important in these kinds of cases," she says. Earlier court rulings on security screenings have made a careful distinction, she explains, between screening that are required by law or government regulation, and screenings that are imposed at the will of the employer. Workers have a better chance at getting compensation when the screenings are ordered by the employer solely for its own benefit.
Integrity Staffing attorneys at Littler Mendelson have hired Washington lawyer Paul D. Clement to act as the labor agency's attorney of record. Clement is a Bush appointee who served in the Justice Department and as Solicitor General. He was also the lead attorney in the attempt to have the Affordable Care Act, or Obamacare, ruled unconstitutional by the Supreme Court.
Thierman says he's not intimidated by the high-priced legal team that will oppose him at the high court's oral argument. "Common sense is on our side. I don't know what [the Supreme Court] will do, but hopefully they'll do the right thing."
Tuesday, Mar 11, 2014, 1:47 pm · By Sarah Jaffe
"We are here tonight because our hospitals are in a crisis," said New York City Public Advocate Letitia James as she stood behind a podium at Pleasant Grove Baptist Church in Bedford-Stuyvesant, Brooklyn on Thursday evening. James was at the church to host a town-hall meeting about healthcare needs in Brooklyn and the possible closure of Interfaith Medical Center along with other elected officials, advocates and workers from the New York State Nurses Association (NYSNA) and 1199SEIU United Healthcare Workers East.
In Brooklyn, James stressed, there are just two hospital beds per thousand people. Meanwhile, across the river in the borough of Manhattan, there are six beds per thousand people. And without the battle that unions and community members have been waging for over a year now, there might be even fewer, because Interfaith and Long Island College Hospital (LICH) would very likely be shuttered already.
The question when it comes to Interfaith, according to NYSNA organizer Eliza Carboni, is, "How do we get decisions about our healthcare needs out of bankruptcy court and into the hands of the community?" The hospital, which has been in bankruptcy court since 2012, has nearly closed several times—most recently this winter—before the state agreed to release some $25 million in funds to keep it open through March as bankruptcy proceedings continue. The crowd at the church hopes to see real changes in how healthcare decisions are made in a borough where most people get their primary care at the hospital, and where a large number of residents are reliant on Medicaid and Medicare to cover their treatment. They're hoping that the state will step in to help keep it open. But NYSNA and 1199, together with community and elected leaders, are also exploring the idea of running the hospital as a cooperative—a move that if successful could have far-reaching implications in the healthcare sector.
A recent win for a community-labor coalition at LICH, which has kept the hospital open for the last year, suggests a blueprint for organizing at other cash-strapped hospitals. The unprecedented deal reached in court over LICH opens up a new request for proposals (RFP) to purchase the hospital and its property. Unlike previous iterations, the new RFP will prioritize proposals that keep a full-service hospital open, and the community and labor groups that filed suit to save the hospital will be represented on the committee that will evaluate the bids. While this doesn't guarantee the hospital will remain open, it represents a huge shift in priorities—nurses and elected officials had previously felt that the State University of New York (SUNY), which currently operates the hospital, simply wanted to sell off the valuable real estate to the highest bidder, regardless of healthcare need.
Monday, Mar 10, 2014, 3:54 pm · By Kari Lydersen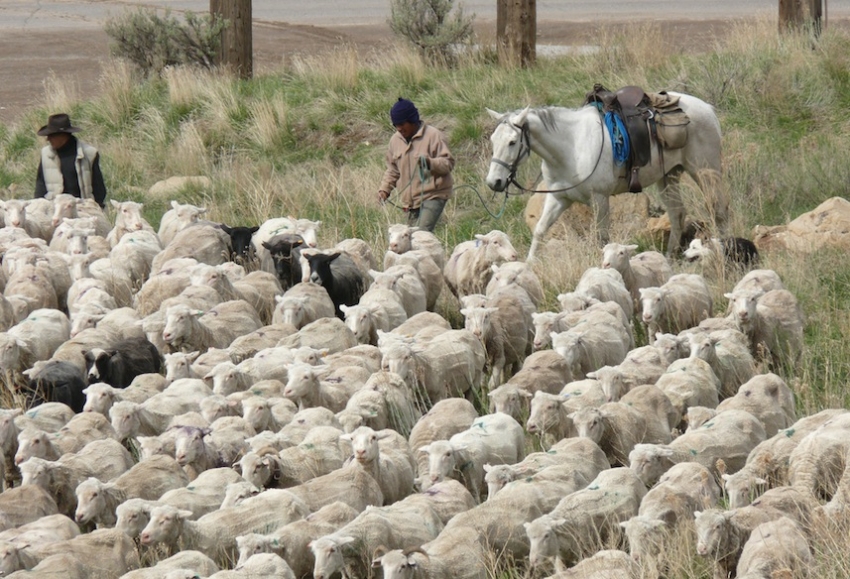 Over the past decade, Reymundo Zacarias Mendoza, Sergio Velasquez Catalan, Francisco Javier Castro and Alfredo Conovilca Matamoros came to the U.S. from Peru and Chile to work herding sheep, goats and cattle in Washington, Wyoming and Colorado on H-2A temporary guest worker visas.
Now the four men are legal permanent residents of the U.S.—and they are suing the federal government over its requirements for H-2A guest worker visas for herders.
The men argue an exemption granted to the sector means that as permanent legal residents, they are unable to take herding jobs at fair wages with decent working conditions.
The case presents an interesting legal strategy. The exemption for herders has been in place in similar forms since the guest worker program started started about three decades ago. There is actually nothing preventing the men from applying for herding jobs and it is entirely possible they would be hired if they were willing to work for the wages and in the conditions offered.
Monday, Mar 10, 2014, 3:03 pm · By Bruce Vail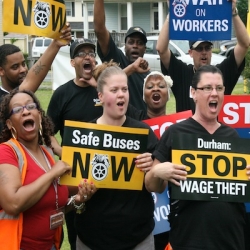 ROSEDALE, MD.—More than 350 Baltimore-area bus drivers are preparing to celebrate victory in a $1.25 million wage theft case against Durham School Services, an Illinois-based bus-contracting company with operations across much of the country.
The case, which covers the employees at Durham between March 2010 and September 2013, reflects a troubling national trend of companies cheating workers out of their earnings. "Wage theft is a huge problem, and it's outrageous," says Andrew Freeman, one of the attorneys at Brown Goldstein Levy, the Baltimore-based firm that filed the suit against Durham last year. In their suit, the plaintiffs accused the company of failing to pay employees for overtime work such as bus inspections, bus cleanings, fueling, and other related tasks.
The settlement of the U.S. District Court case should be finalized April 4, with distribution of the stolen wage money following immediately afterward, says Moe Jackson, a union organizer for International Brotherhood of Teamsters Local 570. For almost two years, the local has been trying to organize the drivers and aides at Rosedale, Jackson says, where employees are also bristling over low pay, substandard benefits and overbearing management practices. The Teamsters initiated the wage theft case on behalf of the workers, officers say, as a step in the unionizing process.
Friday, Mar 7, 2014, 8:00 am · By Michelle Chen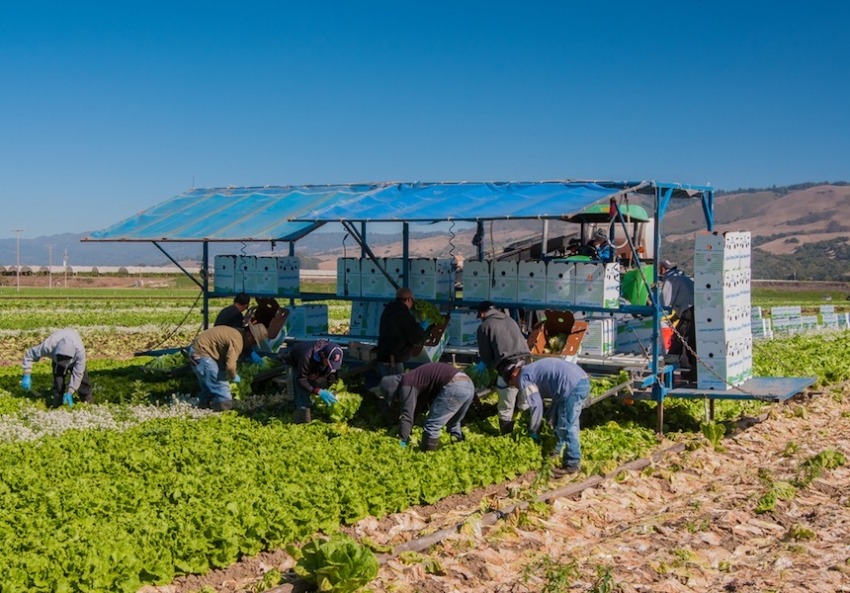 For California's farmworkers, toiling all day in the brutal, sun-scorched fields is hard enough; the homes they return to each night are often in even worse conditions. Though the reforms won by previous generations have extended basic labor and safety protections to seasonal and immigrant farmworkers, many remain shut out of the right to decent accommodations.
According to a new report published by California Rural Legal Assistance (CRLA), the housing crisis in the agricultural workforce has worsened over the last generation. Despite the locavore fads and slow-food diets that have infused today's farm-fresh produce with an air of glamour, as a workplace, the fields still echo the social marginalization and scandalous poverty that sparked the groundbreaking grape boycott of the late 1960s.
Don Villarejo, the longtime farmworker advocate who authored the report, tells In These Times that growers have "systematically" reduced investment in farmworker housing over the past 25 years in order to reduce overhead costs and to avoid the trouble of meeting state and federal regulations, which were established as part of a broader overhaul of agricultural labor, health and safety standards during the 1960s and 1980s. According to Villarejo, workers' modern material circumstances are little improved from the old days of the Bracero system. That initiative—the precursor to our modern-day guestworker migrant program—became notorious for shunting laborers into spartan cabins, tents and other inhospitable dwellings on the farms themselves, beset with entrenched poverty and unhealthy, brutish conditions.
Thursday, Mar 6, 2014, 6:55 pm · By David Bacon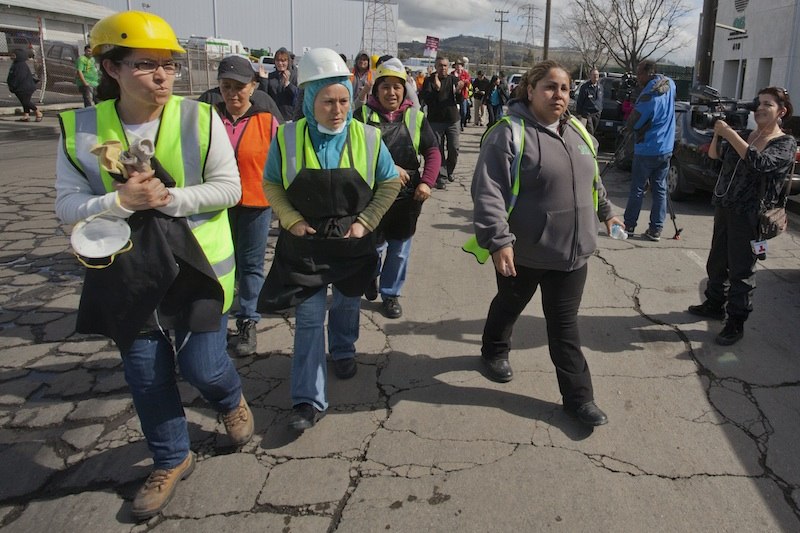 For the last five months, community and labor activists, most of them young, have sat down in front of buses carrying people to detention centers for deportation. In Tucson, they obstructed and chained themselves to Immigration and Customs Enforcement Agency (ICE) buses. In San Francisco, a month after blocking a bus carrying deportees to detention, "Dreamer" Ju Hong—a young immigrant whose deportation was deferred in the White House's executive action two years ago—challenged President Obama during a local speech. "You have the power to stop deportation," the protester told him.
In response to these actions and others like them, the cities of Los Angeles and San Francisco have passed resolutions demanding a moratorium on deportations; San Francisco is imposing a halt in immigration-related firings as well.
And the pressure is only intensifying. Last week, unions and community organizations closed down an intersection in front of a Silicon Valley supermarket chain where hundreds were fired after an I-9 audit: an ICE inspection of company personnel records, intended to identify undocumented workers for termination. The next day, immigrant workers in one San Leandro, Calif. recycling facility walked out of work when their employer and ICE threatened their jobs in a similar audit.
Wednesday, Mar 5, 2014, 9:01 pm · By Melinda Tuhus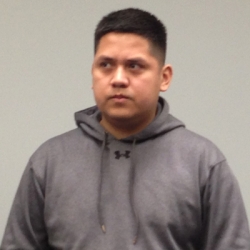 Last Wednesday in New Haven, Conn., labor activists and workers joined police and government leaders at a news conference announcing their shared commitment to stopping employers from stealing the earnings of their mostly low-wage workers.
Wage theft—paying employees less than the minimum wage or not paying overtime when required by law—is widespread throughout the country. A recent report by the National Employment Law Project found a quarter of low-wage workers interviewed in several cities had been paid less than the minimum wage in the previous week; three-quarters had worked more than 40 hours a week without being paid overtime.
Too often, employers found guilty of wage theft slip through the judicial system with little more than a slap on the wrist. But in New Haven, city officials are taking significant steps to pursue criminal charges against those who shortchange their workers.
Wednesday, Mar 5, 2014, 7:00 pm · By Matthew Blake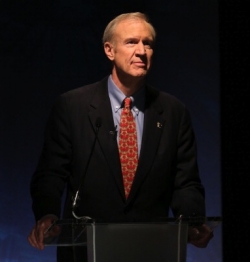 Over the last few years, Republican governors in the Midwest have frequently done battle with organized labor, particularly public employee unions. In 2011, Wisconsin Gov. Scott Walker sharply curbed the bargaining rights of public workers; the next year, Indiana Gov. Mitch Daniels and Michigan Gov. Rick Snyder enacted right-to-work laws.
Even in Illinois, with its supermajority Democratic state legislature, public employees have still had their fair share of feuds with Democratic Gov. Pat Quinn over austerity measures, most notably a recent cut to public worker pensions. But since World War Two, when workers started organizing in earnest, Illinois has not faced a governor ideologically opposed to public-sector unions.
If he's elected this year, Republican gubernatorial candidate Bruce Rauner could change that.
A venture capitalist from Chicago's tony North Shore, Rauner has regularly argued that public employee unions bear the blame for Illinois' financial and education problems. In a November 2012 Chicago Tribune editorial, Rauner opined that Illinois is "in a long-term death spiral" thanks to legalized "bribery" between elected officials and public sector unions. He has also badmouthed "union bosses" and often expounds on the benefits of union-free charter schools.
Wednesday, Mar 5, 2014, 3:23 pm · By Amien Essif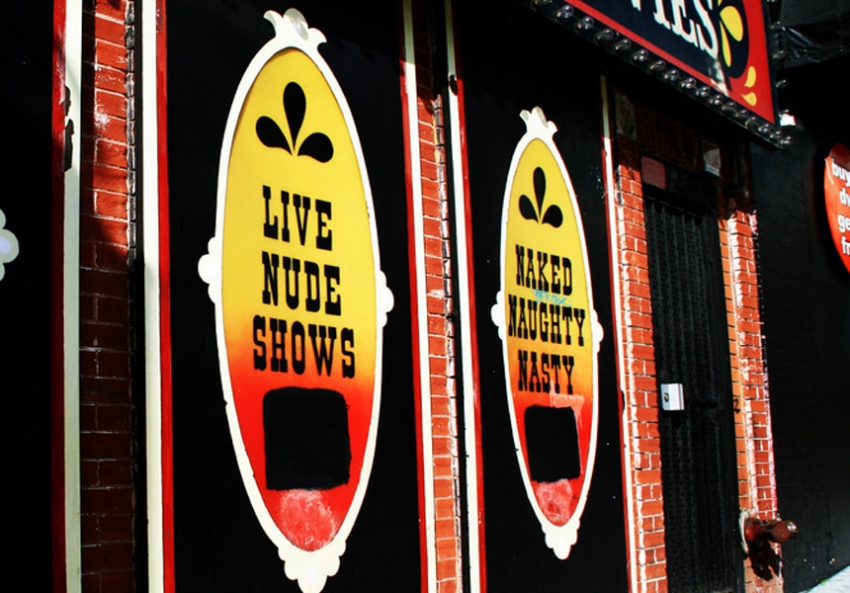 Are exotic dancers independent contractors, free to determine how and when their work will be done, but guaranteed nothing by the Fair Labor Standards Act? Or are they employees, entitled to a minimum wage, overtime pay and other workers' rights?
In the coming months, this question will likely be heard before the Illinois Southern District Court. On January 31, Brandy Apple and Amanda Sheer, two exotic dancers, filed a class-action lawsuit against the nightclub company VCG Holding Corporation. The latest of several lawsuits to accuse a strip club of misclassifying its workers, Apple et al v. VCG Holding Corp. alleges the dancers were treated as employees but misclassified as independent contractors during their time working for PT's Showclub, a subsidiary of VCG, in the St. Louis area.
In the United States, employees—not independent contractors—are assured a minimum wage and other protections under the Fair Labor Standards Act. Apple and Sheer claim their misclassification resulted in thousands of dollars of lost wages and a violation of their rights as de facto employees. The dancers also say PT's illegally required them to share their tips with managers and threatened them with retaliation when they asked to be reclassified.
Tuesday, Mar 4, 2014, 6:41 pm · By Michelle Chen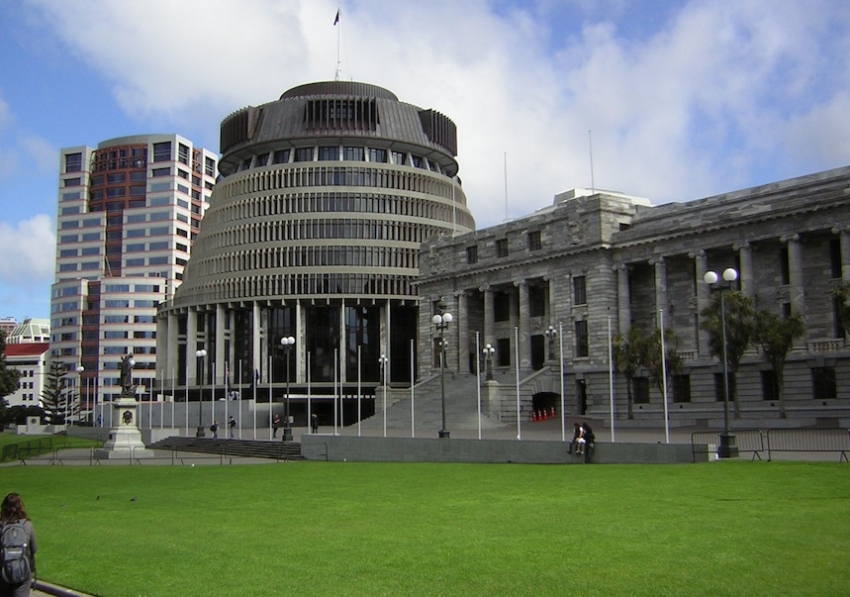 Last month, the New Zealand Human Rights Review Tribunal made a landmark ruling on the violation of a woman's human rights in a Wellington brothel known as The Kensington Inn, run by one Aaron Montgomery. But the case didn't involve the typical media tropes of a worker being "sold into slavery" or abused by a sadistic client. Rather, the employee filed a complaint against both Montgomery and Kensington's owner, M &T Enterprises, after Montgomery allegedly harassed her.
In February, the Tribunal published a decision siding with the worker—thereby confirming that brothel employees have the legal right not to be harassed by their managers, just like they do in any other profession.
When it comes to debates about sex work, feminists often raise the concept that it's a "job like any other," as journalist and former sex worker Melissa Gira Grant has explained. Yet the exchange of sex for pay remains a curiously radical notion for many around the world. While it's certainly true that sex work is a real career born of both necessity and ambition for many, it also comes laden with social anxiety and culture-war taboo.
In New Zealand, however, the occupation's decriminalization over the last decade has helped push back the country's Victorian-era morality laws to foreground human rights in the sex sector. And last month's Tribunal ruling further affirms sex work's legitimacy as a profession and the workers' agency as laborers.