Friday, Jun 24, 2016, 1:02 pm · By Yi San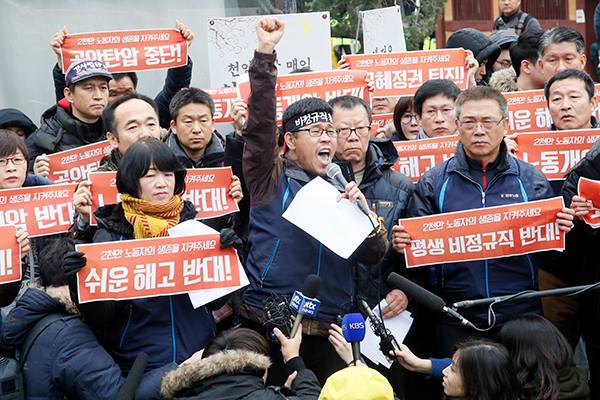 This post first appeared at Labor Notes.
Last week South Korean prosecutors called for an eight-year jail term for Han Sang-gyun, leader of the country's 800,000-strong independent union federation. The request is outlandish even in a country that was once moving toward democracy but is now rapidly eroding back to authoritarianism.
All eight charges against Han center on traffic and public-safety violations in connection with unauthorized rallies the Korean Confederation of Trade Union (KCTU) called between April and November 2015. The government was forced to use a technicality—traffic violations—to interfere with the constitutionally guaranteed freedom of assembly.
Friday, Jun 24, 2016, 12:17 pm · By A.S. Dillingham and René González Pizarro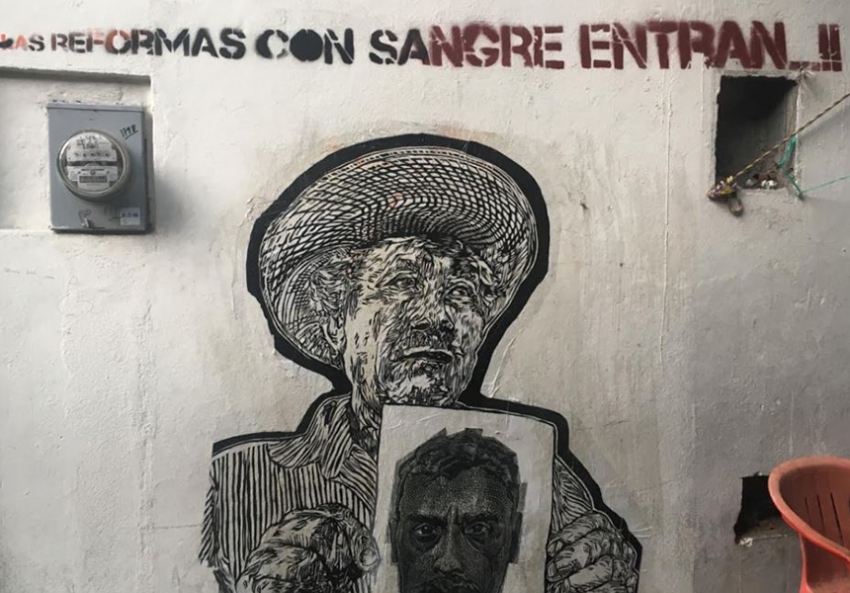 This post originally appeared at Jacobin.
Ten years ago, as a group of striking teachers slept in their encampment during the early hours of June 14 in the state capital of Oaxaca, Mexico, government forces launched an attack to remove them from the zócalo, or town square. Riot police cleared the plaza while helicopters dropped tear gas from above.
The striking teachers were beaten, arrested, and pushed out of the city center. But not for long; the teachers and their supporters quickly regrouped, fighting back, block by block, and took the plaza back by midday.
The violent repression of striking teachers in 2006, ordered by the state governor, launched a social movement—called the "Oaxaca Commune" by supporters—that grew to encompass much more than the local teachers' union.
The movement mobilized large swathes of Oaxacan society against the repressive governor. Aggressive federal intervention hobbled the movement, but failed to wipe it out. Today the dissident teachers' movement is in the streets again, this time in opposition to the federal government's "education reform" program.
Thursday, Jun 23, 2016, 5:29 pm · By Parker Asmann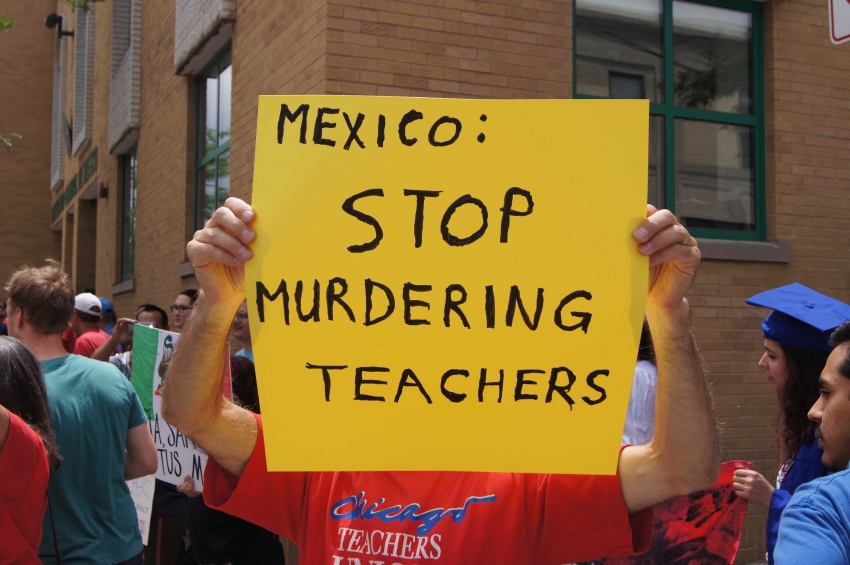 For a version of this article in English, click here.
Los maestros y activistas de la ciudad de Chicago se manifestaron frente al Consulado de México el miércoles para mostrar su solidaridad con la CNTE y los maestros en Oaxaca. Protestaron debido al violento enfrentamiento del domingo entre manifestantes y la policía que dejó 10 muertos y más de 100 heridos.
El 19 de junio, a unas 50 millas al noroeste del centro histórico de Oaxaca, los manifestantes de la CNTE de la Sección 22 y simpatizantes se enfrentaron con la policía federal y estatal en el municipio de Nochixtlán. Las declaraciones oficiales afirmaron que los policías que intervinieron en la operación estaban desarmados, aunque vídeos y fotografías de los enfrentamientos mostraban lo contrario. A partir de ese día, por todo el mundo han surgido actos de solidaridad con la lucha de la CNTE.
Thursday, Jun 23, 2016, 4:49 pm · By Parker Asmann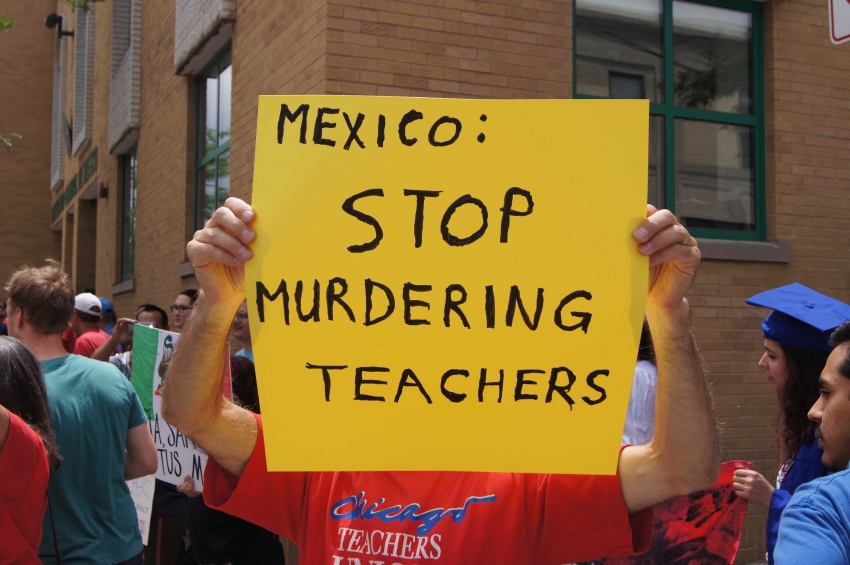 Para una versión de esto articulo en español, haga clic aquí.
Chicago teachers and activists protested in front of the Mexican Consulate Wednesday morning to show their solidarity with the Coordinadora Nacional de Trabajadores de la Educación (CNTE) and teachers in Oaxaca, Mexico, after attacks by police on protesters left at least eight dead and more than 100 injured Sunday.
On June 19, about 50 miles northwest of Oaxaca's historic center, CNTE protesters from Section 22 of the union and sympathizers clashed with federal and state police in the municipality of Nochixtlán. Official statements provided by the Mexican government claimed officials involved in the operation were unarmed, although video and photography of the clashes on the ground showed otherwise. Since, supporters of the CNTE's struggle have organized world wide.
Wednesday, Jun 22, 2016, 4:14 pm · By Jeff Schuhrke
In a 48 to 0 vote Wednesday, the Chicago City Council passed a landmark ordinance guaranteeing workers the opportunity to take paid time off when they or their loved ones get sick. The law will benefit about 460,000 workers—42 percent of the city's private sector workforce—who currently lack paid sick leave. Over three-quarters of those who will benefit are in low-wage jobs earning under $20,000 per year.
Kahphira Palmer, a member of the workers' rights group Arise Chicago, said in a press conference that workers will no longer "have to choose between caring for their health and their financial security."
Tuesday, Jun 21, 2016, 12:07 pm · By Parker Asmann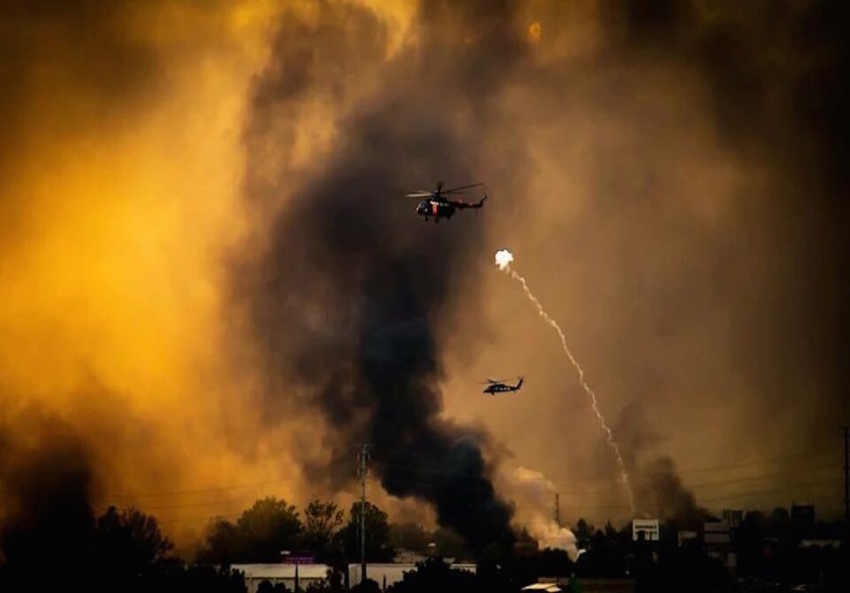 Rising tensions between the Mexican government and the National Coordination of Education Workers (CNTE), the leaders of the independent teachers movement within the National Union of Education Workers (SNTE), culminated Sunday evening in violent clashes that left eight dead and 53 civilians and 55 police officers injured in Oaxaca state, according to reports.
Teachers from the CNTE are protesting in opposition to a part of Mexico's education reform that calls for the mandatory testing of teachers, in addition to the arrests of union leaders on money laundering and other charges that protesters feel are unsubstantiated. According to reports, protesters armed with molotov cocktails and rocks clashed with armed federal and state police officers across several municipalities in Oaxaca state, primarily in Nochixtlán where the violence escalated about 50 miles northwest of Oaxaca's historic center.
In 2013 Enrique Peña Nieto's administration adopted an Education Reform Bill. Among other things, the bill created an independent body called the Instituto Nacional para la Evaluación de la Educación (National Institute for the Evaluation of Education) to evaluate teachers.
The reform created a merit-based pay and promotion system, new tests for teachers entering the field (tests that teachers say take power away from "normals," Mexico's local teacher schools that have often provided a path to upward mobility for young teachers from poor families and have often been the site of political radicalization, as David Bacon explains) and more federal oversight. The bill shifted control from Mexico's teachers union, National Union of Education Workers (SNTE), to the federal government and caused an uproar within the CNTE.
Since then, teachers have organized and led protests across the southern Mexican states of Oaxaca, Guerrero and Michoacán in opposition to the reforms. In response, the government has initiated several efforts to thwart the protests. In May, Education Secretary Aurelio Nuño Mayer announced the firing of 3,000 teachers in Oaxaca, Guerrero and Michoacán after they had not worked for three days. A month later, they started to target union leaders.
In 2010 Oaxaca's state teacher's union, Section 22, proposed their own set of education reforms that focused on recognizing indigenous cultures and forming alliances between teachers and their communities. On June 11 and 12 of this year, Ruben Nuñez and Francisco Villalobos, the union's secretary general and secretary of organization, respectively, were detained by federal agents under allegations of money laundering and other charges, according to reports. Their detentions further ignited the frustration of the CNTE against neoliberal education reforms backed by the ruling Institutional Revolutionary Party (PRI).
Video of the clashes shows CNTE supporters and federal and state agents divided by blockades of burning vehicles as thick, black smoke billows into the air. Despite statements from Mexico's federal government claiming that agents that had participated in the operation were not carrying guns and were ambushed by protesters, several shots can be heard on more than one occasion as protesters appear to stand hundreds of feet away.
In a series of photos published by Reforma Nacional on Twitter, at least one agent appears to be aiming an automatic weapon towards the crowd of protesters. Another photo published by Mexican reporter Diego Enrique Osorno shows an agent standing watch as at least a dozen detained protesters lie face down in the back of a pickup truck with their hands wrapped around their heads. Eye witness accounts of the clashes appear to contradict the official statement released by the government.
What's more, reports have surfaced from the Mexican outlet Sin Embargo claiming that local hospitals in Nochixtlán have been closed to the public and are only being used to treat wounded police officers. Many local reporters have also claimed to be directly targeted by police for taking video and shooting photographs of the clashes. According to the Mexican National Commission of Human Rights, local reporter Elpidio Ramos Zárate of the newspaper El Sur del Itsmo was among the eight killed thus far.
Oaxaca has long been a focal point for opposition against the ruling PRI. In 2006 Oaxaca's teacher's union held their annual strike to negotiate contracts for the following year. Only this time the strikes also demanded the ousting of then governor Ulises Ruiz Ortiz. In response, police opened fire on the nonviolent protesters, sparking a conflict that lasted seven months and left more than a dozen dead. Multiple human rights groups generated reports that suggest the Mexican government may have used death squads and summary executions.
The National Human Rights Commission (CNDH) has announced that they will be opening an investigation into the violence, according to the Mexican publication Proceso. The group explained that they will gather all the necessary information to determine who was responsible for the eight deaths and more than 100 wounded.
With tensions expected to continue to rise after the violent clash between protesters and police, the investigation by the CNDH will be critical as more citizens continue to organize and protest around the country in support of their teachers.
Monday, Jun 20, 2016, 11:50 am · By Bruce Vail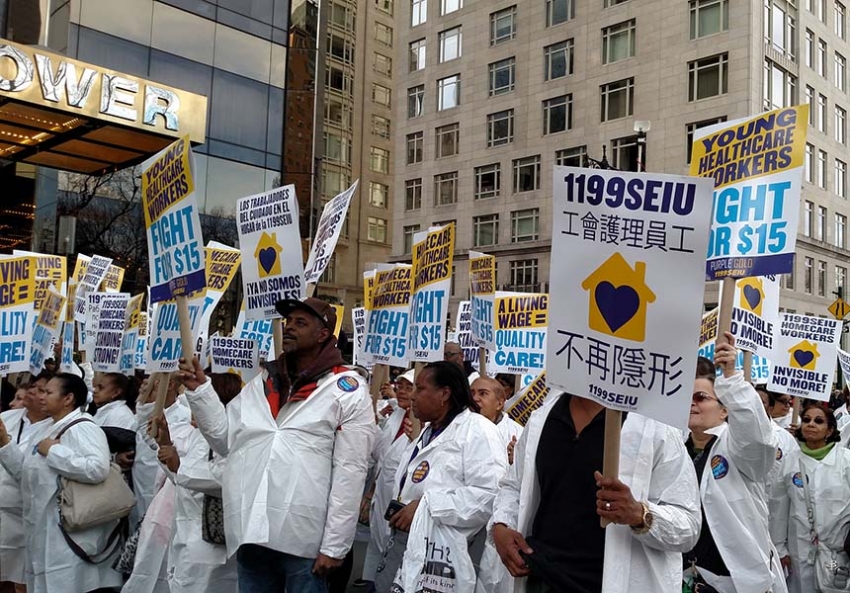 The national movement toward a minimum wage of $15 an hour is picking up steam in Baltimore, with a key test of strength for the local movement expected before the end of the summer.
The City Council's Labor Committee met last week to begin the process of moving legislation to a vote, hearing testimony from supporters and opponents, and setting the stage for a full Council vote in late July or August.
"We're making progress. I'm encouraged," says Councilwoman Mary Pat Clarke (D), the chief sponsor of the legislation. Powerful opposition from Baltimore business interests is apparent, she tells In These Times, but that is to be expected. On the other hand, support is strong from a majority of the members, Clarke adds, so proponents are pushing forward for a full Council vote just as soon as practical.
Friday, Jun 17, 2016, 11:54 am · By Joe Burns
This post originally appeared at Jacobin.
The Bernie Sanders campaign has injected socialism into the mainstream discourse for the first time in decades. Young Sanderistas have rallied behind social-democratic demands that fly in the face of forty years of neoliberal policy, and polls show that millennials are surprisingly receptive to socialist ideas.
The positive response to Sanders's avowed democratic socialism—and to his call for a political revolution—opens the door for a discussion all but absent from today's labor movement: the importance of socialist ideas to a successful trade union movement.
For most of the labor movement's history, a broad socialist-minded wing fused its vision of society with a practical program for labor's future. Whether it was the industrial unionism of the early 1900s, the CIO unions of the 1930s, or the rank-and-file anti-concession movement of the 1970s and 1980s, labor's left offered an alternative to union decline and stagnation.
Today, however, labor unions rarely discuss class issues. Disputes are particularized, transformed into individual battles between an employer and its workers rather than a larger struggle between opposing classes.
Friday, Jun 17, 2016, 11:36 am · By Jeff Schuhrke
"I've been working maybe 15 years, and I've never had a paid sick day," says Chicago delivery driver Abraham Cabrera. When he has to miss work to take his asthmatic son to the emergency room, he says he doesn't get paid and fears that he could get fired.
Wednesday, Jun 15, 2016, 6:35 pm · By Shaun Richman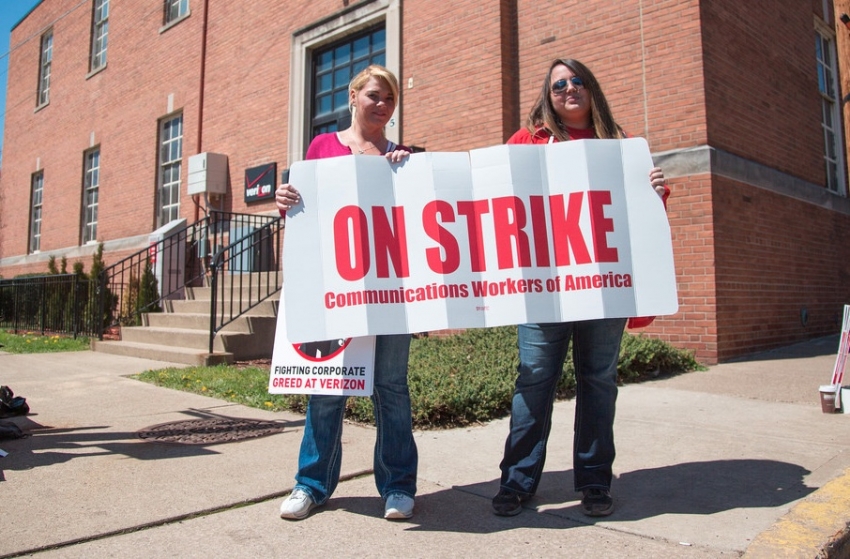 With the decisive victory for union members at Verizon, 2016 is already on pace to be the second year in a row where recorded strike activity has increased over the previous half-decade. Now, a new decision from the National Labor Relations Board (NLRB) could restore legal job protections for striking workers, making workplace job actions a more common—and more powerful—union strategy.
Workers simply do not have a meaningful right to strike if they do not have a right to return to the job when the strike is over. But, thanks to the judicial gutting of labor rights, going on strike is a high stakes proposition for American workers. Not only do striking workers lose out on pay and benefits during the strike, but they run the risk of losing their jobs entirely. So, while work stoppages are on the rise relative to the last few years, they are at historically low levels compared to the post-war era when wages actually rose with corporate profits.
In a new case, American Baptist Homes, the NLRB attempts to strike a balance between workers' statutory right to strike and protection against employer retaliation for union activity and a boss's Supreme Court-granted "right" to hire permanent replacement workers "to protect and continue his business." Thankfully in this case, the exceptionally arrogant and stupid Executive Director of the employer in this case and her counsel went on the record that their use of permanent replacements was meant to "punish the strikers and the Union" and to discourage future strikes, as Benjamin Sachs has detailed.
For much of the last four decades, the NLRB has simply taken a boss's word that the permanent replacement of striking workers was necessary to continue her business. Now, the NLRB has declared that it will return to an earlier, Supreme Court-approved standard in which employers' rights to permanently replace striking workers may be "wholly impeached by the showing of an intent to encroach upon protected rights."
In other words, the NLRB will investigate when an employer hires scabs—and they better have a good case. Since most strikes these days are defensive—pushing back against employers' attempts to gut work rules, slash pay and benefits and bust the union—this is a big deal.