Tuesday, Sep 18, 2018, 9:21 am
Fast Food Restaurant Says Union Employees Can't Wear "Abolish ICE" Buttons to Work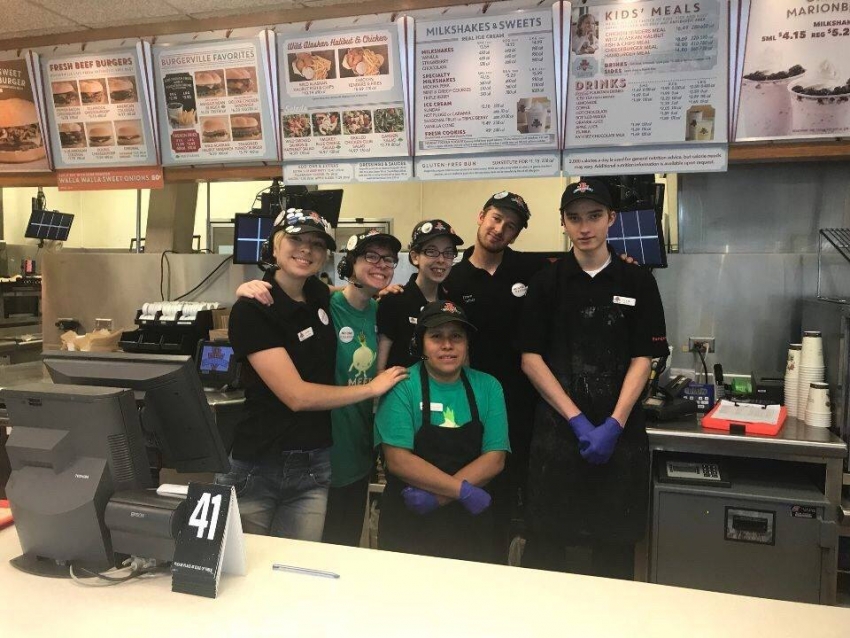 The Burgerville Workers Union says that the fast-food chain succumbed to right-wing backlash when, earlier this month, it banned its employees from wearing buttons. The ban was enacted after 10 employees were sent home at a Portland, Oregon location last month for refusing to take off pins that read "Abolish ICE" and "No One is Illegal."
Burgerville claimed that customers complained about the buttons, with some saying that they did not want to see political messages while eating. "While Burgerville had a long-standing verbal policy prohibiting the wearing of personal buttons, we did not have a written policy about this," the company said in a statement. "We are instituting an updated uniform policy, and buttons and other messaging—both political and personal—will not be allowed. It is a policy that is common in public-facing businesses and is in alignment with our mission to Serve With Love."
The Burgerville Workers Union (BVWU) released its own statement in response to the ban. "Within twenty-four hours of the swell of right wing outrage, Burgerville corporate capitulated to the demands of internet racists," it reads. "Burgerville's motto is 'serve with love.' The union asks who do they serve — white supremacists or its anti-racist workers?"
Earlier this year, a Southeast Portland Burgerville location became the firstvfederally recognized fast food union shop in the United States, with a second location unionizing shortly after. Mark Medina, a Burgerville employee and organizer with the union, tells In These Times that the button policy is directly connected to the contracts that are currently being negotiated with those two locations. According to Medina, Burgerville agreed that it would work with the union to implement a button policy that satisfies both parties, but it abandoned this promise when deciding to ban them.
Medina says that the buttons are in line with the other workplaces struggles of the union, including its opposition to "E-Verify," a system that compares employee information against federal records to determine whether employees can legally work in the United States. "We're against the [button] policy for specific reasons," says Medina. "Our union is fighting for sanctuary and trying to figure out how to assist undocumented people."
Since coming to power, the Trump administration has dramatically increased the amount of workplace ICE raids throughout the country, leaving the immigrant community on edge. In January, ICE raided ninety-eight 7-elevens, including four in Portland.
In response to the button ban, the union has filed an Unfair Labor Practice charge with the National Labor Relations Board (NLRB), charging Burgerville with unlawful workplace changes and breaking the conditions agreed upon during the contract negotiations.
The button ban comes just a few months after the Fifth Circuit Court of Appeals ruled that the fast food chain In-N-Out Burger violated federal labor law when it told employees in Austin that they couldn't wear buttons promoting the Fight for $15 movement. In that case, Judge James E. Graves Jr. rejected the company's argument that the buttons constituted a safety risk and cited the National Labor Relations Act while arguing that employees have the right to wear items that pertained to their working conditions and union support.
Unlike Burgerville, the In-N-Out had handbook included provision that banned buttons prior to the controversy. However, in his ruling, Graves pointed out that the company requires employees to wear Christmas pins and ordered In-N-Out to end the ban.
The Burgerville union put out an additional statement on September 13, the day the ban became official company policy, indicating that the battle is far from over. "Specific content of the buttons aside, lying to workers during negotiations cannot be tolerated," it reads. "And because the BVWU has never relied on the NLRB or other legal bodies to fix problems for us, we plan to escalate our response in other ways to fight for the safety and dignity of our coworkers. We will be asking our community supporters, families and friends, and the broader labor movement to take a stand with us very soon."
Support Progressive Journalism
Donations from readers like you make up a full third of our annual income—that's how critical our end-of-year fundraising drives are. If you want to continue to read independent, progressive journalism in 2019 and beyond, we hope you'll consider chipping in whatever you can today.
For a limited time, anyone who makes a donation of $5 or more to In These Times will get a free copy of Verso's best-selling 2019 Radical Diary and Weekly Planner.
Michael Arria
Michael Arria covers labor and social movements. Follow him on Twitter: @michaelarria
View Comments