Fast Food Restaurant Says Union Employees Can't Wear "Abolish ICE" Buttons to Work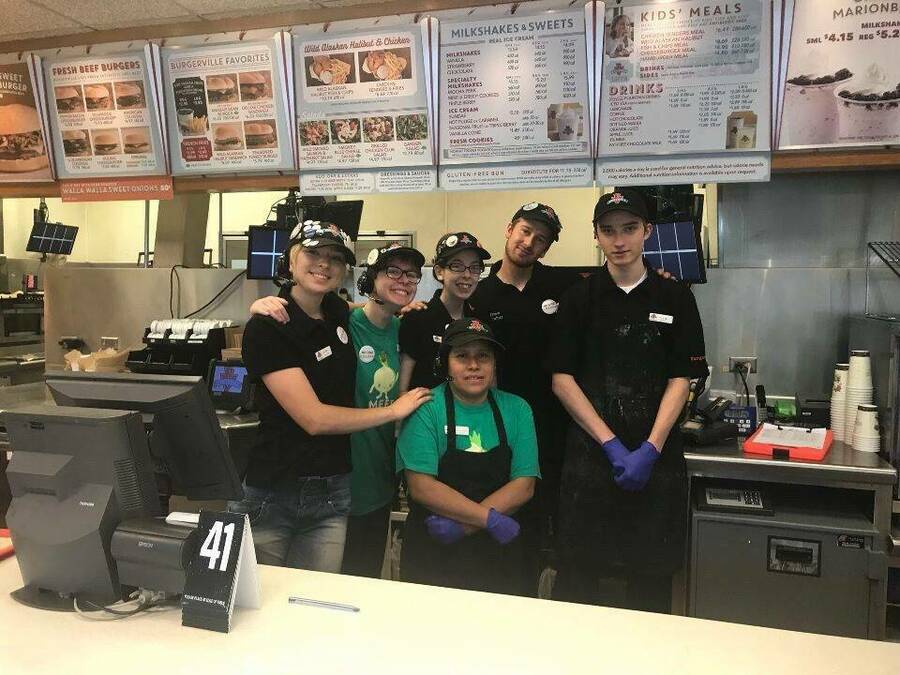 The Burg­erville Work­ers Union says that the fast-food chain suc­cumbed to right-wing back­lash when, ear­li­er this month, it banned its employ­ees from wear­ing but­tons. The ban was enact­ed after 10 employ­ees were sent home at a Port­land, Ore­gon loca­tion last month for refus­ing to take off pins that read ​"Abol­ish ICE" and ​"No One is Illegal."
Burg­erville claimed that cus­tomers com­plained about the but­tons, with some say­ing that they did not want to see polit­i­cal mes­sages while eat­ing. ​"While Burg­erville had a long-stand­ing ver­bal pol­i­cy pro­hibit­ing the wear­ing of per­son­al but­tons, we did not have a writ­ten pol­i­cy about this," the com­pa­ny said in a state­ment. ​"We are insti­tut­ing an updat­ed uni­form pol­i­cy, and but­tons and oth­er mes­sag­ing — both polit­i­cal and per­son­al — will not be allowed. It is a pol­i­cy that is com­mon in pub­lic-fac­ing busi­ness­es and is in align­ment with our mis­sion to Serve With Love."
The Burg­erville Work­ers Union (BVWU) released its own state­ment in response to the ban. ​"With­in twen­ty-four hours of the swell of right wing out­rage, Burg­erville cor­po­rate capit­u­lat­ed to the demands of inter­net racists," it reads. ​"Burg­erville's mot­to is ​'serve with love.' The union asks who do they serve — white suprema­cists or its anti-racist workers?"
Ear­li­er this year, a South­east Port­land Burg­erville loca­tion became the firstvfed­er­al­ly rec­og­nized fast food union shop in the Unit­ed States, with a sec­ond loca­tion union­iz­ing short­ly after. Mark Med­i­na, a Burg­erville employ­ee and orga­niz­er with the union, tells In These Times that the but­ton pol­i­cy is direct­ly con­nect­ed to the con­tracts that are cur­rent­ly being nego­ti­at­ed with those two loca­tions. Accord­ing to Med­i­na, Burg­erville agreed that it would work with the union to imple­ment a but­ton pol­i­cy that sat­is­fies both par­ties, but it aban­doned this promise when decid­ing to ban them.
Med­i­na says that the but­tons are in line with the oth­er work­places strug­gles of the union, includ­ing its oppo­si­tion to ​"E‑Verify," a sys­tem that com­pares employ­ee infor­ma­tion against fed­er­al records to deter­mine whether employ­ees can legal­ly work in the Unit­ed States. ​"We're against the [but­ton] pol­i­cy for spe­cif­ic rea­sons," says Med­i­na. ​"Our union is fight­ing for sanc­tu­ary and try­ing to fig­ure out how to assist undoc­u­ment­ed people."
Since com­ing to pow­er, the Trump admin­is­tra­tion has dra­mat­i­cal­ly increased the amount of work­place ICE raids through­out the coun­try, leav­ing the immi­grant com­mu­ni­ty on edge. In Jan­u­ary, ICE raid­ed nine­ty-eight 7‑elevens, includ­ing four in Port­land.
In response to the but­ton ban, the union has filed an Unfair Labor Prac­tice charge with the Nation­al Labor Rela­tions Board (NLRB), charg­ing Burg­erville with unlaw­ful work­place changes and break­ing the con­di­tions agreed upon dur­ing the con­tract negotiations.
The but­ton ban comes just a few months after the Fifth Cir­cuit Court of Appeals ruled that the fast food chain In-N-Out Burg­er vio­lat­ed fed­er­al labor law when it told employ­ees in Austin that they couldn't wear but­tons pro­mot­ing the Fight for $15 move­ment. In that case, Judge James E. Graves Jr. reject­ed the company's argu­ment that the but­tons con­sti­tut­ed a safe­ty risk and cit­ed the Nation­al Labor Rela­tions Act while argu­ing that employ­ees have the right to wear items that per­tained to their work­ing con­di­tions and union support.
Unlike Burg­erville, the In-N-Out had hand­book includ­ed pro­vi­sion that banned but­tons pri­or to the con­tro­ver­sy. How­ev­er, in his rul­ing, Graves point­ed out that the com­pa­ny requires employ­ees to wear Christ­mas pins and ordered In-N-Out to end the ban.
The Burg­erville union put out an addi­tion­al state­ment on Sep­tem­ber 13, the day the ban became offi­cial com­pa­ny pol­i­cy, indi­cat­ing that the bat­tle is far from over. ​"Spe­cif­ic con­tent of the but­tons aside, lying to work­ers dur­ing nego­ti­a­tions can­not be tol­er­at­ed," it reads. ​"And because the BVWU has nev­er relied on the NLRB or oth­er legal bod­ies to fix prob­lems for us, we plan to esca­late our response in oth­er ways to fight for the safe­ty and dig­ni­ty of our cowork­ers. We will be ask­ing our com­mu­ni­ty sup­port­ers, fam­i­lies and friends, and the broad­er labor move­ment to take a stand with us very soon."
"
Michael Arria
is the U.S. cor­re­spon­dent for Mon­doweiss. Fol­low him on Twit­ter: @michaelarria.