Trump's NLRB Quietly Makes It Riskier To Wear Union Schwag at Work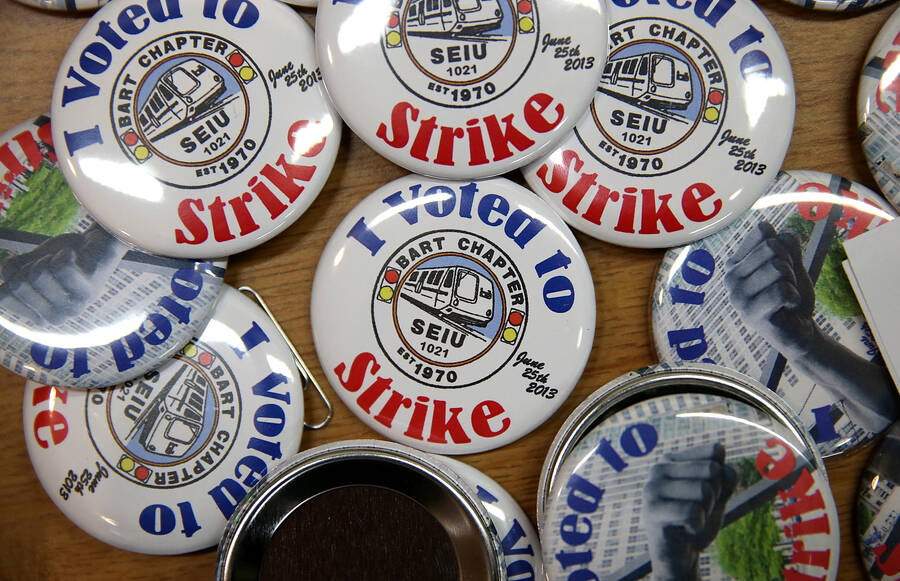 The Repub­li­can-con­trolled Nation­al Labor Rela­tions Board (NLRB) end­ed 2019 by rolling back anoth­er round of Oba­ma-era reg­u­la­tions and hand­ing down a num­ber of pro-employ­er deci­sions. One of those rul­ings restricts work­ers from wear­ing union but­tons and oth­er pro-labor insignia.
The Orga­ni­za­tion Unit­ed for Respect at Wal­mart (Our Wal­mart) had chal­lenged a com­pa­ny pol­i­cy lim­it­ing the size of union but­tons for employ­ees of the retail cor­po­ra­tion. The group seem­ing­ly had momen­tum on its side. In 2017, the NLRB reject­ed an attempt by the fast-food chain In-N-Out Burg­er to pro­hib­it its work­ers from wear­ing ​"Fight for $15" but­tons dur­ing their shifts. The com­pa­ny then tried to have the case heard before the U.S. Supreme Court, cit­ing the court's infa­mous anti-union Janus rul­ing to argue for an expan­sion of cor­po­ra­tions' free speech rights, but the case was declined. ​"Today's deci­sion affirms that no com­pa­ny can just uni­lat­er­al­ly decide to take away our right to speak out and join togeth­er in a union," In-N-Out employ­ee Alon­dra Becer­ra told Bloomberg Law in Feb­ru­ary of 2019. ​"It's a vic­to­ry for work­ers every­where who are fight­ing to win our unions and make the econ­o­my more equal that the Supreme Court is not going to take up In-N-Out's case."
How­ev­er, in a 3 – 1 deci­sion hand­ed down on Decem­ber 16, 2019, the NLRB ruled that pri­vate sec­tor employ­ers cov­ered by the NLRB are allowed to ban some union insignia. Wal­mart had argued that its restric­tive poli­cies ​"enhance the cus­tomer shop­ping expe­ri­ence and pro­tect its mer­chan­dise from theft or van­dal­ism." The NLRB agreed. The deci­sion fur­ther erodes work­er rights and will make it hard­er for employ­ees to open­ly back union­iza­tion cam­paigns while on the job.
The deci­sion upends a 75-year-old prece­dent that was estab­lished in the 1945 Repub­lic Avi­a­tion Corp. v. Labor Board case. In doing so, the NLRB cit­ed its 2017 Boe­ing rul­ing, which estab­lished a new test to deter­mine whether employ­er rules are law­ful: The court must weigh the rights of work­ers against the con­cerns of the employ­er. By the con­di­tions of Boe­ing, the NLRB ruled that it's unlaw­ful for Wal­mart to pro­hib­it cer­tain union but­tons in ​"employ­ees only" zones like break rooms, but per­fect­ly legal to require that they are ​"small and ​"non-dis­tract­ing" on the sales floor. "[Walmart's need] to enhance the cus­tomer shop­ping expe­ri­ence and pro­tect its mer­chan­dise from theft or van­dal­ism — out­weigh the adverse impact on employees'…rights," reads the deci­sion.
The lone dis­sent came from the only Demo­c­rat who was on the board at the time, Lau­ren McFer­ran. ​"I fear that today's deci­sion sig­nals the majority's inten­tion to import the Boe­ing frame­work… into oth­er well-set­tled areas of Board law that cur­rent­ly require their own sub­ject-mat­ter spe­cif­ic analy­ses," she wrote. ​"That sure­ly would not be a wel­come devel­op­ment for work­ers." McFerran's term expired short­ly after the decision.
Cyn­di Mur­ray, a Unit­ed for Respect mem­ber and Wal­mart asso­ciate of 20 years, slammed the rul­ing in an inter­view with In These Times. ​"Trump's NLRB con­tin­ues to put the inter­ests of large cor­po­ra­tions ahead of work­ing fam­i­lies," said Mur­ray. ​"Walmart's CEO McMil­lon would rather us not talk about hav­ing our hours cut or how no one can make ends meet at $11 an hour, but this rul­ing won't stop peo­ple who work at Wal­mart from con­tin­u­ing to speak out for liv­ing wages and respect."
The Wal­mart deci­sion comes amid a bar­rage of pro-employ­er rul­ings that will sure­ly make work­place orga­niz­ing more dif­fi­cult. Last month, the NLRB over­turned the Oba­ma-era Lin­coln Luther­an of Racine deci­sion, effec­tive­ly allow­ing employ­ers to uni­lat­er­al­ly end auto­mat­ic deduc­tions of union dues when a col­lec­tive bar­gain­ing agree­ment expires. In Cae­sars Enter­tain­ment, it found that the casi­no didn't break the law by pro­hibit­ing employ­ees from using their work email address­es for ​"non-busi­ness infor­ma­tion." In block­ing poten­tial union­iz­ing on these plat­forms, the board over­turned an Oba­ma-era deci­sion which pro­tect­ed the right to share infor­ma­tion regard­ing ​"wages, hours, or work­ing con­di­tions" via com­pa­ny email. The board also reversed union elec­tion rules that were adopt­ed under Oba­ma. Employ­ers will now have more time to pre­pare for orga­niz­ing votes and poten­tial­ly devel­op plans to thwart union­iza­tion efforts.
Despite the large num­ber of strikes and work stop­pages in 2019, union mem­ber­ship in the Unit­ed States remains scant. On Jan­u­ary 22, the Bureau of Labor Sta­tis­tics (BLS) released data show­ing that the per­cent­age of wage and salaried work­ers in unions fell by 0.2 points last year to a record low of 10.3%. A recent piece of leg­is­la­tion called the Pro­tect­ing the Right to Orga­nize Act (or the PRO Act) would strength­en unions and make it eas­i­er for work­ers to orga­nize, but it has yet to receive a vote on the House floor.
"
Michael Arria
is the U.S. cor­re­spon­dent for Mon­doweiss. Fol­low him on Twit­ter: @michaelarria.