Of all the myths that sur­round Amer­i­can Indi­ans, none is as con­found­ing as the mis­un­der­stand­ing that the fed­er­al gov­ern­ment gave Indi­ans their lands. Arguably it derives from the con­quest myth, which would have peo­ple believe that because of mil­i­tary dom­i­na­tion (and lat­er legal dom­i­na­tion) what­ev­er lands and rights Indi­an nations do enjoy are due to the ​"benev­o­lent suprema­cy" of the U.S. gov­ern­ment. Belief in the con­quest myth and benev­o­lence of the Unit­ed States under­scores the tenac­i­ty of the man­i­fest des­tiny nar­ra­tive, but it fails to change the actu­al real­i­ty that all of Tur­tle Island (the North Amer­i­can con­ti­nent) has been Indi­an land since tens of thou­sands of years before Euro­pean inva­sion. And it does not change the fact that it was Indi­ans who gave up lands to the Unit­ed States in treaties, not the oth­er way around.
The word itself — ​"reser­va­tion" — refers to the lands that were reserved for Native nations after they ced­ed vast swaths of their ter­ri­to­ries to the Unit­ed States through treaties. Land ces­sions were one of two pri­ma­ry func­tions of treaties, the oth­er being to forge peace agree­ments. Today the fed­er­al gov­ern­ment refers to three dif­fer­ent types of reser­va­tions: mil­i­tary, pub­lic and Indi­an. Indi­an reser­va­tions are lands that are held in trust for trib­al nations by the fed­er­al gov­ern­ment. Accord­ing to the Bureau of Indi­an Affairs, 56.2 mil­lion acres of land are held in trust on behalf of trib­al nations and indi­vid­u­als, with approx­i­mate­ly 326 Indi­an land areas in the Unit­ed States admin­is­tered as fed­er­al Indi­an reser­va­tions, known var­i­ous­ly as reser­va­tions, pueb­los, rancherias, mis­sions, vil­lages and com­mu­ni­ties. Oth­er types of Indi­an lands include allot­ted lands (indi­vid­ual allot­ments held in trust by the gov­ern­ment) and state reser­va­tions, in which lands are held in trust for Indi­ans by a state, not the fed­er­al gov­ern­ment. Reser­va­tions were also cre­at­ed by exec­u­tive order and con­gres­sion­al acts, and even though there are now 567 fed­er­al­ly rec­og­nized trib­al nations, not all nations have reser­va­tions. There is only one Indi­an reser­va­tion in Alas­ka (the Met­lakat­la Indi­an Com­mu­ni­ty of the Annette Island Reserve in south­east­ern Alas­ka). Alas­ka Native groups are orga­nized as cor­po­ra­tions under the Alas­ka Native Claims Set­tle­ment Act of 1971, so while there are many Indige­nous peo­ple in Alas­ka, their legal sta­tus is slight­ly dif­fer­ent than Amer­i­can Indi­ans in the low­er forty-eight states.
Along with the myth that the fed­er­al gov­ern­ment gave Indi­ans their lands, there is anoth­er fic­tion that goes some­thing like this: because Indi­an reser­va­tions are places of oppres­sion they should be abol­ished. This fic­tion has been behind numer­ous dis­as­trous pol­i­cy deci­sions. The ear­ly days of the reser­va­tions (mid- to late-19 cen­tu­ry) were oppres­sive in many places — espe­cial­ly where sub­sis­tence lifestyles had been depen­dent upon hunt­ing, like in the Great Plains — because of fed­er­al poli­cies that restrict­ed Indi­ans to their reser­va­tion bound­aries, which were often too small to allow a sub­sis­tence hunt­ing lifestyle. In fre­quent cas­es, treaty-guar­an­teed annu­ities and food rations were nev­er received, result­ing in star­va­tion and con­di­tions of extreme pover­ty, espe­cial­ly as tra­di­tion­al polit­i­cal economies became sup­plant­ed by Euro-Amer­i­can cap­i­tal­ism. View­ing tra­di­tion­al Native lifestyles as back­ward and unciv­i­lized, the fed­er­al gov­ern­ment enact­ed a pol­i­cy of forced assim­i­la­tion to break up com­mu­nal land­hold­ings and imposed a sys­tem of pri­vate prop­er­ty own­er­ship through the Gen­er­al Allot­ment Act of 1887 (the Dawes Act). The law turned out to be no more than a mas­sive land grab for the Unit­ed States that result­ed in the loss of two-thirds of the lands reserved for Indi­ans by treaties and increased reser­va­tion pover­ty rates. Pover­ty inten­si­fied also when the fed­er­al gov­ern­ment embarked on a cam­paign to erad­i­cate the mas­sive buf­fa­lo herds on the plains (to force a seden­tary lifestyle), and when Indi­ans were defraud­ed out of their indi­vid­ual allot­ments, leav­ing many pen­ni­less and landless.
By the ear­ly 20th cen­tu­ry, a com­mis­sion to study the deplorable con­di­tions on the reser­va­tions found Indi­an pover­ty a direct result of failed gov­ern­ment poli­cies. The Meri­am Report of 1928 rec­om­mend­ed (among oth­er things) that Native nations be allowed to be more self-gov­ern­ing, sig­nal­ing a new pol­i­cy direc­tion, which would be man­i­fest with the pas­sage of the Wheel­er-Howard Act (the Indi­an Reor­ga­ni­za­tion Act) of 1934. While a step in the right direc­tion, this still kept Indi­ans tight­ly teth­ered to the pater­nal­ism of the U.S. gov­ern­ment. With­in 20 years, with the polit­i­cal winds blow­ing in a far more con­ser­v­a­tive direc­tion under the post­war (and emerg­ing Cold War) Eisen­how­er admin­is­tra­tion, Con­gress pushed for a new pol­i­cy in a renewed attempt to forcibly assim­i­late Indi­ans into main­stream soci­ety. This time assim­i­la­tion was framed in terms of ​"lib­er­at­ing" Indi­ans from the oppres­sive con­trol of the fed­er­al gov­ern­ment, which it pro­posed to do by elim­i­nat­ing the trust rela­tion­ship, effec­tive­ly free­ing the Unit­ed States from its own treaty oblig­a­tions. House Con­cur­rent Res­o­lu­tion (HCCR) 108 was passed in 1953 in an effort to abol­ish fed­er­al ​"super­vi­sion" over Indi­ans. By elim­i­nat­ing the trust respon­si­bil­i­ty, the Unit­ed States would ter­mi­nate Indi­an reser­va­tions by con­vert­ing them to pri­vate own­er­ship once and for all. Under HCR 108, Con­gress also estab­lished the relo­ca­tion pro­gram — a jobs pro­gram that gave Indi­ans a one-way tick­et from their reser­va­tions to low-pay­ing jobs in big cities such as Chica­go, Los Ange­les, San Fran­cis­co, Min­neapo­lis, Seat­tle and New York — all in an attempt to ​"negate Indi­an iden­ti­ty." In the long run, relo­ca­tion result­ed in a whole­sale pop­u­la­tion trans­fer, so that more Indi­ans now live in cities than on reser­va­tions. The fed­er­al trust rela­tion­ship was ter­mi­nat­ed for 109 tribes, affect­ing 1.3 mil­lion acres of Indi­an land (falling out of Indi­an hands) and an esti­mat­ed 12,000 Indians.
The words ​"ter­mi­na­tion" and ​"relo­ca­tion" to this day are enough to make an Indian's blood run cold. The Colville reser­va­tion is often looked to in ter­mi­na­tion stud­ies as a case where ter­mi­na­tion was nar­row­ly avert­ed in a high­ly con­tentious 20-year intra-trib­al bat­tle. Because tribes were allowed to vote on whether or not to accept ter­mi­na­tion, it is a study not only in the ways Native nations exer­cised choice but also a ret­ro­spec­tive view on how dis­as­trous ter­mi­na­tion was for so many, as it would have been for the Colvilles. It illus­trates that even with the prob­lems asso­ci­at­ed with the fed­er­al trust rela­tion­ship and the pater­nal­is­tic nature of abo­rig­i­nal title, reser­va­tions are still con­sid­ered home­lands for those who are born and raised there — and even for some who were not.
Accom­pa­ny­ing the var­i­ous assump­tions about reser­va­tions as unde­sir­able places that should be aban­doned is anoth­er com­mon belief relat­ed to Native authen­tic­i­ty and iden­ti­ty, that the only real Indi­ans today are from reser­va­tions. The impli­ca­tion is that Native peo­ple who are from cities are not authen­ti­cal­ly Native, pre­sum­ably because they are more accul­tur­at­ed to dom­i­nant white soci­ety (i.e., assim­i­lat­ed) and cut off from their Indige­nous cul­tures of ori­gin. Native schol­ars and writ­ers have vig­or­ous­ly chal­lenged this idea for gen­er­a­tions, in both fic­tion and non­fic­tion. While reser­va­tions are geo­graph­ic cen­ters that link Native peo­ple to their Indige­nous ances­try and his­tor­i­cal con­ti­nu­ity, Renya K. Ramirez con­cep­tu­al­izes urban Native spaces as ​"hubs" of cul­ture that facil­i­tate con­nec­tions between reser­va­tions and cities. Such Native spaces include Indi­an cen­ters, pow­wows, sweat lodges and oth­er cer­e­monies, and any oth­er kind of places and activ­i­ties that gath­er Native peo­ple togeth­er in expres­sions of indi­gene­ity. In trav­el­ing between cities and reser­va­tions, Native iden­ti­ty is enact­ed and rein­forced. Ramirez writes, ​"This con­stant move­ment and inter­ac­tion dis­rupts the idea of Native cul­tur­al iden­ti­ty as a fixed, core essence. In con­trast, urban Indi­an iden­ti­ty, accord­ing to the hub, is flex­i­ble and flu­id. Thus, Native Amer­i­cans' inter­ac­tions with each oth­er in the city and on the reser­va­tion can trans­form and reju­ve­nate trib­al identity."
As peo­ple liv­ing in dias­po­ra, the hub empha­sizes urban Indi­ans' ​"strong root­ed con­nec­tion to tribe and home­land" and demon­strates the ​"poten­tial for polit­i­cal pow­er as Native men and women orga­nize across trib­al lines." The Red Pow­er move­ment of the 1960s and 70s, for instance — born out of the Alca­traz Island occu­pa­tion in San Fran­cis­co and the for­ma­tion of the Amer­i­can Indi­an Move­ment in the mean streets of Min­neapo­lis — dis­plays the way urban polit­i­cal orga­niz­ing had far-reach­ing pos­i­tive effects for both city and reser­va­tion Indi­ans. Final­ly, the idea of hubs also applies to Indige­nous con­cep­tions of transna­tion­al­ism (as opposed to pan-trib­al­ism), where Indige­nous nation­hood is under­scored. Sov­er­eign­ty and self-deter­mi­na­tion are affirmed as polit­i­cal prin­ci­ples that dif­fer­en­ti­ate Native peo­ples from oth­er racial and eth­nic groups, while it decen­ters the nation-state as the default arbiter of civic belong­ing and nation­al identity.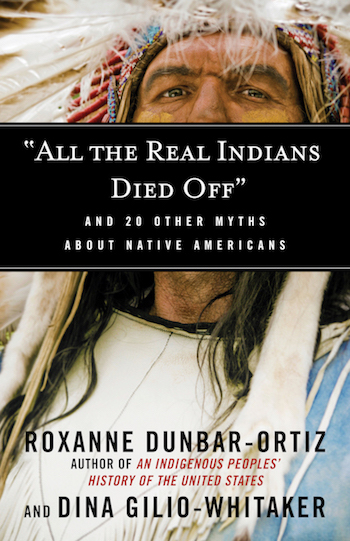 Excerpt­ed from ​"All the Real Indi­ans Died Off": And 20 Oth­er Myths About Native Amer­i­cans by Rox­anne Dun­bar-Ortiz and Dina Gilio-Whitak­er (Bea­con Press, 2016). Reprint­ed with per­mis­sion from Bea­con Press.
[If you like what you've read, help us spread the word. ​

"

Like" Rur­al Amer­i­ca In These Times on Face­book. Click on the ​

"

Like Page" but­ton below the bear on the upper right of your screen. Also, fol­low RAITT on Twit­ter @RuralAmericaITT]