The GMO American Chestnut: Restoration of a Beloved Species or Biotech Trojan Horse?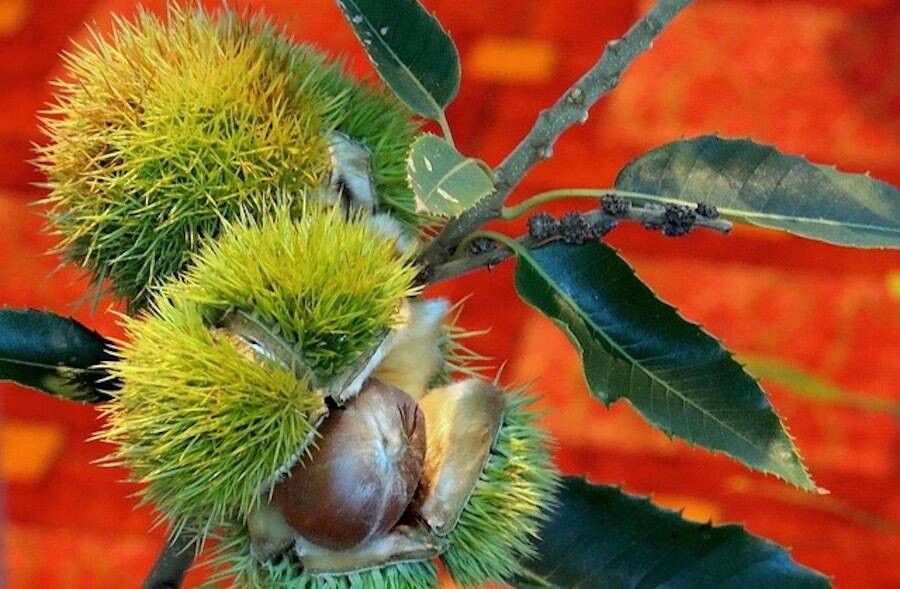 About a cen­tu­ry ago, the Amer­i­can chest­nut tree was attacked by the inva­sive fun­gal pathogen Cry­phonec­tria par­a­sit­i­ca. The fun­gal blight drove the tree — an esti­mat­ed 3 – 4 bil­lion once grew in the Unit­ed States — to func­tion­al extinction.
Now, sci­en­tists at the State Uni­ver­si­ty of New York Col­lege of Envi­ron­men­tal Sci­ence and Forestry (SUNY ESF) claim to have genet­i­cal­ly engi­neered a resis­tant Amer­i­can chest­nut vari­ety. They aim to peti­tion the required reg­u­la­to­ry agen­cies (USDA, FDA, EPA) for approval of their genet­i­cal­ly engi­neered chest­nut in the near future, with the stat­ed goal of restor­ing the species to nature.
How­ev­er, the choic­es made about the genet­i­cal­ly engi­neered (GE) Amer­i­can chest­nut will set a prece­dent for the future use of biotech­nol­o­gy on oth­er for­est tree species and, even more broad­ly, on the use of biotech­nol­o­gy as a tool for conservation.
If approved, the GE chest­nut would be the first GE for­est tree species to be plant­ed in forests with the delib­er­ate inten­tion of spread­ing freely. Mon­i­tor­ing or revers­ing their spread, once released, would like­ly be impos­si­ble due to the ham­pered abil­i­ty to per­form valid risk assess­ments of the poten­tial con­se­quences of GE Amer­i­can chest­nuts as a result of our lack of knowl­edge about the ecol­o­gy of both the Amer­i­can chest­nut and its for­est ecosys­tems. And since Amer­i­can chest­nuts can live for over 200 years, risk fac­tors may change over the tree's life­time in unpre­dictable ways.
While the Amer­i­can Chest­nut Foun­da­tion has worked to imple­ment a breed­ing pro­gram that would hybridize the Amer­i­can chest­nut with the nat­u­ral­ly blight resis­tant Chi­nese chest­nut, and then back­cross to pro­duce a blight resis­tance tree that nonethe­less pre­serves the growth char­ac­ter­is­tics of the Amer­i­can chest­nut, SUNY ESF sci­en­tists are using genet­ic engi­neer­ing as an alter­nate solution.
After exper­i­ment­ing with var­i­ous genes, they have set­tled on a sequence derived from wheat that caus­es the tree to pro­duce the enzyme oxalate oxi­dase (OxO). This enzyme inhibits the spread of the fun­gus once infect­ed, mak­ing it less lethal to the tree. In their pro­mo­tion­al efforts, SUNY ESF sci­en­tists are care­ful to high­light that OxO is com­mon, and that the gene comes from ordi­nary wheat-con­jur­ing images of sav­ing the chest­nut with noth­ing more than a tasty slice of but­tered toast.
But will the OxO trait even enable restora­tion of the species? This is unlike­ly. First of all, engi­neer­ing resis­tance to fun­gal pathogens in gen­er­al has proven chal­leng­ing. Biotech­nol­o­gists have long strug­gled to do so with famil­iar com­mon crops that, unlike for­est tree species, they have plen­ty of pri­or expe­ri­ence with. Despite this expe­ri­ence, and for no lack of effort, only a sin­gle fun­gal pathogen resis­tant crop is com­mer­cial­ly avail­able (the Sim­plot pota­to, resis­tant to late blight, the fun­gus respon­si­ble for the Irish Pota­to Famine of the mid-19th­cen­tu­ry). The prob­lem is that fun­gi are very good at find­ing new ways to evade plant defens­es, hence mak­ing durable, effec­tive resis­tance extreme­ly dif­fi­cult. Addi­tion­al­ly, when plants invest ener­gy in defend­ing them­selves against a pathogen, their growth is often stunt­ed or oth­er­wise com­pro­mised, and they can become more sus­cep­ti­ble to oth­er pathogens or stresses.
Fur­ther­more, while SUNY ESF's OxO engi­neered chest­nut trees appear to be resis­tant to the blight, only young trees in con­trolled lab and field tri­al con­di­tions have been test­ed, with the old­est trees test­ed being 15-years old. Yet chest­nuts can live for up to 300 years, dur­ing which time they may expe­ri­ence diverse con­di­tions, includ­ing weath­er extremes, insects and pathogens, that could affect the expres­sion of the OxO trait or oth­er char­ac­ter­is­tics of the trees. We can­not rea­son­ably assume long term durable blight resis­tance in nat­ur­al forests based on extrap­o­la­tion from results on very young trees under con­trolled and lab­o­ra­to­ry conditions.
Even the SUNY sci­en­tist most involved in devel­op­ing the OxO engi­neered chest­nuts, William Pow­ell, acknowl­edges that long term sta­ble resis­tance to Cry­phonec­tria based on the OxO trait alone is unlike­ly to suc­ceed. He said, ​"Even­tu­al­ly we hope to for­ti­fy Amer­i­can chest­nuts with many dif­fer­ent genes that con­fer resis­tance in dis­tinct ways. Then, even if the fun­gus evolves new weapons against one of the engi­neered defens­es, the trees will not be helpless."
Sci­en­tists agree that restora­tion of the chest­nut would require the stack­ing of mul­ti­ple traits, includ­ing resis­tance to oth­er pathogens. The OxO trait alone will not restore Amer­i­can chestnuts.
So why claim oth­er­wise? Why rush the GE chest­nut into reg­u­la­to­ry review when even its own cre­ators rec­og­nize it can­not ful­fill the goal of species restora­tion? Pro­po­nents of GE, who described their engi­neered chest­nut as ​"noth­ing but a wheat gene to restore a beloved icon­ic species," are using their GMO chest­nut as pro­pa­gan­da to con­vince the pub­lic that genet­i­cal­ly altered trees can be used as a tool of con­ser­va­tion. This is a strat­e­gy that biotech­nol­o­gy indus­try pro­po­nents expect will soft­en oppo­si­tion and open up the poten­tial for com­mer­cial­iz­ing a wide array of GE trees.
The Amer­i­can chest­nut is a much beloved, icon­ic, ​"per­fect tree." Pro­lif­ic nuts reli­ably pro­vid­ed nutri­tious and deli­cious food and fod­der for live­stock. The rot resis­tant, easy to work with and aes­thet­i­cal­ly pleas­ing wood was prized by the tim­ber indus­try. Cry­phonec­tria, the fun­gal inva­sion that blight­ed the chest­nut, was a cat­a­stro­phe for the forests, wildlife and human economies, espe­cial­ly those of rur­al Appalachia where the sea­son­al nut har­vest was key source of income and sus­te­nance. Restor­ing the Amer­i­can chest­nut is a long-held dream for some.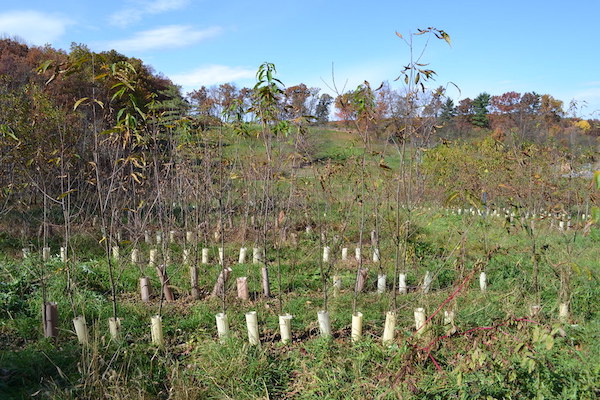 The Amer­i­can Chest­nut Foun­da­tion (TACF) is rein­tro­duc­ing a hybrid ver­sion of the tree to its nat­ur­al habi­tat. Vol­un­teers in the Penn­syl­va­nia chap­ter of TACF plant­ed this orchard in Penn State Uni­ver­si­ty. Pho­to cred­it (Joe Blowe / https://www.flickr.com/photos/56775593@N05/6281793233​ / Cre­ative Commons)
The chest­nut is very explic­it­ly referred to in terms of its val­ue for pub­lic rela­tions and as a ​"test case." Maud Hinchee, a for­mer chief tech­nol­o­gy offi­cer at tree biotech­nol­o­gy com­pa­ny Arbor­Gen Inc. who had pre­vi­ous­ly worked for Mon­san­to, stat­ed, ​"We like to sup­port projects that we think might not have com­mer­cial val­ue but have huge val­ue to soci­ety, like res­cu­ing the chest­nut. It allows the pub­lic to see the use of the tech­nol­o­gy and under­stand the ben­e­fits and risks in some­thing they care about. Chest­nuts are a noble cause."
Scott Wallinger, a for­mer vice pres­i­dent vice pres­i­dent of the paper cor­po­ra­tion Mead­West­va­co (now Westrock) said back in 2005, ​"This path­way [pro­mot­ing the GE chest­nut as for­est restora­tion] can begin to pro­vide the pub­lic with a much more per­son­al sense of the val­ue of for­est biotech­nol­o­gy and recep­tiv­i­ty to oth­er aspects of genet­ic engineering."
Even the Amer­i­can Chest­nut Foun­da­tion said, ​"If SUNY ESF is suc­cess­ful in obtain­ing reg­u­la­to­ry approval for its trans­genic blight resis­tant Amer­i­can chest­nut trees, then that would pave the way for broad­er use of trans­genic trees in the landscape."
What ​"broad­er use of trans­genic trees" can we fore­see? A review of the lit­er­a­ture on for­est biotech­nol­o­gy reveals that most tree biotech­nol­o­gy research is focused not on address­ing for­est health for the pub­lic good, but on ways to engi­neer trees for com­mer­cial and indus­tri­al process­es and profitability.
Mean­while, with increas­ing aware­ness of the dan­gers inher­ent to using fos­sil fuels, efforts to con­vert wood into liq­uid trans­porta­tion fuels have so far large­ly failed to attain com­mer­cial scale in spite of mas­sive invest­ments. Turn­ing trees into bio­fu­els, bio­plas­tics, etc. large­ly depends not only on genet­i­cal­ly engi­neer­ing spe­cif­ic char­ac­ter­is­tics into the trees, but also on engi­neer­ing microbes that pro­duce enzymes need­ed to break down, access and fer­ment the sug­ars in wood. In sum, biotech has much rid­ing on win­ning over pub­lic opin­ion on GE trees.
This is why such enti­ties as Duke Ener­gy, Arbor­Gen Inc. and Mon­san­to, as well as var­i­ous multi­na­tion­al tim­ber cor­po­ra­tions, are among those fund­ing or pro­mot­ing the GE chest­nut. The For­est Health Ini­tia­tive, which receives fund­ing from some of the above, and has pro­vid­ed large grants to the SUNY ESF research, said in a report, ​"Biotech trees will find their place in this world, pro­vid­ing fiber, fuel, and even sus­tain­able com­fort food (e.g. biotech chest­nuts roast­ing on an open fire). This is an indus­try to watch as it evolves toward respon­si­ble use and takes its place in the pipeline of sus­tain­able biotech products."
Enthu­si­asm for GE Amer­i­can chest­nuts has so far been under­whelm­ing. Recent­ly, board mem­bers of the Massachusetts/​Rhode Island chap­ter of the Amer­i­can Chest­nut Foun­da­tion Lois Breault-Mel­i­can and her hus­band, Denis M. Mel­i­can, who had worked for over 16 years on back­cross breed­ing of resis­tant Amer­i­can chest­nuts, resigned in protest against the organization's embrace of SUNY ESF's GE Amer­i­can chest­nut. They said,​"We are unwill­ing to lift a fin­ger, donate a nick­el or spend one minute of our time assist­ing the devel­op­ment of genet­i­cal­ly engi­neered trees or using the Amer­i­can chest­nut to pro­mote biotech­nol­o­gy in forests as any kind of ben­e­fit to the envi­ron­ment. The GE Amer­i­can chest­nut is drain­ing the ide­al­ism and integri­ty from TACF."
Indeed, pub­lic opin­ion has long been opposed to GE trees in gen­er­al, and remains a sig­nif­i­cant bar­ri­er to their release. A num­ber of protests have tak­en place around the world where GE trees have been test­ed. In Brazil in 2016, women in the Land­less Work­ers Move­ment have destroyed GE tree seedlings belong­ing to Futura­Gene Ltd. In the Unit­ed States, oppo­si­tion to the GE Amer­i­can chest­nut is being led by The Cam­paign to Stop GE Trees.
In the wings, and wait­ing to fol­low in that new­ly forged path, are a host of oth­er GE for­est tree species, engi­neered for com­mer­cial indus­tri­al pur­pos­es. Nat­ur­al forests, mean­while, are rapid­ly declin­ing, even as cli­mate sci­ence dic­tates that pro­tect­ing and restor­ing forests is a cru­cial part of regain­ing car­bon bal­ance. Yet log­ging, even of the pre­cious remain­ing old growth forests, con­tin­ues large­ly unabat­ed, often sub­si­dized with pub­lic fund­ing. Replac­ing real forests with tree plan­ta­tions, and then refer­ring to them as ​"plant­ed forests," con­ceals the fact that tree plan­ta­tions are more akin to corn fields than forests. They often dis­place nat­ur­al forests and rur­al com­mu­ni­ties, are mono­cul­tures lack­ing bio­di­ver­si­ty, are doused with her­bi­cides and agri­chem­i­cals, rapid­ly drain fresh water sources, and are des­ig­nat­ed for fast growth and short rota­tion mechan­i­cal harvesting.
Debates about for­est health, and the poten­tial for biotech­nol­o­gy to pro­vide solu­tions, are irrel­e­vant when under­ly­ing dri­vers of for­est demise are not addressed. If we are seri­ous­ly con­cerned about pro­tect­ing for­est health, then reign­ing in those under­ly­ing dri­vers of for­est destruc­tion is the real solu­tion-not genet­i­cal­ly engi­neer­ing trees or replac­ing diverse nat­ur­al forests with indus­tri­al plantations.

​"The GMO Amer­i­can Chest­nut: Restora­tion of a Beloved Species or Biotech Tro­jan Horse?" was first pub­lished on inde​pen​dentscience​news​.org and is repost­ed on Rur­al Amer­i­ca In These Times with permission.
Rachel Smolk­er is codi­rec­tor of Bio­fu­el­watch. She is on the steer­ing com­mit­tee of the Cam­paign to Stop GE Trees, and is on the board of the Glob­al For­est Coali­tion. She has a Ph.D. from the Uni­ver­si­ty of Michi­gan and lives in Ver­mont.Anne Peter­mann is the co-Founder and Exec­u­tive Direc­tor of Glob­al Jus­tice Ecol­o­gy Project and the co-founder and Coor­di­na­tor of the inter­na­tion­al Cam­paign to STOP Genet­i­cal­ly Engi­neered Trees.