Trump Doesn't Care About Civilian Deaths. Just Look at Yemen.
For three years, the United States has backed a brutal Saudi-led war on Yemen, and ordinary people are paying the price.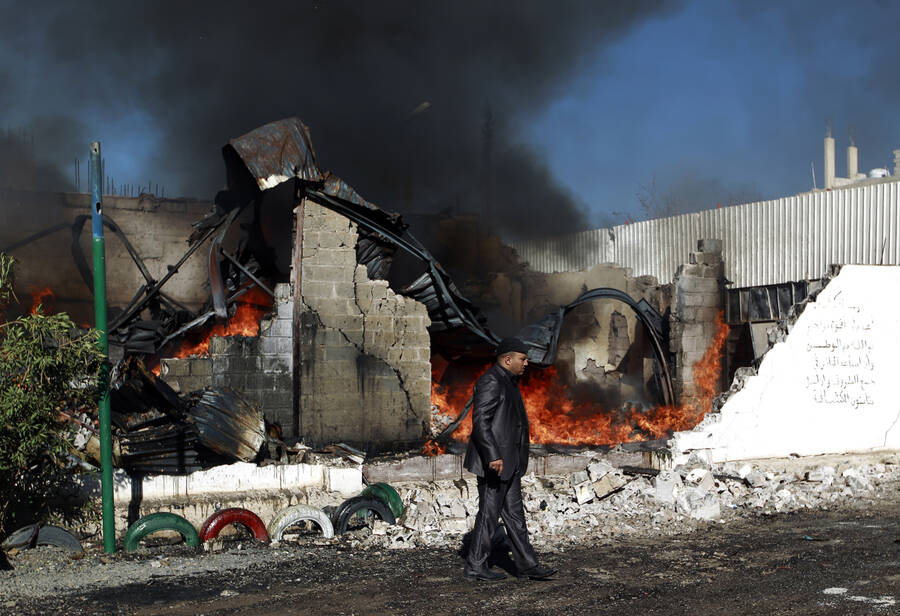 As Pres­i­dent Don­ald Trump threat­ens to open a dan­ger­ous new front in the war on Syr­ia, cit­ing Bashar al-Assad's human rights abus­es, the Unit­ed States is active­ly sup­port­ing Sau­di Ara­bia in unleash­ing pro­found human rights abus­es on Yemen.
"The war and the blockade have destroyed everything that is beautiful."
Yemen has been under attack by Sau­di Ara­bia, the Unit­ed Arab Emi­rates and a coali­tion of var­i­ous coun­tries since March 26, 2015. The coali­tion is sup­port­ed by the Unit­ed King­dom and the Unit­ed States, with both coun­tries pro­vid­ing hun­dreds of bil­lions in weapons sales, tar­get­ing and logis­ti­cal sup­port, and in the case of the Unit­ed States, mid-air refu­el­ing of jets. Yemeni civil­ians, on the oth­er hand, are defense­less against this bar­rage of for­eign attackers.
The war has claimed the lives of at least 10,000 Yemeni civil­ians due to vio­lent attacks, and has led to the deaths of at least 113,000 chil­dren who have died from hunger and pre­ventable dis­eases such as cholera since 2016. In a coun­try that used to import 90 per­cent of its food and was already water-stressed, the impact of the land, sea and air block­ade imposed by the coali­tion has been dev­as­tat­ing. Today, 22.2 mil­lion Yeme­nis are in need of human­i­tar­i­an aid and 17.8 mil­lion require emer­gency food assistance.
But fig­ures and sta­tis­tics do not cap­ture the every­day strug­gles of Yeme­nis. These are the per­son­al sto­ries of five fam­i­lies who are liv­ing through ​"the world's worst human­i­tar­i­an cri­sis."
Moham­mad Lutf, an engi­neer by train­ing, lives with his wife, two boys and two pet rab­bits in Sana'a. He sent In These Times a pic­ture of his son pet­ting both rab­bits, a ten­der moment cap­tured against the land­scape of war. After los­ing his income, Moham­mad began free­lanc­ing as a tech­ni­cal con­sul­tant. With Yeme­nis liv­ing in the dark for near­ly the entire dura­tion of the war, the coun­try has expe­ri­enced a solar rev­o­lu­tion, there­by enabling engi­neers like Moham­mad to acquire occa­sion­al work through human­i­tar­i­an orga­ni­za­tions work­ing in Yemen, super­vis­ing the instal­la­tion of water sup­plies and solar-pow­ered pumps.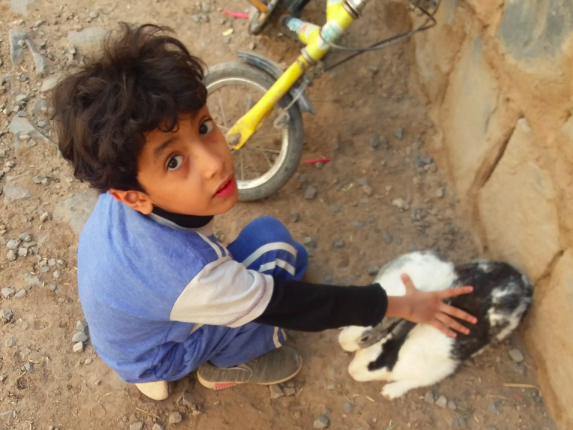 (Pho­to cour­tesy of Moham­mad Lutf)
Maha Nagi, a mas­ter of busi­ness admin­is­tra­tion (MBA) stu­dent, tells In These Times she enjoys read­ing Khaled Hos­sei­ni books ​"too much." She recalls that her hap­pi­est mem­o­ries are those spent with friends. Her worst expe­ri­ence over the past three years involves the explo­sion of Faj Attan, where a weapons depot was struck by the U.S.-backed coali­tion in the first months of the war. The impact of the explo­sion shook the ground beneath her and broke all win­dows: She thought ​"it was the end," she explains. But it wasn't the end for Maha. She found work in the human­i­tar­i­an sec­tor, pro­vid­ing emer­gency sup­port for those who need it most.
While mil­lions of Yeme­nis are dis­placed inter­nal­ly, some, like Akram Saleh, have found their way to Malaysia. Forced by his father to leave the coun­try to pur­sue his MBA, Akram describes his life before the war as ​"beau­ti­ful." He used to enjoy trav­el­ing to dif­fer­ent provinces and recalls the ​"price­less moments" when he would come home from uni­ver­si­ty to sit down for a meal with his par­ents and sib­lings. But for Akram, ​"every­thing changed when the war began." He strug­gles with being away from his fam­i­ly: ​"How can I leave my fam­i­ly while they're under air strikes, war, and block­ade?" Despite these feel­ings of guilt, he hopes that one day, he will be able to make pos­i­tive con­tri­bu­tions to Yemen, ben­e­fit­ing his coun­try from skills he has learned abroad. When he returns, how­ev­er, Akram will find him­self rebuild­ing, rather than build­ing, his beloved Yemen.
Mohammed Bahjooj lives with his wife and 6 chil­dren in Al-Jawf, a province south of Sau­di Ara­bia and east of Sa'dah, one of Yemen's most tar­get­ed provinces. He has a Bachelor's degree in Eng­lish and has worked as a super­vi­sor of Eng­lish edu­ca­tors in the Min­istry of Edu­ca­tion. Like oth­er civ­il ser­vants, he has not received a salary in years, and at times he is unable to pro­vide food and med­i­cine for his fam­i­ly. He has sought employ­ment in the human­i­tar­i­an sec­tor, send­ing his resumes to count­less orga­ni­za­tions in hopes of pro­vid­ing for his fam­i­ly while assist­ing oth­ers, but his quest has not been suc­cess­ful. His eldest son, Mazen, the son of an edu­ca­tor, was forced to drop out of school in order to help with odd jobs that keep the fam­i­ly afloat. He joins near­ly half a mil­lion oth­er Yemeni chil­dren who have faced a sim­i­lar fate since 2015.
When one of his chil­dren gets ill, Mohammed resorts to tem­po­rary mea­sures such as pur­chas­ing pain killers, as he can­not afford pri­vate hos­pi­tals, and pub­lic hos­pi­tals in his area are bare­ly func­tion­al due to the block­ade. ​"We can­not trav­el or move beyond our area due to dai­ly airstrikes that spare no one," Mohammed notes. ​"The war and the block­ade have destroyed every­thing that is beau­ti­ful" and ​"have turned Yeme­nis' lives into a liv­ing hell," he tells In These Times. His most painful expe­ri­ences include not being able to explain to his young son why he can't pur­chase a bicy­cle, and ask­ing his daugh­ter if she would accept a kiss on the cheek instead of a gift for earn­ing top grades in her school. Despite their dif­fi­cul­ties, Mohammed remains faith­ful that the oppres­sion will soon end.
Ammar Al-Harazi is a com­put­er spe­cial­ist who lives with his wife and two daugh­ters in Sana'a. Pri­or to the war, he was a lec­tur­er and vis­it­ing fac­ul­ty mem­ber at var­i­ous pri­vate uni­ver­si­ties and insti­tutes in Sana'a, as well as a free­lancer in inter­net tech­nolo­gies and web­site design and devel­op­ment. That changed overnight. He and fel­low uni­ver­si­ty lec­tur­ers were told that their work would be sus­pend­ed until fur­ther notice. His busi­ness also suf­fered. ​"Overnight, I became job­less and sud­den­ly I had no oth­er alter­na­tive income," he says. Liv­ing on his min­i­mal sav­ings wasn't enough, so he sold belong­ings, fur­ni­ture and his wife's jew­el­ry to make ends meet. But Ammar soon adjust­ed; using resources avail­able online, he taught him­self how to design, set up, and build solar ener­gy pow­er sys­tems for homes and busi­ness­es. He tells In These Times, ​"The income was not much, but it was bet­ter than noth­ing." He also resumed work as a vis­it­ing uni­ver­si­ty lec­tur­er, though his work there is incon­sis­tent and he can­not depend on it as his sole source of income. He recent­ly joined a local, start­up non-gov­ern­men­tal orga­ni­za­tion, where he works with ​"tal­ent­ed and deter­mined peo­ple whose main goal is to sup­port the affected."
Though he says he tries very hard to remain strong and ​"keep my chin up" for the sake of his daugh­ters, the toll of the war has tak­en a phys­i­cal and men­tal toll on Ammar. He finds him­self depressed and unin­ter­est­ed in hob­bies he once enjoyed, such as read­ing. Reflect­ing on the past three years, he says he has aged rapid­ly, ​"and with all of the grey hair which found its way to my hair and beard, I now look 10 years old­er. We lost track of date and time and life has start­ed to care­less­ly pass us by." His hap­pi­est and sad­dest mem­o­ries dur­ing the war are inter­twined: He describes being hap­py when see­ing his wife and chil­dren safe after every air bom­bard­ment, and he also describes the agony he feels when his kids are ter­ri­fied while try­ing to seek cov­er dur­ing air raids. But ​"the sad­dest of all" is know­ing that peo­ple are killed after each attack.
Even in times of war, Yeme­nis have proven that com­pas­sion remains their most strik­ing qual­i­ty. They have either sought or cur­rent­ly work in the human­i­tar­i­an sec­tor, and despite the over­whelm­ing chal­lenges, they remain hope­ful for a bet­ter future. Ammar com­forts his daugh­ters by telling them ​"tomor­row will be a bet­ter day," and for the sake of 27 mil­lion men, women, and chil­dren whose plight is often only reflect­ed in num­bers, the inter­na­tion­al com­mu­ni­ty must work to ensure tomor­row is, indeed, a bet­ter day.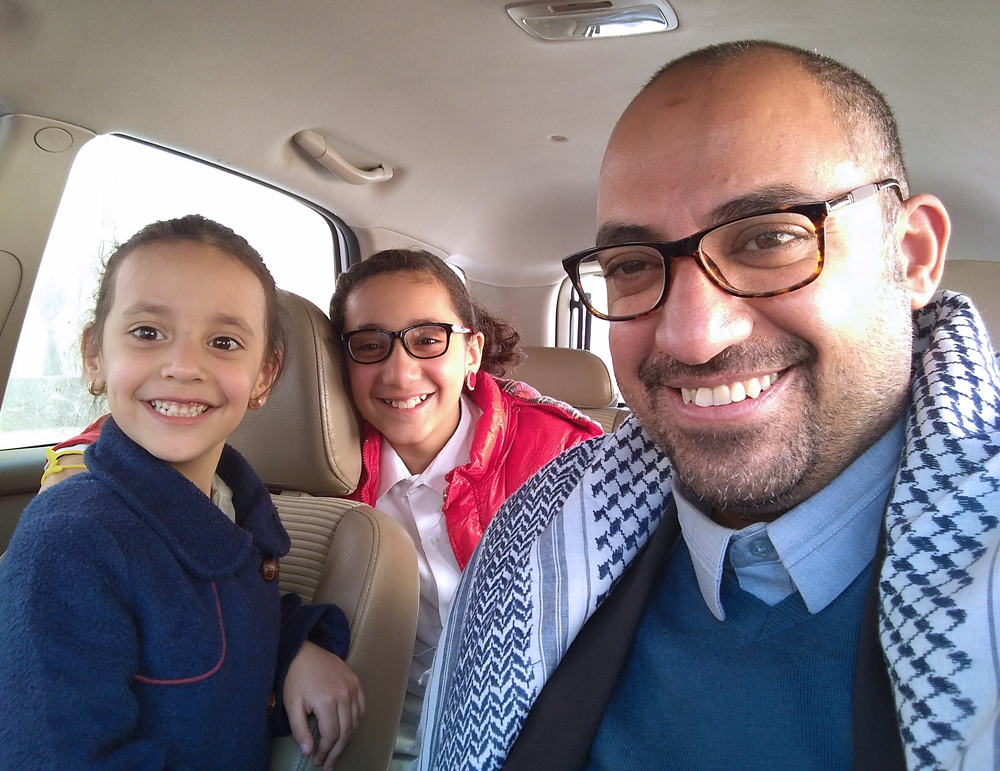 Ammar Al-Harazi with his daugh­ters (Pho­to cour­tesy of Ammar Al-Harazi)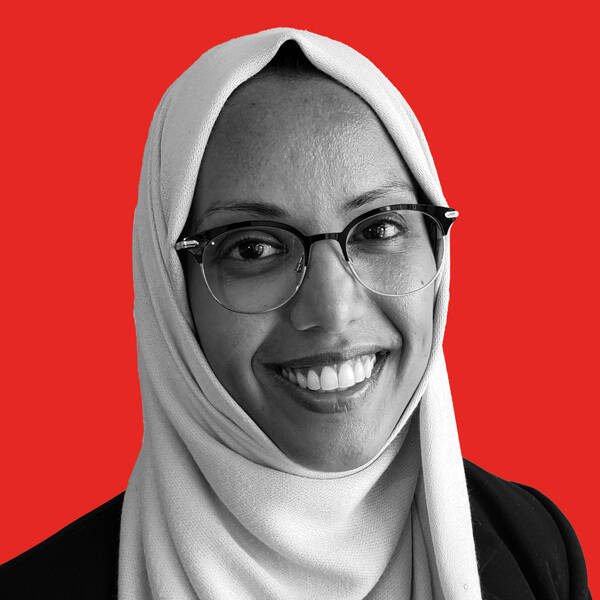 Shireen Al-Adei­mi is an assis­tant pro­fes­sor of edu­ca­tion at Michi­gan State Uni­ver­si­ty. Since 2015, she has played an active role in rais­ing aware­ness about the Sau­di-led war on her coun­try of birth, Yemen, and works to encour­age polit­i­cal action to end U.S. support.