Trump Doesn't Care About Civilian Deaths. Just Look at Yemen.
For three years, the United States has backed a brutal Saudi-led war on Yemen, and ordinary people are paying the price.
As President Donald Trump threatens to open a dangerous new front in the war on Syria, citing Bashar al-Assad's human rights abuses, the United States is actively supporting Saudi Arabia in unleashing profound human rights abuses on Yemen.
"The war and the blockade have destroyed everything that is beautiful."
Yemen has been under attack by Saudi Arabia, the United Arab Emirates and a coalition of various countries since March 26, 2015. The coalition is supported by the United Kingdom and the United States, with both countries providing hundreds of billions in weapons sales, targeting and logistical support, and in the case of the United States, mid-air refueling of jets. Yemeni civilians, on the other hand, are defenseless against this barrage of foreign attackers.
The war has claimed the lives of at least 10,000 Yemeni civilians due to violent attacks, and has led to the deaths of at least 113,000 children who have died from hunger and preventable diseases such as cholera since 2016. In a country that used to import 90 percent of its food and was already water-stressed, the impact of the land, sea and air blockade imposed by the coalition has been devastating. Today, 22.2 million Yemenis are in need of humanitarian aid and 17.8 million require emergency food assistance.
But figures and statistics do not capture the everyday struggles of Yemenis. These are the personal stories of five families who are living through ​"the world's worst humanitarian crisis."
Mohammad Lutf, an engineer by training, lives with his wife, two boys and two pet rabbits in Sana'a. He sent In These Times a picture of his son petting both rabbits, a tender moment captured against the landscape of war. After losing his income, Mohammad began freelancing as a technical consultant. With Yemenis living in the dark for nearly the entire duration of the war, the country has experienced a solar revolution, thereby enabling engineers like Mohammad to acquire occasional work through humanitarian organizations working in Yemen, supervising the installation of water supplies and solar-powered pumps.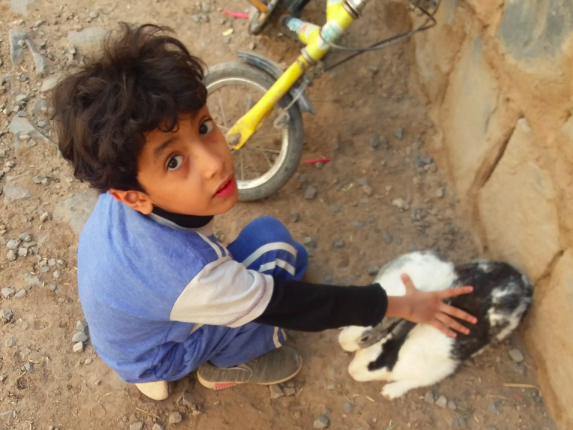 (Photo courtesy of Mohammad Lutf)
Maha Nagi, a master of business administration (MBA) student, tells In These Times she enjoys reading Khaled Hosseini books ​"too much." She recalls that her happiest memories are those spent with friends. Her worst experience over the past three years involves the explosion of Faj Attan, where a weapons depot was struck by the U.S.-backed coalition in the first months of the war. The impact of the explosion shook the ground beneath her and broke all windows: She thought ​"it was the end," she explains. But it wasn't the end for Maha. She found work in the humanitarian sector, providing emergency support for those who need it most.
While millions of Yemenis are displaced internally, some, like Akram Saleh, have found their way to Malaysia. Forced by his father to leave the country to pursue his MBA, Akram describes his life before the war as ​"beautiful." He used to enjoy traveling to different provinces and recalls the ​"priceless moments" when he would come home from university to sit down for a meal with his parents and siblings. But for Akram, ​"everything changed when the war began." He struggles with being away from his family: ​"How can I leave my family while they're under air strikes, war, and blockade?" Despite these feelings of guilt, he hopes that one day, he will be able to make positive contributions to Yemen, benefiting his country from skills he has learned abroad. When he returns, however, Akram will find himself rebuilding, rather than building, his beloved Yemen.
Mohammed Bahjooj lives with his wife and 6 children in Al-Jawf, a province south of Saudi Arabia and east of Sa'dah, one of Yemen's most targeted provinces. He has a Bachelor's degree in English and has worked as a supervisor of English educators in the Ministry of Education. Like other civil servants, he has not received a salary in years, and at times he is unable to provide food and medicine for his family. He has sought employment in the humanitarian sector, sending his resumes to countless organizations in hopes of providing for his family while assisting others, but his quest has not been successful. His eldest son, Mazen, the son of an educator, was forced to drop out of school in order to help with odd jobs that keep the family afloat. He joins nearly half a million other Yemeni children who have faced a similar fate since 2015.
When one of his children gets ill, Mohammed resorts to temporary measures such as purchasing pain killers, as he cannot afford private hospitals, and public hospitals in his area are barely functional due to the blockade. ​"We cannot travel or move beyond our area due to daily airstrikes that spare no one," Mohammed notes. ​"The war and the blockade have destroyed everything that is beautiful" and ​"have turned Yemenis' lives into a living hell," he tells In These Times. His most painful experiences include not being able to explain to his young son why he can't purchase a bicycle, and asking his daughter if she would accept a kiss on the cheek instead of a gift for earning top grades in her school. Despite their difficulties, Mohammed remains faithful that the oppression will soon end.
Ammar Al-Harazi is a computer specialist who lives with his wife and two daughters in Sana'a. Prior to the war, he was a lecturer and visiting faculty member at various private universities and institutes in Sana'a, as well as a freelancer in internet technologies and website design and development. That changed overnight. He and fellow university lecturers were told that their work would be suspended until further notice. His business also suffered. ​"Overnight, I became jobless and suddenly I had no other alternative income," he says. Living on his minimal savings wasn't enough, so he sold belongings, furniture and his wife's jewelry to make ends meet. But Ammar soon adjusted; using resources available online, he taught himself how to design, set up, and build solar energy power systems for homes and businesses. He tells In These Times, ​"The income was not much, but it was better than nothing." He also resumed work as a visiting university lecturer, though his work there is inconsistent and he cannot depend on it as his sole source of income. He recently joined a local, startup non-governmental organization, where he works with ​"talented and determined people whose main goal is to support the affected."
Though he says he tries very hard to remain strong and ​"keep my chin up" for the sake of his daughters, the toll of the war has taken a physical and mental toll on Ammar. He finds himself depressed and uninterested in hobbies he once enjoyed, such as reading. Reflecting on the past three years, he says he has aged rapidly, ​"and with all of the grey hair which found its way to my hair and beard, I now look 10 years older. We lost track of date and time and life has started to carelessly pass us by." His happiest and saddest memories during the war are intertwined: He describes being happy when seeing his wife and children safe after every air bombardment, and he also describes the agony he feels when his kids are terrified while trying to seek cover during air raids. But ​"the saddest of all" is knowing that people are killed after each attack.
Even in times of war, Yemenis have proven that compassion remains their most striking quality. They have either sought or currently work in the humanitarian sector, and despite the overwhelming challenges, they remain hopeful for a better future. Ammar comforts his daughters by telling them ​"tomorrow will be a better day," and for the sake of 27 million men, women, and children whose plight is often only reflected in numbers, the international community must work to ensure tomorrow is, indeed, a better day.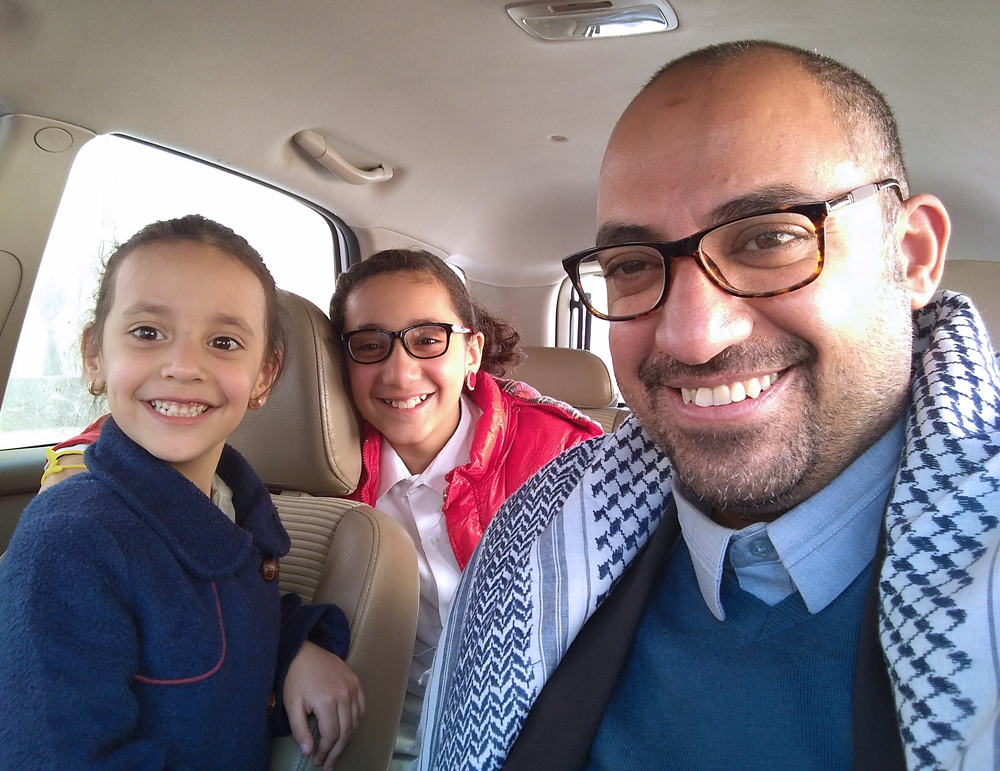 Ammar Al-Harazi with his daughters (Photo courtesy of Ammar Al-Harazi)
Win a trip for two to Cascais, Portugal!
Don't miss your chance to win! Get your raffle tickets today for Saturday's raffle, with a chance to win a vacation for two to Cascais, Portugal!
One lucky raffle winner will receive a $3,000 gift card to cover the costs of two flights, as well as a stay in a 5-star boutique hotel, housed in a 17th century fortress with medieval architecture and décor. You can schedule the trip on your timeline!
All raffle ticket sales support ongoing In These Times reporting, just like the article you just finished reading. Get your raffle tickets now.
The winner will be selected on the night of September 30, at the In These Times 47th Anniversary Celebration. You do not need to be present at the drawing to win.
Shireen Al-Adeimi is an assistant professor of education at Michigan State University. Since 2015, she has played an active role in raising awareness about the Saudi-led war on her country of birth, Yemen, and works to encourage political action to end U.S. support. She is a non-resident fellow at Quincy Institute.