Why Net Neutrality Is a Working-Class Issue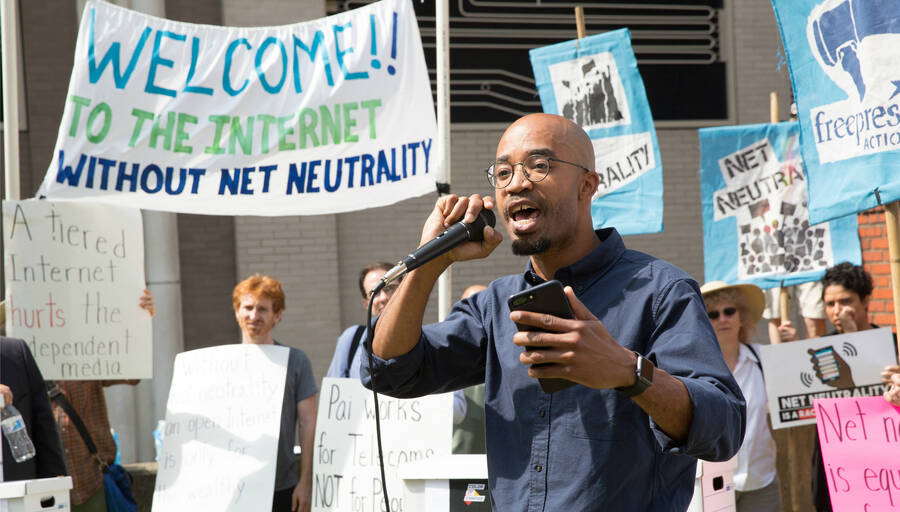 You might have noticed your brows­ing expe­ri­ence was inter­rupt­ed by a call-to-action on Wednes­day, July 12. Ama­zon, Net­flix, Etsy, OKCu­pid and hun­dreds of oth­er sites cov­ered their load­ing pages with ban­ners and images ask­ing you to save the inter­net. Mil­lions of us joined togeth­er to protest the Fed­er­al Com­mu­ni­ca­tions Com­mis­sion (FCC), heed­ing the call from grass­roots activists across all cor­ners of the web.
Led by Pres­i­dent Don­ald Trump appointee Ajit Pai, the FCC is work­ing to roll back rules that ensure the free and open flow of infor­ma­tion on the inter­net. The body is attempt­ing to undo the par­tial clas­si­fi­ca­tion of the inter­net as a util­i­ty (mean­ing some­thing every per­son has the right to have), and to mas­sive­ly expand the rights of Big Cable to lie about speeds and oth­er ser­vices in order to make huge prof­its. These efforts pose a threat to net neu­tral­i­ty, the prin­ci­ple at the foun­da­tion of the inter­net that inter­net ser­vice providers treat all traf­fic equal­ly. Net neu­tral­i­ty sup­ports the open and free flow of infor­ma­tion — with­out dis­crim­i­na­tion and with­out favor­ing con­tent or services.
Make no mis­take: Net neu­tral­i­ty is one of the defin­ing work­ers' rights and civ­il rights issue of our time. We all know the inter­net is dri­ving changes in cul­ture, pol­i­tics and the econ­o­my. It is also one of the key spaces where work­ers can orga­nize — and where mass move­ments for racial and eco­nom­ic jus­tice blos­som and build power.
Com­pa­nies like Wal-Mart, the nation's largest pri­vate employ­er, have a long his­to­ry of mon­i­tor­ing employ­ees' online activ­i­ties as work­ers move to union­ize. Mean­while, more and more work­places exist remote­ly or at home, whether you are a home­care work­er sup­port­ing a per­son with dis­abil­i­ties in their inde­pen­dence, a gig work­er in an Uber or Lyft car, or a sales­per­son for Ama­zon or Etsy.
In this eco­nom­ic cli­mate, net neu­tral­i­ty has a huge impact on your abil­i­ty to build com­mu­ni­ty, sol­i­dar­i­ty and uni­ty in your work­place. Big tele­com com­pa­nies, in their nev­er-end­ing quest to make more mon­ey from work­ers, will use any cut­back in net neu­tral­i­ty rules to put tolls along the inter­net with extra charges and fees. The impacts are going to be acute­ly felt, mak­ing it cost­lier for remote work­ers to do their jobs and con­nect with oth­ers on the job. We know who ben­e­fits from employ­ees feel­ing strapped and iso­lat­ed: the boss.
If we kill net neu­tral­i­ty, we will make it more polit­i­cal­ly pos­si­ble for Com­cast, Ver­i­zon, AT&T and oth­er big tele­com providers to raise their prices and sell your pri­vate data for prof­it. Net neu­tral­i­ty is an impor­tant pro­tec­tion that work­ing-class peo­ple and com­mu­ni­ties of col­or need, con­sid­er­ing the his­to­ry of preda­to­ry prac­tices of tele­com providers and the tight­en­ing wal­lets of Amer­i­cans who aren't part of the one per­cent. Peo­ple of col­or, women, LGBTQAI com­mu­ni­ties and immi­grants are already under­rep­re­sent­ed in the media. If you can't rep­re­sent your­self, some­one else will — and prob­a­bly get it wrong.
The big tele­coms behind the FCC's push to kill net neu­tral­i­ty fight their own work­ers every day. Ver­i­zon in 2016 pro­posed cuts so deep to wire­line work­ers rep­re­sent­ed by Com­mu­ni­ca­tions Work­ers of Amer­i­ca that the nearly-40,000-member union went on strike for more than a month — and won.
Com­cast, in their home­town of Philadel­phia, opposed a city-wide, paid-sick-leave pol­i­cy in 2014. The cor­po­rate giant that also owns NBC spent the past year back­ing a law­suit against Philadel­phia City Council's attempt to address the wage gap. When it comes to the rules that gov­ern the web, you can be sure that big inter­net ser­vice providers are going to care more about their bot­tom line than work­ers, poor peo­ple and peo­ple of color.
Big cable and the FCC claim that relax­ing net neu­tral­i­ty will allow for ​"inno­va­tion." But work­ers should reject any claim of ​"inno­va­tion" from com­pa­nies that have red­lined com­mu­ni­ties of col­or, and kept our choic­es of ser­vice providers to one or two max­i­mum, in almost every mar­ket in the Unit­ed States. For those of us who are com­mit­ted to the long arc of jus­tice, inno­va­tion looks a lot dif­fer­ent. Inno­va­tion means nur­tur­ing the inter­net as a crit­i­cal tool for the growth of social move­ments and mak­ing the world we all deserve possible.
As Patrisse Cul­lors, co-cre­ator of #Black­Lives­Mat­ter, put it in an op-ed defend­ing the rules the last time the deci­sion came to a head: ​"It's because of net neu­tral­i­ty rules that the inter­net is the only com­mu­ni­ca­tions chan­nel left where black voic­es can speak and be heard."
Wednesday's action was led by some of the strongest voic­es pro­tect­ing work­ing-class peo­ple and com­mu­ni­ties of col­or in exer­cis­ing their right to com­mu­ni­cate and access infor­ma­tion, includ­ing Cen­ter for Media Jus­tice, Col­or of Change, Fight for the Future and Free Press. The protest gen­er­at­ed more than two mil­lion com­ments to the FCC, five mil­lion emails to Con­gress and near­ly 125,000 calls to Con­gress. We believe this sin­gle day of online action was the biggest — ever — in the his­to­ry of the internet.
This breadth of involve­ment is a use­ful reminder that net neu­tral­i­ty isn't a fringe issue. It's an issue core to our iden­ti­ty as U.S. free­dom fight­ers. It shapes the very ter­rain and con­di­tions we strug­gle in, and the nature of the democ­ra­cy we are try­ing to win. If you are a work­er, fight­ing for jus­tice, you are fight­ing for net neu­tral­i­ty too.
Bryan Mer­cer
is Exec­u­tive Direc­tor of Media Mobi­liz­ing Project, an orga­ni­za­tion ded­i­cat­ed to using media and com­mu­ni­ca­tions to strength­en com­mu­ni­ties orga­niz­ing for human rights, racial and eco­nom­ic jus­tice. Bryan has worked exten­sive­ly on media pol­i­cy advo­ca­cy and is a board mem­ber of the Cen­ter for Media Jus­tice. Bryan received his bach­e­lors degree from Colum­bia Uni­ver­si­ty in Anthro­pol­o­gy and Com­par­a­tive Eth­nic Studies.