No Excuses for a Racist Murderer: W.E.B. DuBois on the Legacy of Robert E. Lee
Historian and civil rights organizer, W.E.B. DuBois, wrote this short essay in 1928.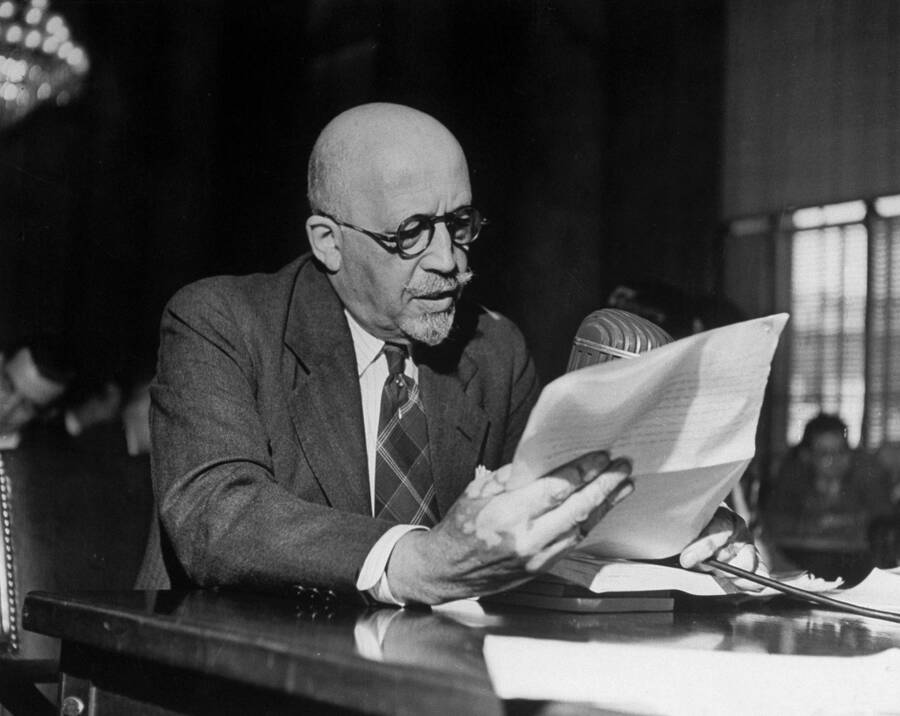 Each year on the 19th of Jan­u­ary, there is renewed effort to can­on­ize Robert E. Lee, the great­est con­fed­er­ate gen­er­al. His per­son­al come­li­ness, his aris­to­crat­ic birth and his mil­i­tary prowess all call for the ver­dict of great­ness and genius. But one thing – one ter­ri­ble fact – mil­i­tates against this, and that is the inescapable truth that Robert E. Lee led a bloody war to per­pet­u­ate slav­ery. Cop­per­heads like The New York Times may mag­is­te­ri­al­ly declare, ​"Of course, he nev­er fought for slav­ery." Well, for what did he fight? State rights? Non­sense. The South cared only for State Rights as a weapon to defend slav­ery. If nation­al­ism had been a stronger defense of the slave sys­tem than par­tic­u­lar­ism, the South would have been as nation­al­is­tic in 1861 as it had been in 1812.
The South cared only for State Rights as a weapon to defend slavery.
No. Peo­ple do not go to war for abstract the­o­ries of gov­ern­ment. They fight for prop­er­ty and priv­i­lege, and that was what Vir­ginia fought for in the Civ­il War. And Lee fol­lowed Vir­ginia. He fol­lowed Vir­ginia not because he par­tic­u­lar­ly loved slav­ery (although he cer­tain­ly did not hate it), but because he did not have the moral courage to stand against his fam­i­ly and his clan. Lee hes­i­tat­ed and hung his head in shame, because he was asked to lead armies against human progress and Chris­t­ian decen­cy and did not dare refuse. He sur­ren­dered not to Grant, but to Negro Emancipation.
Today we can best per­pet­u­ate his mem­o­ry and his nobler traits not by fal­si­fy­ing his moral deba­cle, but by explain­ing it to the young white south. What Lee did in 1861, oth­er Lees are doing in 1928. They lack the moral courage to stand up for jus­tice to the Negro because of the over­whelm­ing pub­lic opin­ion of their social envi­ron­ment. Their fathers in the past have con­doned lynch­ing and mob vio­lence, just as today they acqui­esce in the dis­fran­chise­ment of edu­cat­ed and wor­thy black cit­i­zens, pro­vide wretched­ly inad­e­quate pub­lic schools for Negro chil­dren and endorse a pub­lic treat­ment of sick­ness, pover­ty and crime which dis­graces civilization.
It is the pun­ish­ment of the South that its Robert Lees and Jef­fer­son Davis­es will always be tall, hand­some and well-born. That their courage will be phys­i­cal and not moral. That their lead­er­ship will be weak com­pli­ance with pub­lic opin­ion and nev­er cost­ly and unswerv­ing revolt for jus­tice and right. It is ridicu­lous to seek to excuse Robert Lee as the most for­mi­da­ble agency this nation ever raised to make 4 mil­lion human beings goods instead of men. Either he knew what slav­ery meant when he helped maim and mur­der thou­sands in its defense, or he did not. If he did not he was a fool. If he did, Robert Lee was a trai­tor and a rebel – not indeed to his coun­try, but to human­i­ty and humanity's God.