An Army of Ocean Farmers: On the Frontlines of the Blue-Green Economic Revolution
I'm a fish­er­man who dropped out of high school in 1986 at the age of 14. Over my life­time, I've spent many nights in jail. I'm an epilep­tic. I'm asth­mat­ic. I don't even know how to swim. This is my sto­ry. It's a sto­ry of eco­log­i­cal redemption.
I was born and raised in Pet­ty Har­bour, New­found­land, a lit­tle fish­ing vil­lage with 14 salt-box hous­es paint­ed in greens, blues and reds so that fish­er­men could find their way home in the fog. At age 14 I left school and head­ed out to sea. I fished the Georges Banks and the Grand Banks for tuna and lob­ster, then head­ed to the Bering Sea, where I fished cod and crab. The trou­ble was I was work­ing at the height of the indus­tri­al­iza­tion of food. We were tear­ing up entire ecosys­tems with our trawls, chas­ing fish fur­ther and fur­ther out to sea into ille­gal waters. I per­son­al­ly have thrown tens of thou­sands of pounds of by-catch back into the sea.
It wasn't just that we were pil­lag­ing. Most of my fish was going to McDonald's for their fish sand­wich­es. There I was, still a kid, work­ing one of the most unsus­tain­able forms of food pro­duc­tion on the plan­et, pro­duc­ing some of the most unhealthy food on the plan­et. But God how I loved that job! The humil­i­ty of being in 40-foot seas, the sense of sol­i­dar­i­ty that comes with being in the bel­ly of a boat with thir­teen oth­er peo­ple work­ing 30-hour shifts, and a sense of mean­ing and pride in help­ing to feed my coun­try. I miss those days so, so much.
But then in the ear­ly 1990s the cod stocks crashed back home: thou­sands of fish­er­men thrown out of work, boats beached, can­ner­ies shut­tered. This sit­u­a­tion cre­at­ed a split in the indus­try: the cap­tains of indus­try, who want­ed to fish the last fish, were think­ing 10 years down the road, but there was a younger gen­er­a­tion of us think­ing 50 years out. We want­ed to make our liv­ing on the ocean. I want to die on my boat one day — that's my mea­sure of success.
So we all went on a search for sus­tain­abil­i­ty. I end­ed up in North­ern Cana­da on an aqua­cul­ture farm. At that point aqua­cul­ture was sup­posed to be the great solu­tion to over­fish­ing, but when I got there I found more of the same, only using new tech­nolo­gies to pol­lute local water­ways with pes­ti­cides and pump­ing fish full of antibi­otics. We used to say that what we were grow­ing was nei­ther fish nor food. We were run­ning the equiv­a­lent of Iowa pig farms at sea.
So I kept search­ing and end­ed up on Long Island Sound, where there was a pro­gram to attract young fish­er­men back into the indus­try by open­ing up shell-fish­ing grounds for the first time in 150 years. I signed up, leased some grounds from the state of New York, and re-made myself as an oys­ter­man. I did this for sev­en years. Then the storms hit. Hur­ri­cane Irene and Hur­ri­cane Sandy thrashed the East Coast. Two years in a row the storms buried 90 per­cent of my crops in three feet of mud, and 40 per­cent of my gear was washed away in a sea of death. At the same time, lob­ster were being dri­ven north­ward by warm­ing waters, and acid­i­fi­ca­tion was increas­ing faster than at any oth­er time in 300 mil­lion years, killing bil­lions of oys­ter seed up and down the Amer­i­can coast.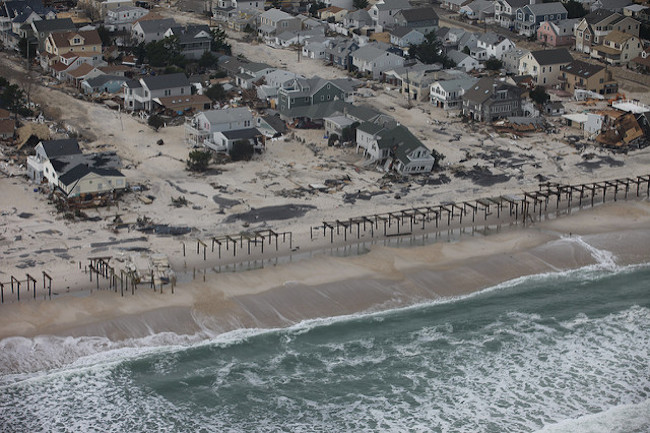 The after­math of Hur­ri­cane Sandy along the New Jer­sey shore. (Pho­to: USFWS)
Sud­den­ly I found myself on the front lines of a cli­mate cri­sis that had arrived 100 years ear­li­er than expect­ed. For a long time I'd seen cli­mate change only as an envi­ron­men­tal issue because envi­ron­men­tal­ists were always fram­ing it in terms of birds, bears and bees, but I'm a fish­er­man. I kill things for a liv­ing. I grew up shoot­ing moose out of my kitchen win­dow. I nev­er thought cli­mate change had any­thing to do with my life. But it does. From my van­tage point, cli­mate change is not an envi­ron­men­tal issue at all — it's an eco­nom­ic issue.
The same years my farm was wiped out by hur­ri­canes, 83,000 peo­ple lost their jobs in New York City because of flood­ing, many of those in man­u­fac­tur­ing. Unem­ploy­ment claims dou­bled in Ver­mont along the storm's path, and 80 per­cent of U.S. farm­land was shriv­eled by drought, dri­ving up food prices for mid­dle and work­ing class fam­i­lies. It turns out there will be no jobs on a dead planet.
Ver­ti­cal under­wa­ter farming
After my farm was destroyed, it was clear to me that I had to adapt because I was fac­ing a seri­ous threat to my liveli­hood. I began to re-imag­ine my occu­pa­tion and oys­ter farm. I began exper­i­ment­ing and explor­ing new designs and new species. I lift­ed my farm off the sea bot­tom to avoid the impact of storm surges cre­at­ed by hur­ri­canes and start­ed to grow new mix­es of restora­tive species. Now, after 29 years of work­ing on the oceans, I've remade myself as a 3D ocean farmer, grow­ing a mix of sea­weeds and shell­fish for food, fuel, fer­til­iz­er and feed.
That's how I got to where I am today. Now let's dive in and take a look at the farm and decon­struct why it's designed the way it is. Imag­ine a ver­ti­cal under­wa­ter gar­den with hur­ri­cane-proof anchors on the edges con­nect­ed by float­ing hor­i­zon­tal ropes across the sur­face. From these lines kelp and Gracilar­ia and oth­er kinds of sea­weeds grow ver­ti­cal­ly down­ward next to scal­lops in hang­ing nets that look like Japan­ese lanterns and mus­sels held in sus­pen­sion in mesh socks. Staked below the ver­ti­cal gar­den are oys­ters in cages and then clams buried in the sea floor.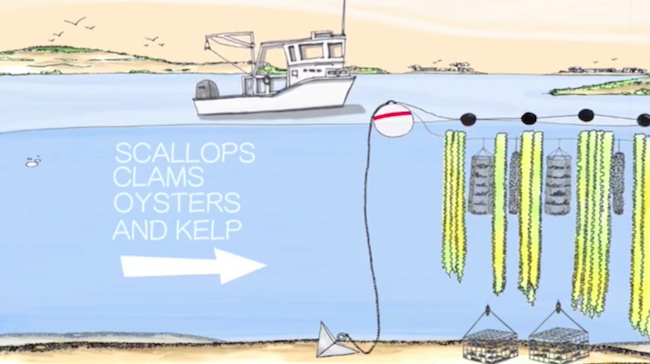 (Image: giz​mo​do​.com)
If you look for my farm from ashore, there's almost noth­ing to see, which is a good thing. Our under­wa­ter farms have a low aes­thet­ic impact. That's impor­tant because our oceans are beau­ti­ful pris­tine places, and we want to keep them that way. Because the farm is ver­ti­cal, it has a small foot­print. My farm used to be 100 acres; now it's down to 20 acres, but it pro­duces much more food than before. If you want ​"small is beau­ti­ful," here it is. We want ocean agri­cul­ture to tread lightly.
Our 3D farms are designed to address three major chal­lenges: first, to bring to the table a deli­cious new seafood plate in this era of over­fish­ing and food inse­cu­ri­ty; sec­ond, to trans­form fish­er­men into restora­tive ocean farm­ers; and third, to build the foun­da­tion for a new blue-green econ­o­my that doesn't recre­ate the injus­tices of the old indus­tri­al economy.
Eat­ing like fish and trans­form­ing an entire workforce
First: food pro­duc­tion. As ocean farm­ers, we reject aquaculture's obses­sion with mono­cul­ture, an obses­sion sim­i­lar to that of mod­ern land farm­ing. Our goal is diver­si­ty. It's a sea-bas­ket approach: we grow two types of sea­weeds, four kinds of shell­fish, and we har­vest salt. But with over 10,000 edi­ble plants in the ocean, we've bare­ly scratched the sur­face. We eat only a few species, and we grow basi­cal­ly none in the Unit­ed States. We intend to de-sushi­fy sea­weed and invent a new native cui­sine, not around our indus­tri­al palate of salmon and tuna but around the thou­sands of undis­cov­ered ocean veg­eta­bles that are right out­side our backdoor.
Native sea­weeds con­tain more vit­a­min C than orange juice, more cal­ci­um than milk and more pro­tein than soy­beans. It might sur­prise those of you on the hunt for Omega-3s to learn that many fish do not cre­ate these heart-healthy nutri­ents by them­selves — they con­sume them. By eat­ing the plants fish eat, we get the same ben­e­fits while reduc­ing pres­sure on fish stocks. So it's time that we eat like fish.
We're work­ing with chefs to cook up kelp noo­dles with parsnips and bread crumbs in bar­beque sauce; green sea but­ters and cheeses; kelp-based uma­mi-filled bouil­lons. Our new ocean din­ners are fun, they're cre­ative and they're deli­cious. This is our oppor­tu­ni­ty to rearrange the seafood plate by mov­ing ocean plants and bivalves to the cen­ter and wild fish to the edges. Imag­ine being a chef in 2015 and dis­cov­er­ing that there are thou­sands of veg­etable species you've nev­er cooked with. It's like dis­cov­er­ing corn, arugu­la, toma­toes and let­tuce for the first time. As one of my part­ner chefs — and the for­mer punk-rock drum­mer — Brooks Headley, says, ​"As a chef it feels fright­en­ing, daunt­ing, and excit­ing all at once." Ocean greens such as kelp are not small bou­tique crops. We can grow incred­i­ble amounts of food in small areas: 25 tons of greens and 250,000 shell­fish per acre in five months. If you were to cre­ate a net­work of our ocean farms total­ing the size of Wash­ing­ton state, you could feed the planet.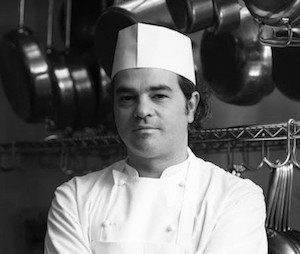 Musi­cian and chef, Brooks Head­ly. (Pho­to: WW Norton)
This is zero-input food that requires no fresh water, no fer­til­iz­er, no feed, no arid land. It is hands down the most sus­tain­able food on the plan­et. And as the price of fer­til­iz­er, water and feed goes up, zero-input food is going to be the most afford­able food on the plan­et. The eco­nom­ics of it will dri­ve us to eat ocean greens. The ques­tion is, will it be deli­cious food or will it be like being force-fed cod liv­er oil? As farm­ers, it's our job to grow this new cui­sine, and for chefs it's their job to make it tasty.
Ocean farm­ing isn't just about food. It's about trans­form­ing an entire work­force, trans­form­ing fish­ers into restora­tive ocean farm­ers. My job has nev­er been to save the seas; it's to fig­ure out how the seas can save us. I say that because mil­lions of years ago Moth­er Nature cre­at­ed two tech­nolo­gies designed to mit­i­gate our harm: shell­fish and sea­weeds. Oys­ters fil­ter up to 50 gal­lons of water a day, pulling nitro­gen — the cause of our oceans' spread­ing dead zones — from the water col­umn. Our farmed kelp, called the Sequoia of the sea, soaks up five times more car­bon than land based plants. Sea­weeds are a pow­er­ful source of zero-input bio­fu­el; we can pro­duce 2,000 gal­lons of ethanol per acre — that's a 30 times high­er yield than soy­beans and five times more than corn. Accord­ing to the Depart­ment of Ener­gy, if you were to take a net­work of our farms equal­ing half the size of the state of Maine, you could replace all the oil in the Unit­ed States.
Our farms func­tion as storm-surge pro­tec­tors, break­ing up wave action to reduce the impact of hur­ri­canes and ris­ing tides. And they serve as arti­fi­cial reefs, attract­ing more than 150 species of aquat­ic life. Sea hors­es, striped bass and grey seals come to eat, hide, and thrive on our farms. My farm used to be a bar­ren patch of ocean, now it's a flour­ish­ing ecosys­tem. As fish­er­men, we're no longer pil­lagers, hunt­ing the last fish. We are a new gen­er­a­tion of cli­mate farm­ers who have joined the fight to restore our plan­et. We're try­ing to break down the sea­walls that sep­a­rate our land-based and ocean-based food sys­tems. Even the best land-based farms pol­lute, send­ing nitro­gen into our water­ways, so we use our kelp to cap­ture that nitro­gen, turn it into liq­uid fer­til­iz­ers and send it back to organ­ic farm­ers to grow their won­der­ful veg­eta­bles. When the nitro­gen then runs back into Long Island Sound, we cap­ture it again.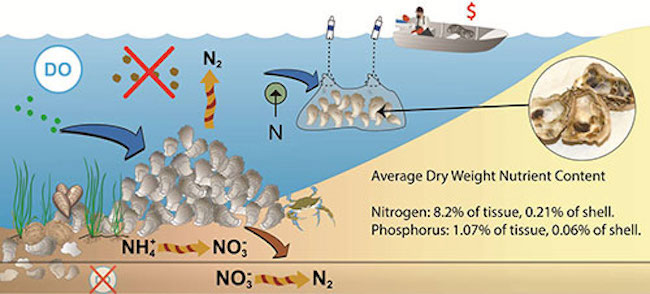 Nat­ur­al reef and aqua­cul­ture oys­ters act as nat­ur­al fil­ters to reduce nitro­gen, phos­pho­rus, and sed­i­ment lev­els in the water col­umn. (Image: Mary­land Depart­ment of Nat­ur­al Resources)
We are also work­ing on new forms of live­stock feeds. For exam­ple, when cat­tle are fed a major­i­ty kelp-based diet, there is a 90 per­cent reduc­tion in methane out­put. The idea is to build a bridge between land and sea in order to close the loop between our food sys­tems. Too often our think­ing stops at the water's edge. A bridge is needed.
The blue-green economy
Our goal is to build a just foun­da­tion for the blue-green econ­o­my. Sav­ing the seas is not enough. There is 40 per­cent unem­ploy­ment in my home­town. I wouldn't be doing this work unless it cre­at­ed jobs for my peo­ple, unless it opened up new oppor­tu­ni­ties for the three bil­lion folks who depend on our oceans to make a living.
Our old econ­o­my is crum­bling. I can't get cell ser­vice in half of the coun­try, let alone decent health­care or a healthy meal. The old econ­o­my is built on the arro­gance of growth at all costs, prof­it­ing from pol­lu­tion, and the refusal to share eco­nom­ic gains with 99 per­cent of Amer­i­cans. But out of the ash­es of the old econ­o­my, togeth­er we are build­ing some­thing new based on new-econ­o­my prin­ci­ples of col­lab­o­ra­tion, com­mu­ni­ty-dri­ven inno­va­tion, shared prof­its a and meet­ing social needs. Because ocean agri­cul­ture is still in its infan­cy, we have the unprece­dent­ed oppor­tu­ni­ty to build a mod­el from scratch, to build from the bot­tom up an econ­o­my that works for every­one, not just a few. We have the oppor­tu­ni­ty to learn from the mis­takes of indus­tri­al agri­cul­ture and aqua­cul­ture. This is our chance to do food right.
[If you like what you are read­ing, help us spread the word. ​

"

Like" Rur­al Amer­i­ca In These Times on Face­book. Click on the ​

"

Like Page" but­ton below the wolf on the upper right of your screen.]
For this to hap­pen, our team at Green­Wave, an orga­ni­za­tion cre­at­ed to build out the new ocean agri­cul­tur­al sys­tem and repli­cate it, is work­ing to address three major ques­tions: First, how do we repli­cate and scale our farm­ing mod­el so that it doesn't become a car­bon copy of indus­tri­al fac­to­ry farm­ing? Sec­ond, how do we build the infra­struc­ture to cre­ate new own­er­ship mod­els to ensure that farm­ers cap­ture the val­ue chain and that the prin­ci­ples of equi­ty and social jus­tice are woven into the fab­ric of the ocean econ­o­my? Third, how do we cre­ate new kinds of eco­nom­ic rela­tion­ships among grow­ers and buy­ers and consumers?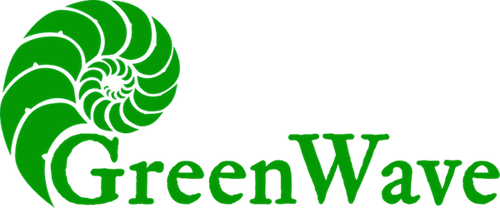 (Image: green​wave​.org)
We addressed the first ques­tion of farm repli­ca­tion and scale, not by patent­ing or fran­chis­ing — those are tools of the old econ­o­my — but by open-sourc­ing our farm­ing mod­el so that any­body with 20 acres and a boat and $30,000 can start his or her own farm. One of our new farm­ers is a third-gen­er­a­tion lob­ster­man who was unem­ployed because cli­mate change had pushed lob­sters north­ward. We got him up and run­ning, grow­ing and sell­ing the first year. Among our oth­er farm­ers are for­mer Alaskan salmon fish­er­men, an Iraq war vet­er­an and a Lati­no fam­i­ly whose ances­tors were dri­ven off their farm­lands in Mex­i­co. We repli­cate and scale by specif­i­cal­ly design­ing our farms to require low cap­i­tal costs and min­i­mal skills. We seek sim­plic­i­ty not com­plex­i­ty. We believe that repli­ca­tion is dri­ven by set­ting low bar­ri­ers to entry so that peo­ple from all walks of life can grow and pros­per with us. At the same time our farm­ers receive start-up grants, access to free seed, gear donat­ed by Patag­o­nia, and two years of free con­sult­ing from Green­Wave. What is most impor­tant, we guar­an­tee to pur­chase 80 per­cent of their crops for the first five years at triple the mar­ket rate.
We intend to cre­ate sta­ble and secure mar­kets that give our begin­ning farm­ers time to learn the trade and to scale up their farms. They keep farm­ing because they know they'll get paid well for what they grow. Our vision is hun­dreds of small-scale ocean farms dot­ting our coast­lines, sur­round­ed by con­ser­va­tion zones. Imag­ine a Napa val­ley of ocean mer­roirs dot­ting out coastlines.
We envi­sion 3D farms embed­ded in wind farms, har­vest­ing not only wind but also food, fuel and fer­til­iz­ers. We envi­sion using shut­tered coal plants — like the one clos­ing in Bridge­port, Conn. — for pro­cess­ing ani­mal feed and salt. We want to repur­pose the fos­sil-fuel and fish­ing indus­tries so that they will pro­tect rather than destroy our oceans.
Get­ting out of the bou­tique food econ­o­my and recre­at­ing an industry
The sec­ond ques­tion is how to build the infra­struc­ture need­ed to ensure that ocean farm­ers and com­mu­ni­ties will reap the rewards of the blue-green econ­o­my. For too long, farm­ers and fish­er­men have been caught in the beggar's game of sell­ing raw com­modi­ties while oth­ers soak up the prof­its; too many of us are locked in the bou­tique food econ­o­my, sell­ing as CSAs and at farmer's mar­kets, with the major­i­ty of us not mak­ing an ade­quate liv­ing and hav­ing to hold down mul­ti­ple jobs to make ends meet. But now, in our unex­plored oceans we have a chance to plan ahead and to build an infra­struc­ture in the right way. One of our new farm­ers, a 65-year-old fish­er­man, whose fam­i­ly has fished in Rhode Island for 300 years, put it this way: ​"The last thing we want to do with 3D farm­ing is re-cre­ate the fish­ing industry."
Instead of repeat­ing his­to­ry we're build­ing infra­struc­ture from seed-to-har­vest-to-mar­ket. We're start­ing non-prof­it hatch­eries so that our farm­ers can access low-cost seed. We're cre­at­ing ocean seed banks so that the Mon­san­tos of the world can't pri­va­tize the source of our food and liveli­hoods. We cap the price of a sub­lease at $50 an acre per year so that low-income ocean farm­ers can access prop­er­ty. But by ​"prop­er­ty" we do not mean pri­va­ti­za­tion. Our farm­ers don't own their patch of ocean; they own only the right to grow shell­fish and sea­weeds there, which means that any­one can boat, fish, or swim on their farms. I own the process of farm­ing but not the prop­er­ty, and this keeps my farm as shared com­mu­ni­ty space. We're also build­ing in levers of com­mu­ni­ty con­trol. Leas­es are up for review every five years so that if I'm farm­ing unsus­tain­ably, my rights can be revoked.
At the same time, we're build­ing the country's first farmer-owned seafood hub, which is not only a place to process, pack­age and ship the raw com­modi­ties we raise but also a space to lever­age the unique qual­i­ties of our sea­weeds. The pow­er of kelp is that it's not just food; there is a whole range of prod­ucts we can pro­duce that meet envi­ron­men­tal and social needs: organ­ic fer­til­iz­ers, new live­stock feeds, kelp bio­fu­els, and even med­i­cine. With thou­sands of yet undis­cov­ered ocean plants, farm­ers and sci­en­tists can join togeth­er to dis­cov­er and grow new forms of medicine.
Push­ing injus­tice off the table
If we pro­vide our com­mu­ni­ties with the right mix of low-cost, open-source infra­struc­ture, our hub will become an engine for job cre­ation and the basis for invent­ing new indus­tries. It will also be an engine for food jus­tice, a place where we embed good jobs, food access and nutri­tion into the struc­ture of ocean agri­cul­ture. This means, for exam­ple, work­ing with local grass­roots groups like City­Seed in New Haven, Conn., to ensure that low-income folks can use food stamps to car­ry dou­ble the val­ue at our Com­mu­ni­ty Sup­port­ed Fish­eries (CSFs) and our Beyond Fish retail store. It also means using our hub as a hir­ing hall where local work­ers can find jobs on our farms, in our start-ups and in our kitchens. If you come to the hub for a job, don't bring your resumé. We don't care if you are a for­mer felon or an undoc­u­ment­ed immi­grant; we're going to put you to work.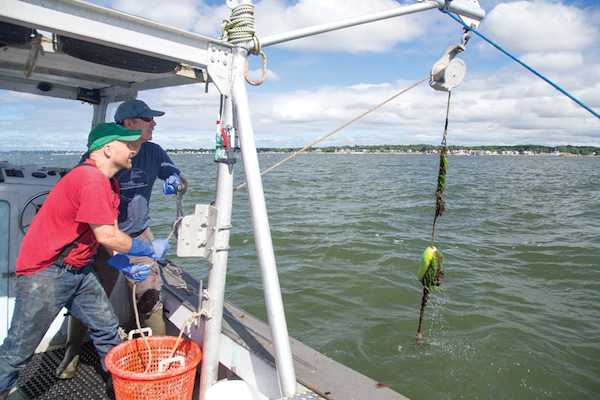 Ocean farm­ing in progress. (Pho­to: Caryn B. Davis)
The final chal­lenge is how to re-arrange the rela­tion­ships between those of us who pro­duce food and those of us who buy it. Fail­ure would be to recre­ate the pow­er dynam­ics of the old econ­o­my. Just as we need to re-arrange what's on our din­ner plates by mov­ing ocean greens to the cen­ter, we need to move farm­ers, food work­ers, com­mu­ni­ties and pro­tec­tion of the plan­et to the cen­ter of our plate, and push the destruc­tive, unjust old econ­o­my off the table. We're putting farm­ers and buy­ers on equal foot­ing by nego­ti­at­ing with insti­tu­tions to guar­an­tee for­ward con­tracts so that we get paid before we grow, and if our crops fail, then both the farmer and the buy­er share the loss. It's time for every­one to share the risk in the risky busi­ness of grow­ing food in the era of cli­mate change and globalization.
The rela­tion­ship between farmer and buy­er has to go even deep­er. Refor­mat­ting the food sys­tem is going to be cost­ly. It's going to be com­plex. Sim­ply using pur­chas­ing pow­er will not be enough. Anchor insti­tu­tions such as hos­pi­tals, uni­ver­si­ties, whole­salers and retail­ers have a new role, a new set of respon­si­bil­i­ties in the new econ­o­my. They have a duty to invest aggres­sive­ly in our farm­ers, our infra­struc­ture and our com­mu­ni­ties. This involves donat­ing a por­tion of their prof­its and their endow­ment to build­ing hatch­eries, seafood hubs, logis­ti­cal and trans­port sys­tems, incu­ba­tion, and R&D. This will mean less prof­it for the pri­vate sec­tor and a low­er rate of return for uni­ver­si­ties. But it will also mean more val­ue in terms of social and envi­ron­men­tal good. All around us we can see that ​"busi­ness as usu­al" will not save this plan­et. It's time to divest from the old econ­o­my and invest in the new.
The New Econ­o­my: Rethink­ing ​
"

The Pol­i­tics of No"

Final­ly, we are insist­ing that mar­kets reward the pos­i­tive exter­nal­i­ties of our farms. We're work­ing in places like Con­necti­cut to include ocean farm­ers in exist­ing nitro­gen trad­ing pro­grams. New farms are being built in pol­lut­ed areas like Bridge­port and the Bronx Riv­er in order to soak up the nitro­gen and car­bon, pull out heavy met­als and re-build reefs. Instead of har­vest­ing food, these farms har­vest ecosys­tem ser­vices. While oth­ers pol­lute, we restore — and as farm­ers we should be paid for the pos­i­tive exter­nal­i­ties of our work. In the new econ­o­my, mar­kets have to reflect the envi­ron­men­tal ben­e­fits we provide.

In 1979, Jacques Cousteau, the father of ocean con­ser­va­tion, wrote: ​"We must plant the sea and herd its ani­mals using the ocean as farm­ers instead of hunters. That is what civ­i­liza­tion is all about — farm­ing replac­ing hunt­ing." This dream of Cousteau's and of Green Wave's is fright­en­ing to some envi­ron­men­tal­ists. The idea of hun­dreds of ocean farms dot­ting our coast­lines and the idea of 3D farms embed­ded in wind farms are unset­tling to many because of the scale. As a result, the instinct of envi­ron­men­tal­ists is to do every­thing they can to pro­tect the oceans from any and all forms of eco­nom­ic devel­op­ment. They shield them­selves with a ​"pol­i­tics of no." I'm sym­pa­thet­ic to these fears, espe­cial­ly giv­en the his­to­ry of indus­tri­al aqua­cul­ture in the 1980s; yet in the era of cli­mate change, it's an illu­sion for envi­ron­men­tal­ists to think they can save our seas by rely­ing on a con­ser­va­tion strat­e­gy alone while con­tin­u­ing to ask the oceans to feed our hunger for wild seafood.

Con­ser­va­tion rep­re­sents its own form of cli­mate-change denial. We all know it's real, but the true sig­nif­i­cance, the impli­ca­tions, the urgency, haven't sunk in. Just look at what's hap­pen­ing on land and sea: ris­ing water tem­per­a­tures and acid­i­fi­ca­tion threat­en­ing one out of four marine species with extinc­tion; drought and extreme weath­er expect­ed to make U.S. corn prices go up by 140 per­cent in the next 15 years alone, while agri­cul­ture is respon­si­ble for one-third to one-half of all car­bon emis­sions and uses 80 per­cent of the fresh water in some areas, mak­ing it the pri­ma­ry cause of droughts, ris­ing food prices, and food insecurity.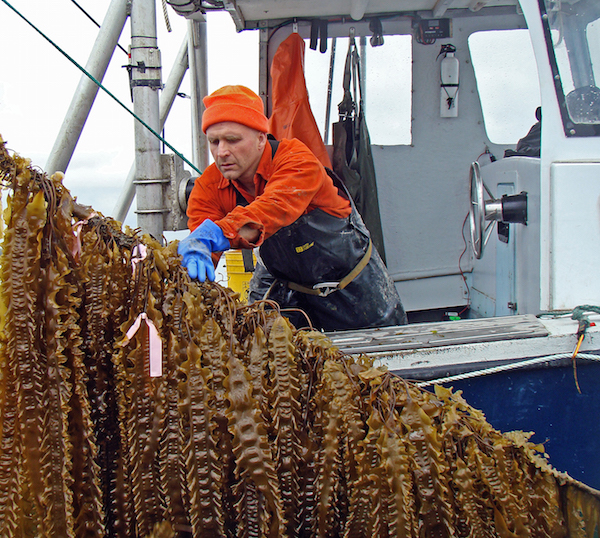 There are over 10,000 edi­ble plants in the ocean. (Pho­to: green​wave​.org)
If there is one les­son we should learn from the 2015 water wars in Cal­i­for­nia, it's that our food sys­tem is going to be dri­ven out to sea. Yes, we need marine parks, but we could set aside the entire world's oceans, and our ocean ecosys­tems would still die. Con­ser­va­tion alone is no longer environmentalism.
The cli­mate cri­sis demands that we use our fears as a cat­a­lyst for change. For the first time in gen­er­a­tions, we have an oppor­tu­ni­ty to grow food the right way, pro­vide good mid­dle-class jobs, restore ecosys­tem and feed the planet.
This is the new face of envi­ron­men­tal­ism. As our food sys­tem gets pushed out to sea, we can come togeth­er to block pri­va­ti­za­tion, to pro­tect our com­mons and to spread the seeds of jus­tice. We can invent new occu­pa­tions, shift entire work­forces out of the old econ­o­my into the new restora­tive econ­o­my. This is our chance to recruit an army of ocean farm­ers to grow a new cli­mate cui­sine that is both beau­ti­ful and hope­ful so that all of us can make a liv­ing on a liv­ing planet.
This arti­cle is a con­densed ver­sion of Bren Smith's 35th Annu­al E. F. Schu­mach­er Lec­ture enti­tled Eco­log­i­cal Redemp­tion: Ocean Farm­ing in the Era of Cli­mate Change pre­sent­ed in Octo­ber 2015. The Schu­mach­er Cen­ter for a New Eco­nom­ics has made the full text avail­able online and the lec­ture can be pur­chased in pam­phlet and eBook form.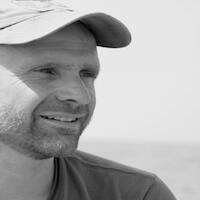 Bren Smith
, a life­long com­mer­cial fish­er­man, pio­neered the devel­op­ment of restora­tive
3
D ocean farm­ing. He is the Exec­u­tive Direc­tor of Green­Wave and own­er of Thim­ble Island Oys­ter Co. in Bran­ford, Connecticut.