When Ecosystems Suffer, So Do Humans: To Heal People We Need to Heal the Planet
Even as humans have brought more and more of our­selves into exis­tence — 7.7 bil­lion as of 2019 — our species has con­tin­ued to degrade and destroy the Earth's nat­ur­al sys­tems that make human life pos­si­ble. Humans have deplet­ed non­re­new­able resources and sul­lied renew­able resources essen­tial to life, such as water and air, and so under­mined not only ecosys­tem health but human health as well.
In late 2017, four envi­ron­men­tal­ists came togeth­er to cre­ate the non-prof­it Eco­Health Net­work (EHN) to address this grow­ing cri­sis. Bound by a com­mon vision of a future where the health of peo­ple and the health of ecosys­tems are con­nect­ed, the group pro­motes eco­log­i­cal restora­tion through the cre­ation of a world­wide net­work of restora­tion projects, whose researchers will share resources and expertise.
The com­po­si­tion of the orga­ni­za­tion's steer­ing com­mit­tee, based in St. Louis and Boston, reflects the group's belief in a mul­ti­dis­ci­pli­nary solu­tion to the cri­sis. There's ecol­o­gist James Aron­son, ecol­o­gist and author Cristi­na Eisen­berg, econ­o­mist Neva Good­win and civ­il engi­neer Lau­ra Orlan­do. With back­grounds in both pub­lic health and ecol­o­gy, the mem­bers are exam­ples of how respons­es from a vari­ety of fields, from the polit­i­cal to the envi­ron­men­tal to the med­ical, are nec­es­sary to address the cur­rent envi­ron­men­tal crisis.
Orlan­do empha­sizes the need for a wide­spread reac­tion when deal­ing with a prob­lem this large.
"Bio­di­ver­si­ty, or the lack of it, is a human health con­cern," she says. ​"Mak­ing that con­nec­tion, not only in the sci­en­tif­ic com­mu­ni­ty but also in the pub­lic, is critical."
Orlan­do thinks that eco­log­i­cal restora­tion, and the Eco­Health Net­work, is about more than just sav­ing the trees; it is a world­wide attempt to heal the envi­ron­ment, bio­di­ver­si­ty and human health.
"Show­ing those con­nec­tions through evi­dence-based sci­ence can direct fund­ing, polit­i­cal atten­tion and pub­lic sen­ti­ment," she says.
The group cur­rent­ly focus­es on eight envi­ron­men­tal­ly degrad­ed ecosys­tems world­wide, what EHN refers to as ​"net­work sites." Three of these sites are in the Unit­ed States, one in Cana­da, one in Aus­tralia, one in South Africa and two in Fin­land. EHN brings rep­re­sen­ta­tives from each of these sites togeth­er to share resources, tech­niques, and expe­ri­ences. With­in the next few years, the group hopes to great­ly expand the num­ber of par­tic­i­pant net­work sites. The founders empha­size the impor­tance of com­mu­ni­ca­tion between restora­tion sites in devel­op­ing a sus­tain­able future and cre­at­ed their orga­ni­za­tion to com­bat the pub­lic silence that under­mines that mission.

Fight­ing with Fire
At Water­ton Lakes Nation­al Park (WLNP), an EHN net­work site in south­west­ern Alber­ta, an inva­sive species of aspen has choked-out native plants and ani­mals. The aspen was brought by Euro­pean set­tlers when they col­o­nized the area. As sur­round­ing human economies and set­tle­ments grew, air pol­lu­tants, agri­cul­tur­al pes­ti­cides, and habi­tat loss and frag­men­ta­tion led to a weak­ened and envi­ron­men­tal­ly stressed area. Project lead­ers Scott Mur­phy, the fire man­age­ment offi­cer for Parks Cana­da, and EHN's Eisen­berg deploy eco­log­i­cal prin­ci­ples to return the degrad­ed ecosys­tem to a nat­ur­al state, in which the area is sta­ble with­out assis­tance from humans.
For exam­ple, project mem­bers are research­ing how con­trolled burn­ing can be used as a tool to remove inva­sive aspen. His­tor­i­cal­ly, light­ning strike wild­fires, once per­ceived by human com­mu­ni­ties as a detri­men­tal nat­ur­al phe­nom­e­non, were sup­pressed, pre­vent­ing nat­ur­al fire from thin­ning out and reviv­ing dense areas. Parks Cana­da staff and vol­un­teers mim­ic these wild­fires by burn­ing small patch­es of land, which are then replant­ed with the native white pine tree once dom­i­nant in the area. To eval­u­ate the effects of this tech­nique on soil health, pre­da­tion and bio­di­ver­si­ty they track the num­ber of elk in the area, exper­i­ment with vary­ing lev­els of fire sever­i­ty, and record changes in the aspen pop­u­la­tion. The results from this analy­sis will inform ecol­o­gists as they con­tin­ue to restore the ecosystem.
Because the project area, which con­sists of short­grass prairie and foothills, is par­tial­ly locat­ed on Kainai First Nation land, both human and non-human inhab­i­tants will ben­e­fit from its restora­tion. The project, which began in 2006, pro­tects First Nation cul­tur­al her­itage sites locat­ed in the park, while indige­nous peo­ples part­nered with Parks Cana­da and the project to con­tribute their tra­di­tion­al eco­log­i­cal knowl­edge to the restora­tion effort. The project mem­bers hold sev­er­al con­fer­ences and on-site meet­ings every year to dis­cuss the best approach to heal­ing the Water­ton Lakes Nation­al Park.
Despite the ben­e­fits of being able to repair a degrad­ed ecosys­tem, the imper­a­tive les­son of eco­log­i­cal restora­tion is that con­ser­va­tion is bet­ter than restora­tion. It is always bet­ter to keep some­thing from break­ing than to fix it once it shat­ters. Reviv­ing the envi­ron­ment once it is degrad­ed is sig­nif­i­cant­ly more dif­fi­cult than keep­ing it healthy. In the process of restora­tion, work­ers have to address under­ly­ing issues affect­ing the area, such as ero­sion, dis­ease and inva­sive species. Even so, a restora­tion project is not con­sid­ered a suc­cess until the ecosys­tem reach­es its repro­duc­tive­ly mature stage, mean­ing it can take decades or even cen­turies to ver­i­fy the effec­tive­ness of the project, dur­ing which time all of the progress ini­tial­ly made must be maintained.

Bal­anc­ing Ecol­o­gy and Economy
Beyond these chal­lenges, ecol­o­gists must decide how to make an area sus­tain­able and at the same time allow for human activ­i­ties, such as eco­nom­ic enter­pris­es, and changes in glob­al sys­tems, such as cli­mate change. In com­plex sites — areas that con­tain numer­ous, inter­con­nect­ed land­scapes, such as urban areas or riv­er sys­tems — restor­ers often have to arti­fi­cial­ly fol­low the path of eco­log­i­cal suc­ces­sion, a gen­er­al pat­tern of ecosys­tem devel­op­ment that begins with the cre­ation of soil and ends with a ful­ly matured habitat.
Aron­son says there are lim­its to what restora­tion can accomplish.
"We are aim­ing to restore the degrad­ed ecosys­tem as far as is pos­si­ble," he says. ​"We are not naïve dream­ers try­ing to set the clock back to 1821, or 1621 or 1491. You can't turn the clock back; the cli­mate is chang­ing and species are going extinct. But we can learn from the past and we can take examples."
The Gond­wana Link in south­west­ern Aus­tralia is one of the EHN's com­plex net­work sites. This 1,000-kilometer piece of land con­tains var­i­ous types of ecosys­tems, includ­ing semi-arid wood­lands, an inland desert and tall forests, and is meant to pro­vide an exam­ple of how eco­log­i­cal restora­tion and preser­va­tion leads to vis­i­ble envi­ron­men­tal progress. Human eco­nom­ic activ­i­ties, such as com­mer­cial agri­cul­ture, led to habi­tat frag­men­ta­tion and degra­da­tion that sev­er­al projects are now try­ing to restore. Con­ser­va­tion groups and local part­ners are replant­i­ng large gaps of bar­ren soil with native shrub­bery, known as inter­me­di­ate species in the pat­tern of eco­log­i­cal suc­ces­sion. These areas are then mon­i­tored for the suc­cess­ful estab­lish­ment of the rein­tro­duced species, in some places for a length of 10 years and run­ning. The Gond­wana Link hopes to even­tu­al­ly estab­lish a cli­max com­mu­ni­ty, the end-goal of eco­log­i­cal suc­ces­sion where plant pop­u­la­tions are matured and able to sup­port a vari­ety of ani­mal life.
This del­i­cate process of recre­at­ing an ecosys­tem demands the cohab­i­ta­tion of nat­ur­al and human sys­tems. With a per­pet­u­al­ly chang­ing cli­mate, ecol­o­gists work­ing on restora­tion projects face the daunt­ing task of deter­min­ing how to assist an ecosys­tem so it can become inde­pen­dent and sta­ble with­out human interference.
The intent of restora­tion is not to recre­ate the area as it appeared before humans degrad­ed it, which would only result in its even­tu­al col­lapse when human activ­i­ties once again dam­aged it. Instead, ecol­o­gists endeav­or to use his­tor­i­cal mod­els to turn the area into a sus­tain­able ver­sion of itself that can sur­vive the effects of humans. The EHN also orga­nizes work­shops and meet­ings to raise the envi­ron­men­tal con­scious­ness in the human com­mu­ni­ties around the net­work sites.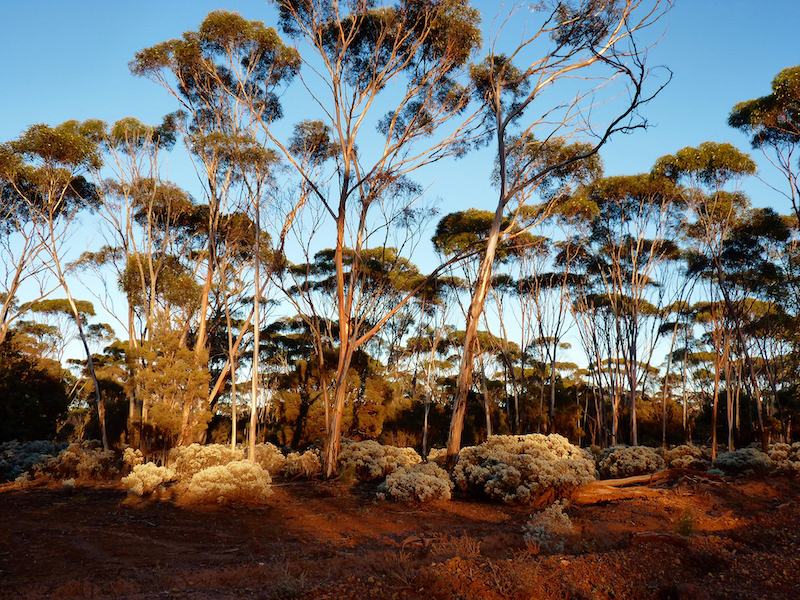 Thanks to eco­log­i­cal restora­tion, this area of the Gond­wana Link in south­west­ern Aus­tralia is on its way to again becom­ing a mature for­est. (Pho­to cour­tesy of the Eco­Health Network)
Healthy Plan­et, Healthy People
The Eco­Health Network's mis­sion extends beyond try­ing to undo the envi­ron­men­tal destruc­tion caused by peo­ple. The group empha­sizes the rela­tion­ship between peo­ple and nature: Harm­ing nature harms humans while heal­ing the envi­ron­ment restores both human and eco­log­i­cal health. Thus, the EHN focus­es on both restor­ing the Earth and build­ing a cul­ture of con­ser­va­tion that pro­motes the preser­va­tion of restora­tive projects.
Madeleine Scam­mell, who teach­es envi­ron­men­tal health at the Boston Uni­ver­si­ty School of Pub­lic Health, spoke in May at the Eco­Health Network's work­shop at the Mis­souri Botan­i­cal Garden.
"More and more peo­ple are rec­og­niz­ing that there are impor­tant social, envi­ron­men­tal, and eco­nom­ic deter­mi­nants of health that are all inter­con­nect­ed," Scam­mell says. ​"It is becom­ing clear­er that with cli­mate change and rapid destruc­tion of our envi­ron­ment, we need to all work togeth­er to restore ecosys­tems so they can with­stand the effects of cli­mate change and sup­port human life."
The EHN is com­mit­ted to edu­cat­ing peo­ple on this con­nec­tion between envi­ron­men­tal and human health in hopes of cre­at­ing a ​"restora­tive cul­ture" where human inter­ests reflect envi­ron­men­tal con­cern. They active­ly encour­age pub­lic health pro­fes­sion­als and ecol­o­gists to work togeth­er to address the com­bined con­cern of human and envi­ron­men­tal health.
EHN's Orlan­do also teach­es envi­ron­men­tal health at the Boston Uni­ver­si­ty School of Pub­lic Health. ​"I think of eco­log­i­cal restora­tion as gen­er­at­ing health," she says. ​"This lack of bio­di­ver­si­ty is a human health con­cern, whether it be bio­di­ver­si­ty in our gut micro­bio­me or our sur­round­ing area. Many of us, as a glob­al cul­ture, are des­per­ate­ly try­ing to address the cli­mate cri­sis and loss of bio­di­ver­si­ty. And one of the things that links all of it is our own health."
Few stud­ies have focused on the effects of eco­log­i­cal restora­tion on human health. In areas that are home to mines or incin­er­a­tors, the pur­pose of restora­tion exceeds the beau­ti­fi­ca­tion of a park. It direct­ly impacts socioe­co­nom­ic inequal­i­ty where poor envi­ron­men­tal con­di­tions and pover­ty have con­tributed to tox­ic atmos­pheres and poor health. Accord­ing to the World Health Orga­ni­za­tion (WHO), 98 per­cent of cities in mid­dle- and low- income coun­tries have pol­lu­tion lev­els that exceed WHO's guide­lines and the orga­ni­za­tion esti­mates that out­door air pol­lu­tion caus­es 4.2 mil­lion pre­ma­ture deaths per year.
For this rea­son, researcher Mar­tin Breed works in pover­ty-strick­en areas where his work with var­i­ous restora­tion projects has tan­gi­ble health results. Breed high­lights the impact of envi­ron­men­tal health on areas of low socioe­co­nom­ic status.
"One of the issues in the world is that there are social equi­ty issues with access and expo­sure to bio­di­ver­si­ty," he says. ​"Most places that are rel­a­tive­ly poor tend to have low­er lev­els of bio­di­ver­si­ty. At the same time, peo­ple in areas that are rel­a­tive­ly poor have poor­er health expectations."
In these regions, eco­log­i­cal restora­tion can tru­ly be a mat­ter of life and death. Breed, who co-leads the Healthy Urban Micro­bio­me Ini­tia­tive (HUMI) and the Fron­tiers of Restora­tion Ecol­o­gy (FORE), works to incor­po­rate both human health and envi­ron­men­tal projects into ini­tia­tives that cre­ate healthy liv­ing con­di­tions for peo­ple in degrad­ed envi­ron­ments. His work with the human micro­bio­me, genomics, and bio­di­ver­si­ty demon­strates how healthy ecosys­tems make healthy people.
HUMI bridges the gap between envi­ron­men­tal health and over­all human well­ness. ​"Its main focus is to look at the role of bio­di­ver­si­ty in cities to under­stand the link between this and human health via the micro­bio­me," says Breed. ​"As peo­ple, we evolved in a place that was real­ly bio­di­verse, and when we live in cities we lose a lot of diversity."
In a time when cli­mate change is a glar­ing con­cern, these solu­tions could pro­vide a course of action for humans to heal the plan­et and them­selves. The EHN plans to achieve this by spread­ing ideas and envi­ron­men­tal con­scious­ness through work­shops and meet­ings, as well as con­nect­ing long-term project sites such as the WLNP and Gond­wana Link. The goal is to cre­ate a vast net­work of expe­ri­ence and resources and, ulti­mate­ly, restore in humans a cul­ture of con­ser­va­tion and restoration.
Breed believes the time to act is now.
"It's a glob­al chal­lenge," he says. ​"There's no coun­try in the world that is immune from these non­com­mu­ni­ca­ble dis­eases, which are symp­to­matic of west­ern, urban­ized lifestyles. This is the right moment to actu­al­ly do some­thing. The time of more research, of com­plete­ly fig­ur­ing out the mech­a­nisms — that's over."
Amaya Mikolič-Berrios
was a
2019
sum­mer vol­un­teer for In These Times. She is a junior in high school in Trum­bull, Connecticut.