Bernie's Army Redeploys to Support Covid-19's Frontline Workers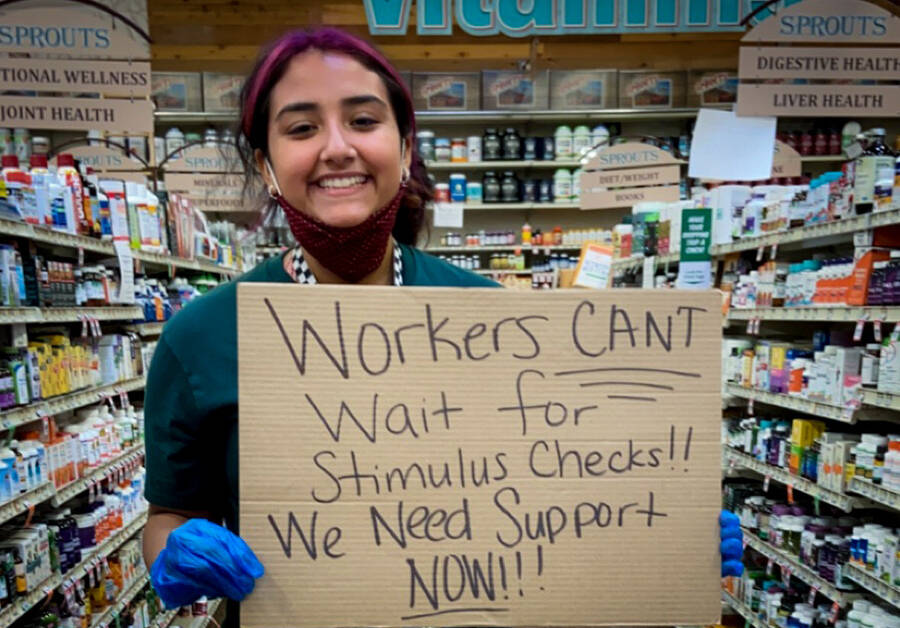 As shop­pers crowd­ed into the McAllen, Texas, branch of Sprouts Farm­ers Mar­ket in mid-March to stock­pile food, store clerk Josh Cano grew alarmed at the lack of safe­ty pre­cau­tions in place.
"
There weren't sneeze guards or masks or gloves," he says. ​
"
There was zero sense of urgency from management."
Cano,
24
, wor­ried about bring­ing the coro­n­avirus home because his moth­er has can­cer and is under­go­ing chemother­a­py. He had heard of an
online form
that activists from the Demo­c­ra­t­ic Social­ists of Amer­i­ca (DSA) and the Unit­ed Elec­tri­cal Work­ers union (UE) were using to help work­ers orga­nize to make their work­places safer as the Covid-
19
pan­dem­ic spread. The two groups — which had
pre­vi­ous­ly worked togeth­er
on the Bernie Sanders cam­paign — were call­ing their joint effort the Emer­gency Work­place Orga­niz­ing Com­mit­tee (EWOC).
The expe­ri­ence many EWOC orga­niz­ers gained from the Sanders move­ment had a direct impact on their work. Offi­cials from the DSA and UE said the group took ideas from the Sanders cam­paign — such as build­ing a large­ly vol­un­teer oper­a­tion to do com­plex orga­niz­ing — and applied them to work­places rather than an elec­tion. Many for­mer Sanders staff mem­bers also vol­un­teered to help work­ers orga­nize. It's one exam­ple of a pos­si­ble path for­ward for the grass­roots move­ment that pow­ered the Sanders cam­paign — a way to chan­nel its insur­gent ener­gy into new bat­tles for social justice.
Cano filled out the form, and Michael Enriquez, for­mer deputy field direc­tor of the Sanders cam­paign in Iowa and a mem­ber of the EWOC plan­ning com­mit­tee, respond­ed to assist the Sprouts work­ers. With guid­ance from Enriquez, who pre­vi­ous­ly ran the Fight for $15 office in Kansas City, Cano and a co-work­er, Michael Mar­tinez, soon got 44 of their store's 50 work­ers to sign a peti­tion demand­ing per­son­al pro­tec­tive equip­ment, a $3 an hour increase for haz­ard pay, 14 days of paid sick leave and an in-store safe­ty com­mit­tee. ​"We start­ed the peti­tion out of fear," Mar­tinez says.
On the after­noon of April 1, six Sprouts work­ers marched on their boss's office with their peti­tion and protest signs say­ing, ​"Health and safe­ty over prof­it," and ​"Make the pay worth the risk."
The work­ers want­ed out­side sup­port, and with Enriquez's help, they got the peti­tion cir­cu­lat­ed through Change​.org. With­in a week it had 7,000 sig­na­tures, includ­ing work­ers from some of Sprouts' 340 oth­er stores. A huge boost came when Sanders him­self tweet­ed his sup­port for the Sprouts workers.
"See­ing that tweet made me and my cowork­ers feel we weren't alone," Cano says. ​"We were kind of scared about man­age­ment. See­ing that tweet, we saw we had a lot of pow­er on our side."
Feel­ing heat from the peti­tion, Sprouts agreed to pro­vide masks, gloves and more san­i­tiz­er and to lim­it the num­ber of cus­tomers inside the McAllen store at any one time. The work­ers hailed it as a vic­to­ry, even though man­age­ment refused to pro­vide haz­ard pay. ​"There's no pow­er like work­ers unit­ed," Mar­tinez says. He adds that Enriquez' exper­tise was ​"instru­men­tal in our success."
Colette Per­old, a DSA activist and mem­ber of the EWOC plan­ning com­mit­tee, explains the project began when some DSA mem­bers start­ed hear­ing from friends wor­ried about the dan­gers at their jobs. ​"They were being forced to do a lot of dan­ger­ous things," she says. So the DSA and the Unit­ed Elec­tri­cal Work­ers decid­ed to reach out to work­ers. ​"The cam­paigns that work­ers are lead­ing in their work­places are life or death fights, and we want to sup­port that self-activ­i­ty and help them win," Per­old says.
Mark Mein­ster, an inter­na­tion­al rep­re­sen­ta­tive with the Unit­ed Elec­tri­cal Work­ers, says his union helped form EWOC because ​"we're see­ing so many work­ers take risks to pro­tect their own lives."
​"Unions have a choice right now," he says. ​"We can either hun­ker down and ride out the storm, or we can get on the side of the work­ers in strug­gle, many of whom are nonunion work­ers. If we can help work­ers wage a broad, mil­i­tant fight back, we can hope­ful­ly set the stage and make some changes in soci­ety for the com­mon good."
Since launch­ing in ear­ly March, EWOC's orga­niz­ers have helped sev­er­al hun­dred work­ers fight for improved safe­ty at ware­hous­es, fast-food restau­rants, hos­pi­tals, bot­tling plants, super­mar­kets and child-care cen­ters across America.
Dani Shus­ter, a cashier and cus­tomer ser­vice work­er at a Mom's Organ­ic Mar­ket in Philadel­phia, says she is thank­ful for the advice the work­ers at her store received from EWOC. For two weeks in ear­ly March, pan­icked shop­pers flood­ed the gro­cery. (One day, Shus­ter says, actress Kate Winslet entered the store wear­ing gloves and filled up four shop­ping carts.) Many work­ers were putting in 10- or 12-hour days to meet the surg­ing demand.
"A lot of work­ers expressed fear, anx­i­ety, feel­ings of being over­whelmed, and we were hear­ing noth­ing from the cor­po­rate lead­er­ship," Shus­ter, 29, says. Work­ers com­plained that Mom's — a chain with 19 stores in four states and Wash­ing­ton, D.C. — was not pro­vid­ing masks and that there wasn't enough hand san­i­tiz­er through­out the store.
"We just seemed to be aban­doned by the peo­ple in pow­er," Shus­ter says. ​"We start­ed to con­clude we need­ed to do some­thing." Although she had no pri­or expe­ri­ence in work­place orga­niz­ing, she was inspired by the mes­sage of the Sanders cam­paign. ​"The real­iza­tion that our col­lec­tive pow­er can chal­lenge cor­po­rate greed and we can win helped make the pos­si­bil­i­ty of orga­niz­ing in my own work­place a reality."
After sur­vey­ing their cowork­ers, Shus­ter and sev­er­al col­leagues plunged into draft­ing a list of demands and a peti­tion. At that point, Shus­ter, rec­og­niz­ing she could use some orga­niz­ing advice, reached out to EWOC, which she had heard about through an acquain­tance in DSA.
Shus­ter says that EWOC felt like a ​"nat­ur­al" out­growth of the Sanders cam­paign. ​"In my own expe­ri­ence and obser­va­tions, the Sanders cam­paign helped reignite work­er orga­niz­ing in this coun­try," she says.
Dan advised her on how to get cowork­ers to sign a peti­tion; its demands includ­ed haz­ard pay of time and a half, a mid­day break for san­i­tiz­ing, and lim­it­ing the num­ber of cus­tomers in the store to 20 at a time. ​"Dan helped me feel con­fi­dent in hav­ing direct con­ver­sa­tions with work­ers and real­ly pos­ing the ques­tion, ​'Are you will­ing to sign this peti­tion to pro­tect your own life and the lives all around you?'" Shus­ter says.
Nine­teen of the store's rough­ly 33 work­ers signed, and Shus­ter pre­sent­ed the peti­tion to store man­age­ment with six cowork­ers on April 6. They then held a protest out­side the store as a car­a­van of sup­port­ers drove around honk­ing. (Many sup­port­ers came from a com­mu­ni­ty group, One Penn­syl­va­nia.) Man­age­ment did not respond imme­di­ate­ly, although the gro­cery says it stepped up clean­ing pro­ce­dures and installed pro­tec­tive plex­i­glass at the registers.
In the days after the protest, the work­ers grew increas­ing­ly impa­tient, and pres­sure on Mom's grew. The Penn­syl­va­nia Attor­ney Gen­er­al's office even got involved, hold­ing meet­ings with orga­niz­ers and, Shus­ter says, con­tact­ing the CEO of Mom's. Mom's ulti­mate­ly pro­vid­ed masks and more san­i­tiz­er and agreed to set cus­tomer lim­its in sec­tions of the store. It also said it would insti­tute a spe­cial shop­ping hour for seniors and vul­ner­a­ble pop­u­la­tions — some­thing the Mom's work­ers had demand­ed. Man­age­ment also agreed to a retroac­tive bonus, though it dis­ap­point­ed the work­ers by refus­ing to grant reg­u­lar haz­ard pay.
"We saw what hap­pens when you speak out indi­vid­u­al­ly — not much," Shus­ter says. ​"We demon­strat­ed that when work­ers come togeth­er, they can accom­plish a lot."
Asked about form­ing a union, Michael Mar­tinez of Sprouts says, ​"A labor union, that's not what we're going for. We're try­ing to show that the work­ers have strength in num­bers and that we won't accept the bare minimum."
The UE's Mein­ster acknowl­edges that what EWOC is doing is not typ­i­cal union orga­niz­ing. ​"These are imme­di­ate fights around imme­di­ate demands," he says. ​"The kind of tasks con­fronting the labor move­ment is to pro­vide sup­port and lead­er­ship to those work­ers and help devel­op the work­place lead­ers we'll need in com­ing years."