The "Outside Agitator" Is a Myth Used to Weaken Protest Movements
Whenever mass protests of any kind kick off, defenders of the status quo immediately accuse protesters as being duped by "outside agitators." Don't fall for it.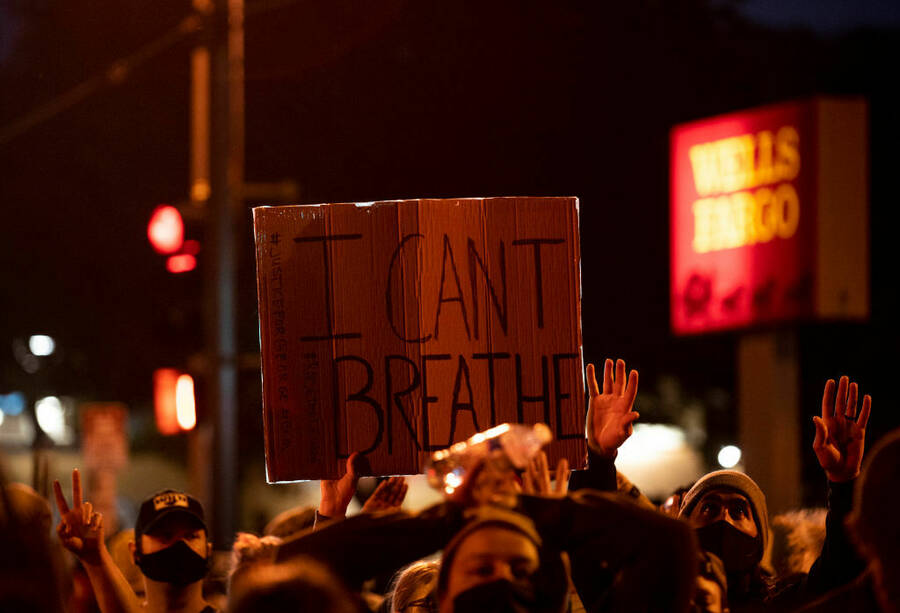 This piece was first pub­lished at Jacobin.
Richard Seymour wrote in 2014, "the 'outside agitator' line reeks of good old boy vigilantism, the commingling of race-baiting and red-baiting that was typical of Southern counterrevolution in the dying days of Jim Crow."
Over the last few days, we've seen a nation­al upris­ing against racism and police bru­tal­i­ty. In response, the first instinct of the defend­ers of the sta­tus quo was to unite behind an old talk­ing point: the upris­ing was car­ried out by ​"out­side agi­ta­tors" from beyond the com­mu­ni­ties where the protests took place. It's a trope that should be imme­di­ate­ly rec­og­nized as both false and designed to down­play and write off the wide­spread anger that led to these rebellions.
Pres­i­dent Don­ald Trump, Min­neso­ta gov­er­nor Tim Walz, and Min­neapo­lis may­or Jacob Frey have all blamed out-of-state agi­ta­tors for the ​"riots." Main­stream media soon echoed this nar­ra­tive. NBC and the Hill were among the out­lets report­ing St. Paul may­or Melvin Carter say­ing, ​"Every sin­gle per­son we arrest­ed last night, I'm told, was from out of state."
As it turns out, an inves­ti­ga­tion by KARE 11, an NBC-affil­i­at­ed tele­vi­sion sta­tion in Min­neapo­lis, states that ​"local jail records show the vast major­i­ty of those arrest­ed for riot­ing, unlaw­ful assem­bly, and bur­glary are Min­nesotans." The data, tak­en from the Hen­nepin Coun­ty Jail ros­ter, shows that ​"of thir­ty-six cas­es, about 86 per­cent of those arrest­ed [from May 29 to May 30] list­ed Min­neso­ta as their address" — four times more than the 20 per­cent Gov. Walz esti­mat­ed at a press con­fer­ence on Sat­ur­day morn­ing. May­or Carter sub­se­quent­ly retract­ed the incor­rect state­ment, blam­ing inac­cu­rate infor­ma­tion dur­ing a police briefing.
Why does this mat­ter? The ​"out­side agi­ta­tor" trope is today often accom­pa­nied by a tirade against ​"white anar­chists" or ​"Antifa" car­ry­ing out the rebel­lion — while peo­ple of col­or don't. This is an attempt to iso­late and weak­en pro­test­ers from each oth­er, to make the ​"good" pro­test­ers dis­trust­ful and para­noid about ​"infil­tra­tion" by white rad­i­cals. (Rad­i­cals of col­or, mean­while, are nowhere to be found.) Fos­ter­ing dis­trust among devel­op­ing coali­tions is a quick and easy way to ensure their swift demise.
These accu­sa­tions have long popped up in response to civ­il rights strug­gles. In 1965, the White Cit­i­zens' Coun­cil post­ed over two hun­dred bill­boards through­out the South attempt­ing to dis­cred­it Mar­tin Luther King Jr by asso­ci­at­ing him with com­mu­nism. One, which shows a pho­to of King attend­ing a 1957 event at the High­lander Folk School, a key train­ing site for many civ­il rights activists, is titled ​"Mar­tin Luther King at Com­mu­nist Train­ing School." On the bill­board, a giant, car­toon­ish arrow points direct­ly to King.
Red-bait­ing accom­pa­nied King wher­ev­er he went in the South. In 1965, just before the bru­tal police crack­down of civ­il rights demon­stra­tors in Sel­ma, Alaba­ma, Dal­las Coun­ty sher­iff Jim Clark implied King was an out­sider agi­ta­tor and esti­mat­ed the march was ​"pos­si­bly made up of one-fourth com­mu­nists and one-half pro-communists."
For Clark and scores of white racists through­out the South, the pater­nal­is­tic idea was that ​"our Negroes" would nev­er engage in such protests, as they were large­ly con­tent but were being stirred up by out­side trou­ble­mak­ers. Acknowl­edg­ing that enor­mous num­bers of local African Amer­i­cans were deeply angry at the sta­tus quo and ready to revolt would have meant acknowl­edg­ing that the sta­tus quo was rotten.
Richard Sey­mour wrote in 2014, in response to the term being employed by both lib­er­als and reac­tionar­ies dur­ing the Fer­gu­son upris­ing, ​"The ​'out­side agi­ta­tor' line reeks of good old boy vig­i­lan­tism, the com­min­gling of race-bait­ing and red-bait­ing that was typ­i­cal of South­ern coun­ter­rev­o­lu­tion in the dying days of Jim Crow."
Seg­re­ga­tion­ists sought to pre­serve Jim Crow law by brand­ing black rad­i­cals as com­mu­nists, con­demn­ing black activists to destruc­tive inves­ti­ga­tions from the House Un-Amer­i­can Activ­i­ties Com­mit­tee (HUAC) and else­where. As Paul Hei­de­man states, ​"The anti­com­mu­nist purges of the late 1940s and ear­ly 1950s dealt a ham­mer blow to the move­ment for racial equal­i­ty." A reac­tionary cru­sade against com­mu­nists, aid­ed and abet­ted by lib­er­al Democ­rats and premised in many ways in the myth of the out­side agi­ta­tor rad­i­cal being respon­si­ble for civ­il rights unrest, suc­cess­ful­ly demol­ished an emerg­ing coali­tion between left-led work­ers' unions and civ­il rights activists.
In 2020, the phrase, and these tac­tics, have once again reared their ugly head. The myth of ​"out­side agi­ta­tors" is being simul­ta­ne­ous­ly weaponized by con­ser­v­a­tives and lib­er­als to demean and intim­i­date pro­test­ers. We shouldn't let them — it's an accu­sa­tion designed to down­play the wide­spread anger so many are feel­ing and act­ing on in this country.
King warned us, ​"We must all learn to live togeth­er as broth­ers or we will all per­ish togeth­er as fools."
Don't fall for defend­ers of the sta­tus quo con­tin­u­ing to blame ​"out­side agi­ta­tors" for the rebel­lions sweep­ing the coun­try right now — they want us to per­ish togeth­er as fools.
In These Times is proud to fea­ture con­tent from Jacobin, a print quar­ter­ly that offers social­ist per­spec­tives on pol­i­tics and eco­nom­ics. Sup­port Jacobin and buy a sub­scrip­tion for just $29.95.