Estab­lish­ment politi­cians and strate­gists in the Demo­c­ra­t­ic Par­ty have long fix­at­ed on the neces­si­ty of win­ning the swing vote. And there's one prin­ci­pal way they believe such swing vot­ers can be won over: by mov­ing rightward.
Offer something exciting to vote for, like a progressive platform, and they will show up.
These Dems would love noth­ing more, they assure us, than to put for­ward a bold, pro­gres­sive agen­da — but, they explain, ​"elec­tabil­i­ty" requires we lis­ten to a small but mighty group of swing vot­ers who make up the mar­gin of vic­to­ry, and who will run into the GOP's arms if spooked by poli­cies they con­sid­er too rad­i­cal. So don't scare them: Split the dif­fer­ence between what you real­ly believe and what­ev­er bar­bar­i­ties Repub­li­cans are advo­cat­ing, and keep your pol­i­cy pro­pos­als safe and centrist.
But this log­ic has been proven spec­tac­u­lar­ly wrong, as recent­ly as 2016.
The cen­trist argu­ment for Hillary Clin­ton in 2016 was that, while she may have been com­pro­mised by her polit­i­cal his­to­ry of pro-cor­po­rate and pro-war poli­cies, her polit­i­cal ​"mod­er­a­tion" would endear her to swing vot­ers who would spare us a Pres­i­dent Don­ald Trump.
Demo­c­ra­t­ic Sen. Chuck Schumer (N.Y.) fore­saw the pos­si­bil­i­ty of a depressed vot­er base as a result of a right­ward par­ty shift, but pre­dict­ed it wouldn't mat­ter. ​"For every blue-col­lar Demo­c­rat we lose in west­ern Penn­syl­va­nia, we will pick up two mod­er­ate Repub­li­cans in the sub­urbs in Philadel­phia," he claimed. But the results didn't work that way.
In Milwaukee's poor­est neigh­bor­hoods, for exam­ple — most of which are major­i­ty black, a demo­graph­ic Democ­rats take for grant­ed — turnout between 2012 and 2016 dropped sig­nif­i­cant­ly more than the rest of Wis­con­sin, help­ing deliv­er the state to Trump by only 23,000 votes. In Michi­gan, 87,810 peo­ple vot­ed with­out choos­ing any­one for pres­i­dent — twice as many as 2012 — and Trump won the state by less than 11,000 votes.
The 2016 result does seem to have changed the con­sen­sus on swing vot­ers among some main­stream polit­i­cal ana­lysts. Rachel Bite­cofer, for exam­ple, a polit­i­cal sci­en­tist and fel­low at the cen­trist think tank Niska­nen Cen­ter, tells Politi­co that she is in favor of ​"flip­ping giant par­a­digms of elec­toral the­o­ry upside down" by ignor­ing swing voters.
For one thing, there aren't that many of them. Con­ven­tion­al wis­dom puts the num­ber of swing vot­ers around 15 – 20% of the elec­torate, but Bite­cofer argues it's more like 6 – 7%. The actu­al swing vot­ers to pay atten­tion to, she says, are not those swing­ing between par­ties, but those swing­ing between vot­ing or stay­ing home.
The typ­i­cal Left argu­ment, instead, is to sim­ply focus on acti­vat­ing the Demo­c­ra­t­ic base. Offer some­thing excit­ing to vote for, like a pro­gres­sive plat­form, and they will show up. Those vot­ers in Mil­wau­kee and Michi­gan, and oth­er deject­ed vot­ers around the coun­try, might have vot­ed for a Demo­c­rat with a more inspir­ing plat­form. By run­ning a prin­ci­pled cam­paign on poli­cies that actu­al­ly ben­e­fit the work­ing class — rather than kow­tow­ing to the cen­ter — we can excite the base while still win­ning over mod­er­ates and even con­ser­v­a­tives. It's a key insight of the Sanders 2020 cam­paign. Sanders has not cam­paigned to be all things to all swing vot­ers. Instead, he has called for a ​"polit­i­cal rev­o­lu­tion" to liq­ui­date the pri­vate health insur­ance indus­try and end the crush­ing bur­den of stu­dent loan debt for mil­lions. And he has insist­ed that work­ers them­selves be the ones to win that rev­o­lu­tion, summed up pith­ily in his cam­paign slo­gan, ​"Not me, us." That strat­e­gy is far from guar­an­teed to win and has not been uni­form­ly suc­cess­ful, but the signs are promis­ing. Sanders became the first can­di­date to ever win the pop­u­lar vote in all three ear­ly vot­ing states, Iowa, New Hamp­shire and Neva­da. And he has the high­est favor­a­bil­i­ty rat­ing of any Demo­c­ra­t­ic pri­ma­ry candidate.
In Neva­da, accord­ing to entrance polls, Sanders won 50% of Lati­nos, a plu­ral­i­ty of whites, a strong 28% of black vot­ers, a major­i­ty of Inde­pen­dents, a major­i­ty or plu­ral­i­ty of all age cat­e­gories between 17 – 64, and, incred­i­bly, a 23% plu­ral­i­ty of self-iden­ti­fied mod­er­ate or con­ser­v­a­tive vot­ers. Com­bined with poll data from around the coun­try, the results indi­cate Sanders is assem­bling a broad and poten­tial­ly win­ning coali­tion, all with­out play­ing to the center.
The swing-vot­er strat­e­gy that mar­gin­al­izes pro­gres­sive pol­i­cy is a strate­gic dead end (to say noth­ing of being moral­ly bank­rupt) and should be aban­doned. But that doesn't mean we can't win over vot­ers beyond ​"the base." The Left rep­re­sents a pol­i­tics that ben­e­fits the major­i­ty, not the few— and if we run on that, we can win that majority.
For a response to this piece, see Dan Cohen's arti­cle, ​"The 7% Matter."
Views expressed are the author's. As a 501©3 non­prof­it, In These Times does not sup­port or oppose any can­di­date for pub­lic office.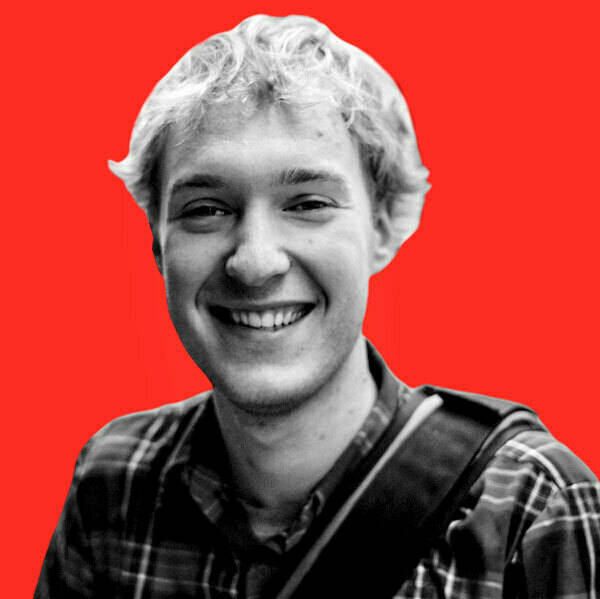 Mic­ah Uet­richt is the deputy edi­tor of Jacobin mag­a­zine and host of its pod­cast The Vast Major­i­ty. He is a con­tribut­ing edi­tor and for­mer asso­ciate edi­tor at In These Times. He is the author of Strike for Amer­i­ca: Chica­go Teach­ers Against Aus­ter­i­ty (Ver­so 2014), coau­thor of Big­ger Than Bernie: How We Go From the Sanders Cam­paign to Demo­c­ra­t­ic Social­ism (Ver­so 2020), and is cur­rent­ly at work on a book on New Left­ists who ​"indus­tri­al­ized." He pre­vi­ous­ly worked as a labor orga­niz­er. Fol­low him on Twit­ter at @micahuetricht.