Removing the Stain of Wounded Knee:  Members of Congress Move to Rescind Medals of Honor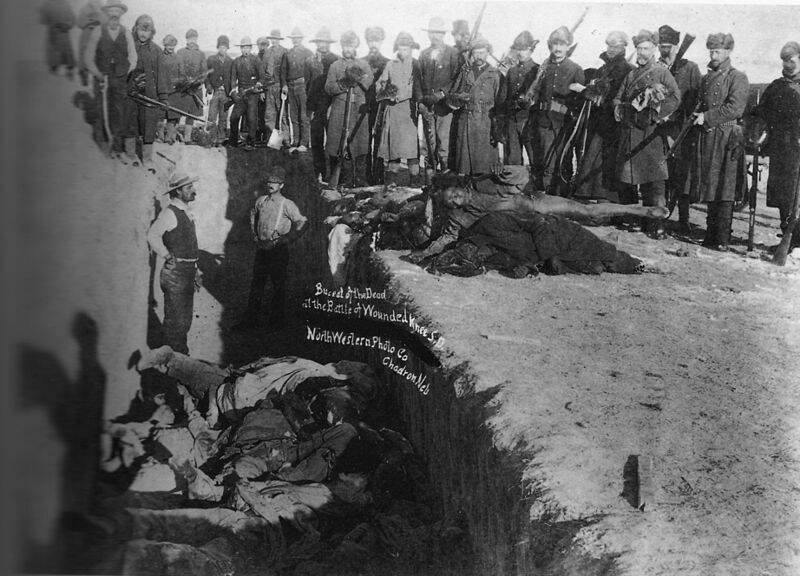 Bod­ies frozen in the snow, a baby with five bul­let wounds, small chil­dren shot at such close range their clothes and bod­ies were singed with gun­pow­der. Army gen­er­al Nel­son Miles was shocked by what he found at Wound­ed Knee. He arrived sev­er­al days after the car­nage, which occurred Decem­ber 29, 1890. A bat­tle-hard­ened Civ­il War vet­er­an, he was appalled by what he called in a let­ter to his wife, ​"the most abom­inable crim­i­nal mil­i­tary blun­der and a hor­ri­ble mas­sacre of women and children."
Over Miles' objec­tions, 20 Con­gres­sion­al Medals of Hon­or were soon award­ed to U.S. Army sol­diers involved. When more medals were sug­gest­ed lat­er in 1891, Miles called them ​"an insult to the mem­o­ry of the dead."
Five U.S. Rep­re­sen­ta­tives are co-spon­sor­ing a bipar­ti­san bill called the Remove the Stain Act, which seeks to rescind the Wound­ed Knee awards.
Speak­ing at a June 25 Wash­ing­ton, D.C., press con­fer­ence were two-time Pur­ple Heart recip­i­ent and retired Marine colonel Paul Cook (R‑Calif.), Deb Haa­land (D‑N.M.), and Den­ny Heck (D‑Wash.). Both Haa­land and Cook are mem­bers of the House Armed Ser­vices Com­mit­tee, to which the bill was referred after being sub­mit­ted to the House.
The bill, H.R. 3467, needs to get through the com­mit­tee and pass both the House and the Sen­ate in order to be sent to the President's desk for his sig­na­ture. Accord­ing to Oliv­er ​"OJ" Semans, a mem­ber of the Rose­bud Sioux and the co-exec­u­tive direc­tor of the vot­ing-rights group Four Direc­tions, efforts are now under­way to increase the num­ber of House co-spon­sors and to craft a com­pan­ion Sen­ate bill.
That Decem­ber day in 1890, a unit of the Sev­enth Cav­al­ry had accept­ed the sur­ren­der of a group of Mini­con­jou Lako­ta. Accord­ing to his­to­ri­an Jer­ry Green in a paper for the Nebras­ka State His­tor­i­cal Soci­ety, the sol­diers dis­armed the Lako­ta and butchered them. Green reports one offi­cer present describ­ing the sol­diers as ​"great­ly excit­ed," shoot­ing the Lako­ta wild­ly with­out aim­ing their guns. ​"War­riors, squaws, chil­dren, ponies, and dogs…went down before that unaimed fire," accord­ing to one offi­cer. As many as 375 died, about 200 of them women and chil­dren, accord­ing to lat­er Con­gres­sion­al documents.
The sol­diers also killed or wound­ed dozens of their own com­rades posi­tioned across the sur­round­ing cir­cle. ​"It was impos­si­ble not to," accord­ing to an Army med­ical offi­cer present, says Green's research.
Lat­er that night, a sur­geon who had served in the Civ­il War tend­ed to Lako­ta sur­vivors. He began to look faint, accord­ing to a Nebras­ka jour­nal­ist who was among those who had arrived to report on the inci­dent. ​"This is the first time I've seen a lot of women and chil­dren shot to pieces. I can't stand it," the jour­nal­ist report­ed the sur­geon saying.
At the Wash­ing­ton, D.C., press con­fer­ence, Rep. Haa­land said intro­duc­tion of the bill ​"shows that our coun­try is final­ly on its way to acknowl­edg­ing and rec­og­niz­ing the atroc­i­ties com­mit­ted against our Native com­mu­ni­ties." One of the first Native Amer­i­can women to serve in Con­gress, Haa­land, who is a mem­ber of Lagu­na Pueblo, laud­ed the con­tin­ued strength of Native peo­ple, despite the many out­rages against them, includ­ing Wound­ed Knee.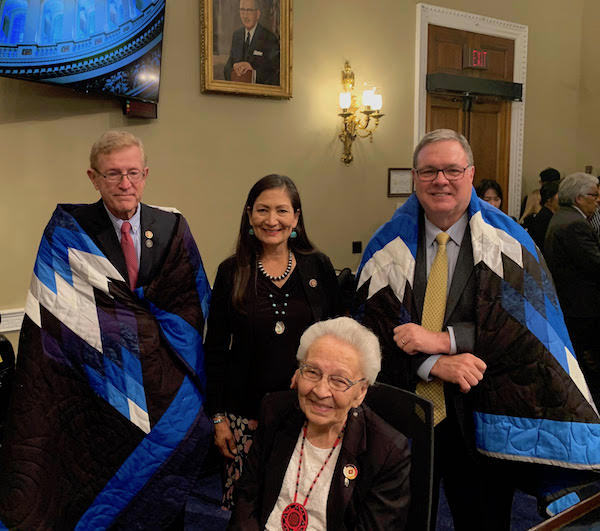 From left, stand­ing, U.S. Rep­re­sen­ta­tives Paul Cook (R‑Calif.), Deb Haa­land (D‑N.M.), and Den­ny Heck (D‑Wash.) with, seat­ed, WWII Army vet­er­an Mar­cel­la LeBeau, of the Cheyenne Riv­er Sioux Reser­va­tion. They are in the Long­worth Cap­i­tal Build­ing, in Wash­ing­ton, D.C., to speak about the Remove the Stain Act, a bill to rescind Con­gres­sion­al Medals of Hon­or award­ed for the Wound­ed Knee mas­sacre. (Pho­to by OJ Semans.)
Rep. Cook con­demned not only the mas­sacre but ​"the con­tin­u­a­tion of a lie that is asso­ci­at­ed with the high­est award we have for val­or." With the Act, he said, ​"We are […] cor­rect­ing some­thing that was trag­ic in all ways [includ­ing] award­ing those par­tic­u­lar medals."
Rep. Heck called the bill a step toward heal­ing. He not­ed that his con­gres­sion­al dis­trict once had the high­est num­ber of liv­ing Con­gres­sion­al Medal of Hon­or recip­i­ents of any dis­trict in the nation.
"We have dis­tin­guished peo­ple here to help our ances­tors," said Man­ny Iron Hawk at the press con­fer­ence. A descen­dant of a mas­sacre sur­vivor, he is from the Cheyenne Riv­er Sioux Reser­va­tion. ​"Today we give our ances­tors voice," said Marlis Afraid of Hawk, also a descen­dant of a Wound­ed Knee sur­vivor. ​"It's time to heal."
This ​"dark­est day" is not rec­og­nized or taught in our schools, said descen­dant Phyl­lis Hol­low Horn, born and raised in Wound­ed Knee, on the Pine Ridge Indi­an Reser­va­tion. She saw a con­nec­tion between the press conference's date — June 25, the anniver­sary of the Bat­tle of the Lit­tle Big Horn — and the sol­diers' uncon­trolled fury at Wound­ed Knee. She said they sought revenge for the Lako­ta and their allies defeat­ing the Sev­enth Cav­al­ry at the Bat­tle of the Lit­tle Big Horn just 14 years before.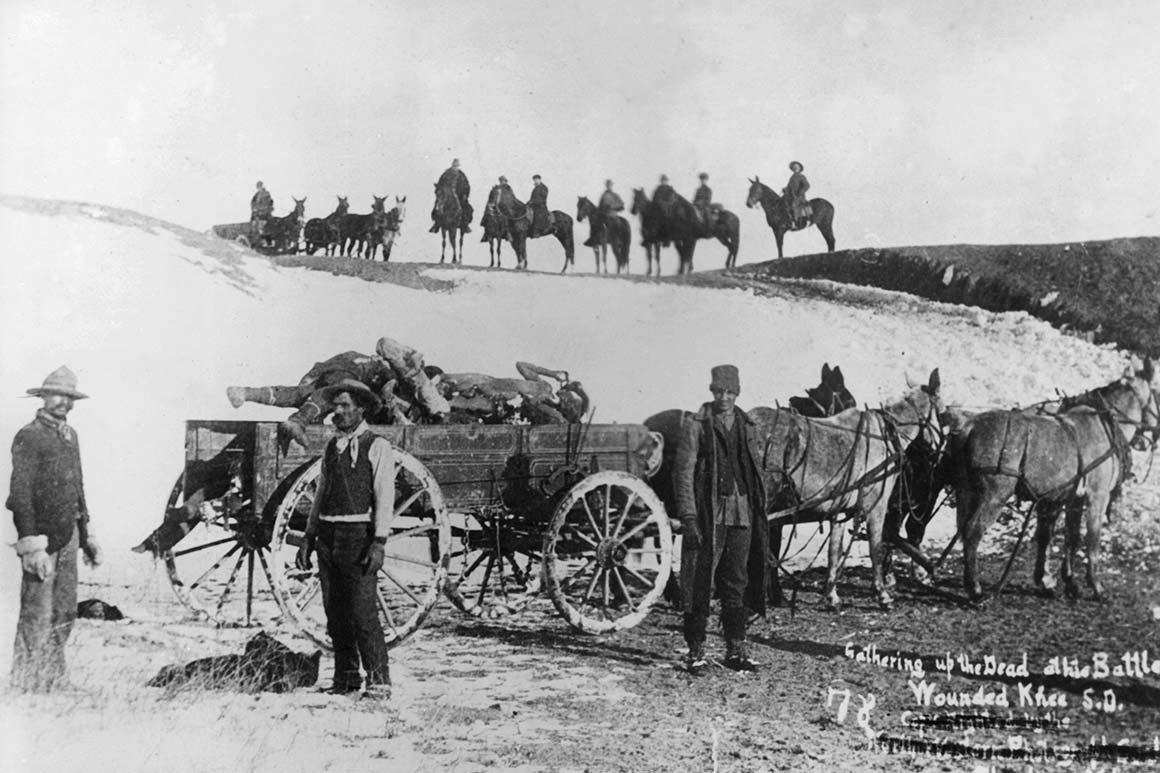 In ear­ly Jan­u­ary, mem­bers of the 7th Cav­al­ry gath­er up the frozen bod­ies of the Native peo­ple they mas­sa­cred at Wound­ed Knee on Dec. 29, 1890.
The descen­dants spoke of the endur­ing pain of the killings and its con­tin­ued pres­ence in their com­mu­ni­ties. Nowa­days, Native women expe­ri­ence extreme rates of vio­lence, includ­ing mur­der. Mean­while, Native chil­dren have long been a focus of fed­er­al poli­cies of forced assim­i­la­tion and geno­cide. To begin with, they were among mas­sacre vic­tims — at Wound­ed Knee, at Sand Creek, in Col­orado, on the Marias Riv­er, in Mon­tana, on the Bear Riv­er, in Ida­ho, and in oth­er places. Start­ing in the late 1800s, they were sent to noto­ri­ous­ly abu­sive board­ing schools estab­lished to erad­i­cate Native cul­ture. Today, many states take Native chil­dren into fos­ter care or adop­tion in num­bers that are dis­portion­ate­ly high­er than their per­cent­age of the population.
"As a grand­moth­er and great-grand­moth­er, I'm sup­port­ing this bill for the chil­dren — to ensure that no one hurts our chil­dren again," said Hol­low Horn.
The press con­fer­ence cel­e­brat­ed World War II vet­er­an Mar­cel­la LeBeau of the Cheyenne Riv­er Sioux Tribe, in South Dako­ta. She has long advo­cat­ed for rescind­ing the Wound­ed Knee medals. Dec­o­rat­ed for sav­ing lives rather than tak­ing them, LeBeau, now 99, received France's high­est award, the Legion of Hon­or, as well as U.S. and Bel­gian awards, for her work dur­ing the war. A U.S. Army lieu­tenant and sur­gi­cal nurse, she cared for those injured on D‑Day and was often near the front lines. At the Bat­tle of the Bulge, she could see ene­my planes over­head, hear guns fir­ing, and feel bombs shake the ground as she tend­ed the wounded.
LeBeau is among the many Native Amer­i­cans who have served in the mil­i­tary. They are the pop­u­la­tion group with the nation's high­est enlist­ment rate, accord­ing to the Depart­ment of Defense. In a Library of Con­gress inter­view, LeBeau called her World War II ser­vice ​"one of the great­est hon­ors and priv­i­leges of my life." Of the sol­diers she served with, and saw both live and die, she said, ​"They were hon­or­able men, pro­tect­ing our coun­try" — mak­ing clear the vast gulf between them and the sol­diers at Wound­ed Knee.
OJ Semans, a Navy vet­er­an as well as co-exec­u­tive direc­tor with his wife, Barb Semans, of the vot­ing-rights group Four Direc­tions, was instru­men­tal in mar­shalling sup­port for the Remove the Stain Act from the three Con­gres­sion­al co-spon­sors. He says that Native Amer­i­cans' recent­ly improved bal­lot-box access, espe­cial­ly in states crit­i­cal to the out­come of the 2020 elec­tion, means pub­lic offi­cials will now lis­ten to their con­cerns. (For more, see In These Times here, here, here and here.)
Though not one of the three House mem­bers now co-spon­sor­ing the Act, U.S. Rep­re­sen­ta­tive Dusty John­son (R‑S.D.) sent In These Times a writ­ten state­ment. ​"Medal of Hon­or recip­i­ents of today are held to a tremen­dous­ly high­er stan­dard," wrote John­son, in whose con­gres­sion­al dis­trict the mas­sacre occurred. ​"It's painful­ly clear from our his­to­ry [that] the U.S. didn't have these same stan­dards in 1890."
Recip­i­ents of the Con­gres­sion­al Medal of Hon­or receive their award from the Pres­i­dent, who presents it on behalf of Con­gress. With that in mind, Semans has writ­ten to the Pres­i­dent about the Act, urg­ing him to "[r]estore hon­or to the Medal of Hon­or itself, to the brave sol­diers who have earned that Medal in real wars, against real ene­mies." At press time, In These Times had not received a response to a request for a com­ment from the Pres­i­dent, who has used a ref­er­ence to Wound­ed Knee as a slur on Twit­ter.
The Con­gres­sion­al Medal of Hon­or Soci­ety says it rep­re­sents recip­i­ents. Pres­i­dent Dwight D. Eisen­how­er estab­lished the non­prof­it soci­ety in 1958 ​"to pro­tect, uphold and pre­serve the dig­ni­ty and hon­or of the medal at all times and on all occa­sions." Hon­or Soci­ety spokesper­son Lau­ra Jowdy said she could not com­ment on the Remove the Stain Act. She cit­ed pro­hi­bi­tions against soci­ety involve­ment in leg­isla­tive affairs.
The medal, though excep­tion­al­ly pres­ti­gious nowa­days, has a check­ered his­to­ry. Dur­ing 1916 and 1917, Gen­er­al Miles head­ed a Con­gres­sion­al inquiry into cri­te­ria for bestow­ing it. He found it could be doled out hap­haz­ard­ly. Cler­i­cal errors spawned medals. Miles's inquiry revoked 864 medals that had gone to Civ­il War sol­diers not for brav­ery, but to encour­age reenlistment.
In his research for the Nebras­ka State His­tor­i­cal Soci­ety, Green found that some of the sol­diers award­ed the Medal of Hon­or for actions at Wound­ed Knee may have faked or exag­ger­at­ed wounds in the process of qual­i­fy­ing for the award. At least one oth­er recip­i­ent was endorsed by a group of friends. Some medals appeared friv­o­lous, includ­ing one for ​"con­spic­u­ous brav­ery" in round­ing up a run­away pack mule. A com­pa­ny musi­cian who got a medal had been court-mar­tialed eight times. The doc­u­men­ta­tion for oth­er medals backs up Miles's assess­ment of the day's hor­rors: One medal was for lead­ing 20 men into a ravine, where women and chil­dren were lat­er found dead or wound­ed, and anoth­er was for using a how­itzer to lob explo­sives onto women and chil­dren in a ravine.
In 1990, Rep. Tim John­son (D‑S.D.), now retired (not relat­ed to Dusty John­son), authored an offi­cial Con­gres­sion­al expres­sion of ​"deep regret" for the mas­sacre. The res­o­lu­tion called for a new begin­ning, includ­ing sup­port for Amer­i­can Indi­an self-deter­mi­na­tion and ​"a recog­ni­tion of the valu­able con­tri­bu­tion of Indi­an cul­tures, tra­di­tions, and val­ues to the his­to­ry and fab­ric of Amer­i­can society."
Despite efforts like Tim Johnson's, the view of indige­nous peo­ple that engen­dered the hor­rors of Wound­ed Knee per­sists in some areas. In 1890, a South Dako­ta news­pa­per edi­to­r­i­al came out for ​"total anni­hi­la­tion" of Native Amer­i­cans. Dur­ing most of 2016, the world watched aghast as North Dako­ta respond­ed vio­lent­ly to demon­stra­tions against an oil pipeline being built across the Stand­ing Rock Sioux Reservation's water sup­ply. Heav­i­ly armed police offi­cers and oil-com­pa­ny pri­vate secu­ri­ty agents attacked unarmed civil­ians — women as well as men, elders as well as younger adults — with dogs, rub­ber bul­lets, mace, tear gas, batons, and water can­nons deployed in sub-freez­ing temperatures.
​Accord­ing to Semans, ​"In this time of duly height­ened sen­si­tiv­i­ty to vio­lence against women and chil­dren, in a polit­i­cal era where nation­al lead­ers appear to be will­ing to bring front and cen­ter dis­cus­sion of the his­to­ry and cur­rent issues of America's indige­nous people…the time is right to return to Wound­ed Knee.
"The time is right to hear the cries of my ances­tors from that frozen and blood­ied landscape."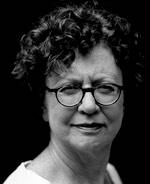 Stephanie Woodard
is an award-win­ning jour­nal­ist who has writ­ten inves­tiga­tive arti­cles for
In These Times
. Her new book is
Amer­i­can Apartheid: The Native Amer­i­can Strug­gle for Self-Deter­mi­na­tion and Inclu­sion
.