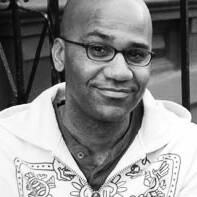 Kai Wright is edi­to­r­i­al direc­tor of Col​or​lines​.com and an Alfred Kno­bler Fel­low of The Nation Insti­tute. His inves­tiga­tive report­ing and news analy­sis appears reg­u­lar­ly in The Nation, The Root and The Amer­i­can Prospect, among oth­er pub­li­ca­tions, and he is a reg­u­lar com­men­ta­tor on Nation­al Pub­lic Radio and in oth­er broad­cast media. His work explores the pol­i­tics of sex, race and health. He has close­ly cov­ered the fore­clo­sure cri­sis and the ensu­ing eco­nom­ic collapse.
Kai is author, most recently, of Drifting Toward Love: Black, Brown, Gay and Coming of Age on the Streets of New York. He is also the author of two books of African-American history: The African American Experience: Black History and Culture Through Speeches, Letters, Editorials, Poems, Songs, and Stories, and Soldiers of Freedom: An Illustrated History of African Americans in the Armed Forces, which explores America's struggle with race as it has been dramatized by the need to staff a viable military.
You can follow Kai on Twitter at @kai_wright, or look for him in his Bed-Stuy, Brooklyn neighborhood. For more information, check out KaiWright.com.
The Ability to Kill Osama Bin Laden Does Not Make America Great