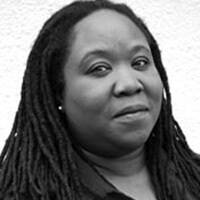 Tammy Johnson, director of strategic partnerships at the Applied Research Center (ARC), has many years experience as a community organizer, trainer and writer versed in race and public policy. She cut her activist teeth as president of the Black Student Union at the University of Wisconsin-Milwaukee and as president of the Wisconsin Statewide Student Association. She is a former board member of the National Organizer Alliance.
Johnson has authored and edited several reports on race and equity issues, including four editions of the California Report Card on Racial Equity, and Race, Education and No Child Left Behind: A Guide for Journalists. She has become a widely recognized for her knowledge of racially equitable public policy practices, and has appeared in various broadcast, online and print media outlets on the subject. Johnson has written for and been featured in a number of publications, radio programs and online journals, including AlterNet, The Huffington Post, Leadership and ColorLines magazines.
Help In These Times get back on track
As a nonprofit, reader-supported publication, In These Times is funded entirely by readers like you—but through the first half of 2021, reader donations are down nearly 20%. Today is the deadline for our summer fundraising drive. Will you chip in to help get us back on track?