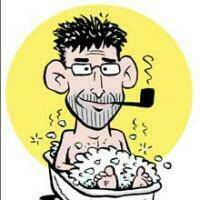 Terry LaBan
has worked for
In These Times
since
1990
. His comic strip, ​
"
Edge City", is nationally syndicated by King Features Syndicate and appears daily in numerous papers, including the
Chicago Sun-Times
, and he writes Disney comics for Egmont in Europe. Along with other freelance work, LaBan does a semi-regular feature for Nickelodeon Magazine called ​
"
Fiona of the Felines" and is currently studying digital design. Find more of his work at
www​.laba​nara​ma​.com
.
LaBan began working for In These Times 20 years ago, operating the stat camera, illustrating and helping with paste-ups, which at the time were still done with X-acto knives and wax. After the magazine computerized production in the early 1990s, he continued as illustrator and cartoonist. Over the years, LaBan has worked for a number of "alternative" comics for companies like Fantagraphics and Dark Horse and managed a thriving freelance illustration business…for a while.